A few years ago, one of my friends turned me on to layering tights. I live in the midwest, so while winters could definitely be a lot worse, the cold weather can quickly make your outfits feel dark and dreary. Layering tights opens up a whole realm of possibilities to your winter wardrobe. Not only is it functional from the warmth standpoint, but you can add splashes of color and texture to your outfits, and allow your dresses and skirts to live well beyond the summer months.
The initial thought of layering tights did not sit well with me because I figured it could not, in any way, be comfortable. But honestly, it's not bad at all. My favorite tights to layer with are these DKNY tights that have no waistband. It's really the digging of the waistband that can make tights uncomfortable regardless of whether you are wearing one pair or two. I put the base layer on first, then the second pair. It's impossible to try and pull them on together. Once they're both on, you can pull them down and up together, so going to the bathroom isn't a big deal (sorry, but that's a valid TMI concern.)
Let's show you some examples!
Tone on tone - black fishnets over black opaque:
Tone on tone - patterned wine colored tights over opaque wine colored tights. Even though the opaque pair isn't super opaque, I still feel like it's way less harsh than doing patterned tights over bare legs. I also love how it adds interest to an otherwise basic LBD. I could have switched the base layer out for a black pair for more of a contrasting look.
Here's a before and after pic of how opaque you can get your tights to look. The photo on the left is a pair of grey tights on its own. After I saw how this photographed, I decided I wanted more of a super opaque look, so I layered the grey pair over a purple pair.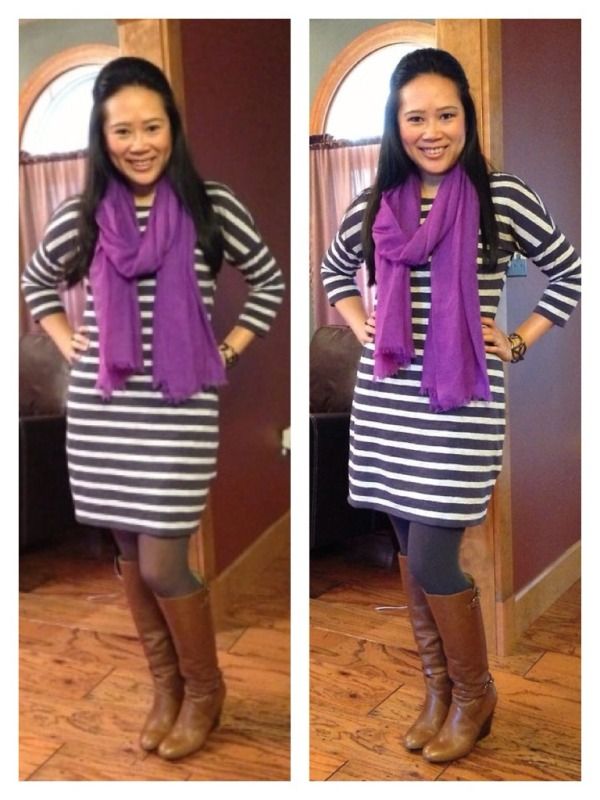 One of my favorite combinations is layering nude fishnets over chocolate opaque tights. After typing this post, I need to make it a point to wear that combo this week! The possibilities are endless really, so have fun with it!