I had quite a heavy online shopping weekend. I took advantage of the surprise Kate Spade sale, and it was basically all down hill from there. Since I just talked about my new Kate Spade mint shoes in my last purchase post, I thought I'd stretch beyond my Kate Spade addiction and share a couple of my out of box purchases. First, the camouflage jacket purchased here from Nordstrom. (Side bar story - I bought this full price, and as I went back to link it to this post, it's all of a sudden 40% off!!! Just texted my Nordies SA and she is going to do a price adjustment for me. Yay!)
I was looking for a jacket that had a little bit of a feminine cut to it. I liked how this had a drawstring waist, and I loved the stud detail at the chest. I haven't owned any camo pieces of clothing in a few years. The last thing I had was a pair of camo pants from Old Navy. Since then I hadn't really been craving any camo in my life, until now. I wasn't sure whether or not I was going to "get over" camo again, so I opted to just buy from the Juniors section and not splurge on something that needed quality staying power.
The jacket came today and it fits awesome. I will probably only wear it with the sleeves rolled up because it felt very boxy leaving them unrolled. It's very lightweight and not at all bulky. It hits me at the perfect part of my hip. Not quite long enough for leggings, but I didn't necessarily need it for that purpose anyway.
What on earth am I going to do with camo??
The jacket goes quite well with my new boots bought here. Once again, I must bring up my Nordies SA because I saw these on her.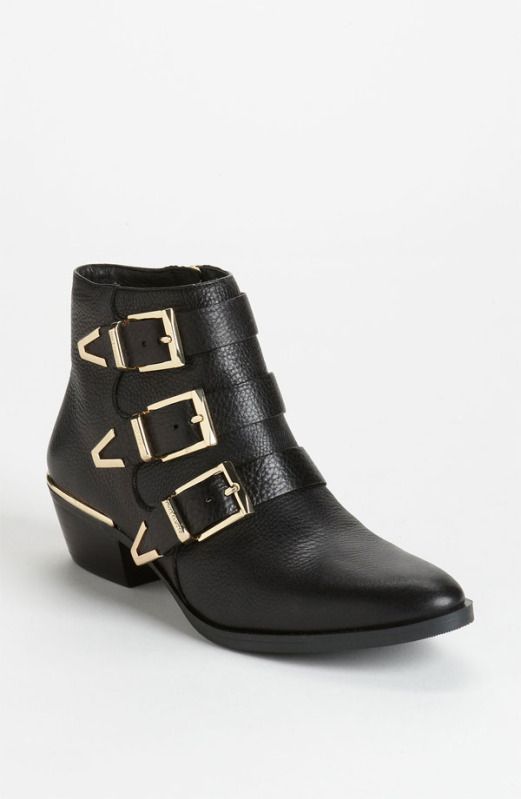 Vince Camuto "Tipper" Boot
She wasn't even trying to sell me shoes, but it just happened. Like I said at the start of this post, these are very not like me. They're funkier and edgier than I normally go, and honestly a bit masculine. But I was very very drawn to them. I just liked the way they instantly glammed up a simple outfit.
I'm debating on whether or not it would be too much to wear these two together at work. Hmmm. I mean, I've worn glitter and sequins to work at the same time, so I don't see how this would be any different. Perhaps on a casual Friday? If I can use a cheesy phrase - it's just so biker chic!