Now that the Prabal Gurung for Target Collection has been out for a day now, what are your thoughts? Have you gotten a chance to check everything out? There were a handful of things I was interested in, but wanted to see them in person vs. ordering online. The dogs woke me up early, so I was able to make it to Target yesterday by 10:30am. For the most part, everything they had in my store was fully stocked, but they didn't carry even half of the collection. Here is everything I was searching for.
I love the colorblocking and shape of this dress. I like how the black band at the waist toughens up the spring colors. But, I really wanted to feel this dress in person. I have a thing about crotch wrinkles, and if it was thin and not lined, I knew it'd be a wrinkly mess by the time I got to work just from my commute. Unfortunately, my store didn't even carry it. One of my friends was at her Target across the country at the same time as me, and they had it in a size 2 and an 8. Neither quite my size - the 2 had a teeny waist. She confirmed this to be a textured rayon material, so I was not heartbroken that I had no choice but to pass on it.
I really wanted this sweatshirt! It was sold out online by the time I checked the website at 8:30 yesterday morning. It wasn't carried at all in my Target and only in a Large at my friend's Target. Boo. I just really loved the Proenza sweatshirt from the Neiman Marcus collaboration, and figured this would be just as fun in person. I love the bright, fun print on a casual cut and material.
I thought this would be a good layering piece. And I'd be lying if I said I wasn't thinking about my lovely Kate Spade seafoam pumps. I've really been into sweaters this season, which is a big change for me. I'd say for the last 4-5 years or so, I was solely wearing cardigans and purged all of my sweater sweaters. I did not like it in person though. It was super, super thin, so while it would work as a bottom layer, I really wanted it for an outer layer. Even the thinnest of shirts would look lumpy under this. Sadly, it was a pass for me.
I was 0 for 3 at this point, but alas, my Target had this top, which was the piece I was most excited about (aside from the sweatshirt.) Again, the print is so fun, and I loved the mix of texture with the mesh top. I'm picturing this with red skinnies tucked into black boots (ooooh or maybe my new Vince Camuto buckle boots!) with a black hip-length cardigan for now, or tucked into a black pencil skirt with yellow sandals for later.
I bought it in a small. It lays flat, very comfortable, not at all tight or form fitting, but not loose by any means. The body of the top is a soft t-shirt material, which I like. I will say though that the trim around the mesh top is kind of itchy when you move around, so if you are sensitive to stuff like that, it may not work for you. Also, the behind the neck button did not unbutton at all for me. I tried for a good 5 minutes, and finally gave up. I was still able to slip it over my head though, so no big deal.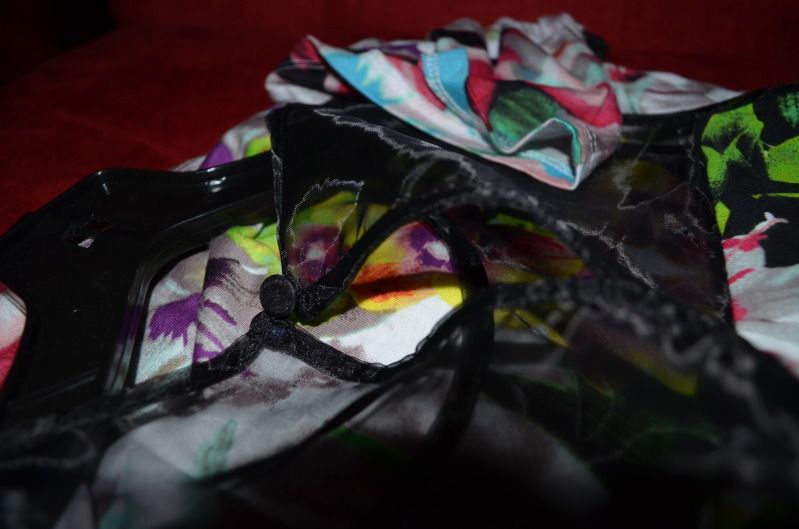 Honestly, do I think it is worth $27? Not really. I think it feels more like a $17 shirt, but I didn't think this would still be in stock by the time things started getting marked down, so I went ahead and got it. The stuff definitely wasn't flying off the shelves, but it was moving infinitely times faster than the Neiman Marcus collaboration.
Hope that was helpful! What are your hits and misses from this collection?