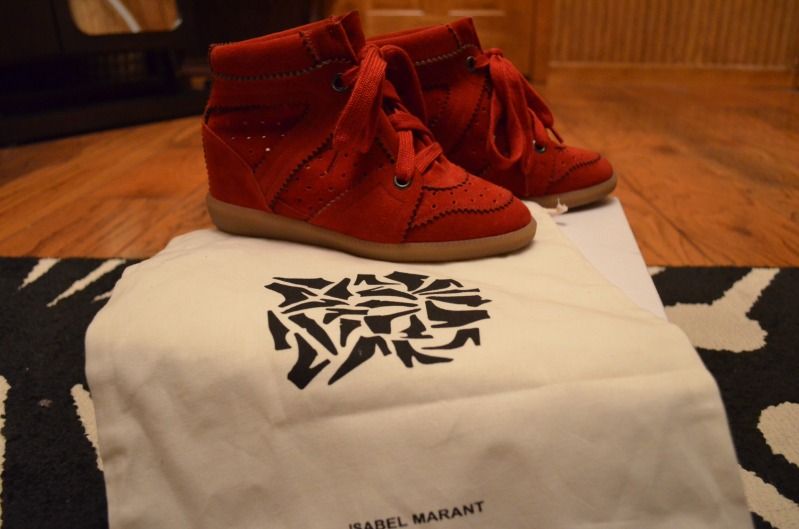 Remember in "My Style" post I said that I hate being called trendy? Well, I just want to remind you that this does not mean I don't own trendy pieces. This Shoesday pair definitely falls into the trendy category.
To be quite honest, I was intrigued by these shoes after seeing a thread on The Purse Forum. The great thing about TPF is that there are girls all around the world who participate. This particular thread was all about the Isabel Marant hidden wedge sneakers. It was originally started in 2006, and there are currently over 3200 replies spanning 218 pages. I tell you this because that's how long these shoes have been talked about, but the fad is just now catching on in the US. So many designers are trying to emulate this shoe (Steve Madden, Skechers, I even saw them at Target), and I believe it all stems from the original Isabel Marant design. The reason why there are so many replies to this thread is because the Isabel Marants are super hard to find, and they sell out immediately. When I saw them pop up in red online at Barney's, I snagged them.
So, what would possess me to covet these shoes? I have no idea. They're totally different than my typical high heel. I like to think that it's because I never jumped on the Uggs bandwagon, so I am now reserving my right to wear ugly shoes. Except to me, these are beautiful. And so fun!! And I really love that the wedge is completely concealed. They're easy to walk in. I wore them to a Cardinals game once, and that's at least a 15 minute walk each way to the stadium from the parking garage. I love that the hidden wedge not only gives you height, but it also lifts your heel so that the thinnest part of your ankle is exposed - this helps keeping you from looking stubby. And what's not to love about the rich color and the buttery soft suede? I definitely feel a little hip hop when I wear these, but in a good way. I think sometimes dressing down is just as sexy, if not sexier than dressing up. Especially when people are so used to seeing you dressed up.
Athleta sweatshirt
Stem tank tunic
Vince faux leather panel leggings
Kate Spade crossbody
Express blazer
Old Navy tank
Arden B skinnies
I'd be lying if I said I wasn't a bit disappointed when this phenomena blew up literally as soon as I bought my pair. Because I didn't buy them just to be a follower or partake in the latest trend. I truly just loved them and thought they'd be an awesome addition to my collection.
Etoile Isabel Marant "Bobby" hidden wedge sneaker via Barney's
The consensus about these shoes is you either love them or hate them. It's definitely an acquired taste to some. What is your guilty pleasure? Something you own that you love and wear proudly even though they would be considered ugly to the vast majority?