Last week was so much fun with the 5 Ways, 5 Days challenge hosted by Fran and Whitney. I really think I'm going to incorporate more remixing into my blog posts. Ada over at Elegance Personified did an awesome job recapping the week, and she was sweet enough to give me a little shout out on one of my casual Friday looks. Check out her post here.
Alas, it is a new week, a new month, and so I have for you a new outfit.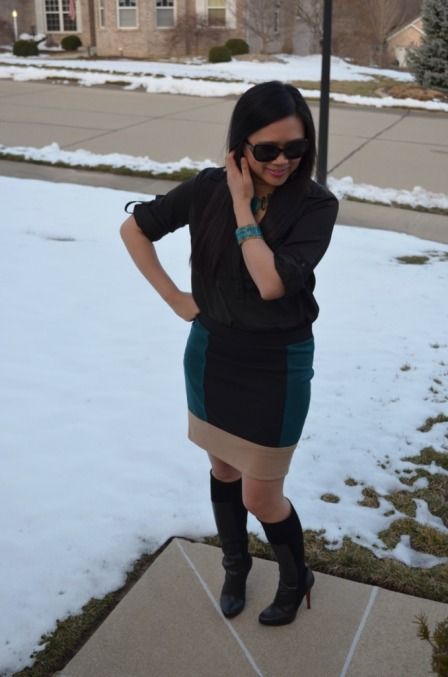 Forever 21 skirt, cuff, and earrings
How are we already a quarter through this year? We've already sprung forward and gone to fish fries and had green beer and died eggs. But it's still so freaking cold outside, and I'm totally in denial about it. I refused to wear tights today. The thought of tights and boots honestly made me want to throw up. So, I went bare legged today, and then wore the mother of all my shoes because even though I'm over winter, I'm pretty sure I'd be ok to wear these boots in the summer because they are that fabulous. But anyway, I'm longing for warm weather and a beach vacation! Hopefully this is the last of the snow we will see and soon enough my painted piggies can start making their blog debut.