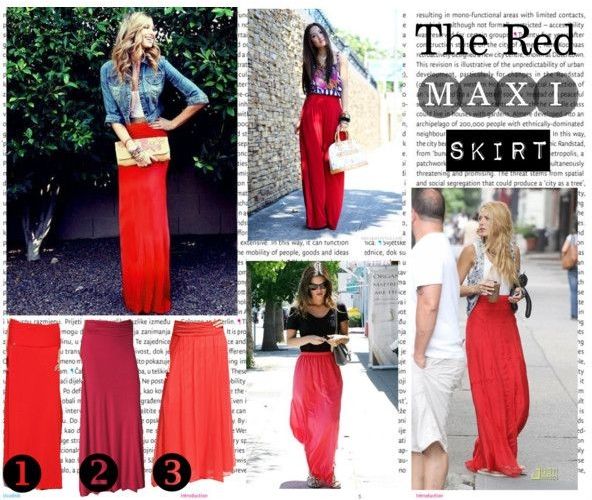 I never realized how much I *needed* a red maxi skirt before. I was going through Pinterest for general fashion inspiration, and these red maxi skirt looks started to catch my eye. I honestly never craved a red maxi at all. It seemed like it would be such a stand out piece, potentially difficult to style. But these sample looks make it seem so easy, and you know how much I love being effortless. The red adds a pop of fun just like your red skinnies do, but the shape and flow of a red maxi give it just a touch of glam. So, I started my hunt. I ended up ordering 3 skirts - 2 of them went back, and 1 is hanging in the closet room. Here's my review of what I liked and what I didn't like, which will hopefully give you an idea of what to look for on your own hunt. The perfect red maxi is harder to find than you would think.
a. Foldover waistband - so I can adjust the length depending on my heel height that day
c. A thicker jersey or similar fabric to prevent VPLs
d. No slits or anything asymmetrical - just a traditional skirt hem
e. Price limit around $60
1- Calvin Klein: I was coming up with absolutely nothing on my search. Everything I was finding seemed to have slits or some kind of funky hem. This CK one was the most basic of basics, and since I was otherwise empty handed, I went ahead and ordered it just to give it a try. I'm a firm believer in trying things on since they could look completely different on you than on the model or on the hanger. Well, it was pretty awful. It looked as lifeless on me as it did on the model. There was no fullness to the skirt at all, and it was super snug around my hips and butt-- the VPLs were ridiculous and I looked like a sausage. Sizing up would not have helped, overall the shape was just bad. It went back.
2- Bobeau: I had enlisted help from some friends who ended up finding this option. The only criteria it didn't meet was the slit - the description said it had a side slit, but I zoomed all around the photo and could not see one. It was otherwise exactly what I was looking for based on the stock photo, but when it arrived and I was able to try it on, I discovered the negatives outweighed the positives. The cut and flare was amazing - I loved the movement when I walked. The skirt was nice and full so there was enough fabric that the slit really wasn't that noticeable. The material was super soft and the waistband was comfortable, but again, I could still see my panty lines and it bothered me. As a side note, all I wear are the low rise Hanky Pankys. (My love for Hanky Pankys is enough to fill a post for another day.) Yes, I realize lace doesn't lend itself sometimes to being the most seamless, but typically I can at least wear a slip, and that's enough of a buffer to smooth out any lines. I tried this skirt on with a slip, but it was still super noticeable. I even tried it on commando (with the slip still on as a buffer) but I still felt like it was not at all flattering. Ladies, can I just tell you - if you're wearing jersey, turn around and look at your butt in the mirror. Even if you have zero VPLs, dimpling and jiggling is not at all attractive no matter how skinny you are. (Again, that is a thought for a separate post.) So anyway, long story short - this ended up being a big fat no.
3-
Max & Mia
: I had been searching the Nordstrom website and happened to come across this skirt but in
black
. I LOVED this black skirt. It was absolutely perfect, and I saw it came in red, too! But I had already ordered the Bobeau one, and they were out of my size in red online anyway, so I just let it go. Well, once I realized the Bobeau one did not work, I immediately called my Nordstrom SA to see if she could locate the red one at another store. Ironically enough, not only did she find it, but she found it at local St. Louis store-- the Nordstrom closest to my office. All that searching, and it was right there all along. Of course. It arrived, and it was just as wonderful as the black version. It's actually two layers - a jersey under layer topped with chiffon. I do think the chiffon dresses it up a bit, but I think it can easily be dressed down, too, based on what you pair with it. My only minor complaint is that I wish it were a more saturated red color - there's a touch of orange to it, which definitely is not a deal breaker by any means, but I do like the more pronounced reds in the sample outfits above. Overall though, it's exactly right.
Here's a little teaser pic of the skirt along with a new tank and denim vest I was also trying on that had shown up the same day. Yes, a denim vest. Because it's 1993. (I guess that's a topic for its own post also!) Denim denim denim.