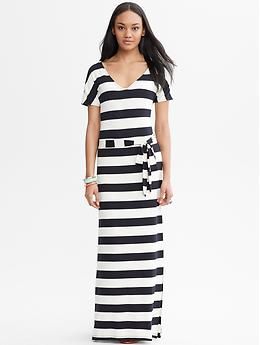 Banana Republic striped patio dress
I hope this dress looks just as good in real life as it does on the model. I'm a big fan of stripes, that's no lie, but to add that with a long maxi dress and throw in a side tie? I love this effortless look. I ended up ordering it both in regular and in petite. I'm very particular with where I like my maxi skirts/dresses to fall. Hopefully between the two, one will fit!
I feel like I have the same accessories on repeat sometimes, especially bracelets, so I decided to add a few more to my collection. The necklace was also a good find - I love anything with mixed metals. As far as the rings - I already have this in a pink and orange. I've already worn this 2988798745 times and I've owned it less than a month? A) it's hard to find rings that actually fit my small fingers, so I love that these come in my size. B) I love that they are two different colors depending on which end you decide to face out. C) I love that they are so small and delicate. Needless to say, I decided to order them in two more colors. I know they will get lots of use.
Relatively slow shopping week for me, which was pretty intentional. I'm still recovering from the anniversary sale as well as all my outlet mall purchases. Our outlet mall here is opening the third week of August, so I should probably save up!!!