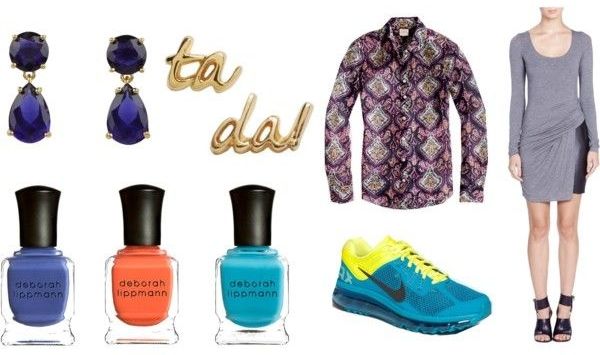 Kind of a random hodge podge of purchases this week, eh? Much of them were sale driven. I bought the earrings through the Kate Spade surprise sale. Luckily the earrings were the only things I decided to pull the trigger on (for once.) The button up I had seen on a friend and decided to get because I've been trying to build my "blouse" collection. Or really it's that I'm building my fall collection. I feel like I can layer the heck out of this and mix and match it with lots of other pieces. The polish was buy two get one free. The shoes - well, I realized that 2 marathon relays and two half marathons were probably enough for my old running shoes. I had kept them so long because appearance-wise - they looked just fine. But considering the Chicago half marathon was flat, my legs and feet hurt quite a bit, and once I added up all the miles those babies had collected, I realized it was time to buy a new pair.
And then there's the dress.
Bailey 44 had posted a pic of it on Instagram as being available in August, so as soon as it turned August 1st, I jumped on their website to order it. I really love Bailey 44 dresses anyway, but what drew me to this one was the mix of fabrics, the asymmetrical design, the draping at the waist. I would have been epically sad if it didn't fit me right. Alas - it arrived, and I am very, very, very happy. To say I'm excited for fall is an understatement. I just want to wear this already!!