Hey guys - sorry for the lack of outfit posts this week! You can always see what I'm wearing if you go to my Tumblr account, even if they're just phone selfies in our office gym! We got hit with some snow again last night, which made taking pictures this morning non-existent, and it's too dark to do it after work. Is it time to spring forward yet?!
I figured I'd use this downtime from my outfit posts to do a product review for you. I'm not getting compensated for this review - I bought these socks with my own money because I was intrigued! I had never heard of them before; someone on the shopping forum was asking if anyone had any experience with them and the more I looked into them, the more I decided to try them. So, that being said - here you go!
Flats hurt my feet more than heels do - true story. They rub me raw and kill my feet as a result. I've tried different rub strips and friction balms, which work, but in all honesty, socks are the best. The problem is - I've tried so many different variations of "no show" socks, but they ALL slip off my heel. It's quite annoying. This was the biggest thing that turned me on about these - they won't fall off my heel! I thought it would be helpful to take photos from every angle. I picked two pairs of flat shoes - one with a lower profile than the other. These flats with the gathered/elastic heel are a great candidate for these socks because this type of flat kills my feet the most.
As you can see, they're almost completely concealed by the Sperrys. You can kind of see them in the Sperry side view, but come on, who is going to be THISCLOSE to your feet and this low to the ground? To me, that's negligible. You can certainly see them in the side view of the flats, but I'm also exaggerating this by wearing the black pair. If I were wearing the nude color, although they'd still be visible, it wouldn't be as blatantly obvious. If I were wearing a bootcut leg pant vs. a skinny jean, this would conceal them even more.
This truly makes me excited to wear them with booties! I really prefer not to go sockless while wearing booties, but sometimes it ends up being necessary when ankle socks are super noticeable. And again, it drives me insane when the no-show socks continuously slip off my heel. Alas, my bootie-wearing life has changed as we know it.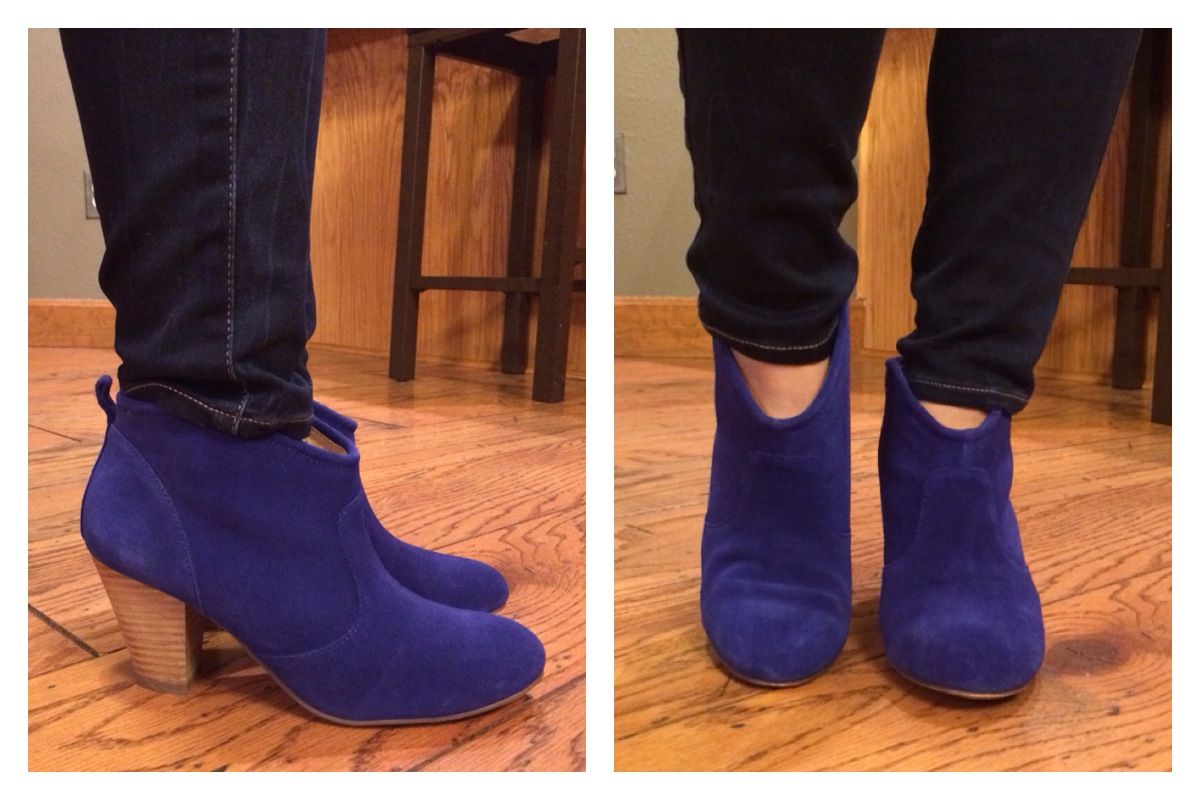 The one thing I did worry about was that you'd be able to see the top elastic part of the socks through my jeans or leggings (think VPLs but with the sock lines below my knee.) I didn't get a good picture of this, but it's completely seamless.
I was sure to wear my skinniest of skinnies, but since the
socks are not super tight, there's no sausage effect on my legs. And what's great is they do also offer a
wide calf version
.
So, if you couldn't tell, I love them. I think it's such a smart idea; genius even! The only con I found was the fact that they're visible from the side of the lower profile flats above. However, the pros completely outweigh the cons for me, and I still give this product two thumbs up. You're probably wondering now - where can I get them, and how much? Order them through keysocks.com. They're $11.95 a pair, but right now they're running a sale of their 4-packs for $35.85. I was lucky to catch them during an after Christmas sale, because my 4-pack was only $28.68 with free shipping. Pricey for socks, but worth it in my opinion since I never have to awkwardly keep pulling up my socks in public ever again!