I was so excited when Gina pulled together some outfit inspiration for styling white skinnies in the winter. I LOVE wearing white pants year round, especially in the winter. It breaks up the monotony of all the darks, and when paired with a pop of cognac like this - it looks crisp and fresh. My outfit today is a direct translation of Kellie's look.
Kellie totally hit it on the head in her post when she talked about how sometimes simple outfits are the best. I'm definitely one for layers and pattern mixing - usually at the same time. I just love pairing pieces in unexpected ways and
giving the eye multiple things to look at.
When I was brainstorming all the outfits I could create with my capsule, I came up with about 25 or so. Funny enough, this top plus white skinnies was not one of them! Thank goodness Kellie reminded me to keep things simple.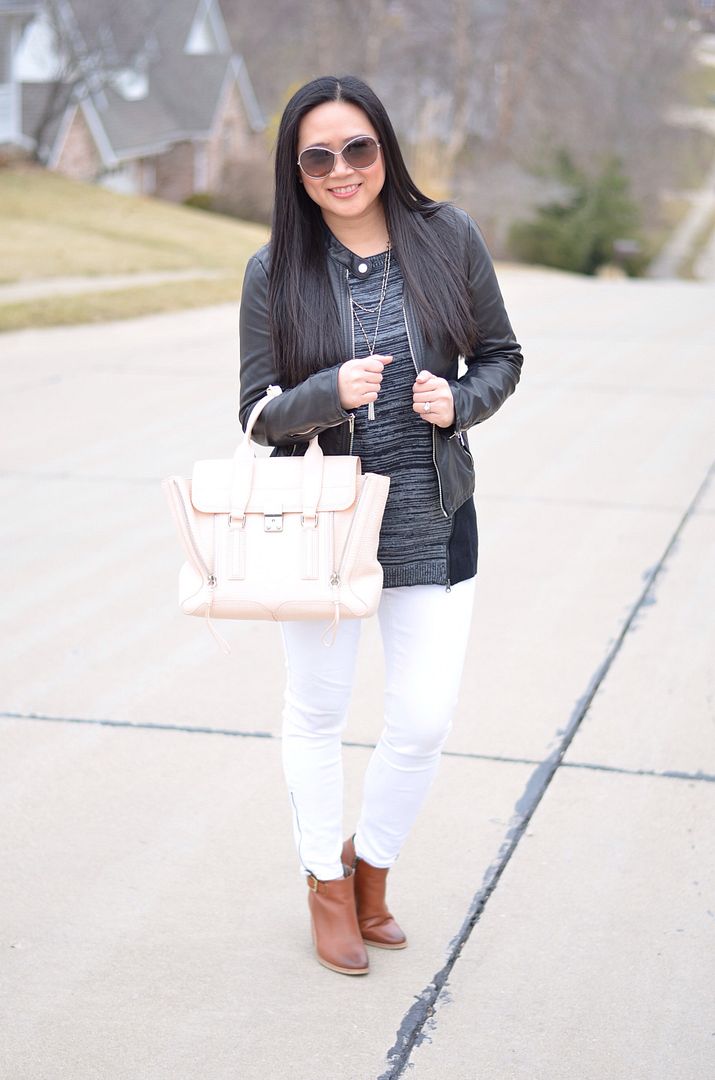 And you guys know how to make a girl feel loved. Thanks for all the sweet notes yesterday about wanting to hear more about me! I will definitely see what I can do for all those inquiring minds! I do appreciate all the comments, and I'm sorry I haven't been able to tour around blogland as much as I would have liked this week! The husband has been traveling this week (since Sunday to be exact), which means I have to drive myself to work!! We usually carpool, and I use that 45 minutes or so to and from work to catch up on social media and blog reading. Needless to say, my whole routine is flipped when I lose almost 2 hours of my day to physically driving myself! But really, thanks for everything!
PS You can still enter The Mint Julep Giveaway HERE!

SHOP THE LOOK: