Well, if you read yesterday's post, you know that I've been busy. And being busy means blogging takes a back seat and I was unable to photograph 4 new outfits for you this week! I'll share the outfit I wore to the rehearsal dinner tomorrow, but today I thought I would do something a little different!
This is a random roundup of sorts. I wanted to showcase some outfits using the flat lay version in comparison with real life and talk about how and why I prefer one over the other.
Scarf: H&M | Jacket: Express (option) | Sweater: Banana Republic | Jeans: Express | Heels:
BCBG (option)
I definitely prefer the way the flat lay turned out vs. real life. I was lazy when I was getting dressed and kept my grey tee shirt on that I was already wearing in real life, which I wish I would have just eliminated. I also wish I wore skinnier jeans since the scarf and jacket are so voluminous. I love the combination, but the execution could have been just a little bit better.
Sweater: Express (option) | Necklace: CS Gems (use code CARYLEE15 for 15% off!) (c/o) | Top: Pulse STL | Leggings: Express | Boots:
Frye
The real life version wins for me in this outfit. The sweater/tunic combo looks a lot boxier, naturally, when laid flat. And leggings are hard to depict in a flat lay, so the proportions of this whole outfit are just a bit off when you're not seeing it on a real person.
Again, the real life version is the winner here. While this top is easy to "fluff" in a flat lay, the vest is a little thicker and harder to show how fitted it truly is when it is laying flat. I love how easy and effortless, but still interesting, that it looks in real life. While I love the bright colors in the flat lay, it definitely looks more boring than when I actually put it on.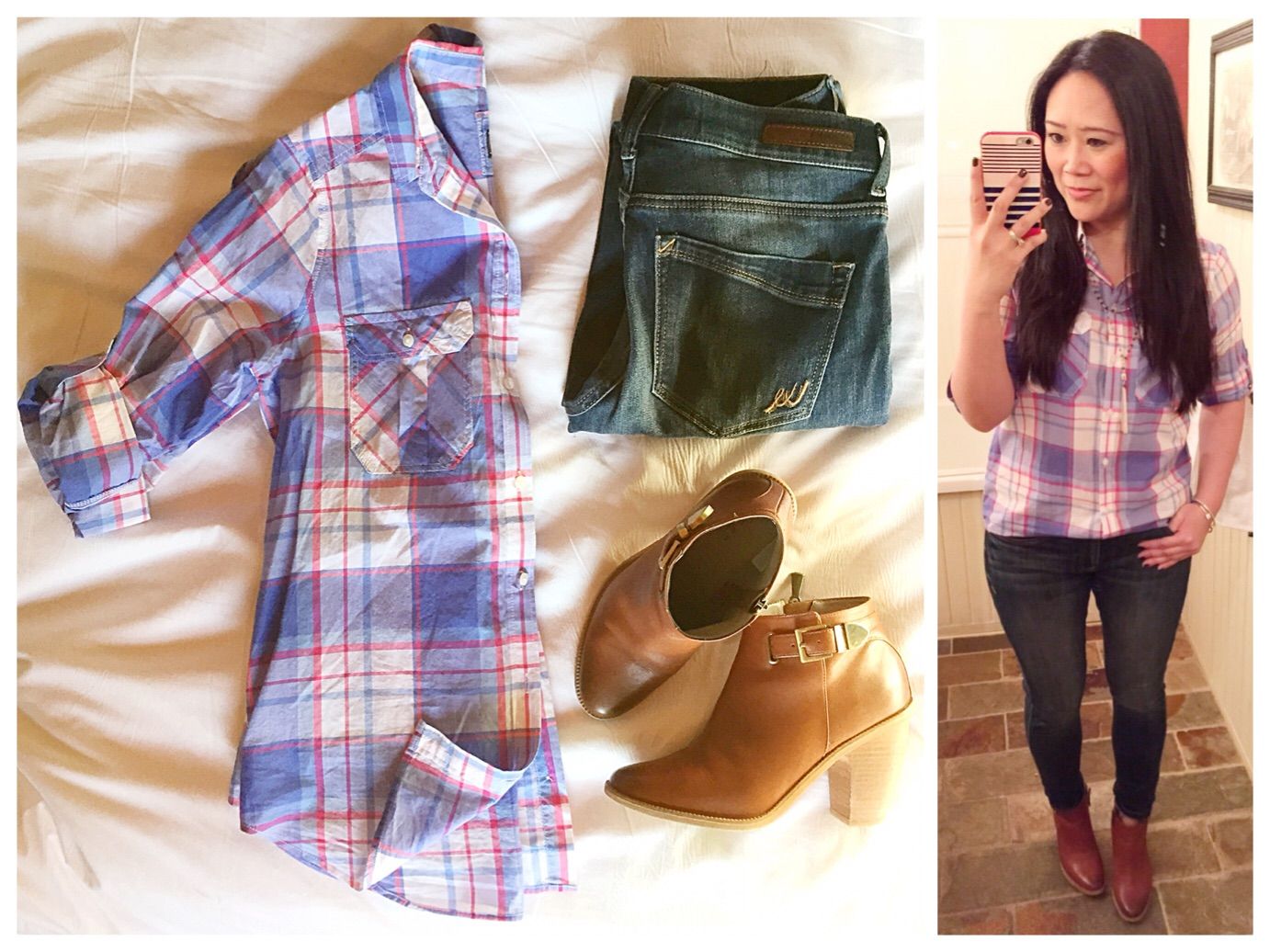 I preferred the flat lay version of this over the real life version. I was skeptical about the flat lay because there are literally only 3 pieces and it's not on my super white background since I was traveling when I took this photo, but you lose the detail and colors of the shirt in the real life version - the real life photo doesn't do the shirt justice as a result. My Instagram followers ended up agreeing with me since the flat lay received 155 likes vs. the real life version that received 101 likes. Isn't it funny how the same outfit presented two
different ways can have such different engagement results? I know other things like what time of day you post can affect engagement as well, but it all truly fascinates me, and I'm not sure I will ever truly figure out the perfect formula for success.
I'm interested in hearing your thoughts on this also! Let me know in the comments which you prefer in these 4 outfits - flat lay or real life?

SHOP THE LOOK: