TGIF!! Last night's #STLFW event was just as awesome as I expected it to be! So not only am I dragging a bit from that, but I have a flight this morning to head back down to San Antonio to get Petie! Yes. I'm tired thinking of it, too! I'll give you a full recap of last night's festivities in a separate post, but first, here's my standard roundup for ya!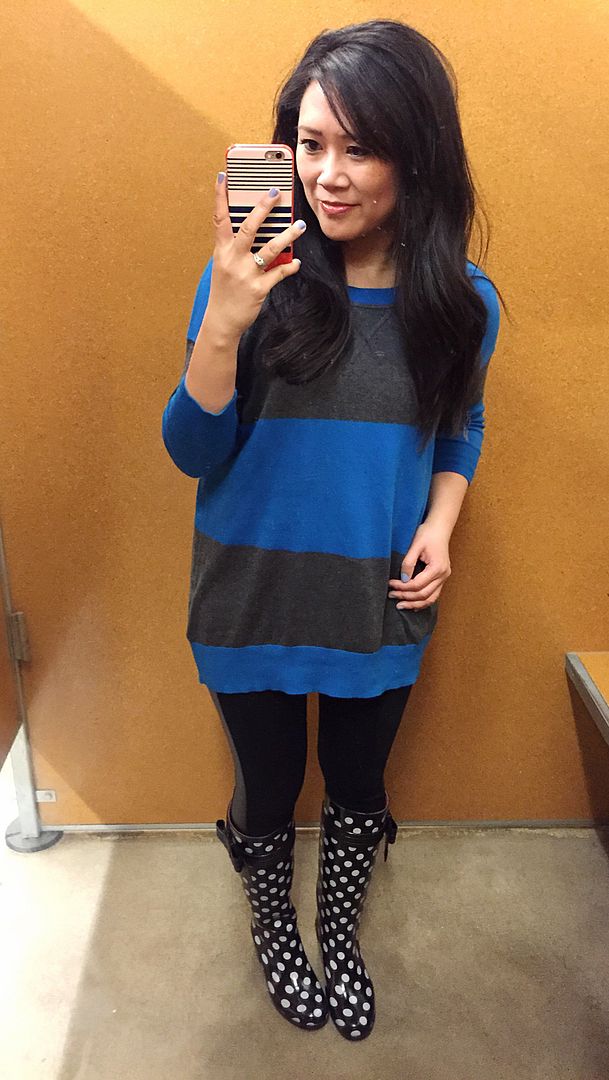 Sweater: Nordstrom juniors | Leggings: Two by Vince Camuto | Wellies:
Kate Spade
You can tell how many random outfit selfies I have backed up by how far back these outfits go! This was the Friday before St. Patrick's Day weekend. Almost a month ago! Ha! I threw this on for some late night shopping with the sister in law. It rained for almost two days straight, so I didn't even bother with real shoes. Not that I'm complaining, because these wellies just make me happy anyway. And I'm actually digging my tousled hair in this pic despite the rain and humidity. The bigger the better!
Another casual weekend look for you. This was bridesmaids dress shopping for his cousin's wedding. We did brunch as well, and I wanted to be somewhat cute but comfortable. These triple buckle booties are perfect for just that.
Ha, ok well this post is all full of weekend looks, so I hope you don't mind! Same weekend - for a 9am pancake breakfast. After a night of St. Patrick's Day celebrations. So.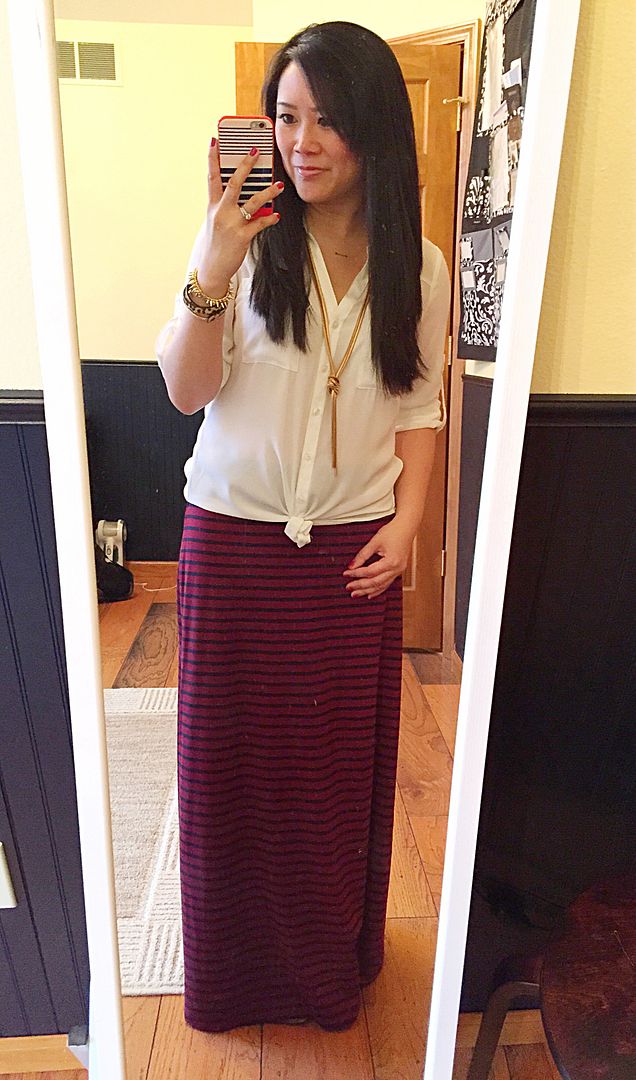 This was me trying to get through a day of work after being home sick for two days. I got this skirt at the outlet mall while I was in San Antonio. Gina calls it my signature stripe because I have a few pieces of clothing with these navy and red/burgundy stripes. I love the combination and am basically a sucker for it.
Bag: Rebecca Minkoff | Sweater: MOD (local boutique) | Necklace: House of Harlow1960 (other colors here, smaller version here) | Bottoms: Express | Shoes:
Kate Spade
I was kind of surprised how much this outfit was well received on Instagram. I don't know why I have it in my head that being matchy matchy is overly girly and obnoxious. But this day, I didn't care and I just decided to go with it. And it's one of my top most liked outfits on Instagram to date, so go figure! Perhaps being matchy matchy isn't a bad thing! Or perhaps
these shoes are the most adorable pair to walk the face of the earth!!

SHOP THE POST: