Disclosure: Charming Charlie gifted me these items in promotion of their new store opening with no obligation to post, however, all views expressed are my own.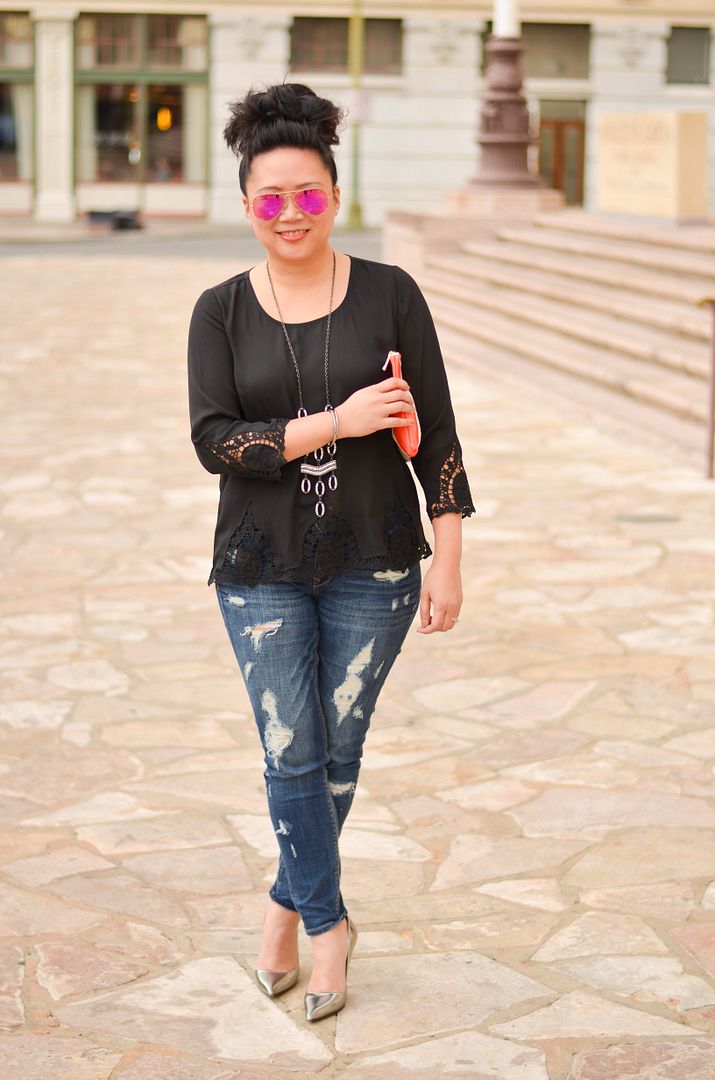 Hello from San Antonio! Four states and two countries in the last two weeks is pretty tough! It's been a whirlwind to say the least! I got home super late Thursday evening and had an early flight Friday morning for which I hadn't packed yet! I was equal parts excited and grateful to see a package from Charming Charlie waiting for me when I got home. I posted about them for last week's Hello Monday, and they ended up sending me a second package as a thank you for supporting them and continued promotion for their new store (which opens today!) The timing could not have been more perfect, because it was really nice to not have to think while I packed! I swear it was the fastest packing job ever - I even beat the husband getting ready and had time to make a quick stop at Walgreens!
I've been over-snapping my trip all weekend, partially because I like sharing, and partially because I like downloading a whole day's worth of snaps as my own personal souvenir. On Saturday, the husband and I played tourist. We ate at one of my favorite Mexican restaurants downtown, Rosario's, then drove north to visit Natural Bridge Caverns and the Wildlife Ranch. (OMG I'm still laughing at a certain emu incident…)
Since we were out in that area, we also stopped into this cute little giftique called Bless Your Heart. I went to high school with one of the owners, and have been following along on social media since they opened their first store (they have two locations now.) I was so excited to finally get to visit one in real life. It didn't disappoint, and the first thing that went in my cart was this adorable pouch! Get it girl!
It's been such a great trip, I'm sad to fly back to the midwest tomorrow, but I'm also happy to get back to normalcy. I say this, but fashion week starts this week! Eeeesh!
Hope everyone had a great Halloween weekend! We never ever really dress up or anything, but it was still fun seeing all of the creative costumes! What was NOT fun was having to "fall back" this weekend. I mean, yay for more sleep, but boooooooooo to no daylight. Guess I can't flat lay anymore after work. So sad.
Anyway - have an awesome week and don't forget to link up below!

SHOP THE LOOK: