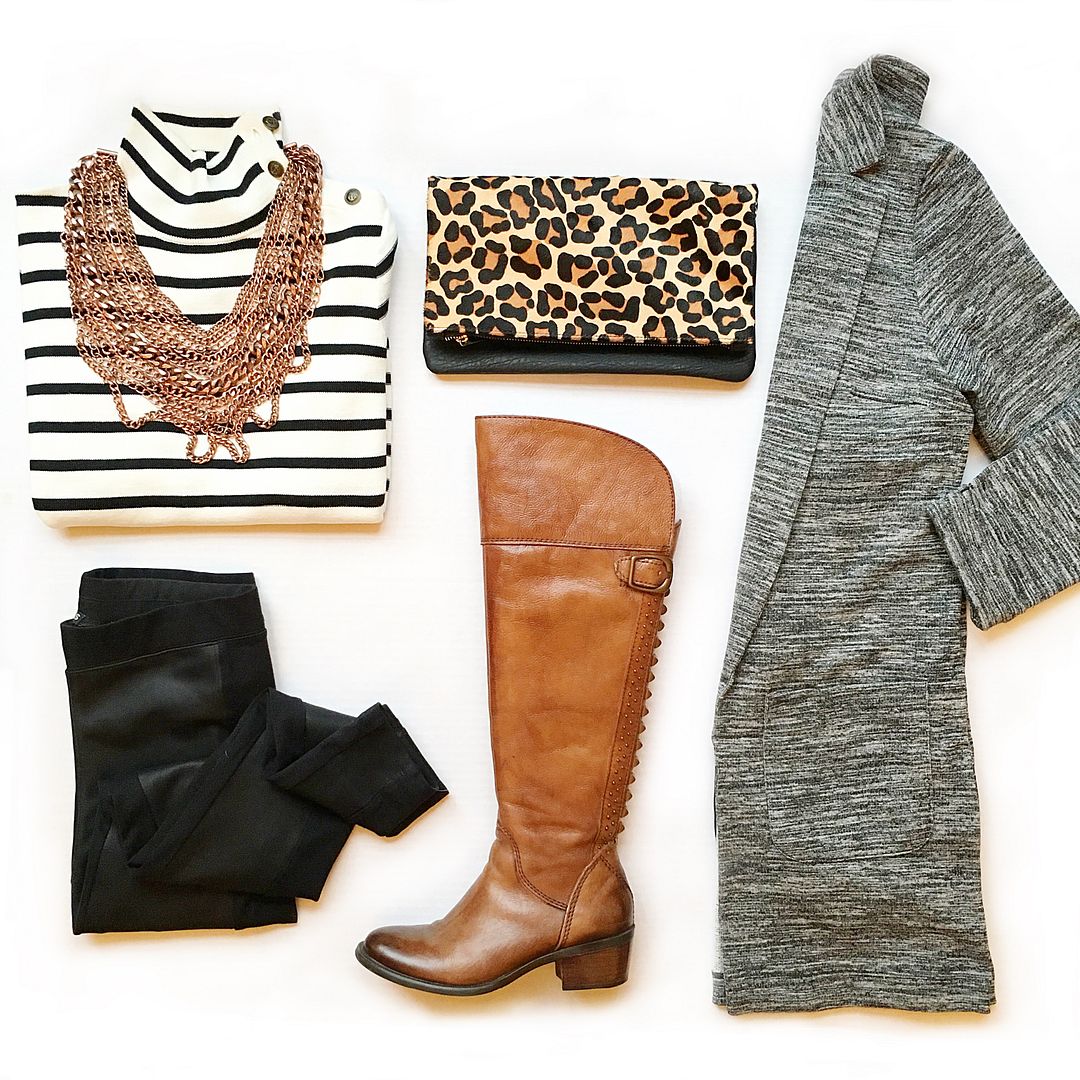 I have a quick post for you guys today. I've been meaning to share this with you after I had a text convo with Gina about this jacket and a couple of variations of this outfit I put together. Then, Kristi left me a comment on one of my photos this week, and that reminded me once again that I needed to share this!
Ok first, I told you guys that you all need a Kristi in your life. She's so positive and supportive and uplifting. Yesterday I snapped my Chick-Fil-A lunch with the caption that it was my first bad meal all week. She replied and said something like "There's no such thing as bad meals, just balance." I love that.
But I'm getting off topic.
She clearly has love goggles for me, which I hope she never loses BTW, but I had to prove to her that I make bad fashion choices, and sometimes when I do these pretty little flat lays, they don't always turn out the best in real life. First, I ended up making one change before I even put the outfit on, and that was switching to black riding boots instead of the cognac. But there were still some issues.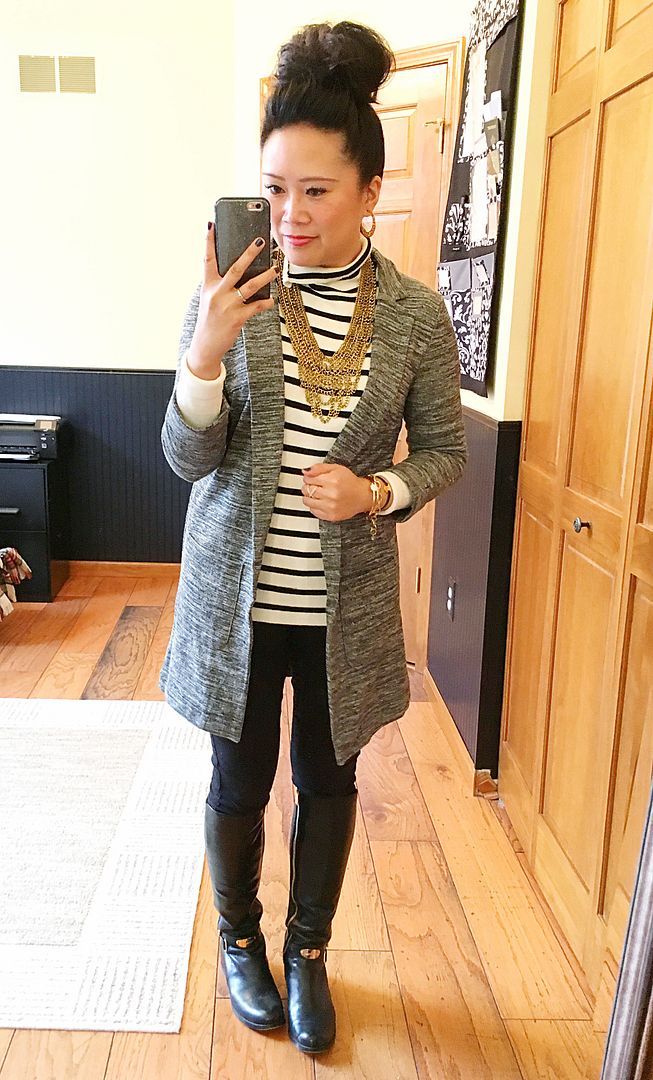 Boots:
MICHAEL Michael Kors
The proportions aren't that flattering. The outfit itself isn't bad, but it really does not look balanced on me. I feel like I look short and squatty in this. And too boyish. I did end up wearing this out of the house, but just to the salon for a lash appointment.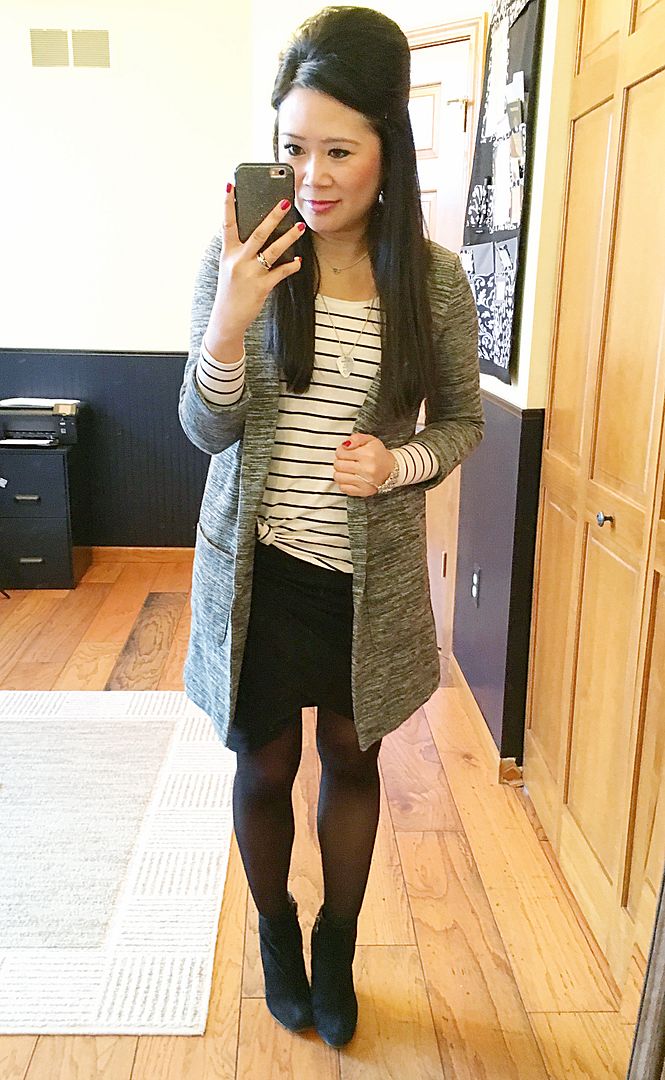 Top: bp. (Nordstrom) | Skirt: Express | Wedge Booties:
Sam Edelman
The second time around, I decided to make the following changes:
1. I definitely needed heeled booties instead of the flat knee high boots.
2. A skirt with tights felt a lot less clunky than black skinnies.
3. I wanted to show more skin in an effort to further elongate my body head to toe, so I nixed the mock turtleneck and went with a wide scoopneck.
I hope you can see what I'm talking about looking at these outfits side by side. Funny how the same jacket appears a lot longer on the left than it does on the right, not to mention how taller I look on the right (and not just because of the wedges.) Trading the heavy bib necklace for a delicate one also visually lightened the load up near my neck. And maybe I'm crazy, but I feel like my hair style on the right just further helps with the overall proportions of the outfit.
So there you have it! I make mistakes, but I do like learning from them. My outlook changes constantly, so I'm sure I will find even more tweaks to make if I decide to try a third version of this outfit recipe! Have a great weekend!

SHOP THE LOOK: