This weekend, some winter weather officially blew in, and while we didn't get all the snow I was hoping for, the temperatures plummeted. The wind chill was in the negatives, and it was windy and physically painful to be outside. That leaves quite a dilemma when it comes to taking outfit photos. I wish I could say I had a backlog of photos for times like these, but I do not. So, I improvised. I resorted to taking photos inside and figured I would try and make it a little more purposeful. You've already seen my closet room in all its glory HERE, but now you can see it (and me) in action!
Top: Express | Leggings: The Fashion Lane (c/o)
(I keep the majority of my bags on the top shelf, which I access with a step stool.)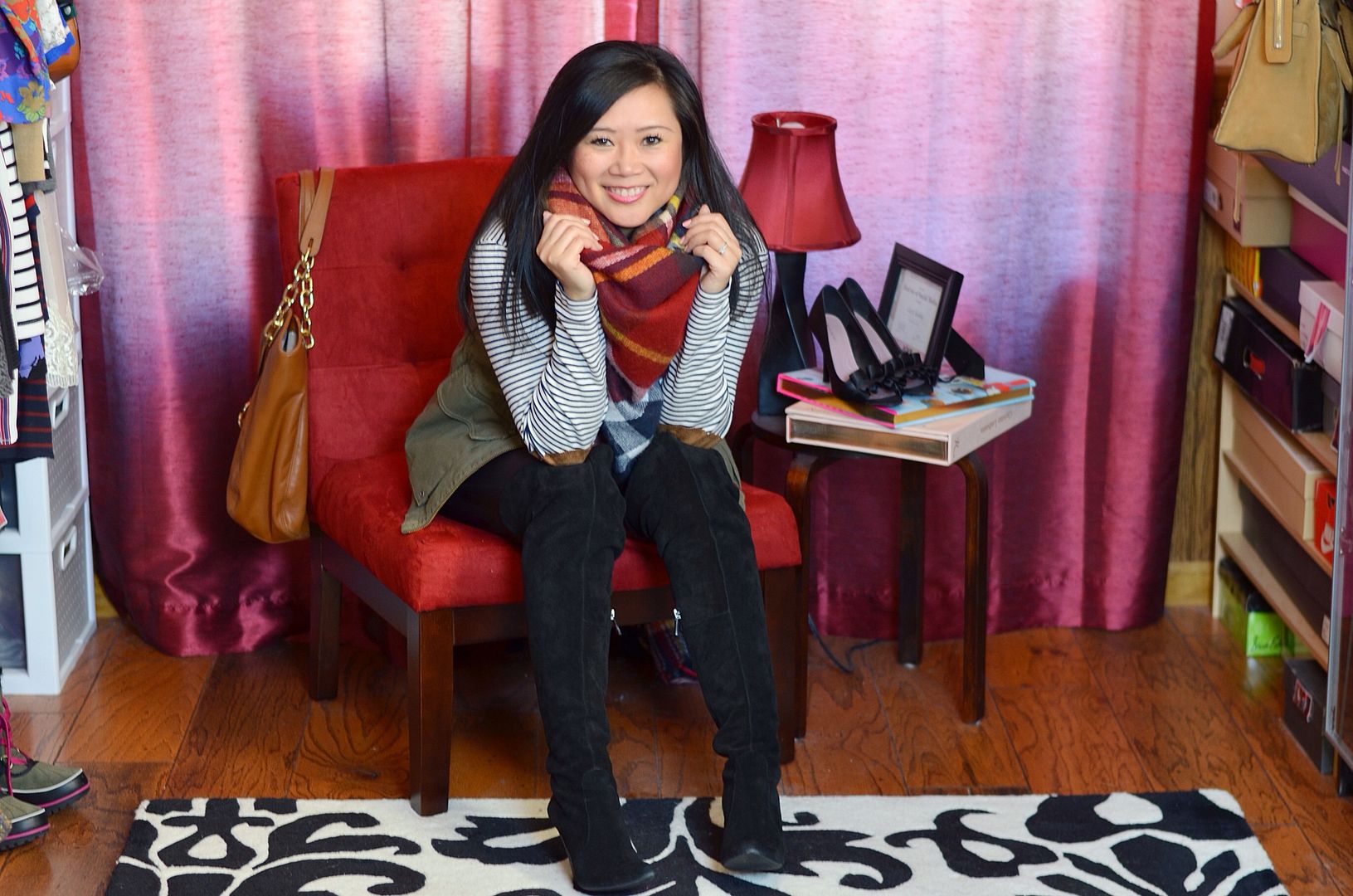 I realized after taking these photos that I need to sweep under that chair! Eeesh! But anyway, it was fun to take photos in my little safe haven. So, even if mother nature decided not to cooperate, at least I got some fun photos out of it!
This weekend was pretty uneventful! Oh! The one thing we did was actually sit down and plan our first vacation! I've been bugging the husband about it. The year is already filling up with weddings, showers, bachelorette parties, weekend trips, even Thanksgiving plans!! I know that if we didn't set aside time to plan our own vacations now, it would never happen because other things always end up getting in the way, and there would never be a good time.
We are planning on (2) one-week vacations this year, the first in April and the second in September. We figured we would do one domestic and one international. Our first trip in April is going to be to Orlando! Flights and hotel are booked! I know that's pretty cliche, but I haven't been to Orlando in forever, and it just sounded like a lot of fun! We are thinking about Costa Rica or Turks and Caicos for September. We haven't booked anything yet, but have a good idea of where we want to go and what days we will be leaving. YAY! Nothing gets me more excited than knowing there is a vacation on the horizon!
Hope you all had a great weekend! Do you have your 2016 vacations planned yet?

SHOP THE LOOK: