Hat: Forever 21 (options here and here) | Sweater: American Eagle (other colors here) | Necklace: House of Harlow (shop more sunburst necklaces here) | Shorts: Express (current season here) | Sandals: Sam Edelman (option)
This is totally not a fashion blogger topic, but I wanted to write about this because I knew nothing about this topic before and now that I've started to learn more, I wanted to document it, both for myself and for any readers out there who have questions. I mentioned in yesterday's post that the term "timeshare" used to be really scary to me. I always pictured it as a way to scheme people out of money. While I can't say there aren't places that don't exist like that, I'm comfortable with the decision the husband and I have made to purchase our own. Before I go any further I should say that this is in no way a sponsored post, just my real life thoughts and experiences.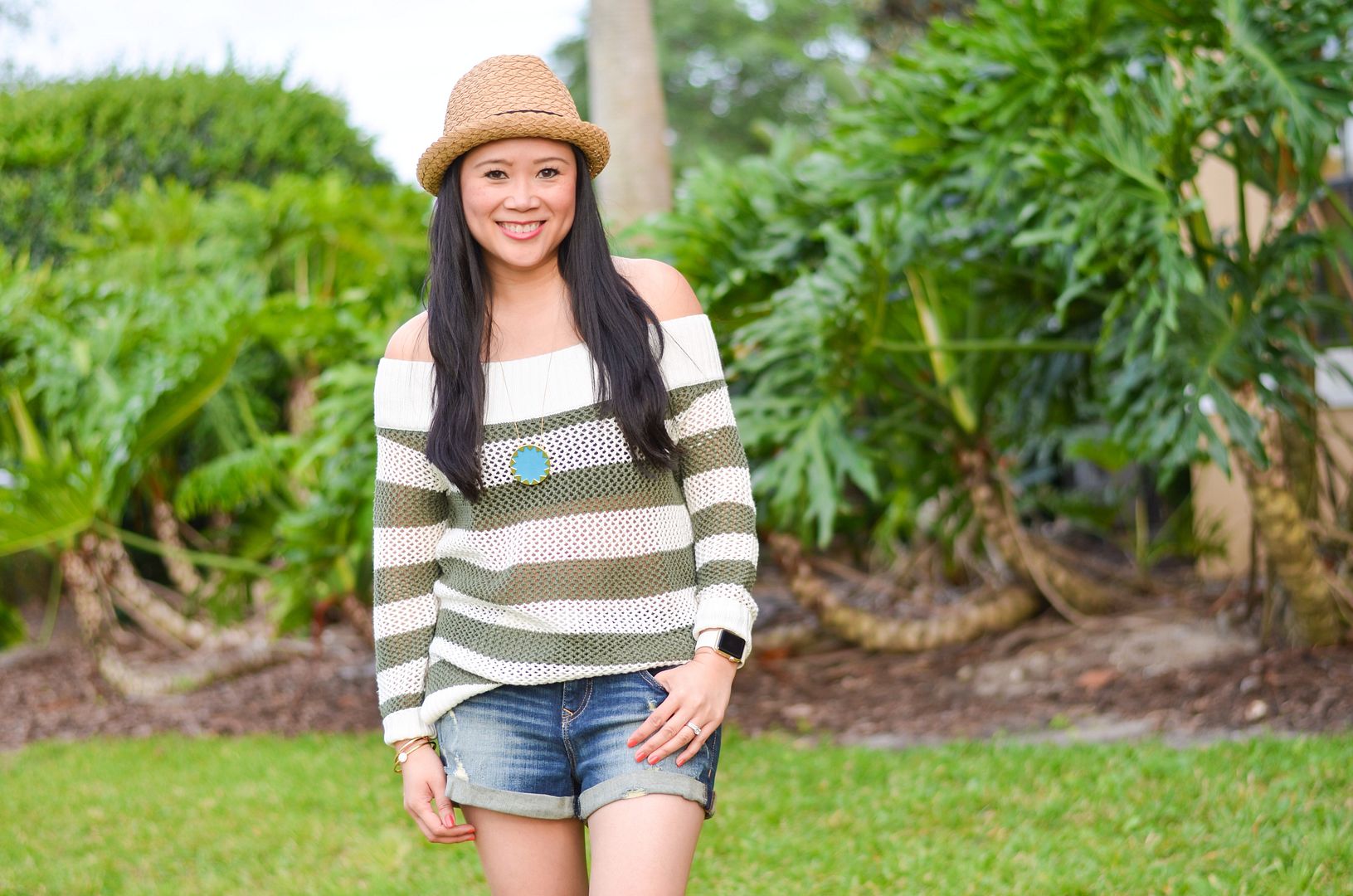 This all started last November when we had a long weekend trip in Myrtle Beach. The husband had gotten a deal for a free weekend stay at a hotel in Myrtle Beach with the catch being that we had to sit through a timeshare presentation while we were there. We went into it with absolutely zero intentions of buying one. His parents own a few timeshares and they have plenty of points to go around for everyone. But, after all was said and done, we were sold. And here are our reasons why.
We are busy. Work is all consuming. We don't have kids to regulate our schedule in terms of when we can or cannot take a vacation throughout the year. It's simply up to us to make the decision and to plan it accordingly, except it had been two years since we've had a real vacation. Yes, his parents offered us their timeshare numerous times, but we never had the patience to just sit down and pick a place to go. So month after month, time passed and we never took time for ourselves. Yes, completely our own faults.
The biggest reason why we agreed on the timeshare is that it forces us to take a vacation. And not just one vacation a year. We both have enough vacation time to take at least (2) one-week vacations a year, on top of the week or so I need to see my family during holidays and such.
Having this timeshare gives us no excuses. We are basically pre-paying for a vacation, and that alone is motivation enough to not let it go to waste.
The first question everyone always asks us is "where is your timeshare?" Well, the property on which our timeshare cost was based is the Desert Club Resort in Las Vegas. But truthfully, this means nothing. We never have to go there, ever, and the vacations that we book don't have to occur during a certain week of the year. Our timeshare agreement is based around the amount of "points" you have and reservations are booked on a first come first serve basis. (This article about timeshares is a great background for the different types of timeshares out there.)
So how many points do we have? We ended up going with 154,000 points. To put that in context, our week we just spent in Orlando was somewhere around 67,000 points. The good thing about us not having kids at the moment is that we like to book our vacations during off peak times. The last week of April worked great because everyone just finished their spring breaks. We then like to go the first week of September because kids are just freshly back into school and their parents are less likely to pull them out that soon for a vacation. That said, 154,000 points is pretty manageable for two weeks of vacation. We also got bonus points as part of our agreement, which means that 150,000 points gets deposited into our account after 6 months of payments. (They do this so we don't blow all those points immediately on trips and yet have a default on our account for non-payment.)
I should clarify that while our timeshare is points-based, you really are paying for a deeded property. The value of the property is what determines how many points you end up with. Typically, you can pay off a timeshare in 3-5 years, but there are no penalties to pay this off early. So, once we've paid this off, our vacation destinations will already be paid for. The only ongoing fees we will have to pay are the annual maintenance fees which can land around $500-$750 per year. Considering you would pay well over that much for a one week vacation, there's definitely a savings.
Our points can be used three ways.
1. We can use the points to stay at one of the club resorts across the country. The Orlando resort falls under this umbrella. There are 24 Holiday Inn Club resorts around the country, and they've just recently acquired Silverleaf, which adds another 24 resorts to the list of places at which we can stay.
2. We can use the points to stay at a hotel or resort outside of the network through a timeshare exchange. There are places all around the world we could visit; literally thousands of places. There is an exchange fee associated with this type of booking on top of the points you will use.
3. We can choose to rollover any unused points into our "savings" account, so to speak. The points depreciate a bit when you roll them over, but the advantage is that once they are there, they last forever and never expire. If you don't roll them over, you can lose them if you don't use them in two years. Points in this account can be used towards airline tickets, rental cars, and incidental hotels.
Now that we have successfully completed our first trip, there are a couple of things I have learned. The first thing is that as a timeshare owner, you will be expected to sit through an owner's update meeting from time to time. Naturally they want to try and sell you upgrades and such. But these are not mandatory for every visit! We did not know this. As soon as we checked in, they sent us to another counter where a customer service rep set up an owner's update meeting for us the next morning. He didn't necessarily *ask* us if we wanted to do this. He simply asked us if that particular time worked and we both assumed that it was mandatory for us to attend. Had we known it was optional, we would have skipped it this trip for sure. But, we didn't know this until we were at the meeting. Lesson learned.
Another thing I learned is that you should look to get your timeshare refinanced through a third party because of the interest rate. They never ran a credit report or anything when we first got the timeshare, and it's probably because the interest rate is outrageous so they really couldn't care less how your credit is. They brush this number under the rug a bit, and your eyes are glazed over anyway because you've been listening to their dog and pony show for 4 hours. Ours was over 15% which is ridiculous. Going through someone else would get us closer to 3%, but even if we were to land somewhere at 5-7%, anything is better than going through the actual timeshare financing.
At the end of the day, the meeting went fine. We were enticed with an upgrade, which we ended up agreeing to because after refinancing, we would be paying the same, if not less, than what we are currently paying for our original unit, but we would have a nicer unit wherever we stayed. As part of this new agreement, we asked that our room for the Orlando trip be upgraded as well. You don't get what you don't ask for, right? We had to repack and change rooms, but it was worth it for a bigger, newer, and nicer condo. I guess this is one perk to us having our meeting the first day we were there. We had the rest of the week to enjoy the better unit.
Aside from that, the only other thing I've learned is that I really don't have to pack much. You're getting a condo with a fully furnished kitchen and a washer and dryer. It was my girl time (blah) so I was concerned about accidents and such and I packed a lot of backup. Had I remembered that we would be getting a washer and dryer, I certainly wouldn't have stressed about that.
There was a little bit of a customer service hiccup. Since we changed rooms, they had us checking out and completely checking back in like new. As part of this, we got a welcome call the morning after we checked into the new unit. They posed themselves as concierge asking us what we planned to do during our stay and if there were any theme parks we wanted to visit. After about 15-20 minutes on the phone with the husband, they tell him they can give him about $100 off what we would pay at the gate IF we attend the owner's update meeting. Yeah, the owner's update meeting we just attended the day before when we bought the upgrade! It was a fault in their system, they didn't note in our account that we were already guests, we simply changed rooms. But, since we already attended the owner's update meeting, she couldn't give us the discount after all.
Honestly, had she just started the call asking us straight out about the meeting, that would have avoided this whole thing.
We talked to three people to complain about this. After several conversations, they ended up giving us tickets to Universal Studios for free.
We were willing to pay for them, we simply wanted the discounted rate that was offered to us! We were happy they redeemed themselves and fixed the situation.
So again - just be wary of this part - they seem to be really shady when it comes to these meetings, but now I know that's always going to be their motive for everything.
Now that I know these update meetings are optional, I can expect that they will try and schedule one whenever we check into someplace new and we can immediately call them out on this next time.
Ok, well I think I have talked your ear off. Sorry about that, but thanks for sticking in there with me if you're still reading this! Despite the runaround with the update meetings, I am overall happy with the timeshare experience. The customer service was really, really great (our resort in Jamaica could learn a thing or two about that! Yes, I'm still bitter!) My face lights up every time anyone asks me how our vacation was. It was the best! If you have any questions, let me know. I'm starting to feel even more comfortable with the idea of a timeshare and am excited to be owners. With the husband's frequent flyer miles, it really makes for a conveniently "free" vacation.

SHOP THE LOOK: