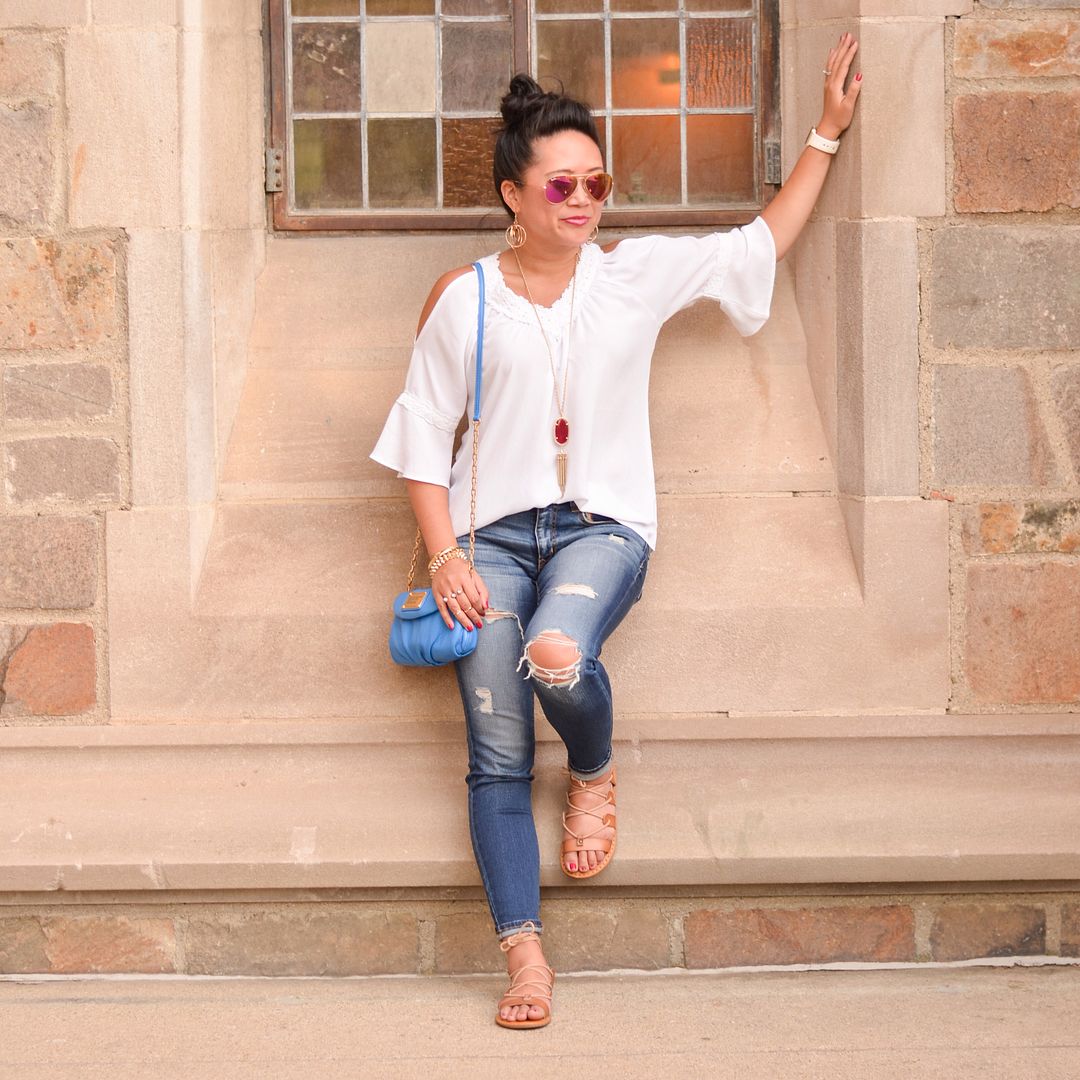 Not really sure why I decided to post these out of order, but this is the outfit I wore for our first day in Michigan. You can see the second day's outfit in yesterday's post here. We really didn't have any plans other than the airport, and while the husband had a meeting up in Michigan State, I tried to blend with the college kids and I worked out of the food court. It's always a bit chilly on the plane, so I opted for jeans, and I couldn't resist taking this top with me. It received quite a few compliments from strangers, which is always a good feeling.
Although the husband's meeting was in Lansing, we had booked our hotel that night in Ann Arbor. Before living in St. Louis, I lived on the border of Ann Arbor and Ypsilanti, so it was nice to stay in a familiar spot for the night! Plus, the husband had never been to Dominick's before, and it is easily my most favoritest place to visit when I am in town. It's just a charming little no-frills restaurant next to the U of M campus that serves THE BEST sangria you will ever have in your life. True story - I never even tasted sangria before coming to Dominick's and every time I have it, I always hope it tastes just like here, though it never quite does.
There is patio space out front on the lower level, out back, and an outdoor balcony on the second level, so it's the perfect place to visit during Michigan summer days. Thankfully, when we were there it wasn't too terribly busy so we didn't have to wait in line and we were able to easily find ourselves a table. Their food is delish too, and their menu is quite extensive with appetizers (the reuben bites zomg!), sandwiches, even some pasta. My favorite thing to eat here is the Italian sandwich. I never usually order Italian sandwiches, but this one is just so so good.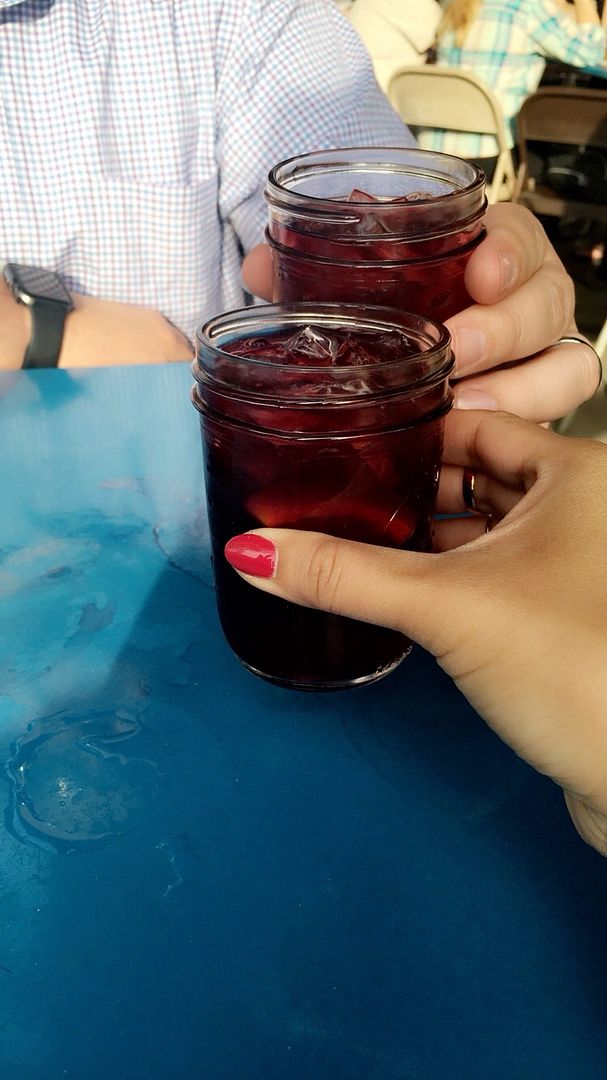 They serve their sangria in little mason jars, but don't let the size fool you. A little goes a long way, and it definitely goes down like water. Luckily the husband has a (lot) higher tolerance than me, so he wasn't really fazed by this. I was feeling quite nice after my share! So, why not take blog photos! Ha
We walked right across the street and took photos on campus because a) there were no people lingering about and b) the U of M campus is such a pretty backdrop, so I had to seize the opportunity.
There are things I definitely miss from Michigan and Ann Arbor is up there. It was a great city in which to work - so eclectic and interesting and it just makes you feel good. The summers in Michigan are by far the prettiest and you cannot beat the weather. I was obsessed with Michigan summers, unfortunately, the 9 months of winter killed me!
It's always weird to visit places you used to live. You have memories of how it used to be and when you visit, everything is still familiar but yet different. And I used to know downtown Ann Arbor pretty well, but it was difficult for me to navigate us off of my memory alone now! Funny how that stuff escapes you really quickly! I'm bad at directions anyway, let's be honest!
Outside of living in Michigan and growing up in Texas, I also lived in the LA area, Colorado, and Germany, but that was back when I wasn't even old enough for kindergarten yet, so I really don't remember much. My dad was in the Army Reserves, so we moved a lot up until I was about 5 years old and we finally settled in San Antonio.
I'm in St. Louis now, and I definitely feel like this is home home for me, but it's always nice to reminisce!

SHOP THE LOOK: