Yes, this is the same tee that you saw in a solid color here. Except in that shirt, I had ordered a small. I decided to try it in an extra small in this striped one and I think I prefer the smaller size more! I guess that means I should buy it in a third color. hehe
This outfit is also super similar to a recent one I wore here, except the sass meter is at a 6 verses the 10 in that outfit! My shoulders are covered, my jeans are less distressed and a bit more fitted, I traded the edgier link necklace for this floral one and the chunky mesh bracelet for preppier, colored bangles. (My hair isn't as big…) But the formula is much of the same, right? Stripes, floral, pointy toe heels. Jeans and a tee.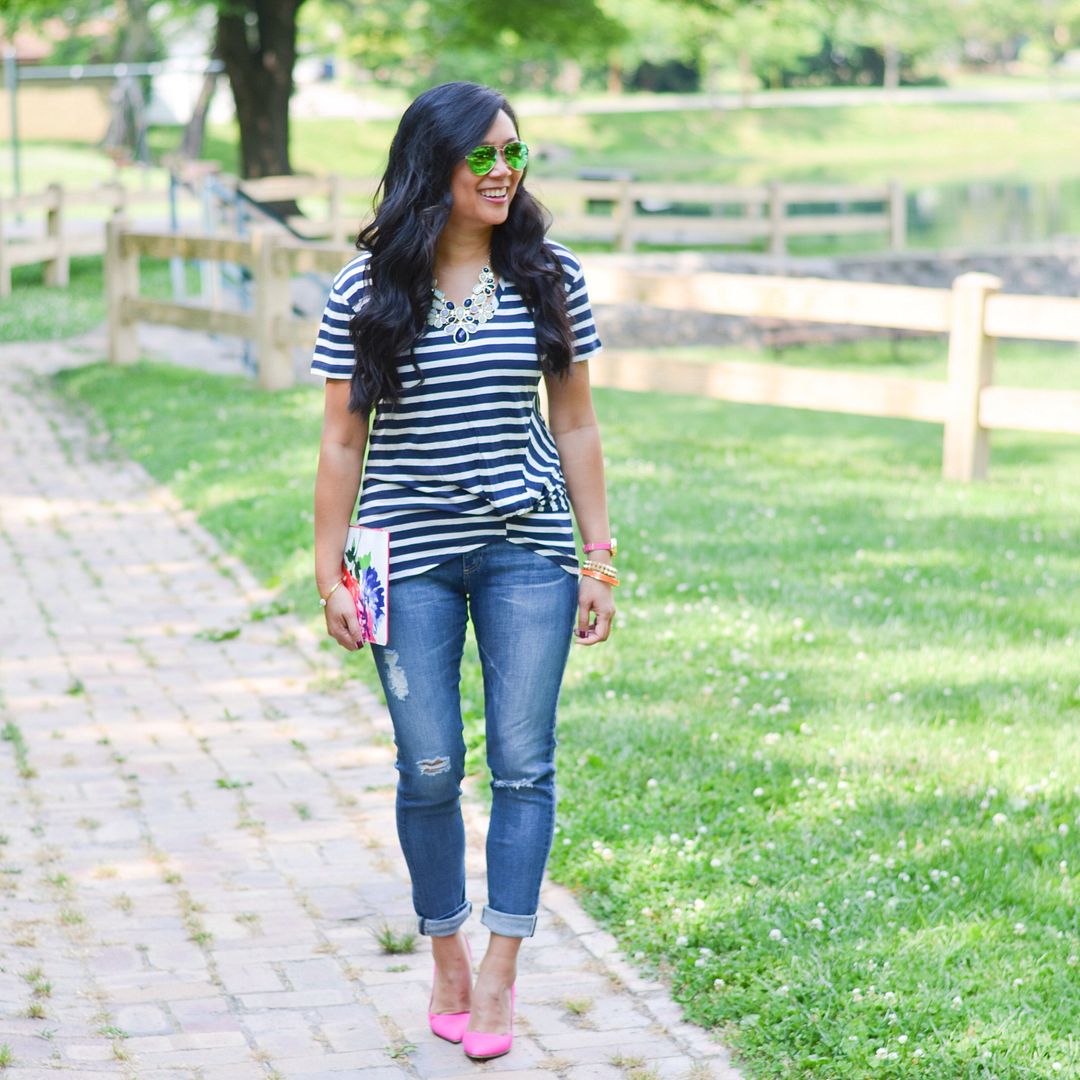 It really is no wonder that jeans and a tee is such a favored outfit combo. I must say that I'm enjoying this combo even more now that I've slimmed down a bit. Not that I didn't like it before, but I guess I just feel more confident and less fidgety in my clothes than I have felt in a long time, and it's refreshing. Unfortunately, I haven't lost any more weight since before I left for Vegas almost a month ago! It's been difficult to eat the best and stay on track with the workouts while I'm traveling, and the last few weeks have been horrible for that. Alas, I started fresh this week, so I hope to see the scale move in the right direction again!
In other news, it's the middle of June. Holy crap, how in the world did that happen?! 2016 is almost halfway over and I feel like I'm just getting started!!! Do you all have big plans for July 4th? It's just around the corner! We have two parties to go to that weekend! Gosh, we are such socialites! Honestly, I feel like we have zero social lives, except every weekend this summer seems to be booked up, and booked quickly! I can't imagine how you guys with kids manage to fit everything into one day, one weekend, one month!!?
Alright, enough randomness. Have a great almost Friday!

SHOP THE LOOK: