Happy Friday! I can't seem to keep my eyes open this week! So happy it's the weekend! For today's installment of Random Roundup, I decided to not only share some selfies of outfits I've worn lately, but also pull out some archives of outfits a year or so old so you can see how I've previously worn these pieces. I'm only linking to the "now" pieces that are still available.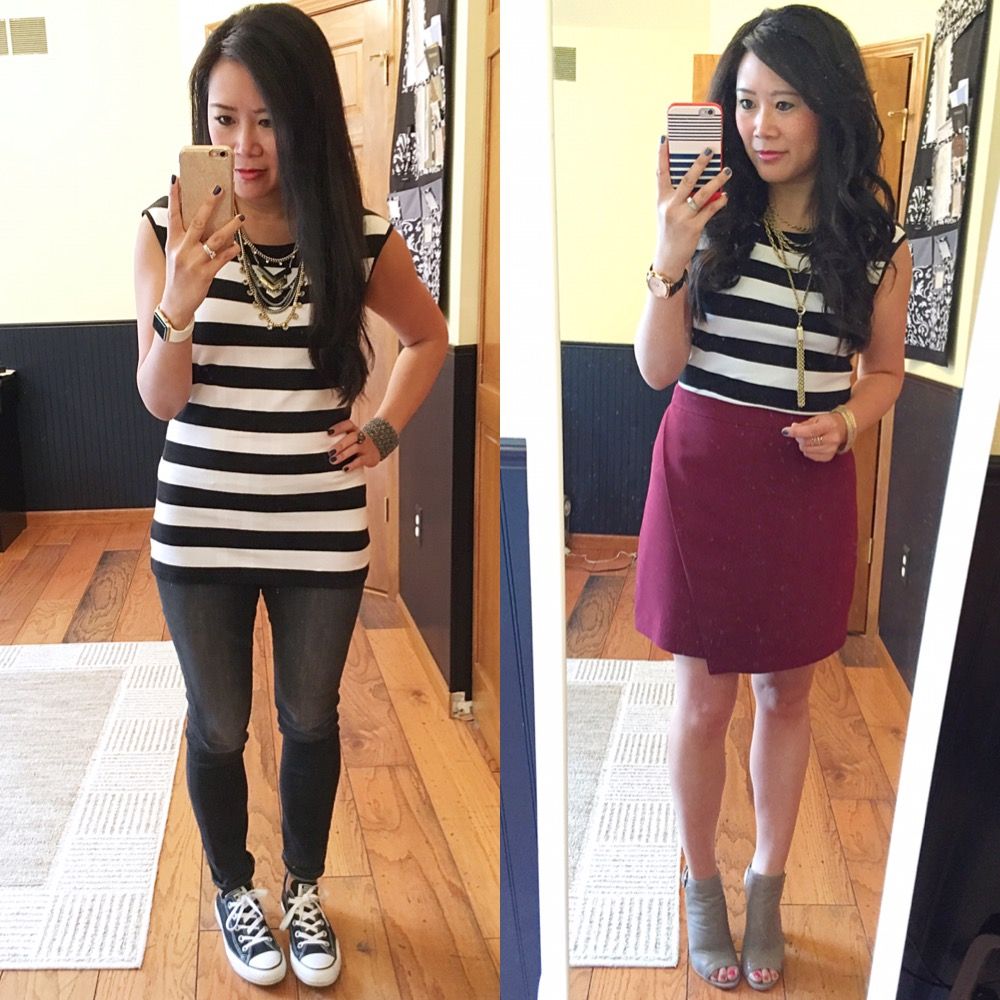 --- The piece: Wide stripe tee | Right: Then
Left: Now-- Top: Express | Necklace: Express | Jeans: Express | Sneakers: Converse ---
Two completely different outfits! Express needs to release more of these pull-on leggings because I love how seamless long and lean tops look over them. Just so good! And funny story about the "now" outfit. I wore it to work after a long week of travel. One of my coworkers who knows I have a strong high heel collection noticed the Converse. I just looked at him and said, "You *know* I'm exhausted when I can't even wear heels!" And he laughed and completely understood! It was just a Chuck Taylor kind of day!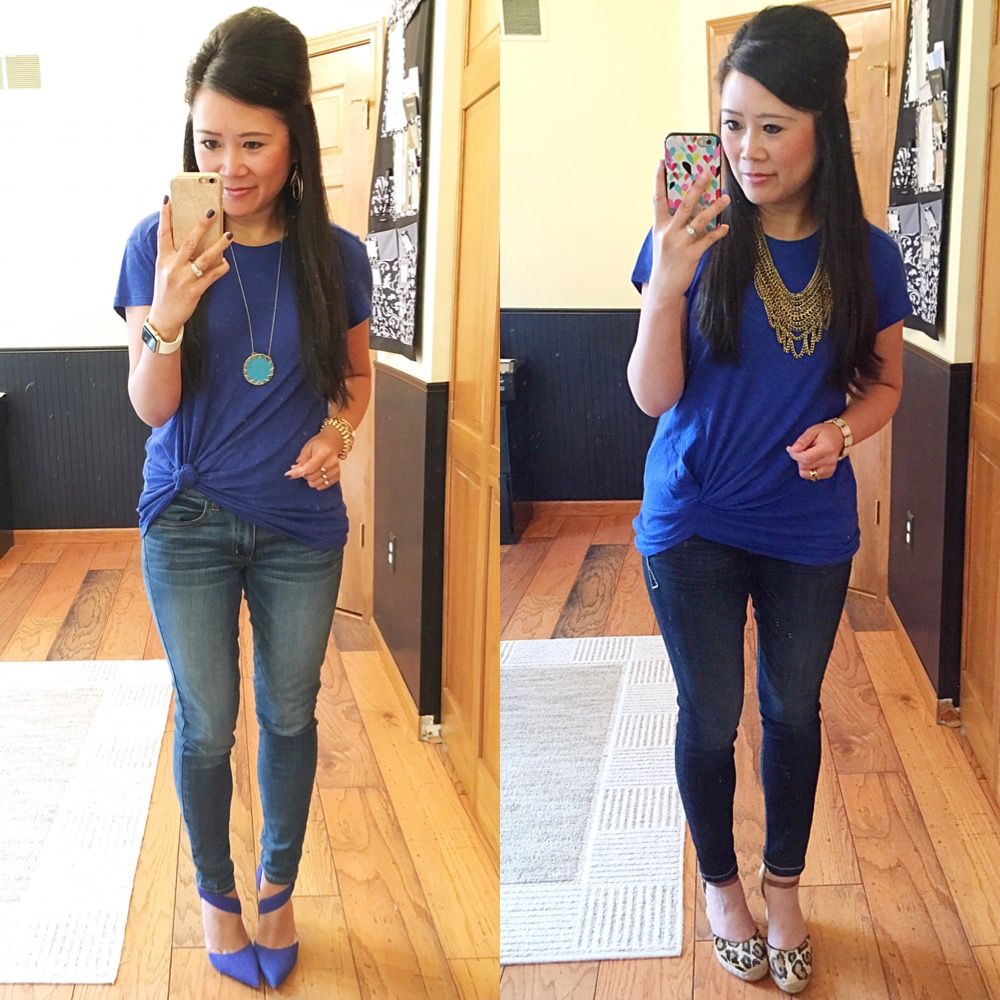 The piece:
Faux knot tee |
Right:
Then
Left:
Now-- Top: Express (similar here) | Necklace: House of Harlow | Jeans: American Eagle | Shoes: Vince Camuto (other colors here)
This is basically the same jeans and a tee shirt outfit, except in the "now" version, I actually knotted my faux knot so it would fit a little bit more snug. I also decided to go matchy matchy with the heels, but I really love how leopard pairs with this blue color, too, in the "then" outfit!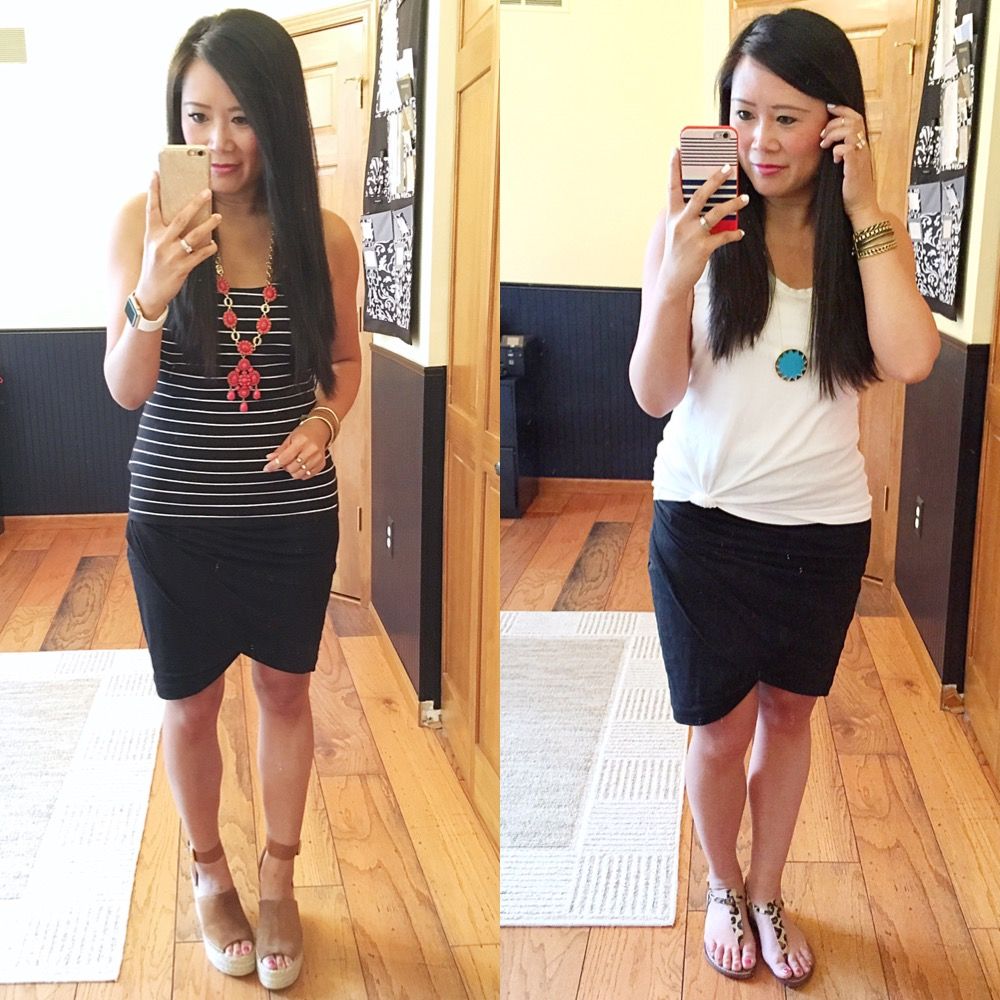 The piece:
Ruched mini skirt |
Right:
Then
Left:
Now-- Top: Express | Necklace: Stella and Dot | Skirt: Express | Espadrilles: Marc Fisher (other colors here)
Unfortunately, everything in my "now" outfit is old except for my new espadrilles! Gosh, this week was such a good week for shoes and I have Rachelle to blame for all three pairs! But anyway, it's been hotter than ever lately. So hot, you basically instantly sweat the second you step outside. It's been in the upper 90s with humidity off the charts. So, tanks and skirts are necessities this week.
The piece:
Green stripe top |
Right:
Then
I legit think the last time I wore this green top was when I was wearing it in the "then" photo. It was for St. Patrick's Day last year when I was in San Antonio for my brother's wedding. It's a really great color, I'm not sure why I don't think to wear more green! I love love love it with the white skinnies and leopard sandals. Such an easy color and pattern pairing!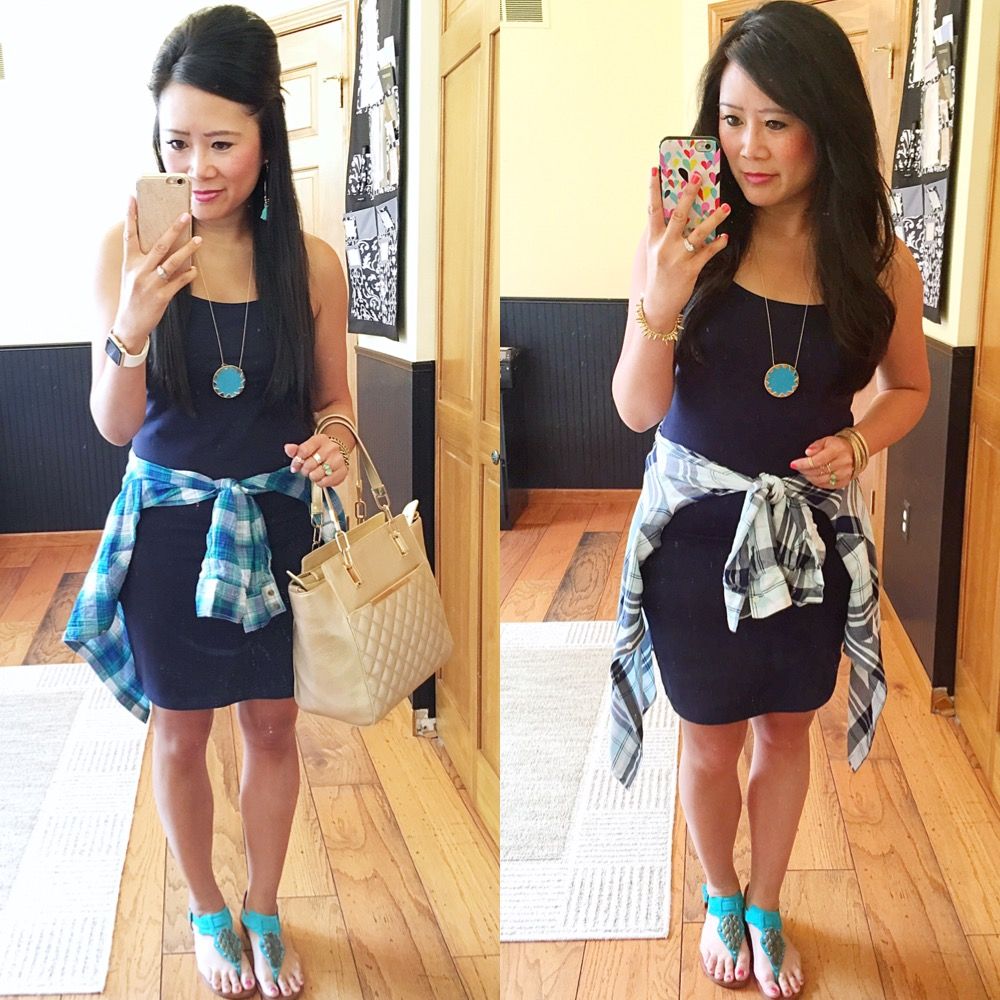 The piece:
Navy tank dress |
Right:
Then
Left:
Now-- Dress: Express (similar here) | Necklace: House of Harlow | Plaid top: Express (shop plaid shirts here) | Sandals: Dolce Vita
This is basically the same outfit except I switched plaid shirts. But yeah, basically the same. I love this dress SO MUCH MORE this year because I can breathe in it! You can see a bit of difference between both photos in how the dress fits me. I ended up ordering two of the similar styled dresses as I was writing this because the convenience of this dress is so awesome for warm weather! And the plaid top makes for a great accessory! It worked perfectly when I was eating in a chilly restaurant. Such genius!
Ok, I'm pretty sure I'm delirious typing this so sorry if none of this makes sense! I need to get some sleep! Have a great weekend!!