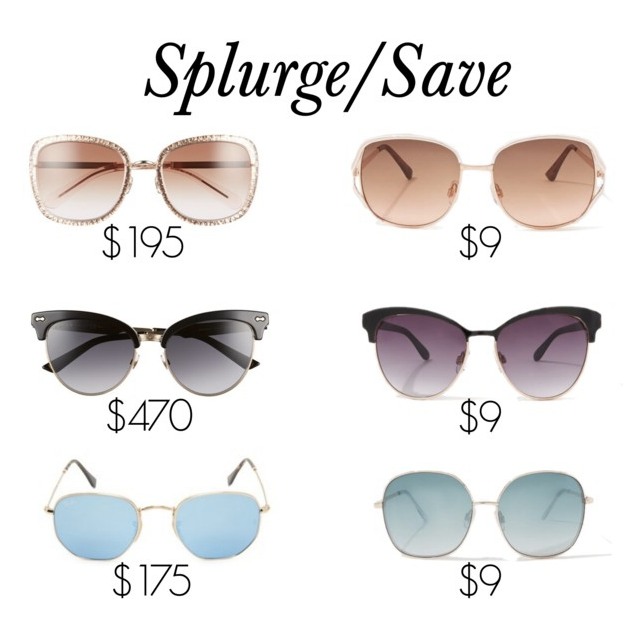 Splurge or save---
I mentioned in my summer survival post last week that sunglasses are a must for me when I'm at the beach or the pool! I only get one set of eyes in a lifetime, so it's a priority to protect them! I used to pick up all my sunnies at the $5 kiosks at the mall, but since the husband basically collects sunglasses, he has definitely influenced my shopping habits. I understand that everyone has different priorities, so I thought I would put together a splurge vs. save comparison so you can see how easy it is to find on trend styles for a fraction of the price.
Charming Charlie recently released this infographic with tips on how to find the best sunglasses that suit your face. I decided to put this to the test to see if their advice actually worked for me. I see my face as being more round than it is oval, so that is where I am focusing my attention. They're telling me to look for angular lenses that sharpen up my features a bit. They even go on to suggest frame colors based on the undertones of your skin. What was the most helpful for me was the lens color! The colors aren't just for overall aesthetics, each color filters light differently so there is a functionality piece you should consider when buying. This also justifies why you need several pairs. :-)
Charming Charlie was nice enough to let me pick a few pairs out to try. Based on the advice, these are the pairs I came up with, and yes, these are subsequently the "save" options shown in the opening graphic.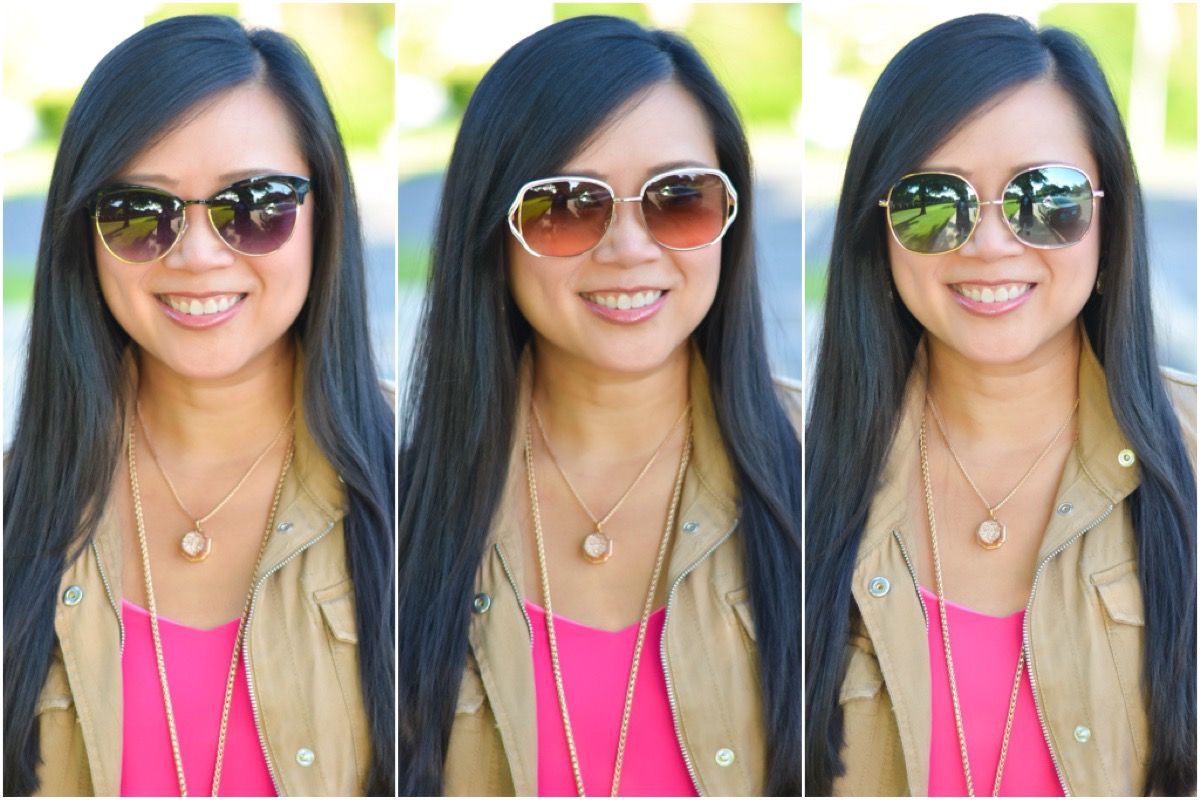 I'd say their advice was pretty spot on and I was pleased with how each pair looked on my face. Going with the ivory frames in the middle option is probably my least favorite combination, but I do also like that they are different than any other pair that I own. And the amber lenses really do sharpen things up from a visibility standpoint!
I know sunglasses in outfit photos can be super blogger cliche, but I do love how they can instantly transform the look and your attitude. Plus, let me tell you. When you're wearing sunglasses, it's one less thing you have to worry about (aka your eyes being closed) when picking out suitable photos to post. I do definitely pick my sunglasses for the day based on my outfit and accessories. It's one other piece to help tie your style all together!
This was a fun exercise for me. You will have to take this sunglasses "survey" yourself and let me know how their advice matches up with some of your favorite sunglasses in your collection!

SHOP THE POST: