So I am ending a series and starting a new series all in the same post! That may or may not be bad planning on my part, if I'm being honest. For some reason I was thinking I had 5 Tuesdays in July to work with, but since there were only four, that leaves this last post on the first Tuesday of August! It all kind of works out though because the last hair style of my series is the top knot, which subsequently is always the best for a beach/pool day! Let's get started with the tutorial first.
My bun has taken on lots of styles and shapes throughout the course of this blog! First, I started with the sock bun. I did actually use a sock for awhile then finally caved and bought the donut looking bun form. I liked it (you can see it on me in this pic here), but I started to feel like it looked more like a hat than a pile of hair. I then discovered what I liked to call my bird's nest. It was all teasing and hairspray and it made the perfect baseball sized and shaped bun. If you're interested, you can look back at that bun tutorial HERE. What I started not to like about those two techniques was that they looked to perfect. I wanted something that was messy and more haphazard looking. I've been using this technique for the last year or so.
Day 5 hair:
The easy top knot
Products referenced--- Hairspray: TRESemme | Sea salt spray: Not Your Mother's | Teasing Brush (mine came from my salon, this is similar)
Here are the previous weeks in this series if you need to get caught up:
Day 1 hair: The simple side pin
Day 2 hair: Flat iron straight
Day 3 hair: The half up poof
Day 4 hair: Braid to waves
Day 5 hair: The easy top knot (today's post)
The top knot is the perfect segue into the Coast to Coast Summer Survival collaboration I have going on with four other bloggers. Every Tuesday in August, we will be touching on a specific summer theme and how the each of us survive in our respective regions of the country. First up is Beach/Pool Day Survival!
Living in the St. Louis metro area, we really don't have a beach here. And none of our close friends or family have pools, so the reality is, I'm likely never at the beach nor a pool unless I'm out of town. The big thing here is simply going to one of the nearby lakes. The Lake of the Ozarks and Table Rock Lake are the two most popular destinations. Remember that time I went to Big Cedar Lodge? That is located on Table Rock Lake. Unfortunately, it was winter when we were there, so heading to the water was not an option! The husband's bestie used to live in Lake St. Louis and he had a boat, so we spent a few weekends on the water there - the lake was just two blocks from his house. Sadly, he no longer lives there, and I really miss it!
I've spent many trips by water and pools though, so even if I can't frequent them when I'm here in St. Louis, I still have my list of things I need to survive when I'm there!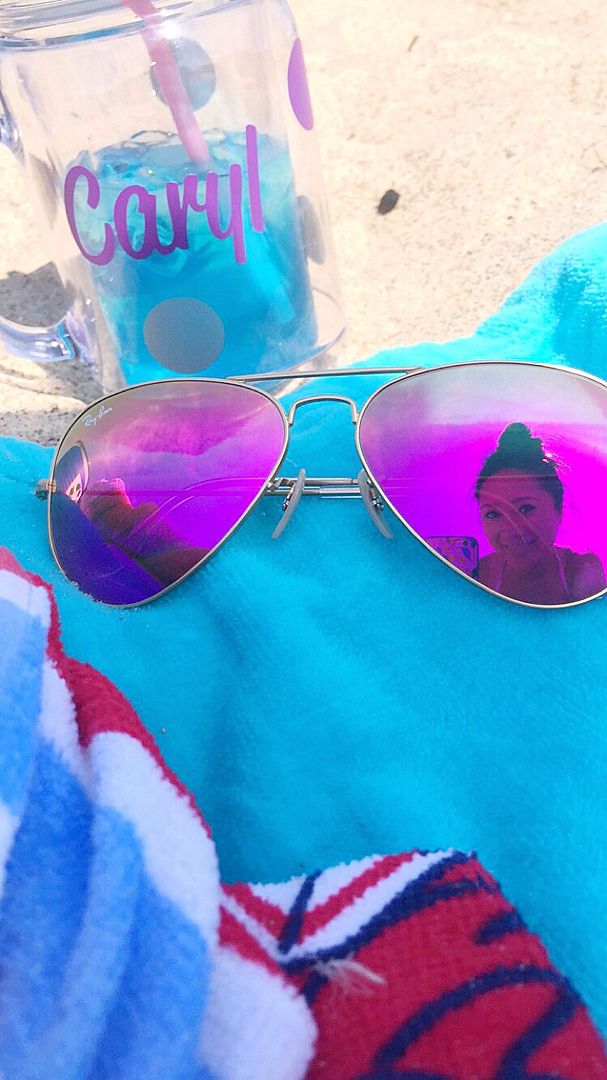 1. Sunglasses -
The husband is pretty into sunglasses and has officially converted me. I was previously just wearing the $5 pairs you found at those kiosks at the mall. But after investing in a couple of designer sunnies, I can see how they are important. I can always see such a difference in the clarity of the lenses. And I figure, these are my eyes I am protecting, and I only get one pair in my lifetime, so they are worth investing in. I realize though that not everyone has the same priorities, and that's totally fine! There are so many other budget friendly options available. I am pretty sure
Charming Charlie
has a dupe of every designer pair I own for next to nothing in price! Regardless of your price point, sunglasses are a must. I will say that I do slip them off for 5 minutes or so at a time just to even out any tan lines and minimize raccoon eyes!
2. The perfect beach bag - My beach bag usually doubles as my carry on bag when I am traveling. I always want one that is brightly colored, lightweight, and with one big open center compartment. The straps need to be at least an inch or so wide so it doesn't dig into my shoulders regardless of how much I decide to stuff it!
3. Hats, hats, and more hats - While I love a good sun hat, they are more for stationary use, and not necessarily when I am trying to get in and out of the pool. I end up bringing a few types of hats with me on beach vacations. A standard baseball cap, a straw hat of some sort, and a visor. (Visors are the best, especially with my top knot!) It helps give my face some added protection, and I probably wear hats more on vacation than I do in real life.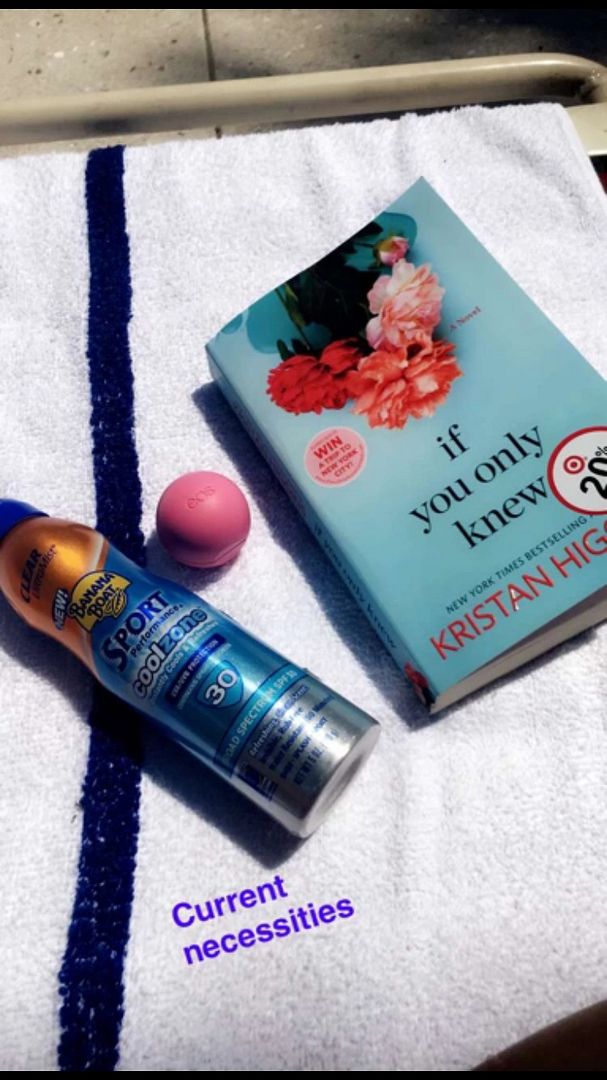 Originally from this post HERE
4. A good book - The only time I truly make time to read is when I am on vacation. Though, I will say that I am quite proud of myself because I've read about a half a dozen books since our last vacation in Florida at the end of April. That's really good for me!! I prefer my books to be completely light, upbeat, and fast. Romantic comedies are the best. I usually find one author I like then read all of their books for the next few months until I find another author over which to obsess. My current favorite is Kristan Higgins. I read her entire Blue Heron series and was a bit sad when I finished the last one. Each book had the same characters, but you didn't have to read one to understand the other.
I know I'm not telling you anything you guys don't already know, but if you couldn't tell, I also wanted to use this post as my gateway to introducing you (or re-introducing you) to some of my old travel posts that you may have not seen before. I'm definitely thankful that we get to travel as much as we do (when it's for fun, anyway!) so I hope that my trips teach you about new places to see in addition to the things I take with me to survive while I'm there! I hope you'll visit the other bloggers to see what they have to offer!
COAST TO COAST SUMMER SURVIVAL
Follow through our coast-to-coast blog hop by heading to the South for
Cyndi's
take on this week's theme, or simply use the links above to meet each blogger in this series.

SHOP THE POST: