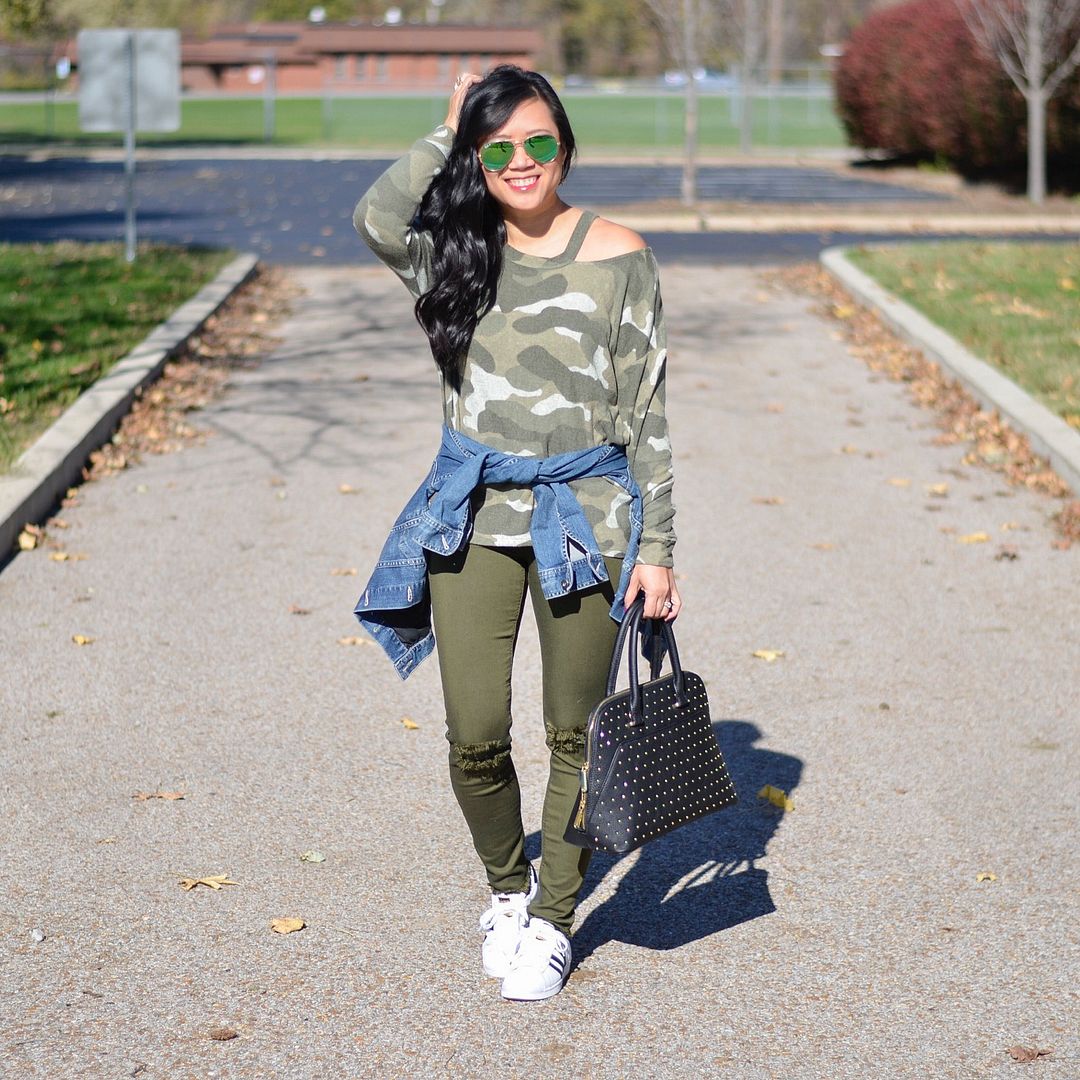 YOU GUYS!! I cannot stop smiling, even as I'm typing this!!! You see, last weekend, my favorite Cardinal (who subsequently is now a Padre) had a local signing event. As soon as I saw it advertised a couple of weeks ago, I FREAKED out and told the husband that we were going. (I legit sent him a meeting invite and everything so it populated his calendar, ha!) It was at a collector's shop and I had no idea what to wear. We were headed out to take some blog photos beforehand and I had brought some Cardinals gear with me to change into before going to the signing.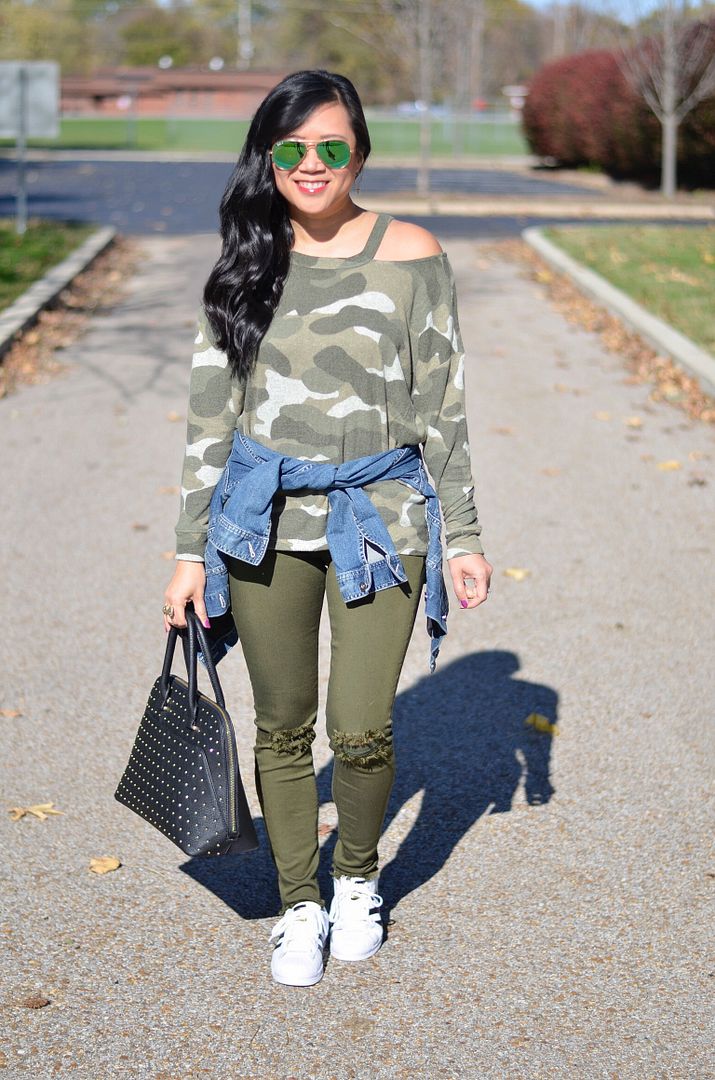 I was conflicted - should I wear Cardinals red even though he's not a Cardinal anymore? Or should I wear an outfit that I felt was even cuter than my Cardinals stuff? And what was I going to get him to sign?! My Cardinals outfit consisted of his jersey over a striped red/navy long sleeved tee, destroyed jeans, and my red Chucks that are monogrammed with "Go Cards."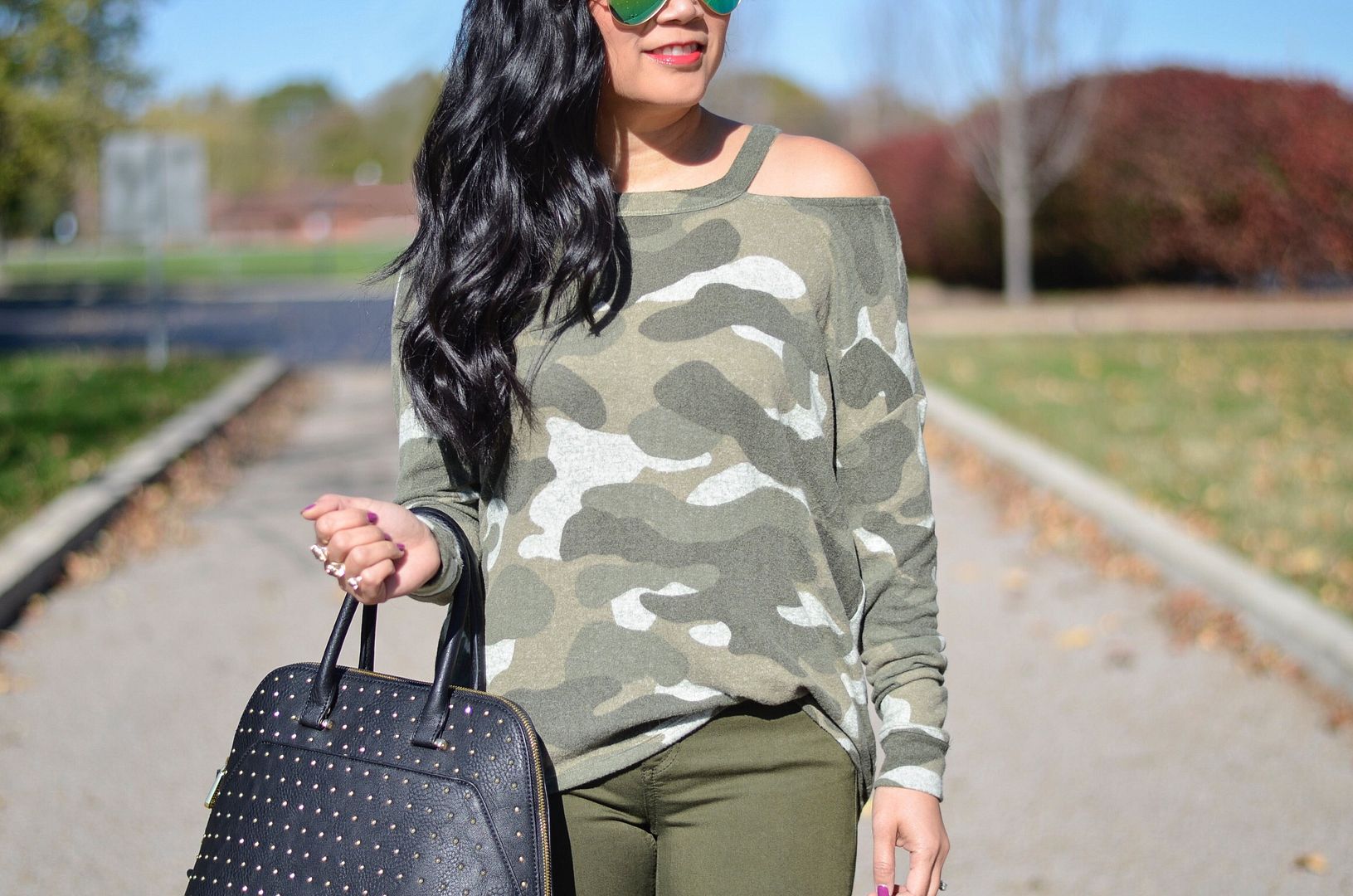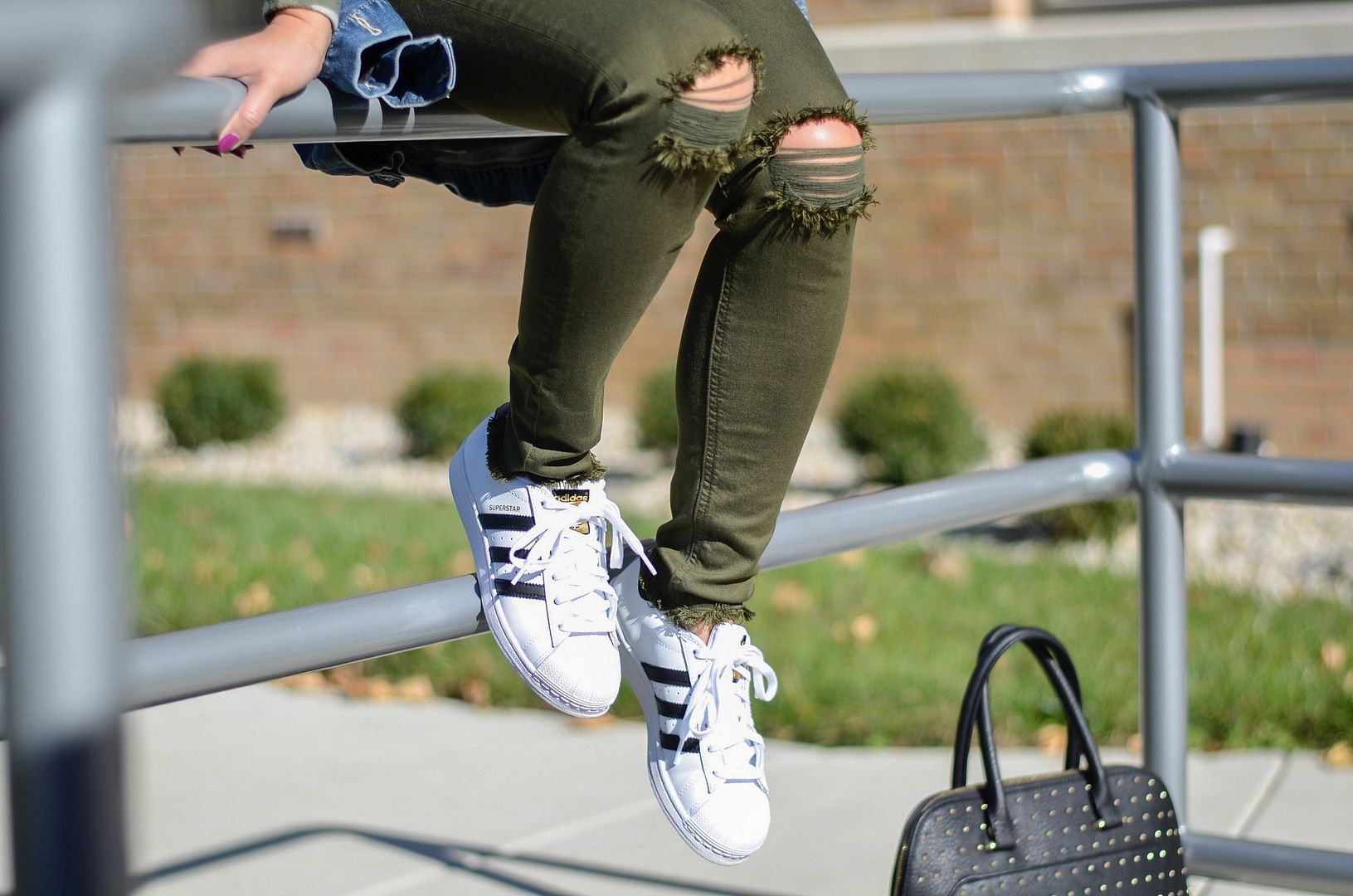 Let's be real for a second. It is a pain in the tushy to change in the car! I had already done it once, and since it was in the husband's Camaro nonetheless, it was a struggle and I was not wanting to do it again. So, after we took these photos, I decided I would just go ahead and wear this outfit. I felt cute in it but without trying too hard.
But then, we decided to eat at one of our favorite gyro places -
Lilly's
in Fairview Heights. The food is uh-mazing but the place isn't that big and I left smelling a bit like a gyro. Well, crap! I don't want him to think I smell like a gyro! So what's worse now? Smelling like a gyro or having to change in the car AGAIN potentially messing up my hair and becoming really sweaty? I took my chances and hoped the gyro smell would fade by the time we got there.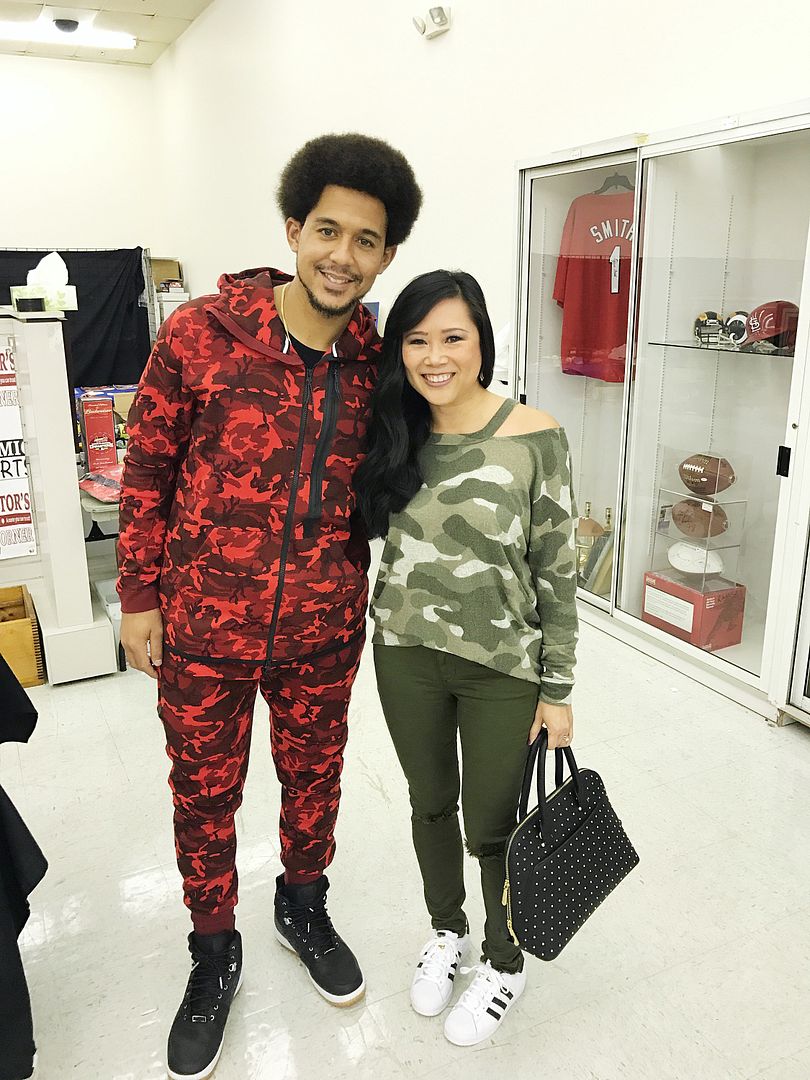 Me with Jon Jay (San Diego Padre #24, previously St. Louis Cardinal #19)
I'm kinda really happy that I didn't change because it turns out, we were a Christmas-colored camo duo! Haha! I told him we had to take a photo since we were both in camo. He then showed me his camo wallet. YOU ARE OBSESSED WITH CAMO, TOO?! Oh shut up! Just shut up! You had me at, "Hello!"
*sigh*
I miss seeing him play on the daily. He is an amazing center fielder.
But seriously though. I was shaking the entire time we were standing in line, the husband couldn't stop laughing at me. Luckily, the guy two people in front of us had a whole duffle bag full of things for him to sign, so that gave me some time to try and compose myself and put my big-girl pants on an disguise myself as an easy breezy adult. Inside though, I was freakinggggg out! He had his arm around me! Ok then. I shall go pass out now.
Bloggers! On Tuesday, November 22 be sure to stop by Pinksole, More Pieces of Me, or On the Daily Express to link up your Black Friday themed post. All bloggers who join the link-up with a qualifying post will be entered for a chance to win a $60 Gift Card to Nordstrom!
The rules to qualify are simple:
1. Add your Black Friday or Cyber Monday themed post (whether it's a Wishlist, Gift Guide, Sale Guide, etc.) to our link-up anytime between Tuesday, November 22 and Monday, November 28.
2. Include links back to all three link-up hosts:
Pinksole
,
More Pieces of Me
, or
On the Daily Express
within the exact post you are adding to the link up.
The link-up is open to all but only those who met the criteria above will be eligible to win the gift card.
We hope you can join us!

SHOP THE LOOK: