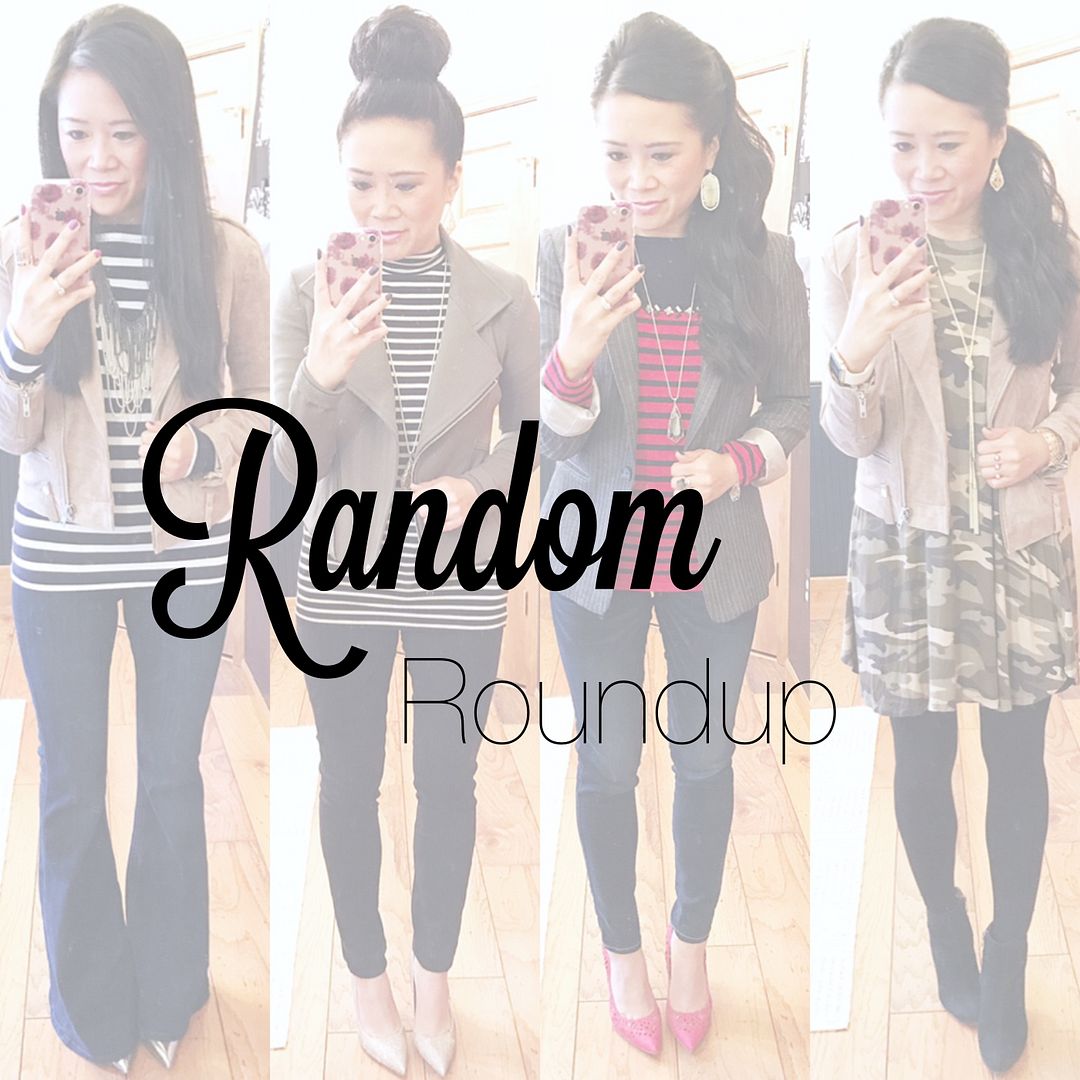 Holy crap! It's Friday, which is awesome but it's the last weekend before Thanksgiving and a house full of guests!!! Guess I have some work to do this weekend! But, before I do, I have a handful of outfit selfies to tide you over for the weekend! Let's get started!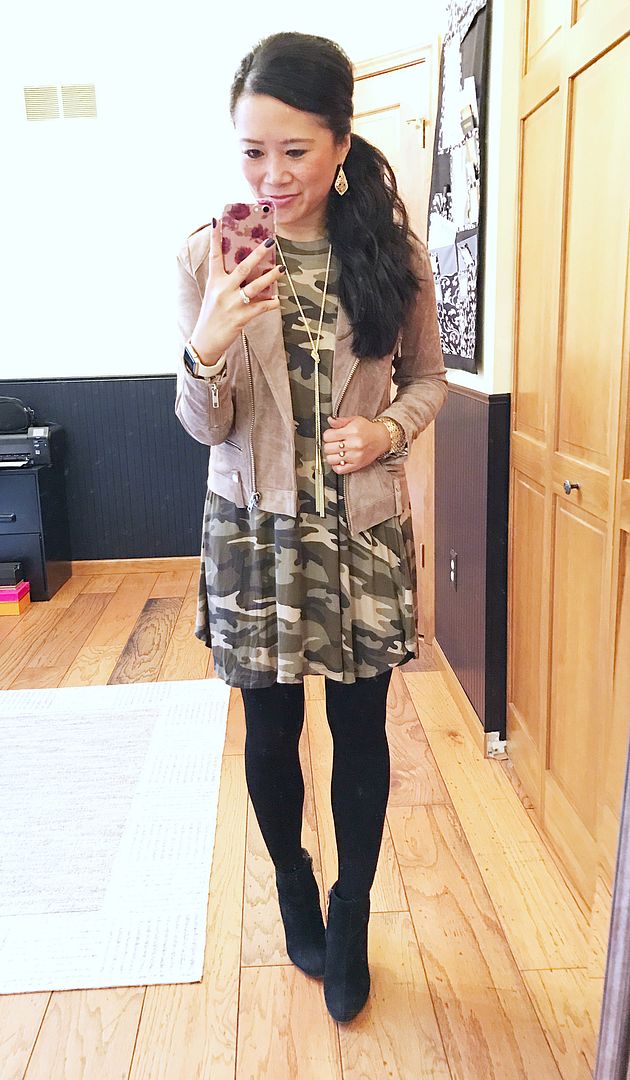 Now that the temps are consistently cooling off, I've been reaching for my wedge bootie + fleece tight combo over and over. They are perfect with dresses and skirts in the fall and winter because they make my 5'-2" self feel like I have mile long legs. You can see proper photos of this tights + booties combo in last week's post here.
I accumulated 3 of these jackets in different colors over the years and I was afraid to put them on for the season and see that they were too big. Thankfully, I am still happy with the fit, and I'm also thankful that my past self sized down a couple of sizes before, which certainly helped with them still looking acceptable on me now! I would be heartbroken if I had to give them up because they do add instant structure but edge to an outfit that a cardigan, denim jacket, or utility jacket couldn't necessarily do.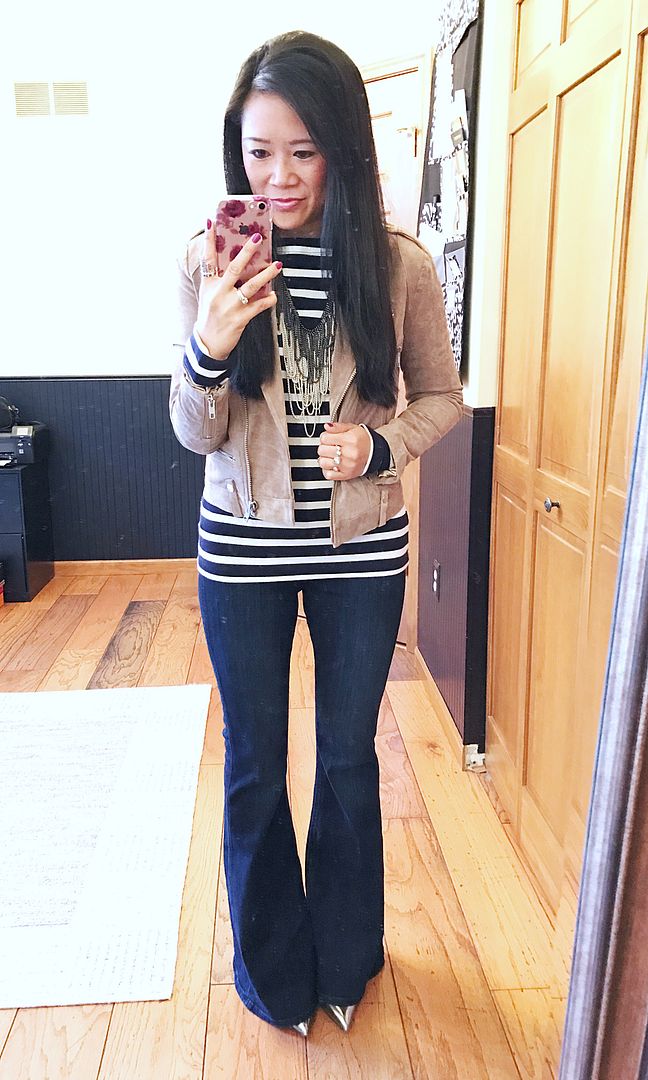 I realized I hadn't worn my flares to work since I wore them in this post here. I was actually surprised because I thought the handful of people that normally made smart remarks about my outfits would certainly say something about the flares since they're such a statement and different than my skinnies that I normally wear on the daily. But I survived the day unscathed! Ha! Not that I necessarily let them dictate what I wear or not wear, but I usually can predict when something will generate a lot of dumb comments. I will admit that I struggled with the silhouette of this outfit for a bit. I wanted something fitted up top to offset the volume of the flares. But I also wanted the length of my top to hit right at mid hip. These boatneck tops from Gap are perfect for this - I have it in several colors. And since these jeans are pull-on, I'm completely seamless with no buttons or pockets bulging in front, which I love.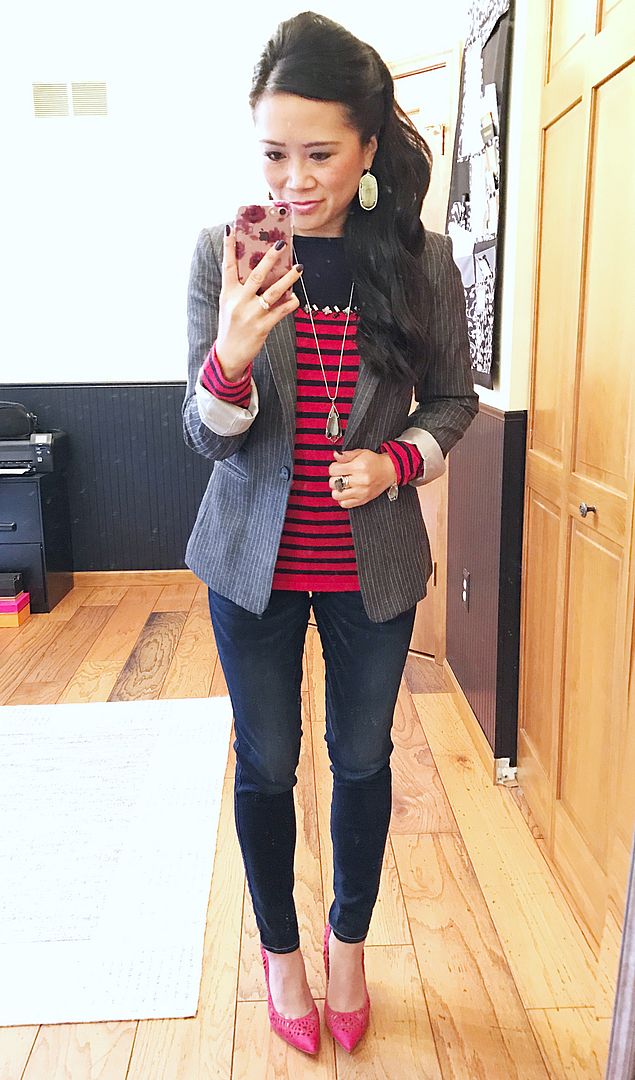 And last but not least is this layered look with one of the few blazers that I actually own. Every time I wear a blazer, I wonder why I don't have more. The sweater gives me the pop of color I love and the embellishment detail makes the outfit feel like me and not stuffy. And of course, pointy toe pumps for good measure!!
Bloggers! On Tuesday, November 22 be sure to stop by Pinksole, More Pieces of Me, or On the Daily Express to link up your Black Friday themed post. All bloggers who join the link-up with a qualifying post will be entered for a chance to win a $60 Gift Card to Nordstrom!
The rules to qualify are simple:
1. Add your Black Friday or Cyber Monday themed post (whether it's a Wishlist, Gift Guide, Sale Guide, etc.) to our link-up anytime between Tuesday, November 22 and Monday, November 28.
2. Include links back to all three link-up hosts:
Pinksole
,
More Pieces of Me
, or
On the Daily Express
within the exact post you are adding to the link up.
The link-up is open to all but only those who met the criteria above will be eligible to win the gift card.
We hope you can join us!

SHOP THE POST: