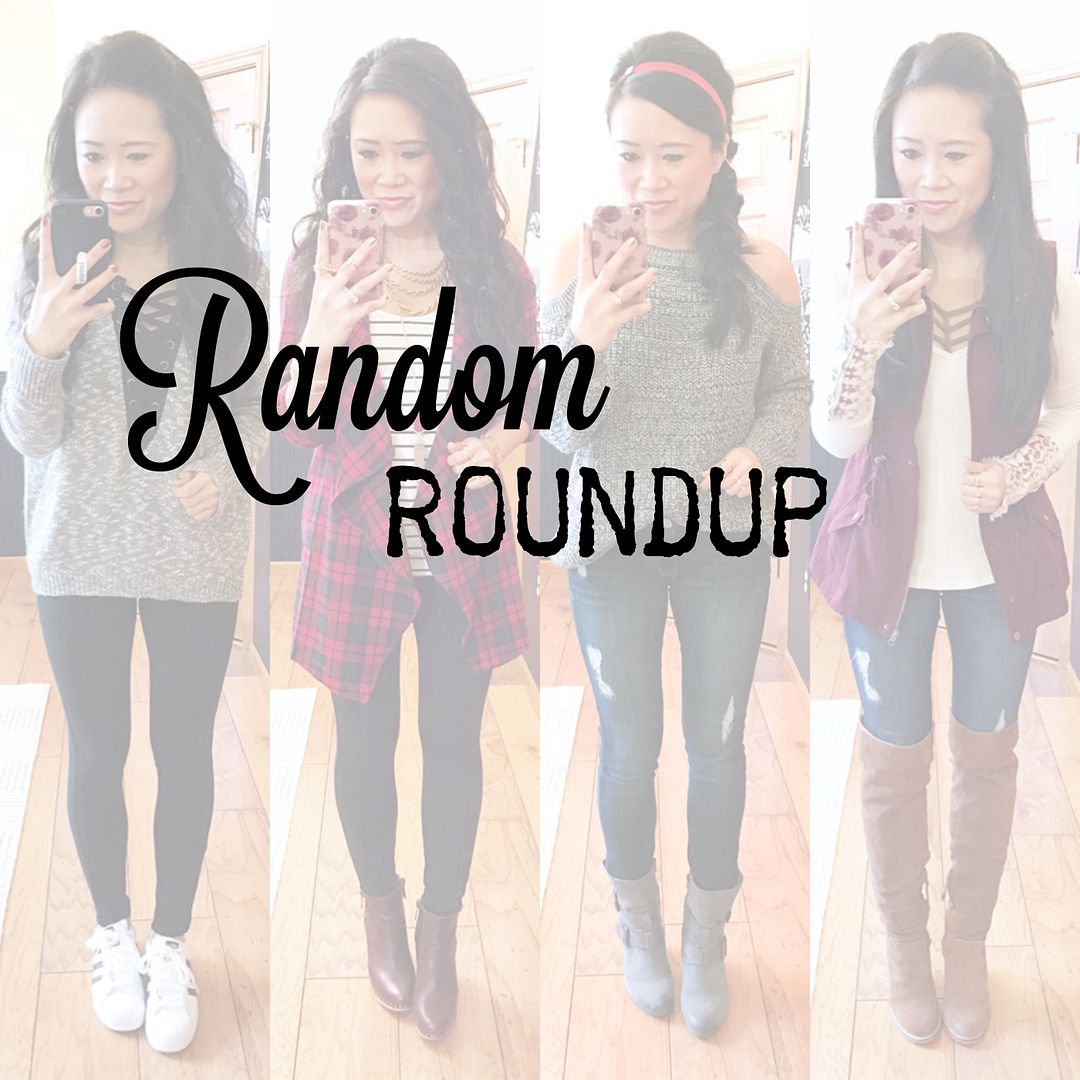 Well, one week out of 2017 is already under our belts! Poof! How quick did that happen?! Trying to get back into the swing of things over here, and there's no better way to do that than to share my standard Friday random roundup post! These are outfits I wore over the holidays. Let's be real, I was in sweats more than I was in real clothes for the last couple of weeks, so these may be indicative of the only times I actually got dressed! I'm sure you can relate! Let's just get started!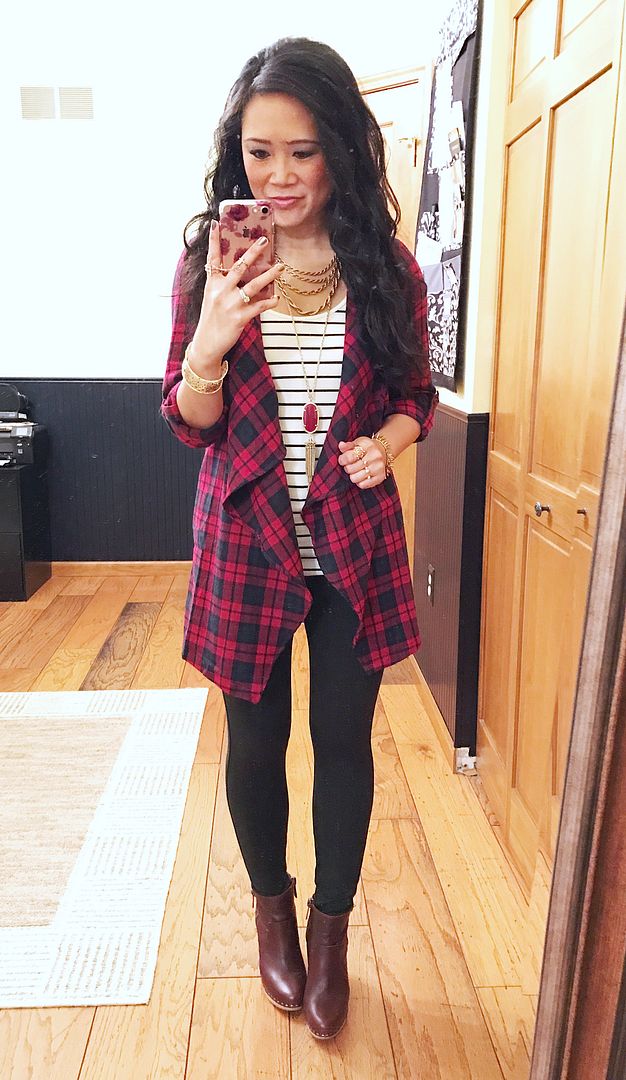 On Monday, I talked about how I took it relatively easy on the adult beverages on New Year's Eve because I felt like death on Christmas thanks to a holiday party we attended the night before. Well, this is the outfit I wore to that Christmas party, and I'm almost feeling hungover just reminiscing over the outfit! Ok, not really, but almost. This flannel cardigan is pretty genius. It has the structure of a regular button up, but the fun, cascade of an open flyaway cardigan. The lace detail on the back of this flannel is a fun surprise, too! I want to wear it belted over a dress next!
Headband: Paperdolls boutique (c/o) | Sweater: CS Gems (c/o) | Bottoms: Express (similar) | Boots:
Naya (other colors here)
You can see proper photos of this sweater in last month's post here. I love this sweater a lot. It was perfect to throw on for Christmas day when we were making our rounds to visit family. We also saw Rogue One that day as well. I think it's going to be our new tradition to see the new Star Wars movie on Christmas day, so they better keep pumping them out!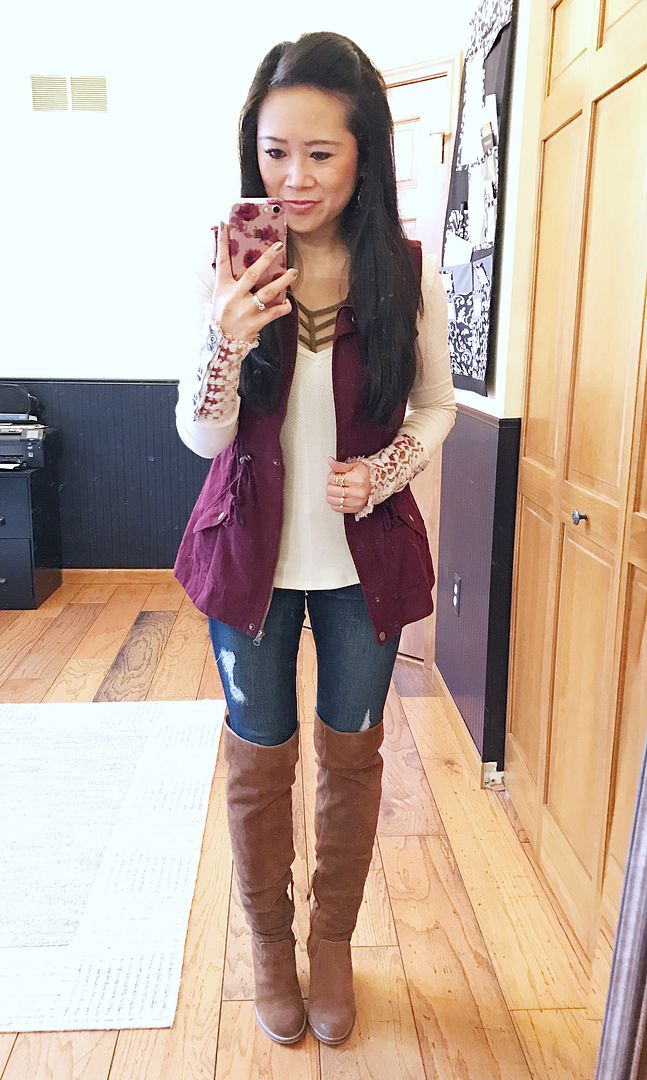 Jenna and I met up the week between Christmas and New Year's for the yummiest lunch! She found this place called Lona's Lil Eats on Yelp and marked it as a place she wanted to visit. I'm glad she did because it was delicious, and I've been craving it every day since I've had it! I love a good wrap, but there's something about the rice paper that steps up their wrap game to another level! The dumplings and cucumber salad were also both amazing. Ok, I need to stop talking about it!!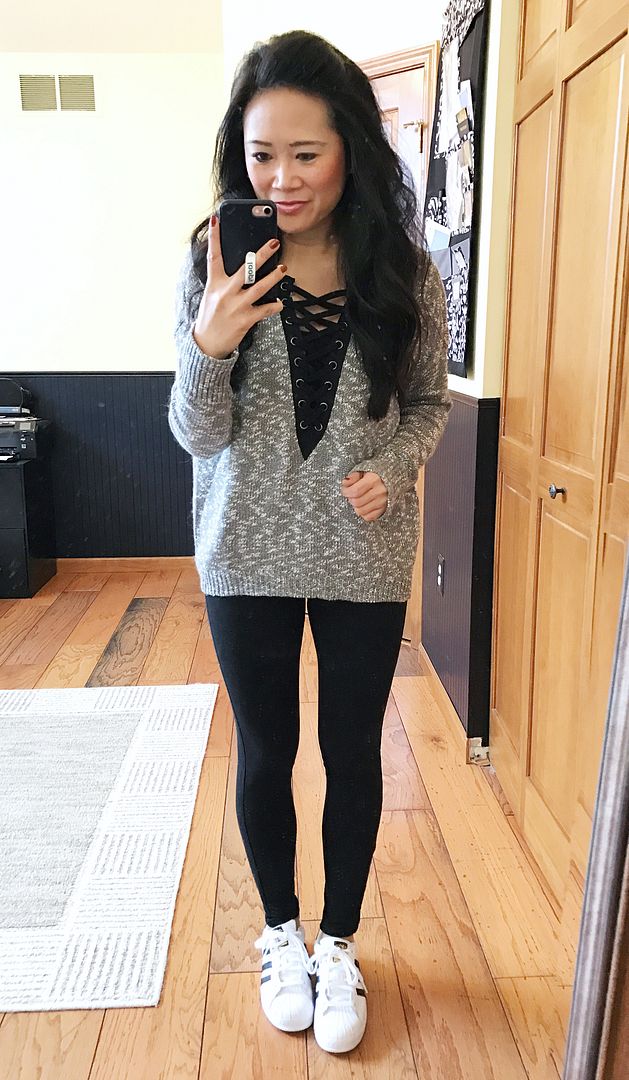 And last but not least is this fun, casual outfit I wore on New Year's Day. It's a tradition on the husband's side to get together for New Year's Day lunch and eat ham and bean soup. It was delicious, and the comfiness of this outfit was exactly what I needed after a late night! I'm really glad I got these Adidas. They give my Chucks a run for their money!
And that's all I have for you today! Thanks for hanging in there with me and my sporadic posting schedule. I'm thinking I will stick to 3-4 posts for 2017, so we'll just have to see how that goes and adjust from there! You can always follow along on Instagram or Snapchat (carylee07 on both platforms) to see the latest and greatest from me!

SHOP THE POST: