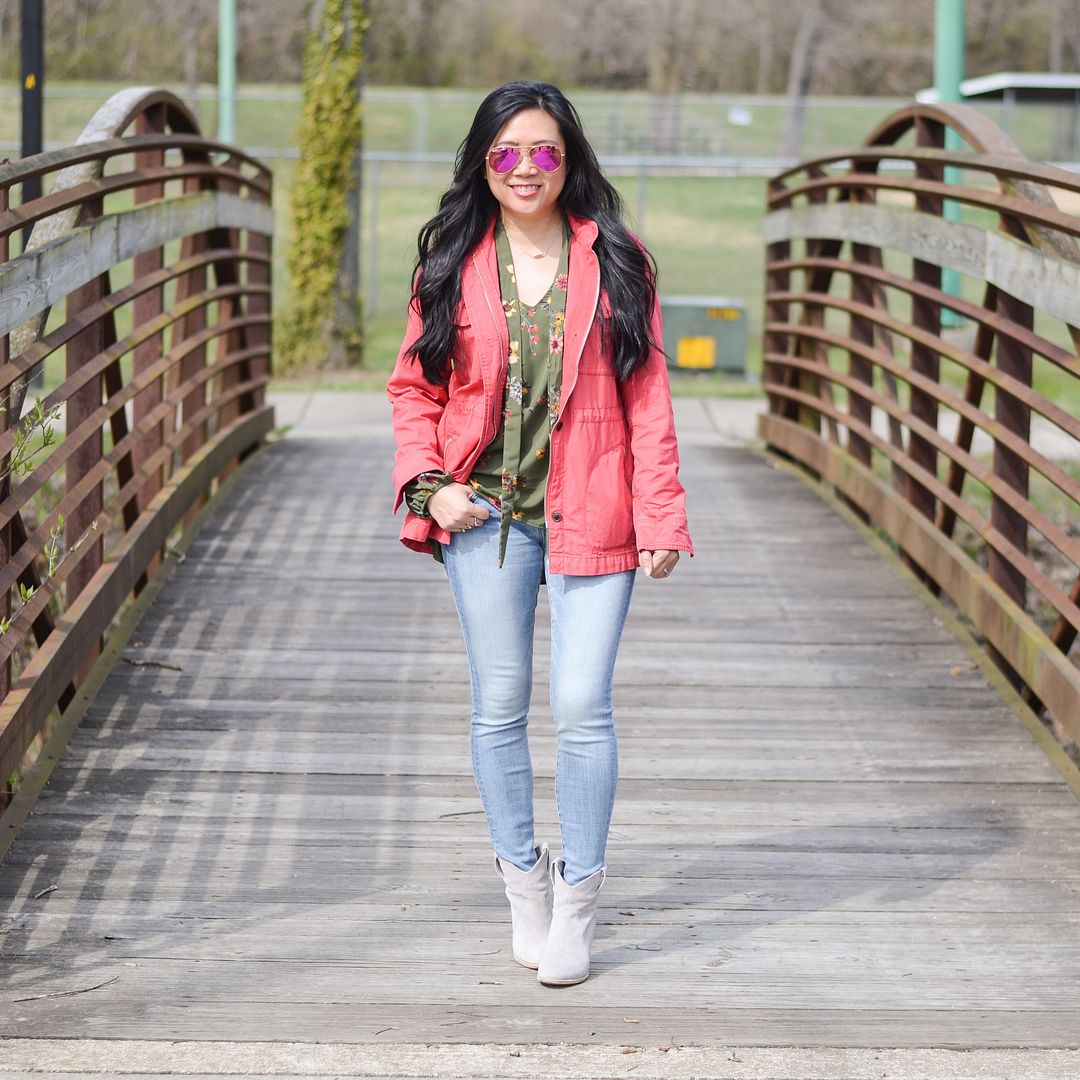 I wore this outfit for a 6-year old birthday party last weekend, but decided to schedule the post to go live for St. Patrick's Day since I don't own much green. Ok, I'm lying. I own a crap ton of olive, but not much of the kelly green shade. This definitely falls in the olive category vs. the latter, but just go with me on this being appropriate for the holiday, ok?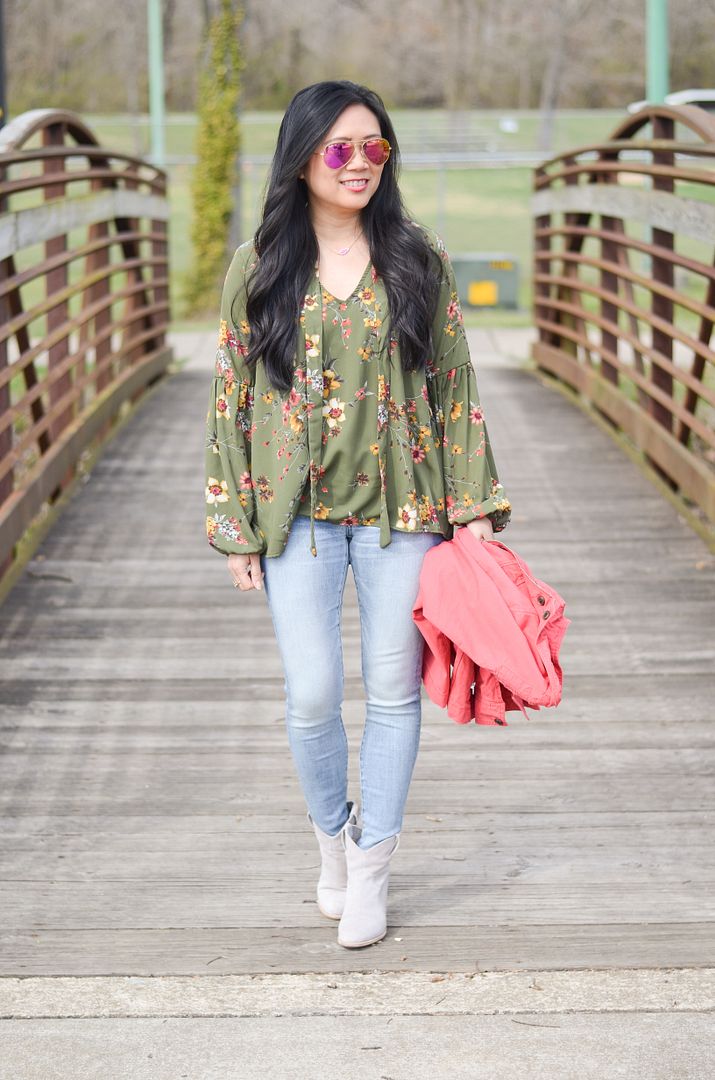 I was super excited that Carrie and Stacy from CS Gems were sending me this top because it's absolutely fabulous. Olive and floral make for the perfect combo, and although I don't normally reach for tops that are as voluminous as this one, I still really love it. I decided to leave the neck ties loose for this particular outfit, but when I originally tried it on, I also loved the option of wrapping it around and securing it with a bow behind my neck for the trendy choker look. And how awesome does it look with the coral jacket? I got the jacket about this time last year, and it's such a good piece to transition outfits into spring.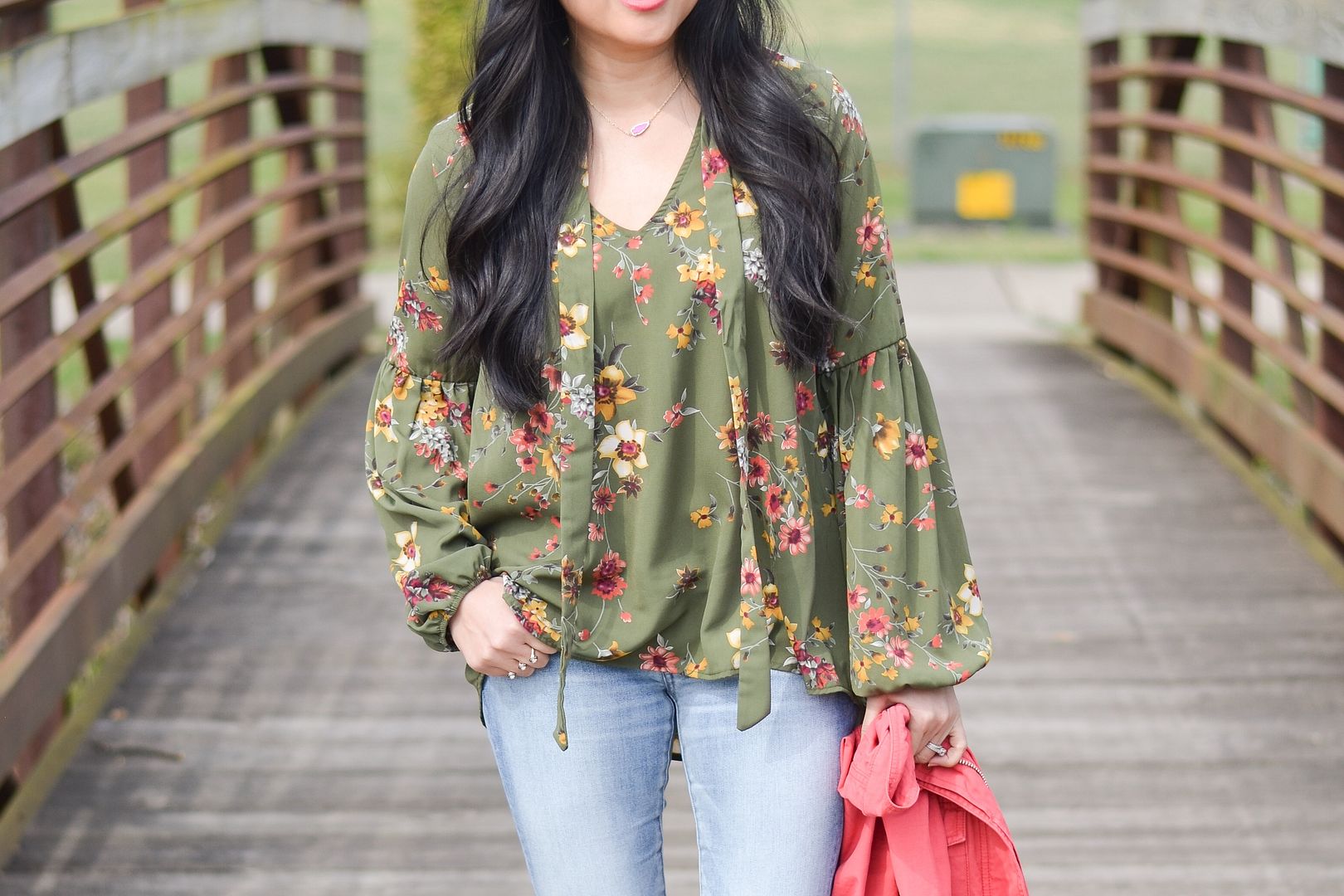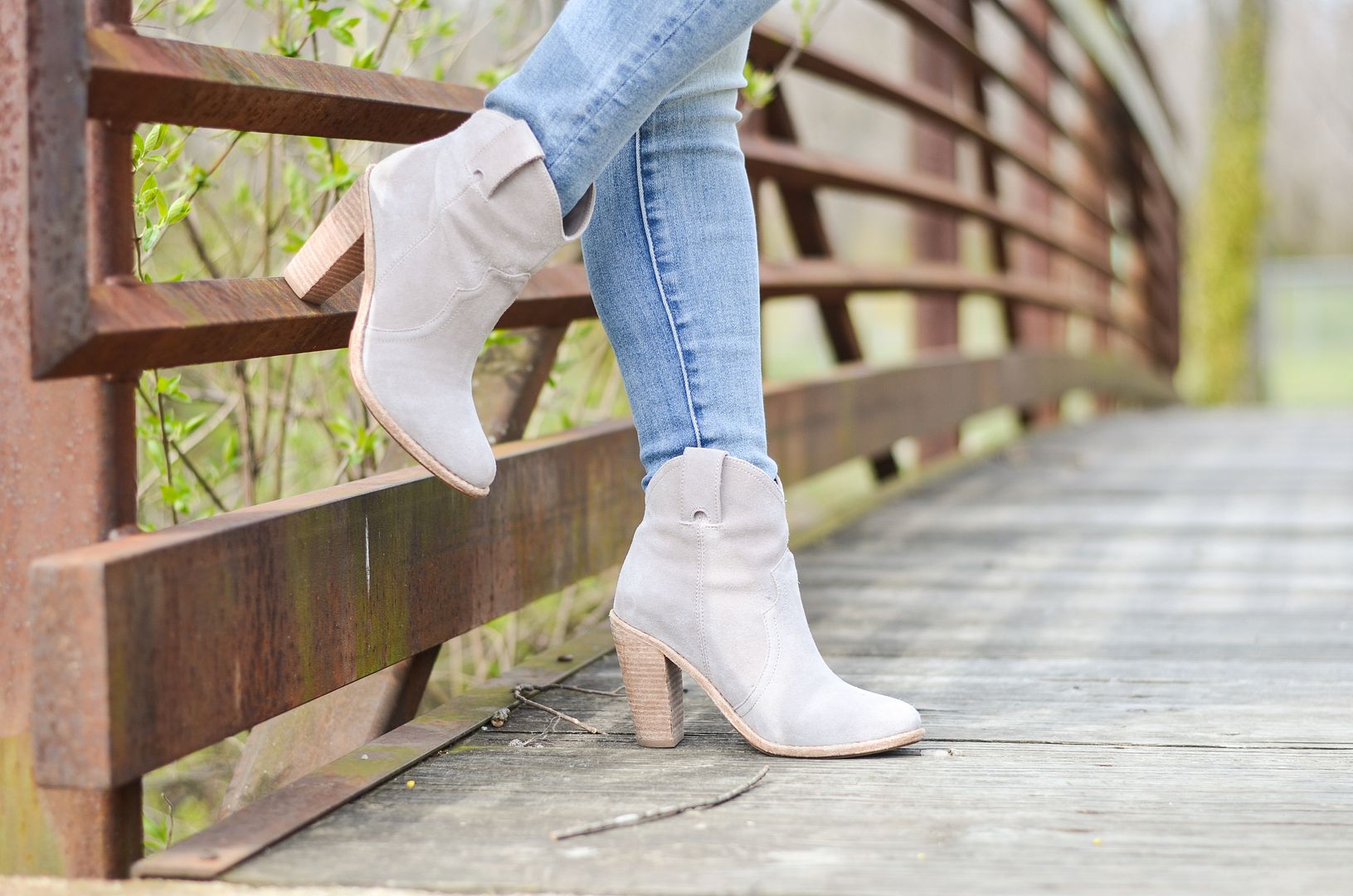 I originally planned to wear my bright pink heels with this outfit but figured the stacked heel bootie was more appropriate for a 6-year old party. I made the right choice because I ended up taking photos with our real camera during the party and those kiddos don't sit still for very long! These jeans are new - I have been wanting a pair of super light washed jeans and these are everything I hoped for. I just love the way they stay fitted through the ankle because they tuck perfectly into booties. I always buy the "short length" sizes for American Eagle bottoms and they work well for my 5'-2"self!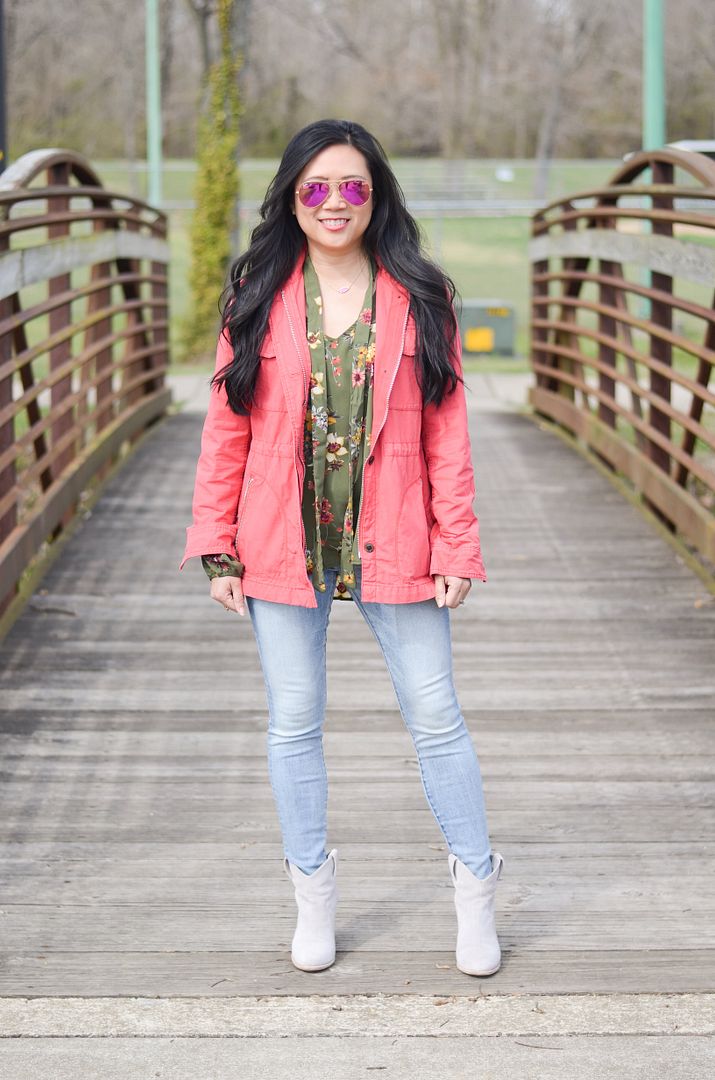 We ended up celebrating the holiday already last Saturday. If you saw the coverage on Snapchat, I apologize for all of the scream singing. Geez! We have a standing date with the husband's BFF every year because St. Patrick's Day is also his birthday. We usually go downtown for the parade and then head to a local Irish pub for corned beef and cabbage and maybe just a few adult beverages. Yep, just what I needed after a week of social drinking in Nashville! More cocktails! Needless to say, I will be taking it easy for awhile and let my body get back into shape!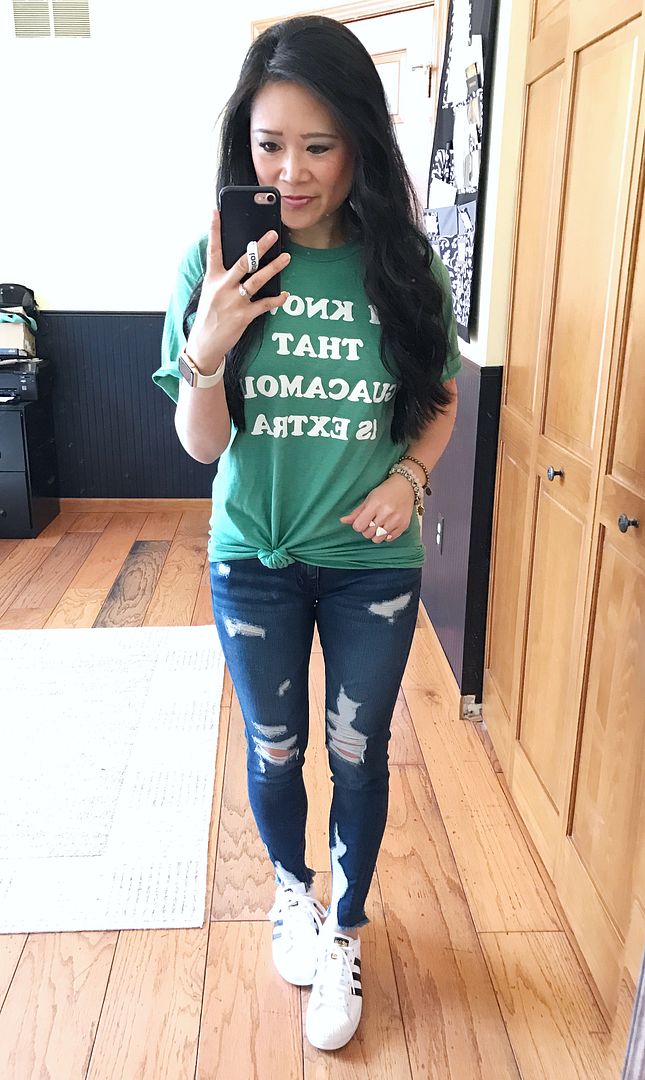 I told you I really lack in the kelly green department. I decided to whip out my guacamole shirt. The color was perfect for the occasion and the message made it ironically funny? I just told everyone I thought it was Cinco de Mayo. Wearing these Adidas all night made me realize how much more comfier they are compared to my Converse. I wore my Converse all week in Nashville and while I survived, I know these would have felt so much better. Oh well! They worked perfect for the casual night out, and that's definitely all that matters at the moment!
If you are celebrating tonight, be safe and eat some corned beef for me! That sounds extra delicious right now!!!!

SHOP THE POST: