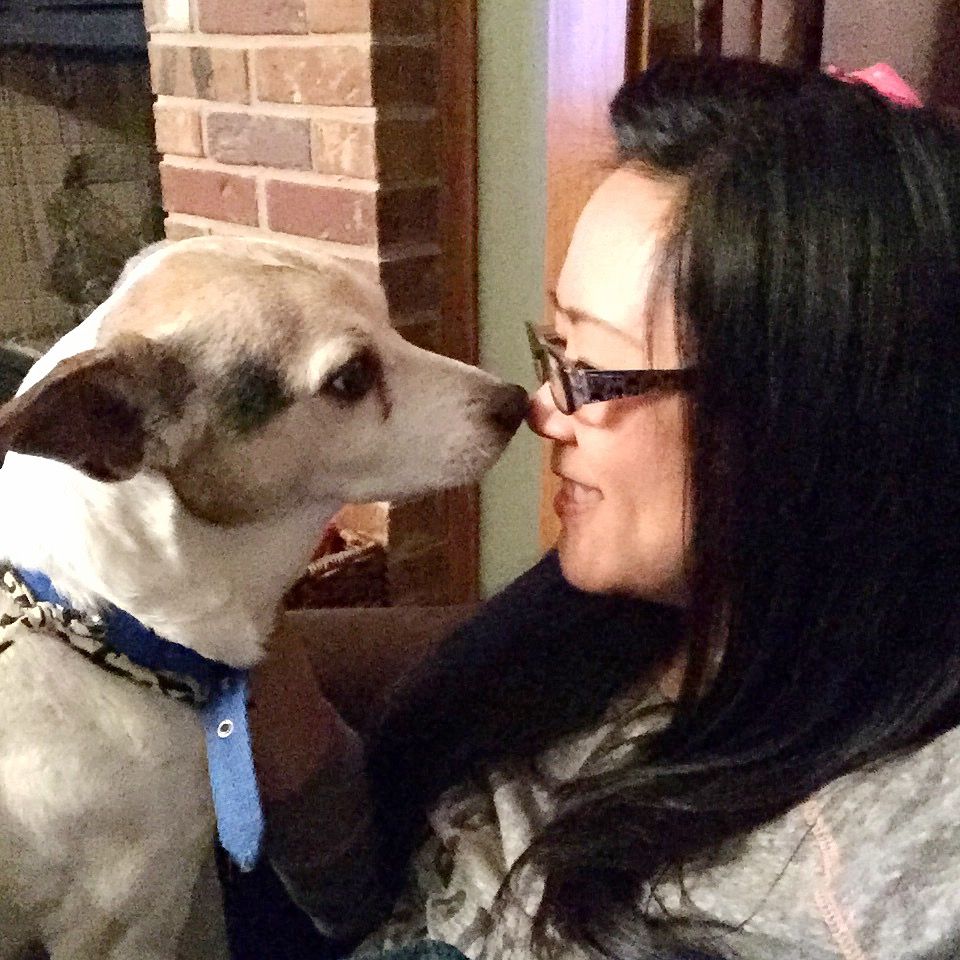 It is with such a heavy heart that I write this post. I am completely heartbroken, but I know it will help to get my thoughts out here, so here I am. I've shared the most about this situation on Snapchat more than anything, but in case you didn't know, our rat terrier, Petie has been battling cancer, among other things. We made the difficult decision this morning to let him rest. It was one of the hardest, if not THE hardest, decision I have ever made in my life and I don't wish this kind of pain on anyone.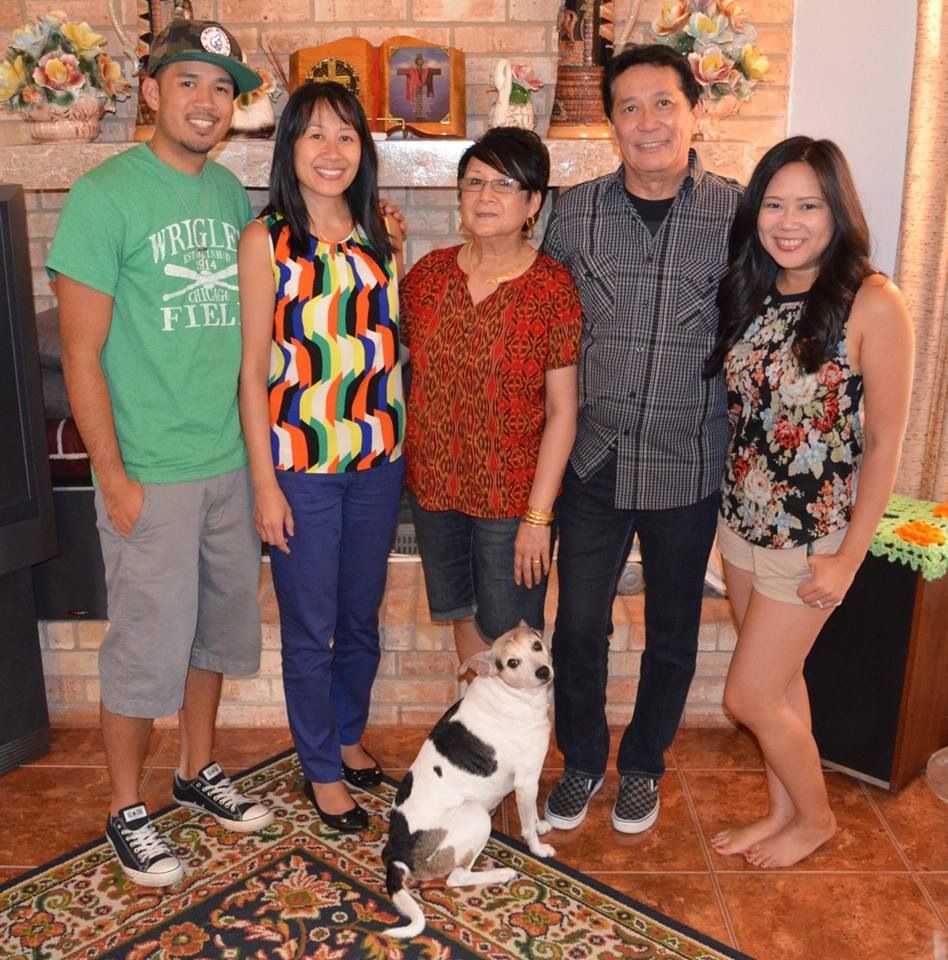 Petie joined our family in 2001. He would have been 16 years old later this month. 16 years is such a long life for a dog, so for that I am thankful. He was my brother's dog originally, and after my brother moved out from my parents' house into an apartment, my mom continued to take care of him. Once my nephew was born, my mom spent (and still spends) a lot of time traveling back and forth between San Antonio and SoCal, which meant Petie was getting boarded a lot and that made me sad. I worried about him a lot. Two years ago, my brother agreed to let me move Petie up to St. Louis on the condition that my brother could take him back whenever he was ready. Petie was 14 at the time, so he was not a spring chicken, but we wanted to make sure he had all the love and company in his older years, for as long as we were lucky to have him. Plus, the husband had been wanting to get a second dog anyway, so it all worked out for everyone. I took a one way flight to San Antonio one weekend so we could drive back with Petie.
He was the sweetest, smartest dog, so it took zero convincing for the husband to agree to adopt him. He fit right in and I think Annie, our beagle, kept him young. He's had a few health problems over the last few years. He had a perineal hernia, which meant that he had an abnormal placement of his pelvic and/or abdominal organs in his booty area. He was over 10-years old at the time that he was diagnosed with this - the condition is common for dogs who are not fixed, and he wasn't fixed at the time. My brother's vet at the time was wary about doing such an extensive procedure on Petie being so old. It wasn't affecting him at the time other than him taking a little longer to go to the bathroom.
We adopted him in April of 2015, and in December later that year, his hernia really started to affect him. If he wasn't sleeping, he was constantly trying to push and go to the bathroom. Not good. We took him to a specialist who routinely performs hernia surgeries on older dogs. They took tests and his little heart showed that it was strong enough for the surgery, so we knew we had to have it done for him.
They also castrated him during that same surgery, though they left his sac since that really is just cosmetic only and they didn't want to keep him under anesthesia longer than they had to.
The pic above was taken just a couple of weeks after his surgery. He did AMAZING. I was such a nervous wreck, but he is strong as nails and he was already going to the bathroom normally within the first few hours of coming home. It was like we had a brand new dog and our hearts were so happy to have been able to relieve him from the discomfort.
It was smooth sailing for the next few months, but then in September of 2016, his sac seemed to be red and irritated and bleeding out. We took him back to the same specialist to see if this was somehow related to his surgery. Come to find out, it was a mast cell tumor, which historically tends to attack the private parts first. After more tests and ultrasounds, we found out he had 3 big masses that could or could not be cancerous and they recommended removing, including one on his spleen. We were hesitant to put him through another extensive surgery - he was 15 now! But again, his vitals came back strong so we had to at least try.
Everything was removed with clean margins except one mass. Our options at that point were to 1) put him back under the knife to have them try and remove it, knowing they still may not be able to get everything 2) have him go through radiation treatments, which would involve him coming several times a month, going under anesthesia, and then doing the traditional radiation or 3) placing him on an oral chemotherapy treatment - he would get this every other day, and as it built up in his system would diminish down to just once a month.
We decided to go with option 3. We could not fathom putting him under the knife one more time knowing they still may not be able to get everything. And the radiation treatment also sounded too intense. We knew we had to do *some*thing though and the oral chemo seemed like the best option.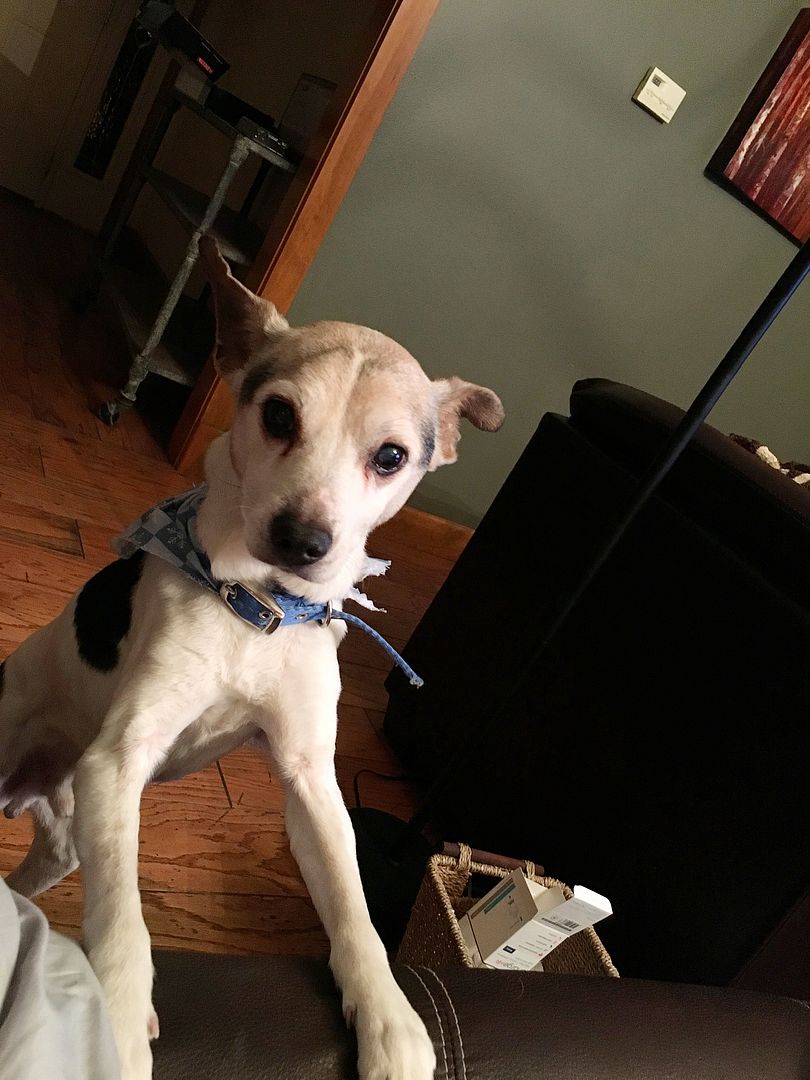 Again, it was smooth sailing once he started the chemo. We took him to the oncologist every 3 weeks or so, and each visit was uneventful, which is certainly what we wanted. He had managed to work his way to only getting chemo once a week, but then at a visit earlier this year, the oncologist noticed his lymph nodes were swollen, which is a sign that the cancer was back. We upped the frequency of his chemo again to every other day to see if that would help. After a few weeks of that with no positive reactions, they switched him onto a more aggressive chemo treatment. It was still oral, but it was hard core - I had to wear gloves to even open the bottle. He was on this for a few weeks, but his cancer was not subsiding. The oncologist said his lumps were forming new lumps.
There was one last chemo treatment available, which was an injectable kind that he would need to get once a week for 4 weeks. Before we agreed to try this route, the oncologist asked how we were feeling. At that time, Petie was still doing great. Yes, he had some days where he was feeling lethargic, but he was still eating great for us and we would still get his happy bounces once in awhile. He definitely had more good days than bad. The husband asked the question I was dreading. He asked if this last chemo treatment was successful, how long we would have. The oncologist said that *if successful* we were buying him two months.
My heart was shattered knowing this clock was officially ticking. That was on April 26th.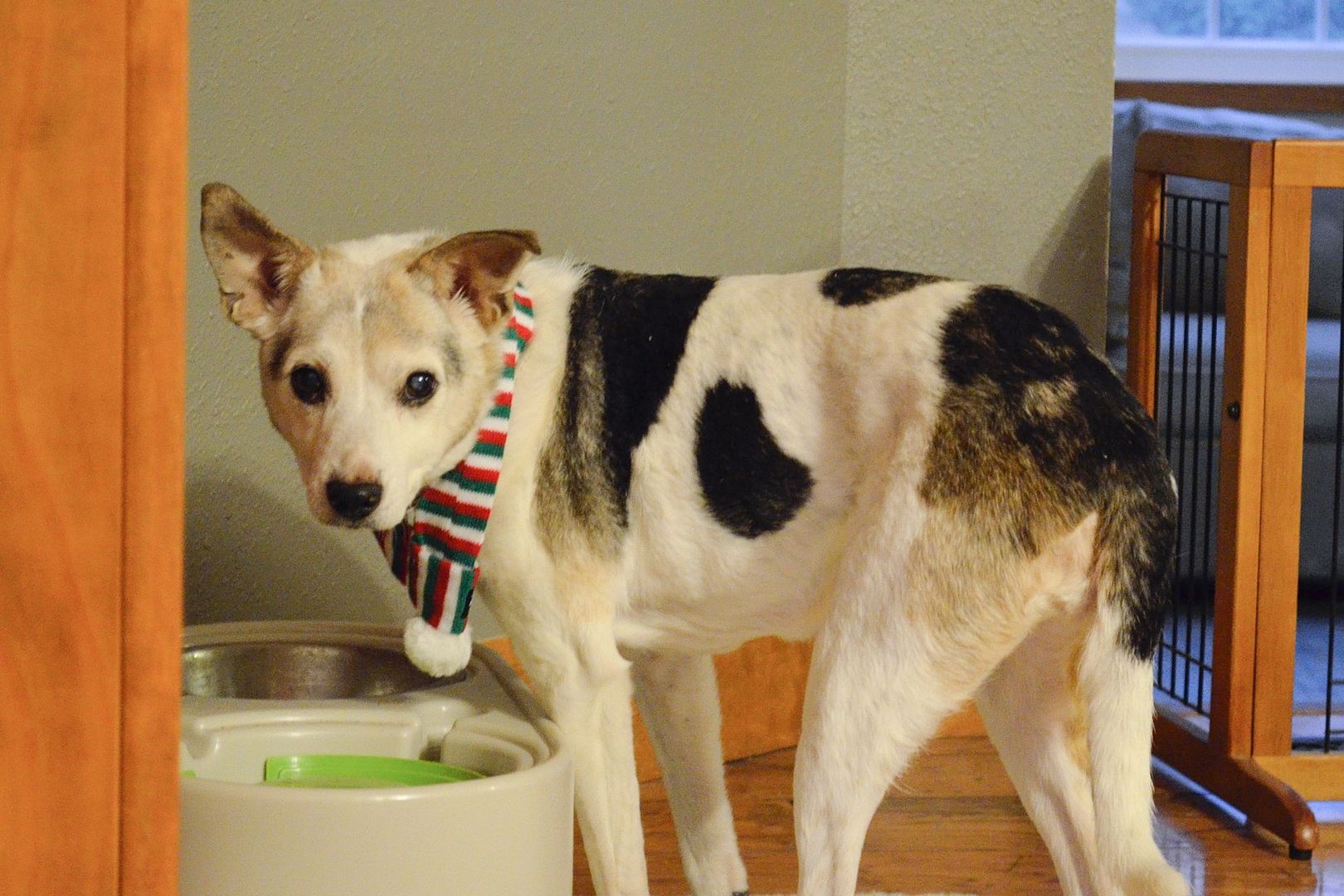 We had to at least try. As long as he was still food-motivated, we still had to try. He had his first injection that day and he had a really great week. The best week he has had in a long time. I had taken him off dog food and was making him chicken and rice and ground beef and rice, and he was chowing down, which made my heart so happy. He loved his food, and would sit by me watching me cook for him in the kitchen.
His last appointment was on Wednesday, May 3rd. The oncologist said that Petie himself looked great, but his tumor was not getting any better. Since he had had such a good week, we didn't have much to lose by trying a second injection, so they gave him another dose.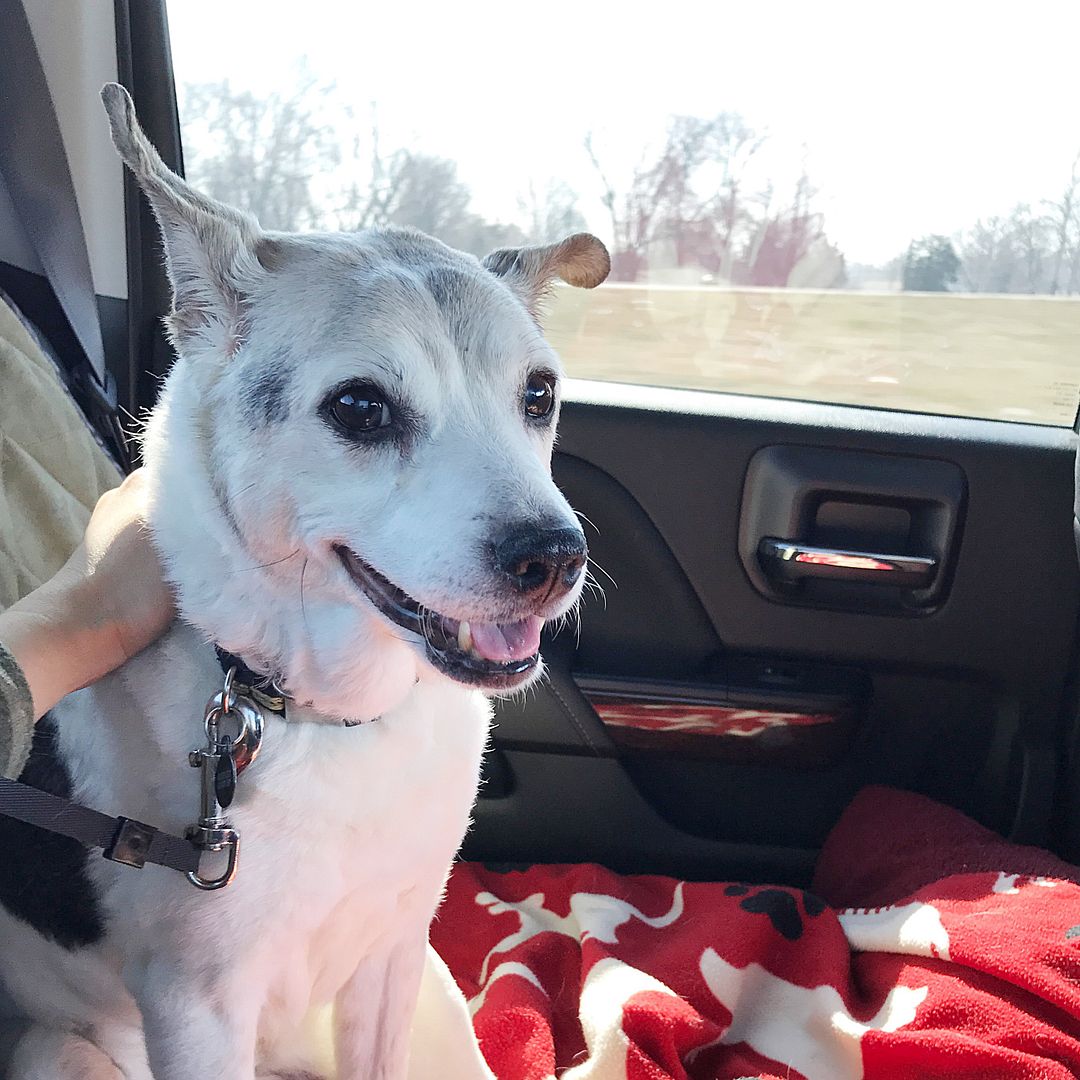 Thursday was a rough day for him though. His tumor began to bleed and pus and give off a smell. We figured it was getting infected, so we called our specialist who told us we should definitely take him to get looked at so he could get put on an antibiotic. We took him in Friday after work. The ER vet happened to be a vet who used to work at our local pet hospital - he knew Petie well, and I felt comfort that he was the one overseeing him that night. He did tell us though that he was very concerned about his tumor. He believed it was a necrotic tumor which meant it was growing so fast that there wasn't enough blood supply going to it which meant that it was likely dying on itself, hence the smell. He went ahead and prescribed him the antibiotics, but said we should start preparing ourselves for the worst if the smell didn't get better over the next couple days or if his attitude started to decline.
That evening, he did amazing though. He was jumping around, even begging like crazy for some pizza, which we gladly gave him. He even ate 2.5 bowls of ground beef and rice for me that night. The smell seemed to go away also, which made us breathe a little sigh of relief for the moment.
Saturday was much different though. He became very weak and lethargic and had no interest in food. No food meant he was not getting any medicine either because we certainly did not want to force pills down his throat at that time. We have no carpet on our main floor of the house, but he had trouble finding his footing, so we pulled out carpet scraps for him to walk on and lay on.
I spent Saturday night laying by his side.
We hoped he would wake up feeling better on Sunday (today), but it was much of the same, if not worse. He gagged at the smell of food, even when I tried to hand feed him small pieces. The photo above is from this morning while I laid with him some more.
We let him out to potty one more time and he just walked aimlessly before finally just laying down and closing his eyes in the grass. Something he never did for as long as we've had him. We knew it was time.
We took him back to the local ER vet. I basically asked the doctor how we can do this? He hates being held, and as we held him, he fought us, even though he was weak, he was still strong. Does that make it wrong to put him down when he still has fight in him? But then do you wait until he has no fight in him? Wait until he skips 1 more meal, 2 more meals? 3 more meals? What is the right thing to do?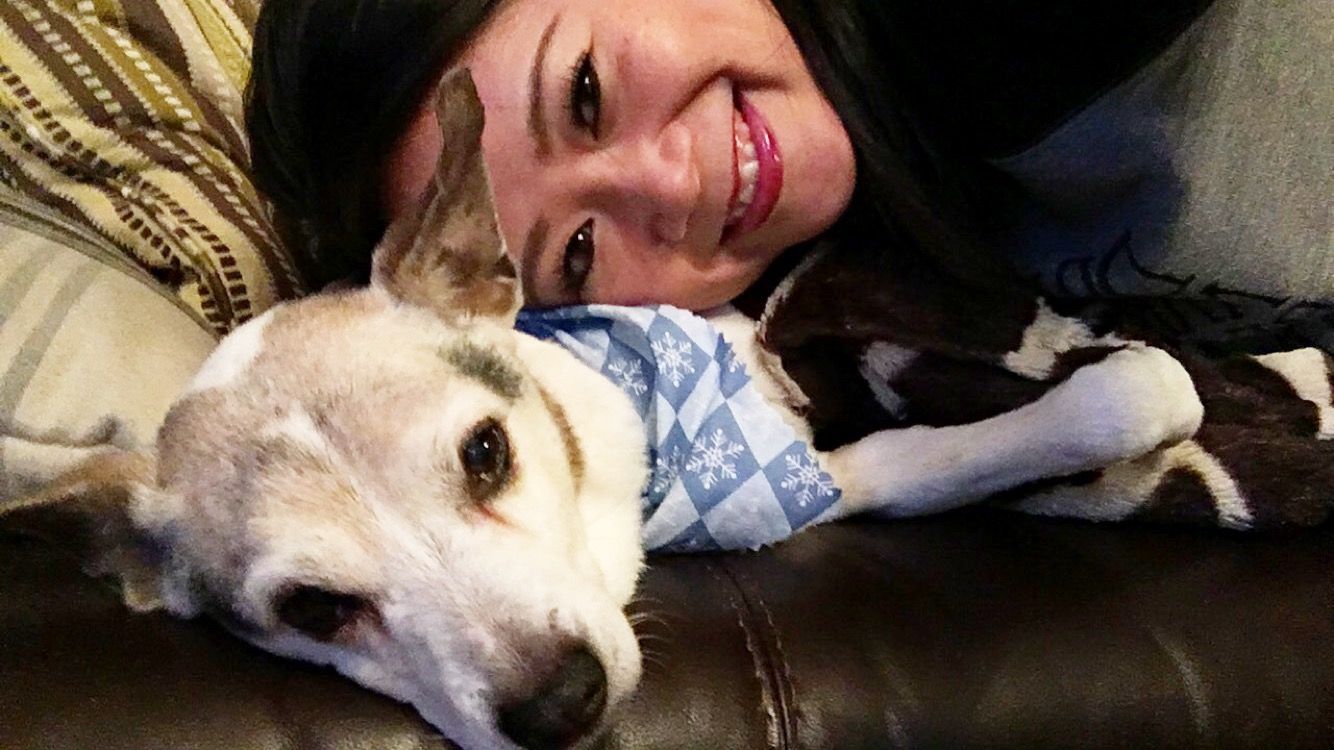 And the vet, who again has known Petie for as long as we have, said that when you know what the ultimate end result is going to be but you just don't know *when* it will exactly happen, it's better for them to do it when they do still have that strength left in him. He said that often times the owners that have decided to wait it out have regretted it because then their pet goes through unnecessary suffering that could have been avoided had they made the decision sooner. Yes, we could have kept him for one more meal, one more night, but who are we doing that for at that point? Him or us? The vet said the words, "It is time, guys."
So we said goodbye to him today, and I cannot remember the last time I have felt this pain or cried so much. I knew I had to write this post just to document these thoughts, these feelings, these photos of the sweetest dog ever. But, I'm going to be taking a break from blogging and my Monday linkup for the week.
Thank you to my Snapchat family and blog friends who have supported me and prayed for us throughout these last few months. Your support is invaluable and all of us thank you for it. Please hug your pets for me.