Disclosure: Although
Glik's
is sponsoring this post and provided me with a gift card to shop their Edwardsville, IL store, all opinions expressed are my own!
If you're local to the St. Louis metro east area, then chances are you have heard of Glik's! What you may not know though is that they have over 60 locations in 10 states around the country and you can also
Shop Glik's website
!
There is a definitely a "small town" feel to the store with trendy, boutique-y pieces, but you can still find the big brands you're familiar with like Free People, William Rast, North Face, and Alex and Ani.
I've met some of the Glik's team at past St. Louis Fashion Week events, and I've been following them on Instagram ever since. What's funny is I was thinking that it would be great to collaborate with them - I love supporting small, local businesses when it fits my blog, and their style is definitely something I could relate to. Within the week of me thinking this, I found an email in my inbox asking if I wanted to partner with them. If only all my random thoughts came to fruition like this!!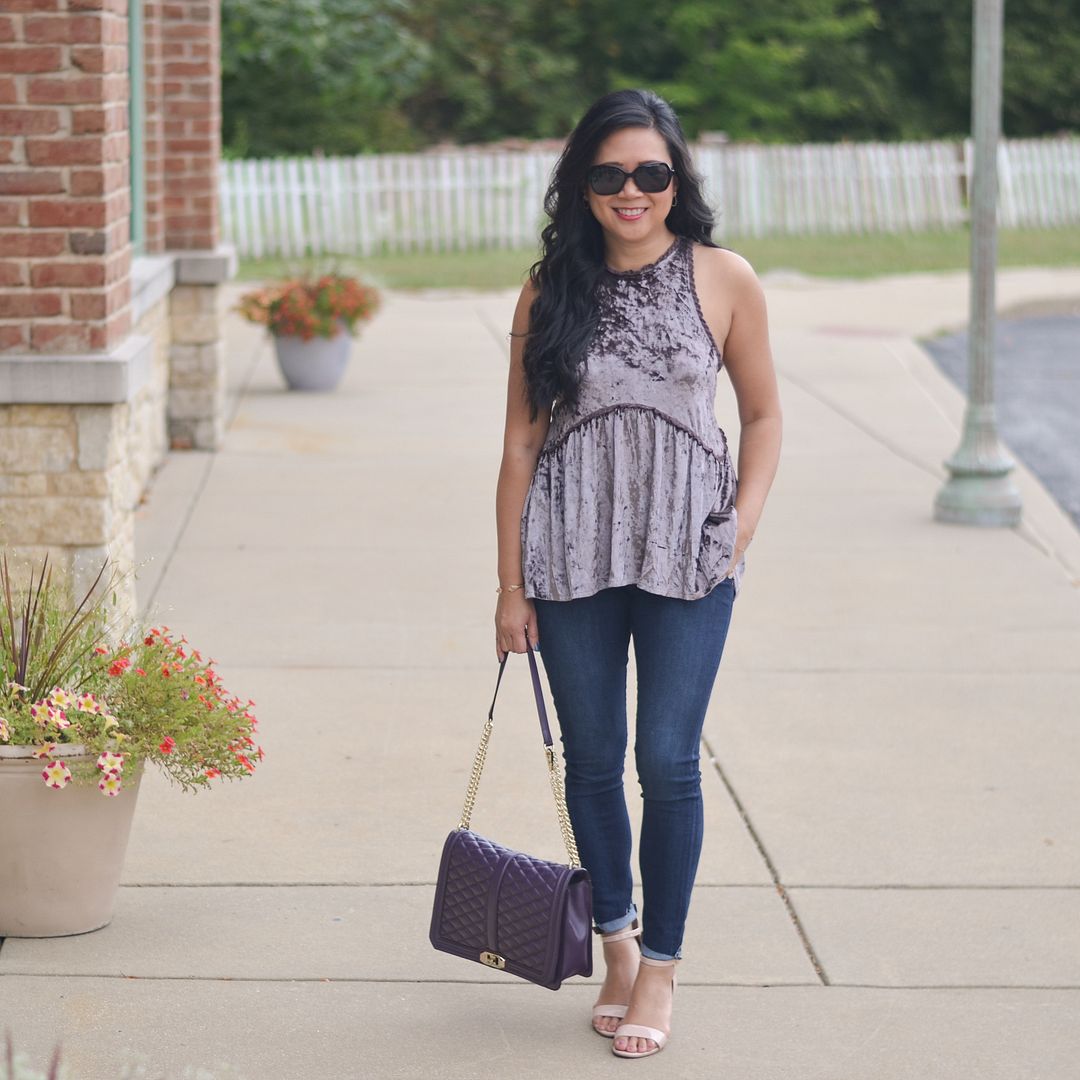 The first piece I gravitated to was this velour top! Velvet and velour are having a huge moment right now. I picked up a pair of crushed velvet shoes last fall, but I hadn't found that article of clothing that screamed my name. It was hard to look at velvet and velour and not think of my fave tops from Contempo Casuals back in the 90s. I was wanting to leave the velour back in the 90s. That said, I loved everything about this top - the cut, the color, the details! (There's a zip up back that you're not catching in these photos.) Such an easy piece to throw on and instantly feel like fall!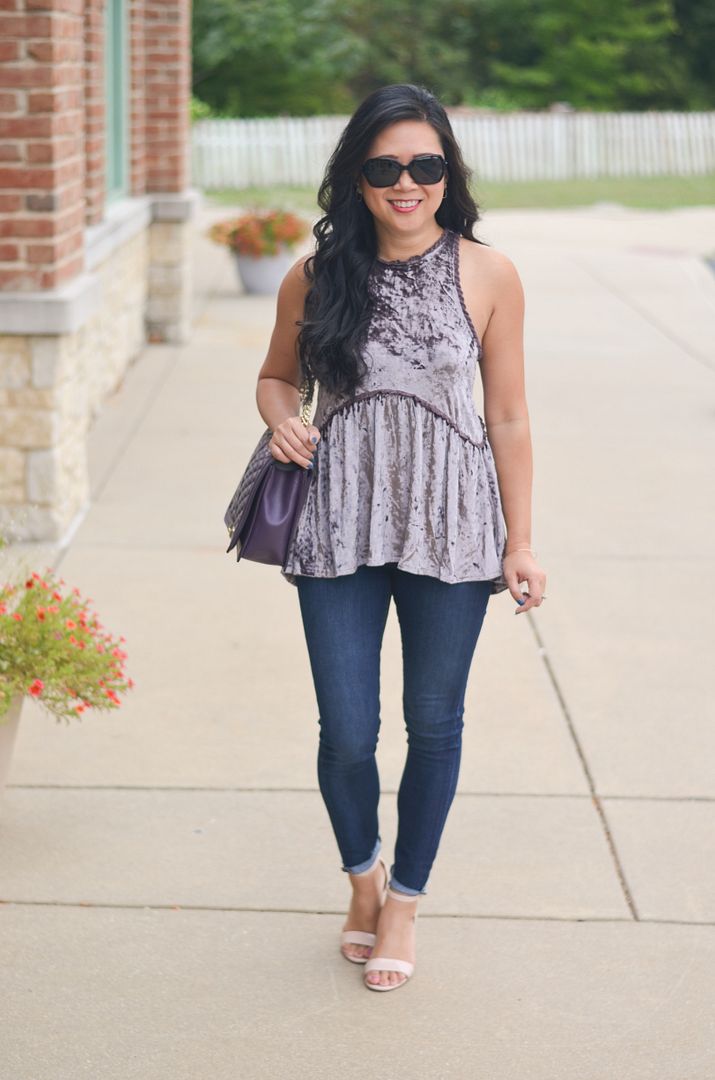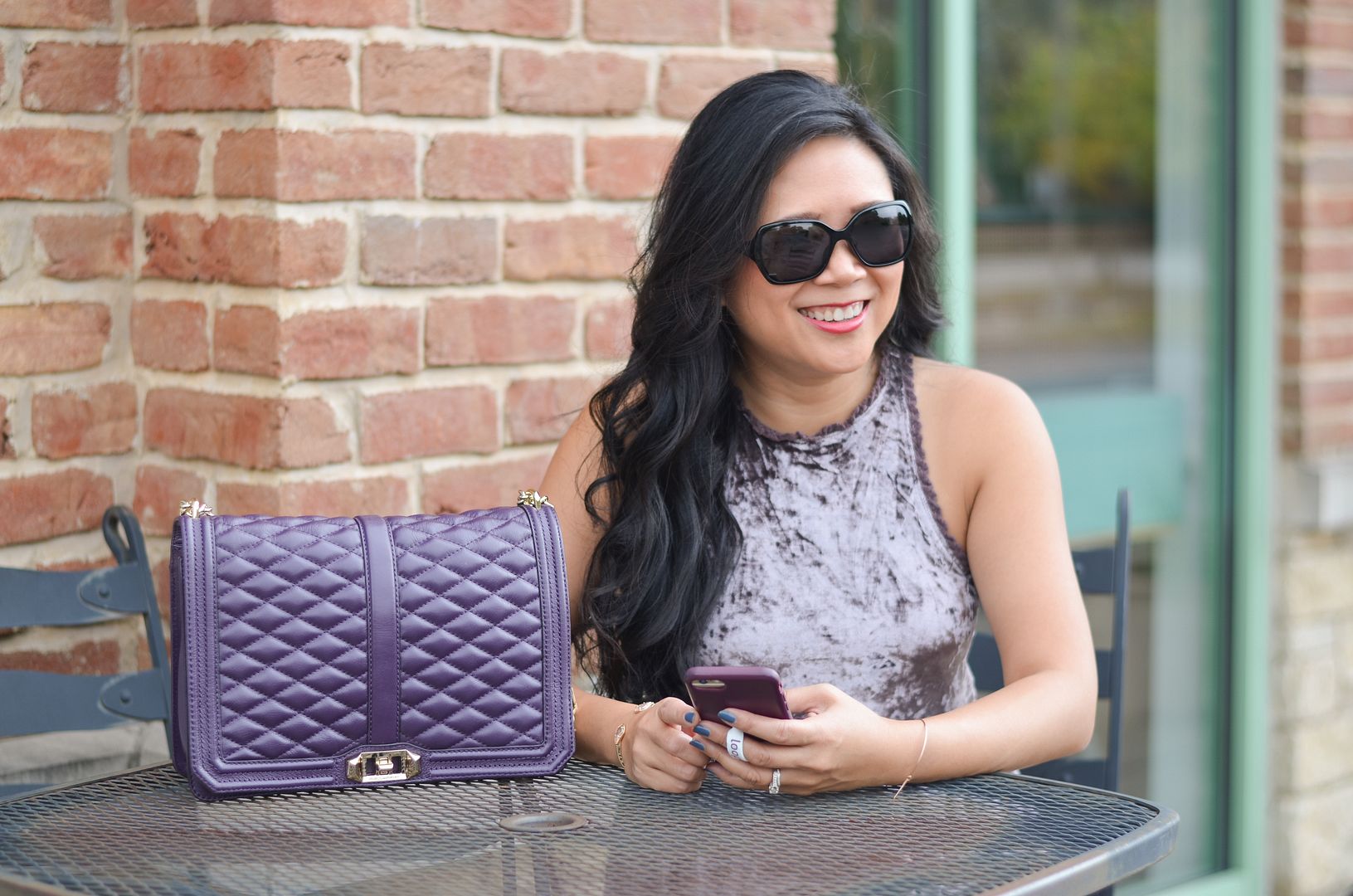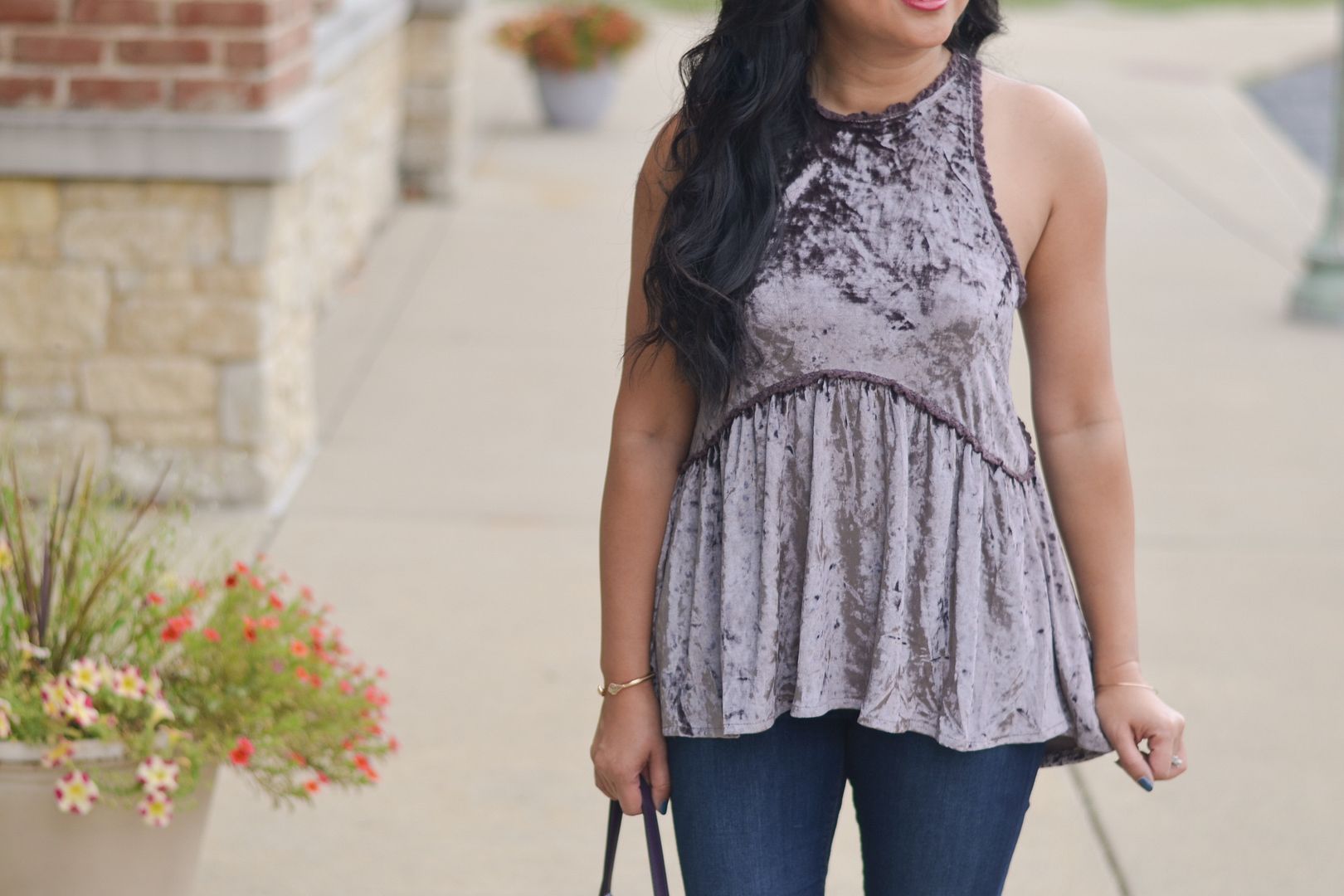 I'm normally a size 4 with a 34" bust and I'm wearing a small for reference. It drapes beautifully and I love the way the light catches the texture and gives the top so much dimension. I tried this on with white skinnies and black skinnies also, but preferred the way it looked with regular blue denim the most. I will definitely be wearing it with leggings, over-the-knee boots and a moto jacket when the temperatures dip low enough!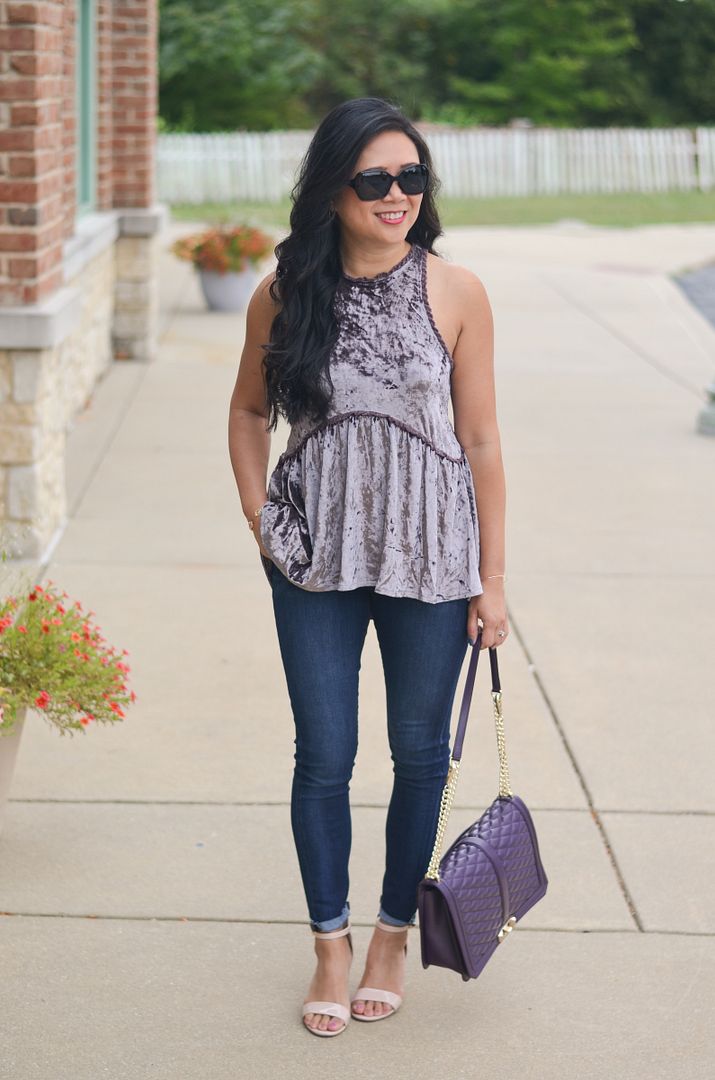 I thought I would share all the other pieces I tried on and let you know what I ended up buying. Unfortunately, not everything I tried on is on their website, but you should be able to call their Edwardsville store if you see anything you just have to have!
These skirts were adorable!!! I am wearing a medium in both of these as I always tend to size up in skirts so they hang a little lower on my hips. I ended up getting the embroidered skirt. It was too good to pass up. I wished the corduroy skirt on the left was just a little bit shorter on me, or else I would have gotten that one as well. I also figured I would be more likely to wear the embroidered skirt year round as corduroy feels inherently cold-weather to me. If you're taller than my 5'-2" self, the corduroy is worth the try! I was gushing over the scallop detail down the front.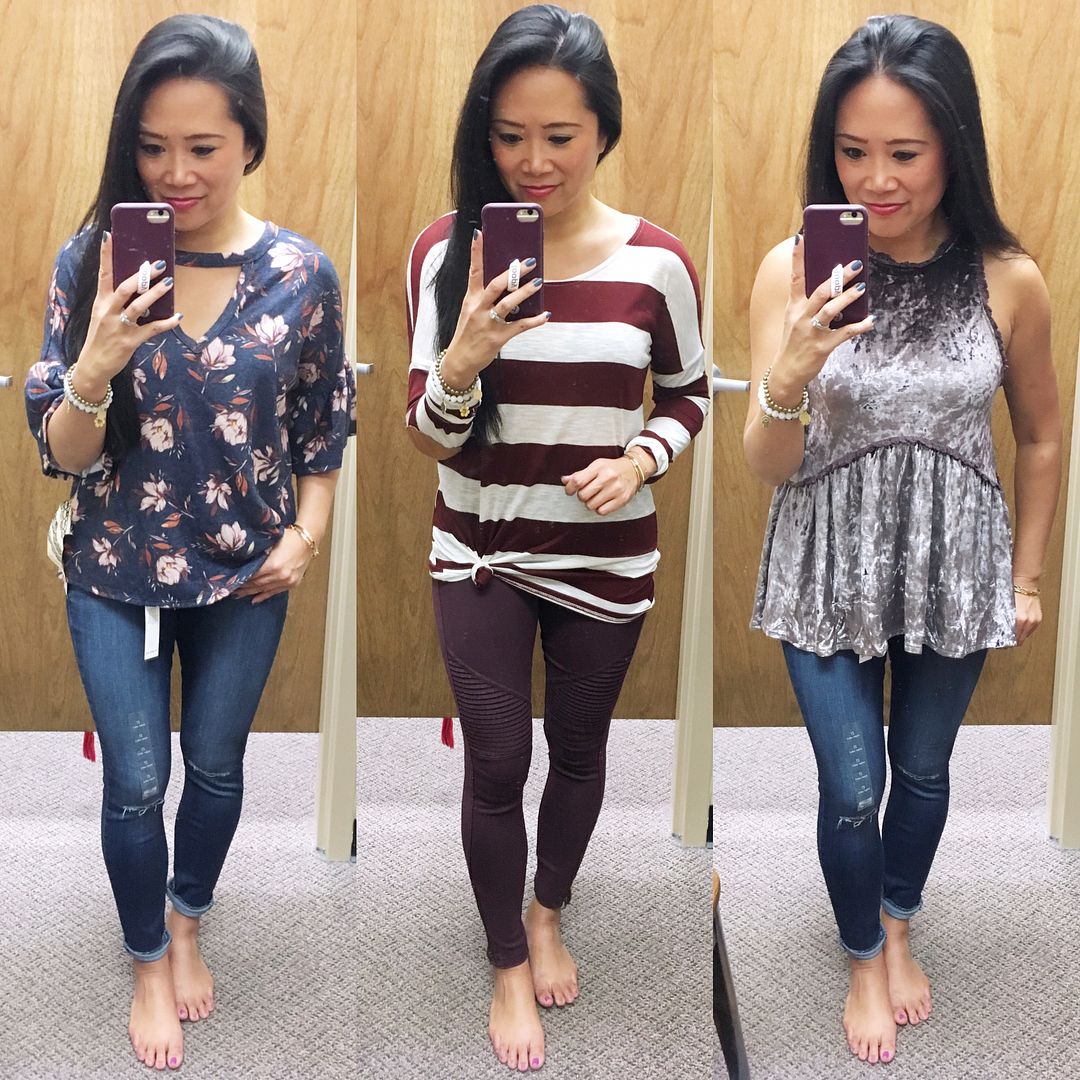 I found the jeans on another website, so I went ahead and linked them if you're interested. They fit like butta!!! I did end up spending my own money on top of the gift card they gave me, and if money were no object (and if I didn't already have 38678634 pairs of jeans), these jeans would have for sure come home with me. They were ankle length, so they fit great on my short legs. I have them on in a size 27.
The top on the left came home with me. It's a thicker material and super soft, but the keyhole neckline and fun print are what sold me. You know I love anything that is easy to throw on and doesn't wrinkle. It has a slight ruffle sleeve, too, making it that much more special. I am wearing a small.
I am wearing the striped top in a small and it ended up being really long on me, hence why I knotted it. It has elbow patches though, which is why I did a double take and grabbed it off the rack to try on! The only reason why I didn't get it is because it was so long on me. I didn't like that I could *only* wear it knotted. The moto leggings I am also wearing in a small. They are a stretchy twill material and as I am staring at this photo, I'm regretting not getting them. I do already have a pair of wine colored moto leggings, so I practiced self-control and put this pair back.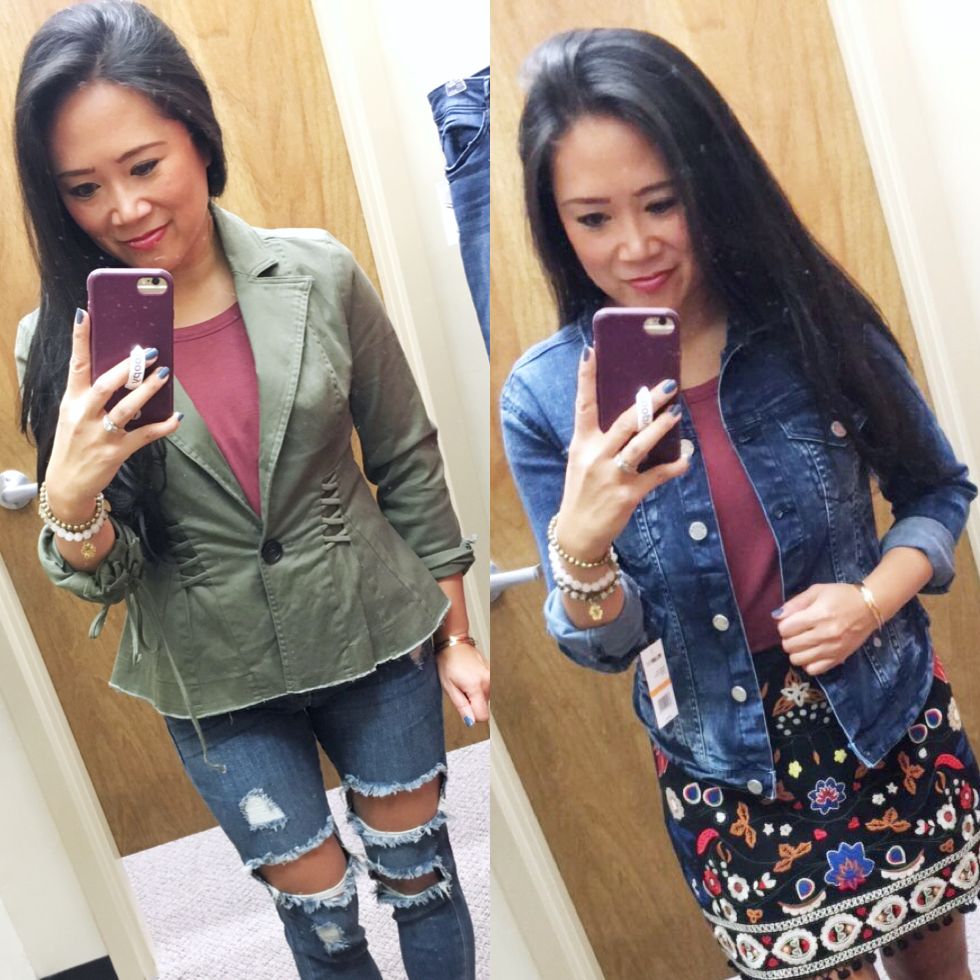 And last but not least are these two jackets. The jacket on the left was so ridiculously comfortable and it fit like a glove! I loved the lace up detailing in the front and on the sleeves. It was hard to put this one back, but I already have a million olive jackets so I had to prioritize my monies accordingly!! If you're in the market for one, someone please buy it!
I was in the market for a new denim jacket because the couple that I have are still pretty big on me. I loved this one because it is stretchy and comfy and it has this nice curved hem that dips lower in the front with more of a cropped length in the back. It's very flattering on, which says a lot because denim jackets are usually quite boxy. This is a darker wash than the ones I currently own, which was also a bonus! I found the jacket on another retailer's website, so I went ahead and linked to it here if you are interested!

SHOP THE POST:

Linking up with: Oh, Hey Girl!, What I Wore Wednesday,