Yep, you guys are actually getting three outfit posts from me this week. I appreciate you all hanging in there with me over the last few weeks as well as in the weeks to come as I continue to juggle and figure out my schedule. I've really been trying to focus on Pilates when I'm not at work with the end of my certification around the corner, and it's definitely proven to be both time consuming and tiring, especially when I add the blog onto it. It's like having three jobs, basically! So anyway, I've said a million times that I hate having a sporadic blog schedule, but I also can't let myself get stressed out when I can't post. Ain't nobody got time for more stress! Okidoke, let's get on with this outfit.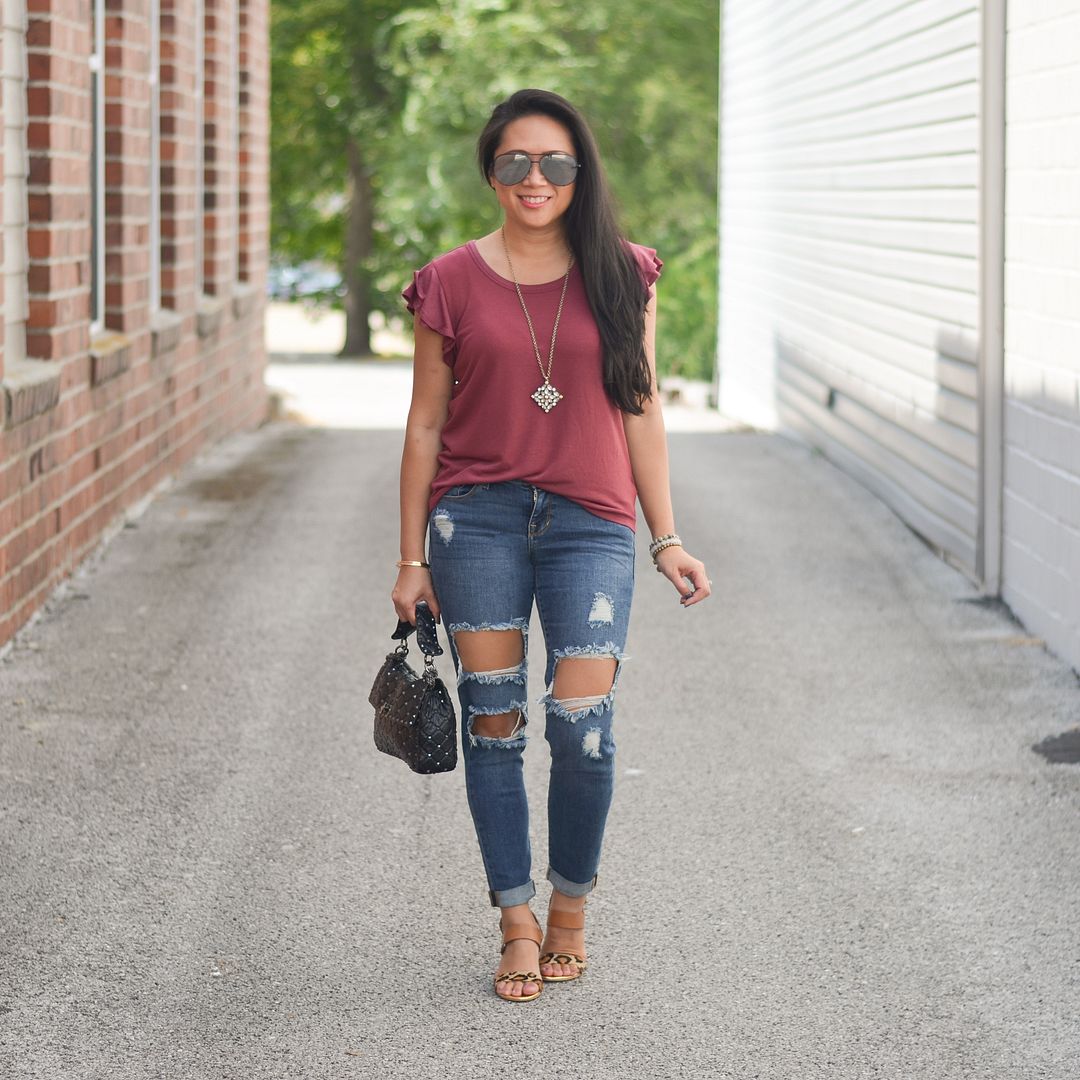 Outfit details--- Sunnies:
Quay High Key |
Necklace:
SUGARFIX by BaubleBar (c/o) |
Bag:
Valentino Medium Rockstud Spike |
Top:
Express Double Ruffle Shoulder Scoop Neck Tee |
Bracelets:
Charmed Stacks (option) |
Bottoms:
CS Gems (limited sizes) |
Shoes:
Sam Edelman (option)
---
Last Saturday, the husband and I literally spent the whole day running errands. We left the house a little after 8am. I went to the gym, then did some Pilates. He worked on his car and met with a guy from the Camaro club. I showered, got dressed, then we stepped out to take blog photos of this outfit before our late breakfast. He dropped me off at Glik's for me to do my shopping haul with them, picked me up after to drive to the airport to drop off his brother-in-law's truck, then on to Apple so he could get his phone fixed. We had to wait a little over an hour for his phone, so we ran to another mall because I wanted to pick up some stuff from Lululemon. Went back to get his phone, grabbed some Mexican for dinner, and didn't get home until 9pm! Geez!
Isn't it funny how you can pass a whole day seemingly doing "nothing?"
This outfit was the perfect outfit to run around in. It was back in the 90's this weekend, so ventilated denim was a must. I love how easy it is to throw on this tee. The sleeves are flirty and fun and the fit is nice and relaxed. These sandals are unfortunately long gone, but the wedge is comfy, even for all day wear, and who doesn't love a pop of leopard?!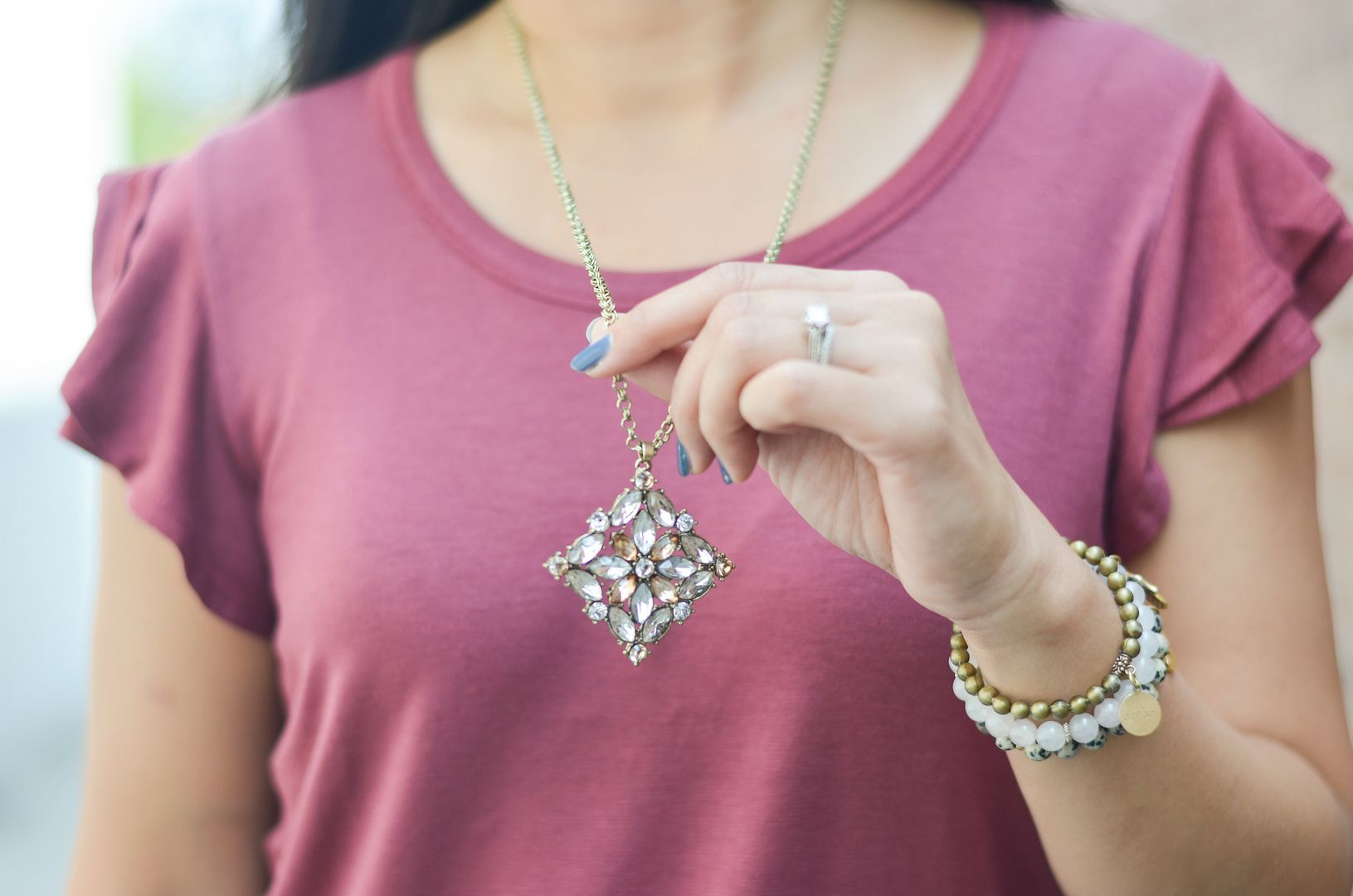 BaubleBar reached out to me to see if I wanted to sample their SUGARFIX line from Target. I do love BaubleBar - I have a few of their pieces, so I was definitely interested in seeing how their Target collection compared. I decided on this long pendant because long pendants definitely get the most use in my collection. Honestly, I really can't feel a difference in quality between this necklace and other pieces I own from BaubleBar. That is great news considering the price point for SUGARFIX pieces at Target is under $30. While BaubleBar did gift me a couple of pieces to try, all opinions are my own!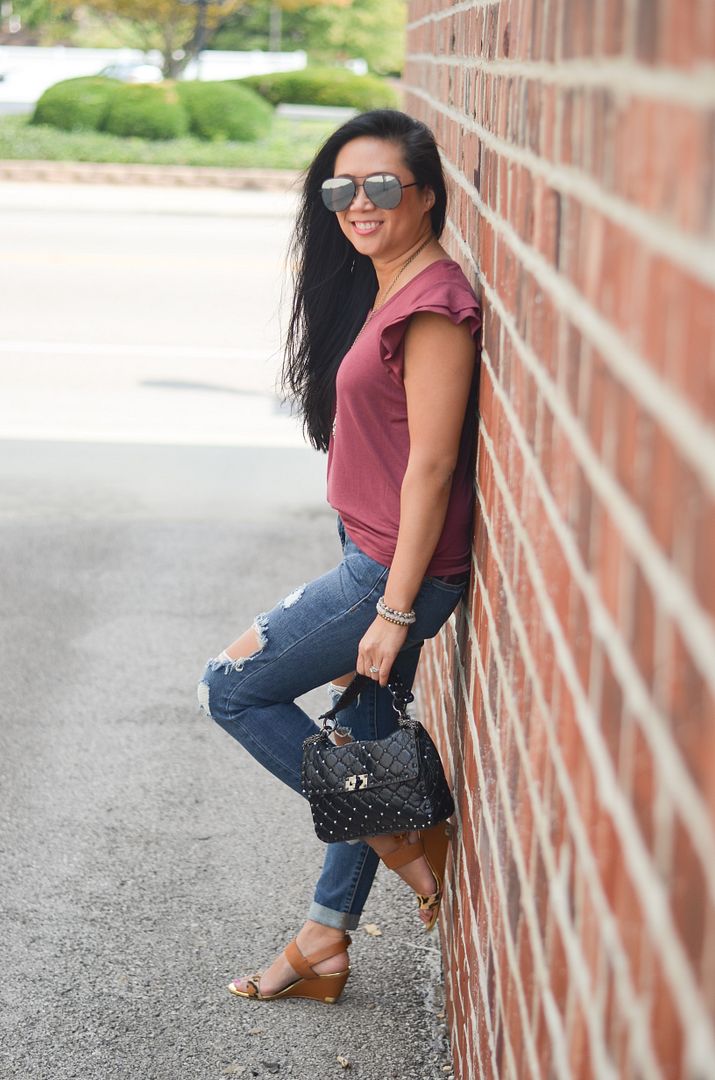 A couple of old pieces mixed with a couple of new ones! Those kind of outfits are the best. That's all I have for you for this week! Have a great weekend and I'll see you back here on Monday!

SHOP THE LOOK: