As I was pulling together the outfits for this post, I realized that I basically wore leggings every. Single. Day. last week. Oops! Sorry not sorry. But, since it's a good mix of super casual and semi dressy, I thought I would go ahead and still round them up together in this post. Let's get started.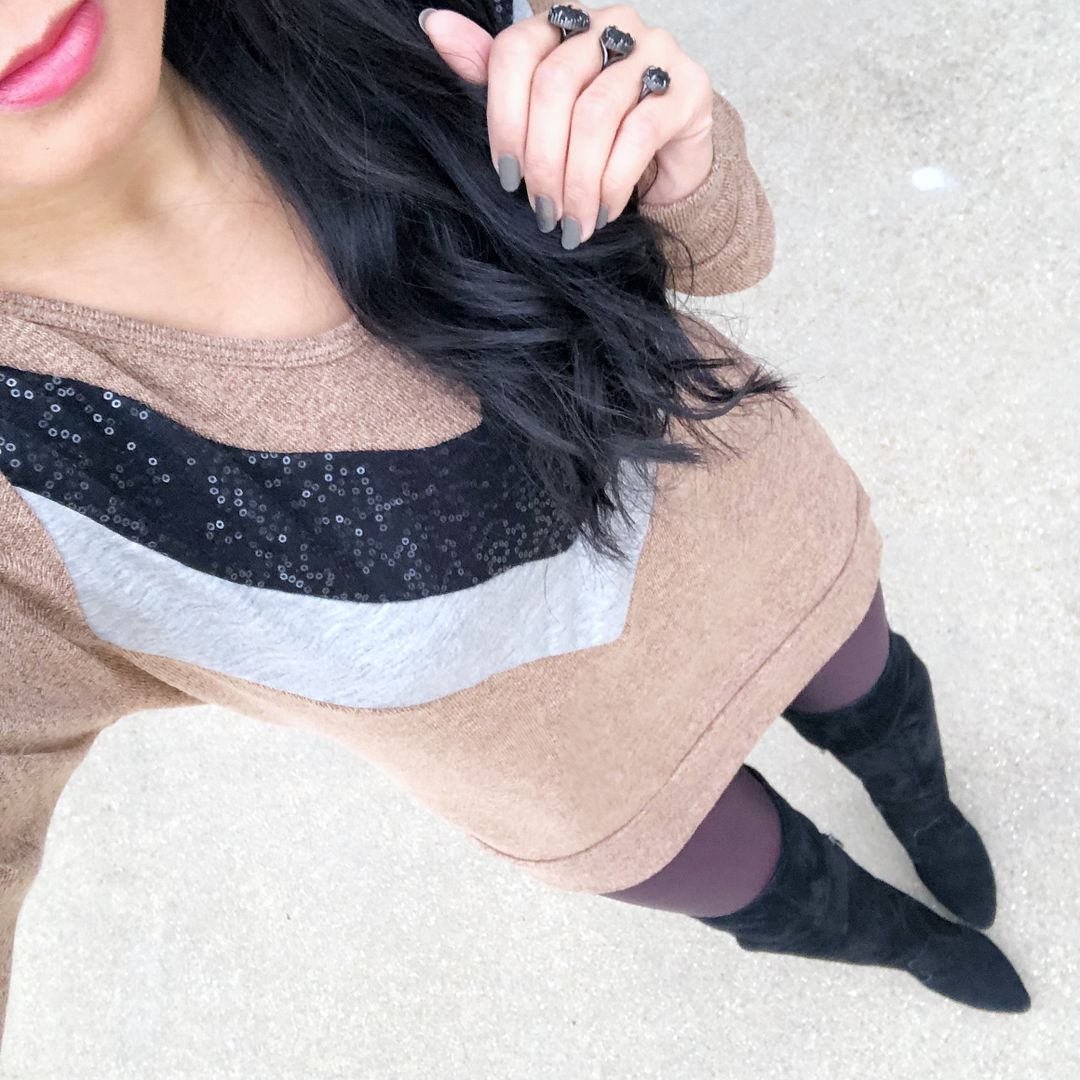 See outfit details below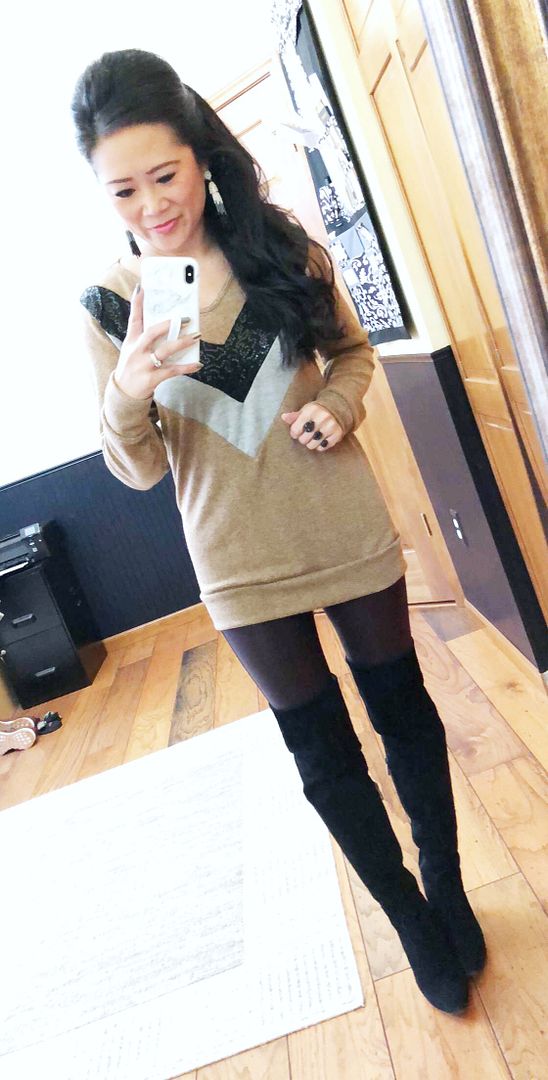 I'm going a little out of order here and starting with my holiday party outfit I wore last Thursday for our department get-together. First, I forgot to take a proper outfit photo so what you're seeing above is my Snapchat post. (Insert OCD anxiety here.) The plans for the party were finalized pretty last minute and I struggled with what to wear because not only were we going to be outside, but we were going to be doing a lot of walking, too! We did the brewery lights tour at Anheuser-Busch. Luckily, CS Gems had some new releases last Tuesday, which included this sequin trimmed sweater tunic. I snagged it as soon as it was released at 10am Tuesday morning! This allowed me to be festive with sequins, but warm in a sweater. The wood stacked heel on these over the knee boots make them very walkable.
I bundled up with a leather and wool jacket plus a blanket scarf and ended up being plenty warm.
You may or may not notice a Clydesdale behind us! Ha! I didn't notice it was there the first time I saw this photo. I thought I would share the group shot because it's a pretty cute one of the entire group. We are just missing two people from our department in this photo.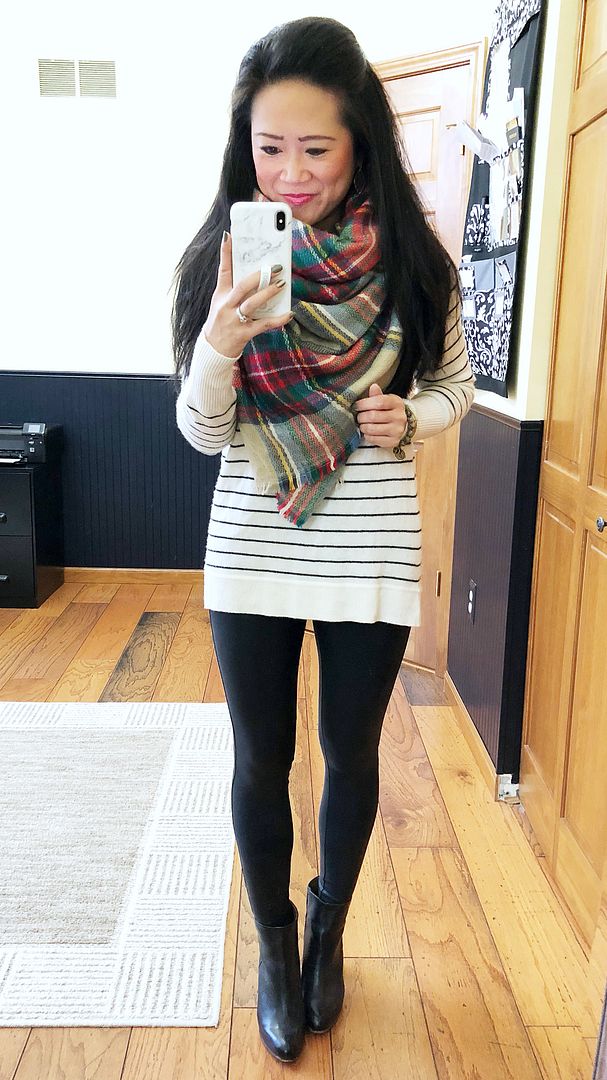 I have a ton of blanket scarves, but this was one color-way I hadn't owned yet. Seems like blasphemy since it is the color that kicked off the huge trend. When I made my Small Business Saturday order with CS Gems, they surprised me with this scarf in my package. I had to laugh since it's the ONE blanket scarf I don't own yet. When I said that out loud, the husband said, "The ONE? Meaning you have all the others?" Um, yes, that's exactly what I'm saying actually. There's nothing easier than stripes + a blanket scarf + leggings. The weather turned cold literally overnight and I threw this on without thought that morning.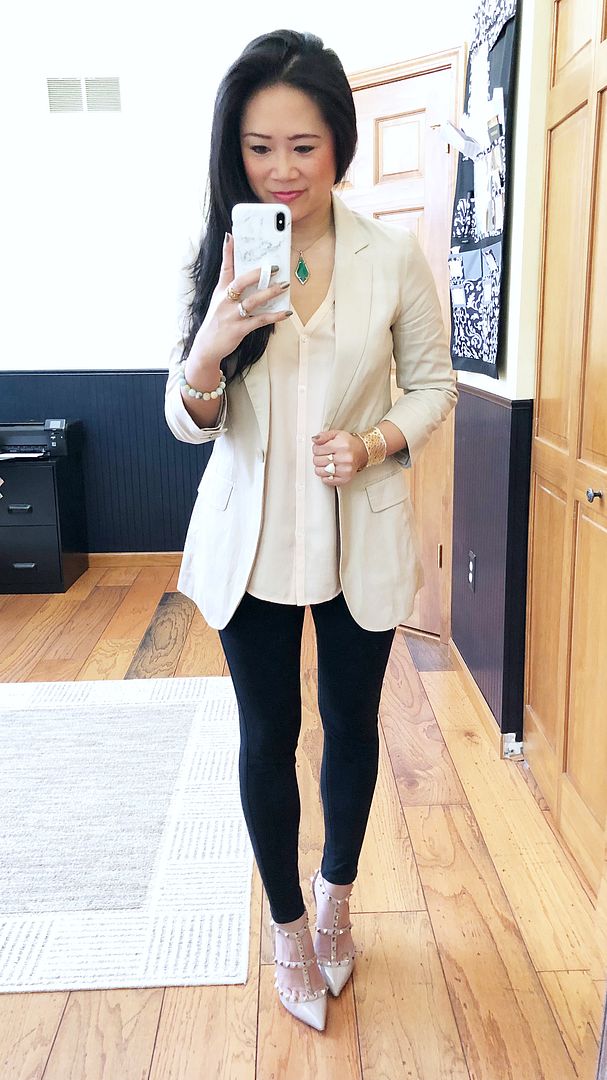 This top and blazer are oldies but goodies. You can see them on the blog with these same shoes even in this older post here. I originally planned on re-wearing this outfit from this SUPER old post here, but I must have gotten rid of that top because it was nowhere to be found in my closet room. Boo. But I like wearing this top and blazer together, so it's all good. The neutrals work so well together.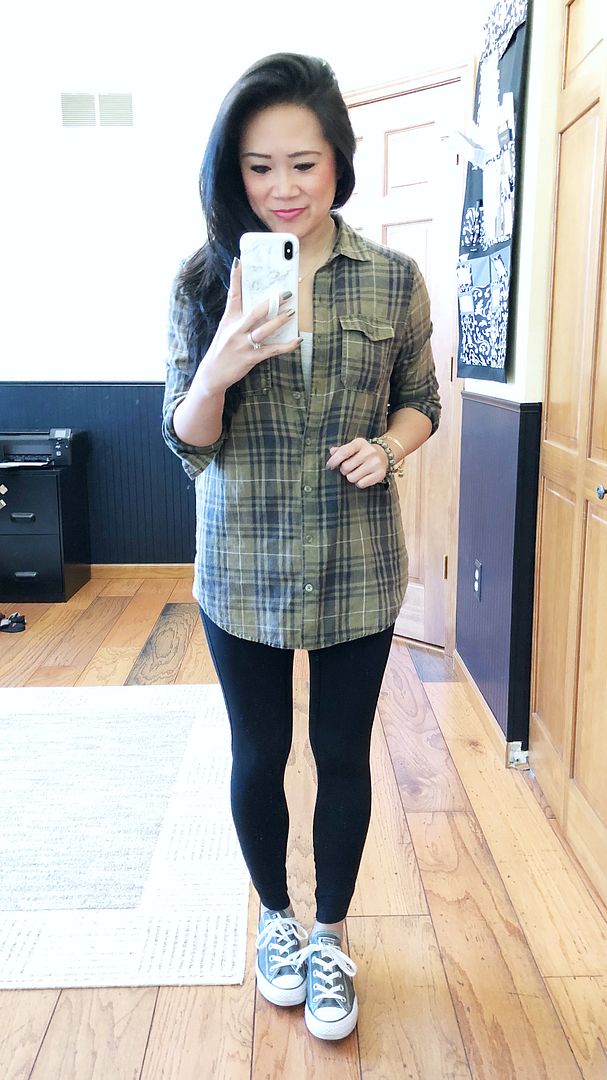 Top: Nordstrom | Leggings: Lululemon "Run the day" 7/8 tight | Shoes: Converse (in charcoal)
I've been teaching a Pilates mat class at work once a week for the last 6 weeks. Friday was my last class, and subsequently also the day after our holiday party. Needless to say, Flannel Friday was in full effect and I had to be extremely easy and throw on my Chucks to finish it off. This top is unfortunately an old purchase from the Nordstrom anniversary sale last year, but if you're in the market for new plaid tops, I highly recommend American Eagle! They have been my go to lately!
And that's it for another week on the blog! Have a great weekend!

SHOP THE POST: