I didn't know if I had it in me or not to pull together a random roundup post before the long weekend, but alas here we are. I feel like a lot of the things I wore last week were super old, so I apologize many of these exact pieces are no longer available. But, for what it's worth, this is everything I wore last week!
Earrings: Nickel & Suede in large Saffron Cord | Tee: Express V-Neck London tee in mustard | Necklace: Kendra Scott "Carole" (other colors here) | Jeans: American Eagle | Heels: Joe's "Ali"
I wore another London tee on the blog earlier this week - you can see that outfit here. I had really been wanting a basic tee in yellow because I have a new love for yellow this year. My tendency is to reach for black and leopard with yellow, so I decided to fight the urge and go for white and grey instead.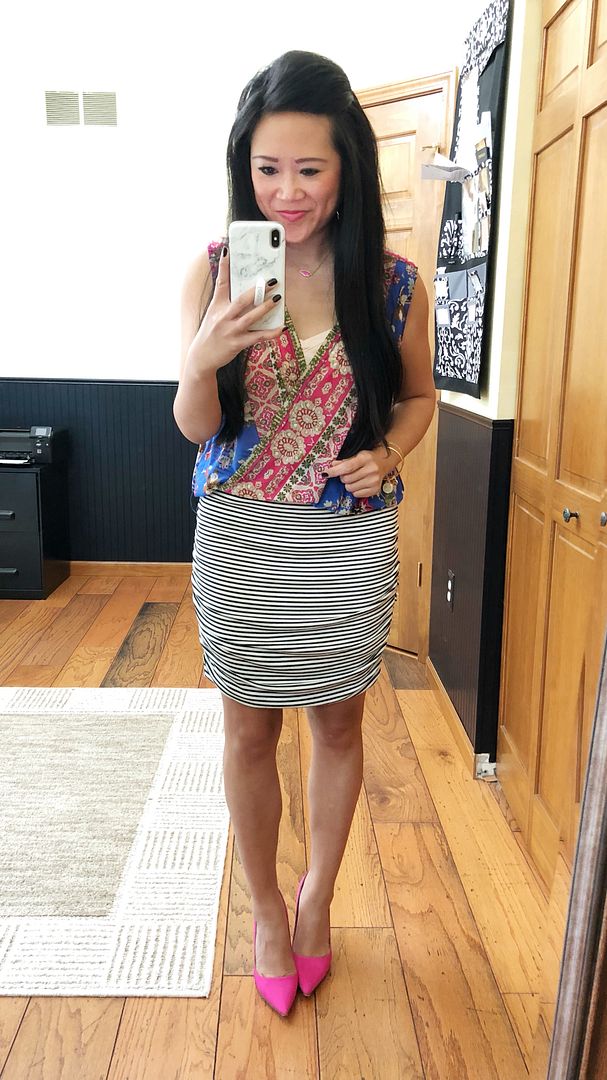 This is the same top I paired with the joggers in this post here except in a different color. When I was writing that post and linking to the top, Nordstrom had it on sale for half off. So. I basically had to buy it. The print is fun, the fit is super easy, and it's so lightweight and perfect for warm weather. I loved the way it paired with the stripes!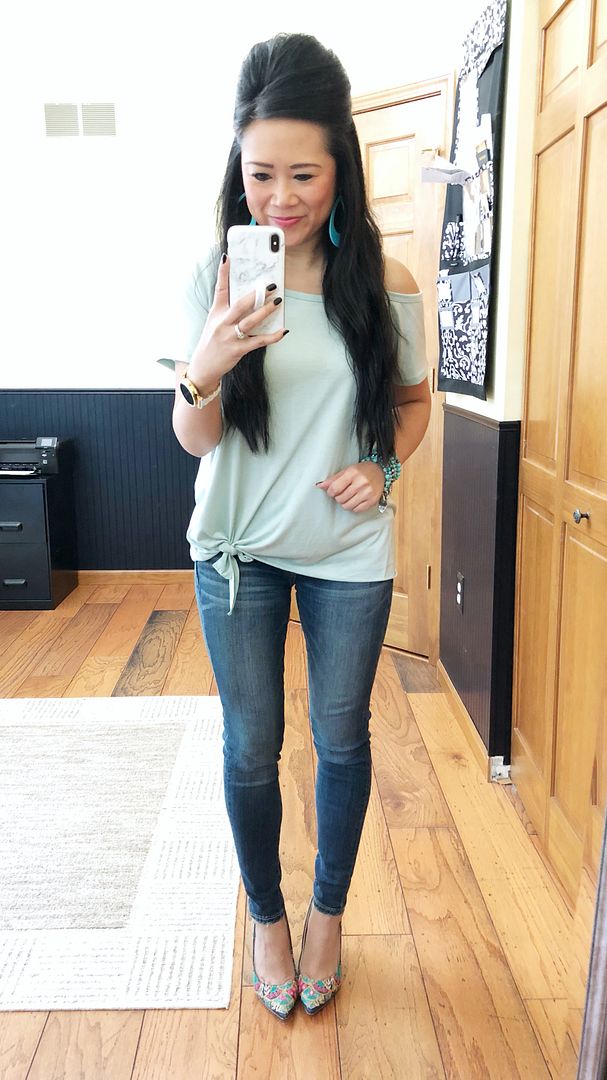 This is one of my favorite 'better-than-a-tee' shirts I own! And what's sad is that I can only think of one other time I've worn it! How is that possible if I love it so much! You can see the last time I wore it here. It's funny the things you discover when you're cleaning your closet room! When things are out of sight, they certainly are out of mind. But now that I know where this top is at again, I will be wearing it often.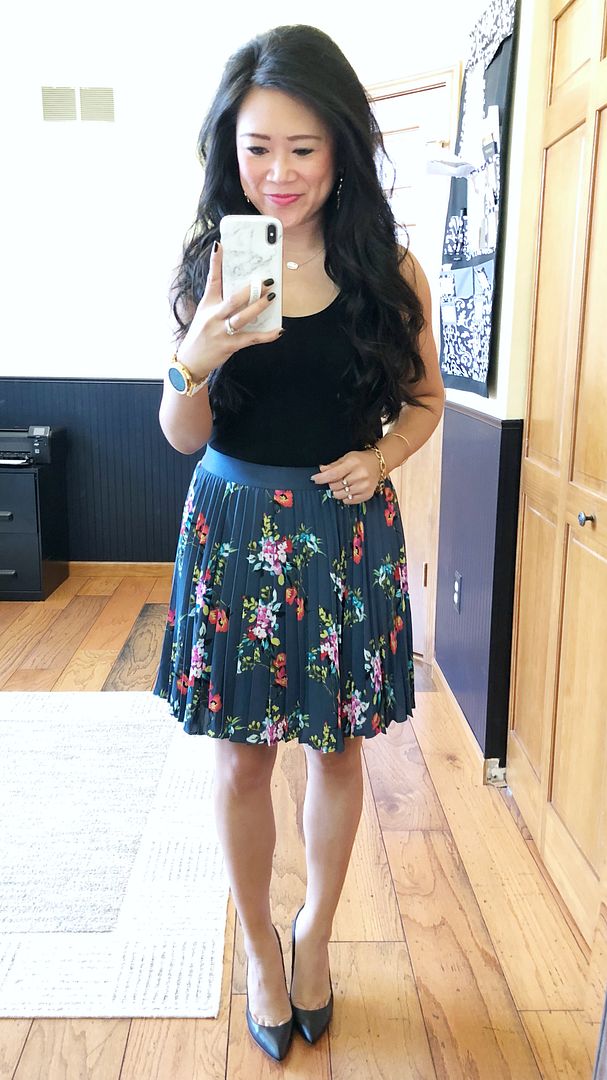 This skirt is an oldie but a goodie. It always gets me compliments when I wear it, so I wish it were still available for you guys. You can see when I originally wore it in this post here.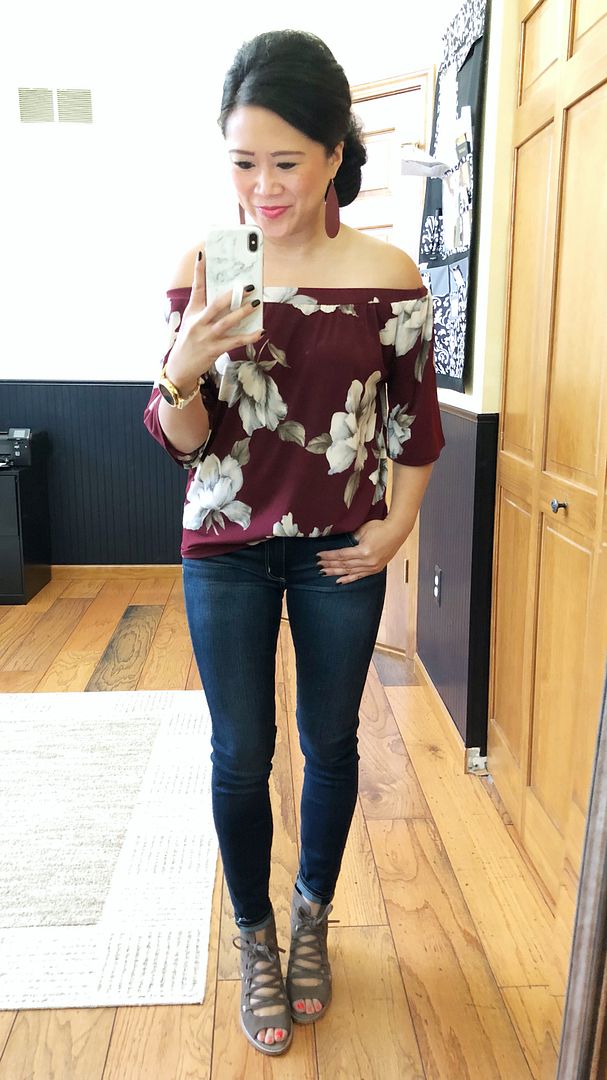 Earrings: Nickel and Suede in large merlot | Top: CS Gems | Jeans: American Eagle | Shoes: Vince Camuto "Tressa" (limited sizes/colors)
And one more oldie but goodie. You can see the last time I wore this top in this post here. These shoes are a bit of a mystery to me. I found them in my closet room during the big purge, and it's quite possible I have never worn them before until now! They're so super comfy though and I love the lace up suede! Now that's what I call shopping my closet!