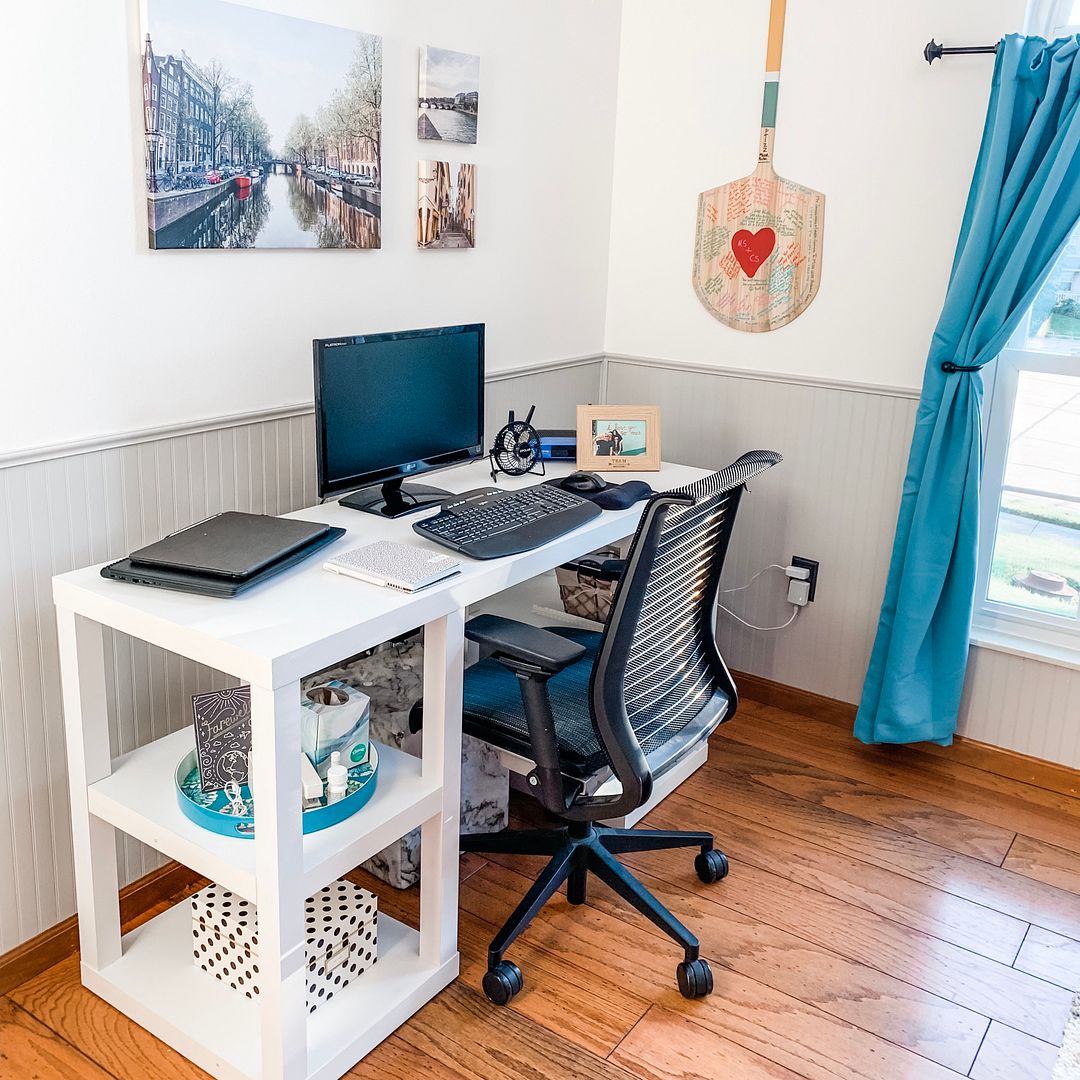 A little over a month ago, I shared in this post that I left my job of 13 years and started a new job that allows me to work from home. We had a home office already, but it was pretty haphazard in terms of furniture and decor. It turned into a quasi storage space with a desk in it, and of course my infamous mirror I use for my outfit selfies. Since I'd be spending so much time in this room now, I really wanted to make it a space that I loved, a space that made me feel good, and a space that was more intentional. It took a few weeks of buying things here and there and painting, but it is officially done! I couldn't not share the transformation. Let's get started!
In order to appreciate the "after" photos, I must show you what it looked like before. This was basically the corner that I worked. The rest of the room had random stacks of "stuff" everywhere. The walls were painted yellow on top of a navy-colored wainscot. This is the one room that has the best natural light. That's why I do all my flat lays in here and take all my outfit selfies for all my Random Roundup posts here. I wanted to brighten it up even more by going light and neutral with the walls. I felt like the yellow and navy accentuated the orange wood floor. By brightening up the paint, I really just wanted the floor to go away, or at least be less of a focal point.
Paint: Sherwin Williams HGSW4001 White Gallery and Valspar 4003-1B Filtered Shade
And here is the after! Obviously the floors are still prominent, but the room is so super bright now! I wanted a very simple desk, and I love that even though this one is physically smaller than the other, I have more storage space with the shelves down below.
In true Caryl fashion, I had to have at least one pop of color and I decided to do that with the curtains. I chose the teal/sea blue because I wanted to pull the blues from the water and skies shown in my canvas photos. What's great about the curtains is that if I get sick of the color, I can easily switch them out to a neutral or another focal color - with little effort and for such a cheap price. I love that everything else is otherwise clean and neutral.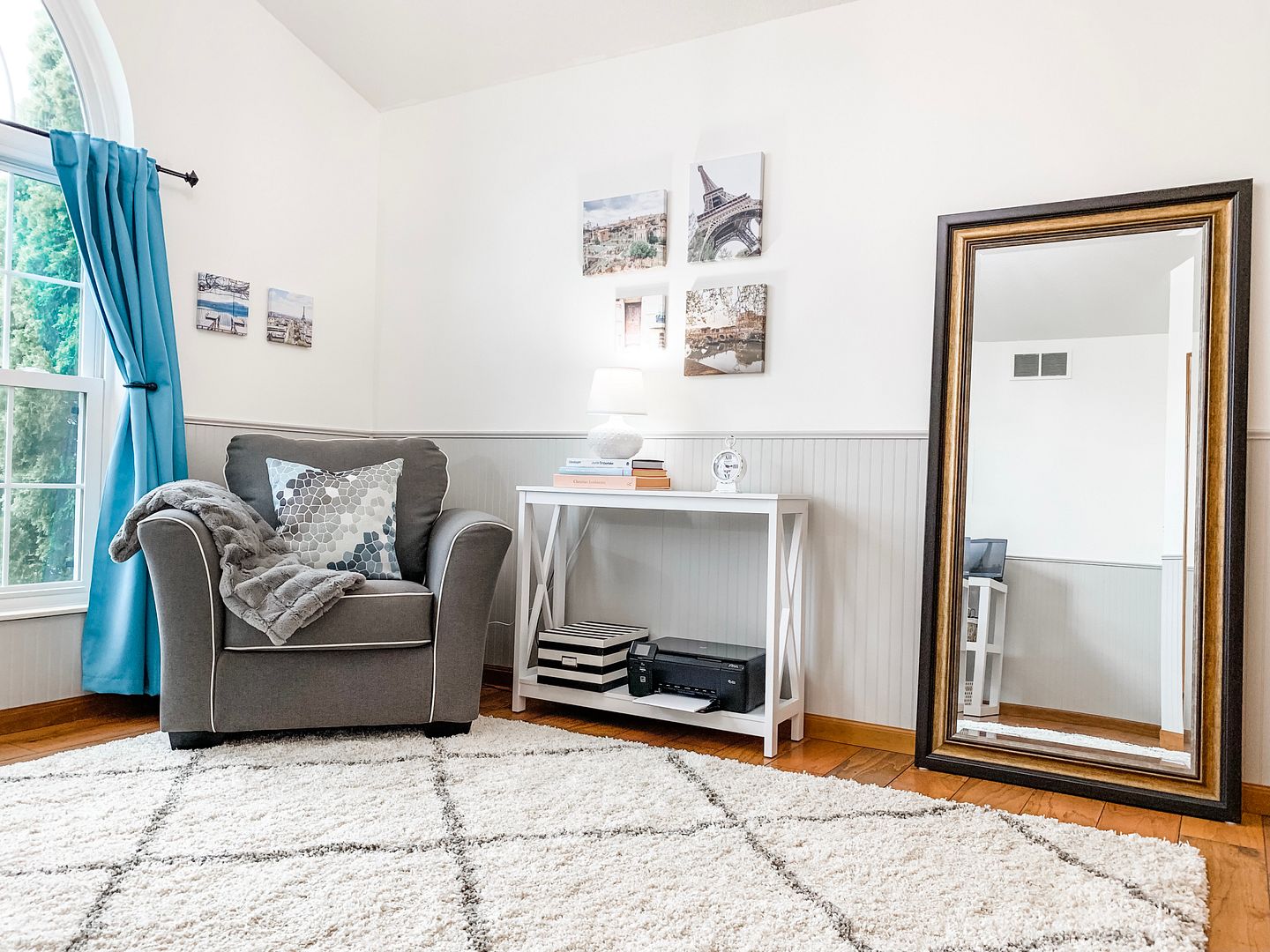 Mirror pre-dated the makeover and I can't remember where it is from!
My selfie mirror did not change spots. That really is the best spot in the house for selfies. I purposely left the space to the left of my desk bare so that when I'm taking a mirror selfie, there is nothing behind me. #alwaysthinking
I wanted a big comfy chair that I could sit in while reviewing drawings or while on conference calls. This one is so perfect! It fully encompasses me and is so freaking comfortable. I sat in every chair at the Ashley store and this one won for comfort by a mile!
Chair | Console table |
Canvas prints 8x8, 12x12, and 11x14:
My own photos printed through this site
here
| Throw pillow and blanket from Home Goods
As far as artwork, I wanted to make good use of the photos I took in Europe. What is great is that all of these photos are from my iPhone. They printed out beautifully and were very well priced plus they delivered very quickly - less than one week! I originally checked places like Snapfish and Walgreens and they were selling 8x10 canvases for $39.99. This site had 8x8 canvas prints for about $11. Uh, yes please!
I wanted a console table since I had so much space in the room to fill. It worked well to place the printer here on the low shelf, tucking it out of the way. I had my coffee table books in my closet room, but I pulled them into the office where I can actually see them and appreciate them! Plus I love how this little lamp looked atop all of them.
That pizza peel you see to the left of the photo was a gift from my ex-coworkers. They all signed them, and I wanted to showcase it in my office because I do miss all of them every day. It makes for a fun piece of artwork, too.
The only other thing I'm adding is one more canvas print on that blank wall space behind the chair. Originally, I put my floor lamp there, but I didn't like the way it looked so close to the table lamp. Plus, my desk area could use the extra light, so it ended up next to the desk instead.
There are seriously moments where I've just walked into this room to look around and just smile. It's exactly what I wanted it to look and feel like! It makes working from home even better!