Has anyone else taken advantage of this? Ironically, or conveniently, depending on how you want to look at this, triple points always lands around the time our bonuses come in at work. Typically my bonus goes to 3 things: paying off any debt, savings, and a fun purchase. Last year the fun purchase was my YSL Tribute sandals.
I made an appointment with my SA to try on some shoes. To say she's awesome is an undersatement. She had a stack of shoes (at least 8 pairs) waiting for me by the time I got there, and also walked the floor with me. Here's what I tried on and their respective reviews.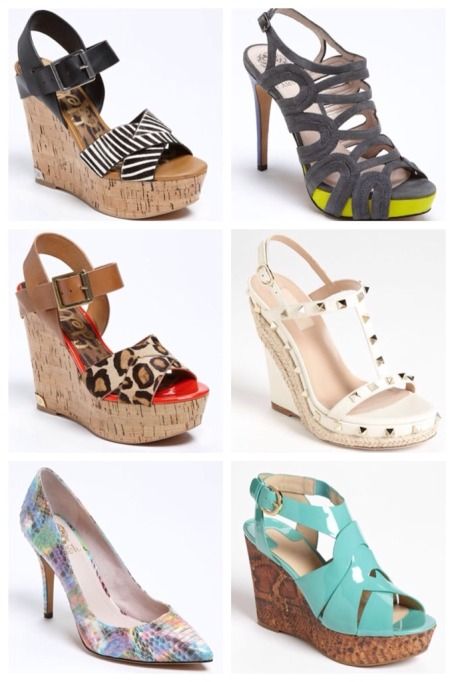 1. Sam Edelman "Sasha" in Zebra: I loved these immediately. They are so fun! The thicker straps laid perfect on my feet, and were very comfortable. I felt like these would be super versatile in the summer - I was picturing skinny white jeans, red sundress, turquoise anything. They're a bit chunky, but I didn't feel like they looked out of proportion when these were on me, and remember I'm a short 5'-2".
2. Vince Camuto "Jiris": These caught my eye as soon as I walked in. I've really been into suede this year like crazy. And I loved how this had a lace-up look to them. It's a sling back, but with enough strappies to keep your foot secure. The heel is cobalt and the platform is neon. Two of my favorite things right now. They fit very comfortably, and of course, they were the last size 6 in the store.
3. Valentino Rockstud Wedge: So, funny story about these shoes. I was wearing a dress and tights that day, not knowing I was going shoe shopping until I was already at work. Needless to say, these wedges are wonderful, but they looked a bit silly with dark tights on. Not to mention that it was hard to get a gauge for how they'd truly fit because your foot will naturally slide in your shoe with the slickness of the tights. They ended up unlocking this secret spa room behind the makeup section for an emergency tights removal. Once the tights were off, I decided the fit was perfect. They ended up being a half size larger than my regular size, but I felt they'd be too narrow if I sized down (they didn't have my normal size in the store for me to try.)
4. Joan and David "Isleen" wedge: The wedge is cork, but I was in love with the fact that it was a snakeskin print. And I've been on a search for a good turquoise sandal, so when she opened the box, I was optimistic. They were comfortable, but too closed up for a sandal. They covered my foot more like a peep toe bootie, and I felt like this style cut my legs off in an unflattering way.
5. Vince Camuto "Hallee" pump: Well, if you keep up with my blog regularly, you've already seen me wear them, so no need to rehash this review. Just see my post about them here.
6. Sam Edelman "Sasha" in Nude Leopard: I ended up putting one of these on my left foot and the zebra version on the right foot. As much as I love color pop, I just felt that the color took away from the versatility of the leopard. Leopard normally goes with everything. Seriously, everything. But the reddish orange detracted from this and would limit what I could wear these with. If I was going to get this wedge, the zebra was for sure the winner.
OK, so that was Round 1. So far my yes pile consisted of #1, #2, #3, and #5. This was going to be a tough decision.
Here is how the Round 2 contenders did:
7. Vera Wang "Qatara" sandal: I was really excited seeing these come out of the box. I'm always a sucker for any mix of color, pattern, and texture. It was just a very sweet and delicate looking shoe. But it felt super weird on my foot. Typically in heels, your feet naturally fall forward on the ball of your feet, right? These sandals made me feeling like I was falling backwards into my heel. It was the strangest sensation. And, I didn't like the top view. The toe bed came to a point, so there was a gap from the end of my toes to the end of the shoe. These shoes just were not flattering at all on my feet, which really bummed me out because I totally loved them in theory.
8. Valentino Bow Platform: They didn't have this particular style in my size, so I really just tried them on for effect. There's not much to say about this iconic shoe. It's even more beautiful in real life than in photos. I was struggling because I really wanted to add a Valentino to my collection, and didn't know if I should do one of the classics like this or hold out for the commonly known Rockstud T-strap (which they didn't have in the store) or just get the espadrille from above. Decisions, decisions.
9. Valentino gold crystal bow pump: These were just perfect. Honestly, I knew I wouldn't buy these because they're such a special occasion shoe, and something like this deserves to be worn more than once a year. But, I just wanted to try them on. Scratch that. I *needed* to try them on. The bow is spectacular, although not as perky and solid as the patent pump. This bow will relax in shape over time. Still absolutely beautiful and timeless and classic and perfect.
10. Valentino Rockstud studded heel pump: This picture does not do the shoe justice, so allow me to share a couple more: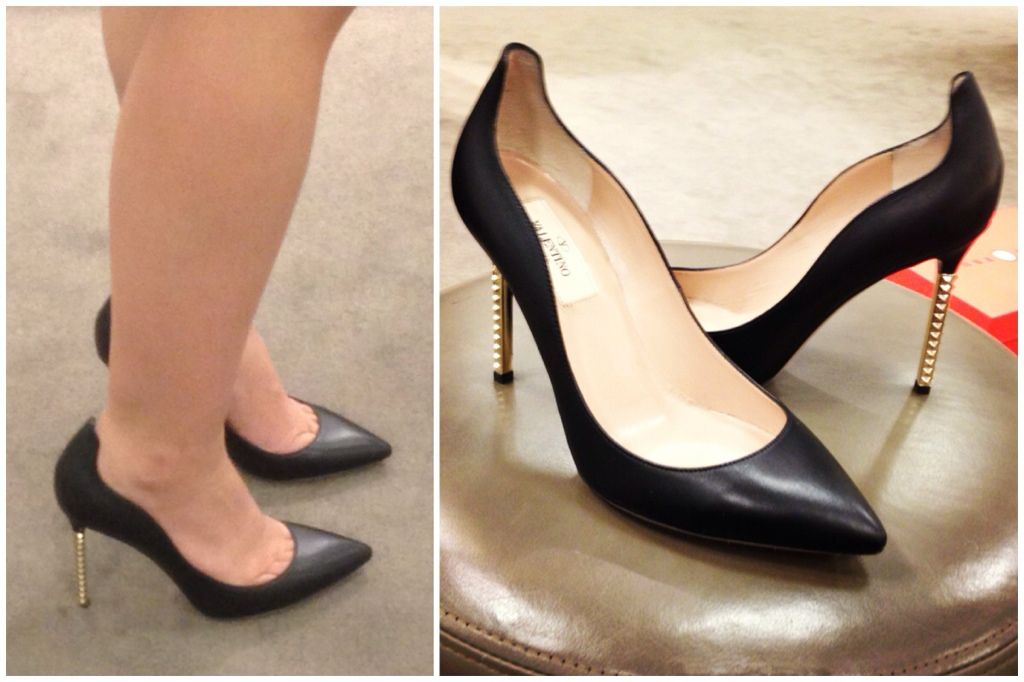 The wavy shape of this shoe is so sexy and different, and the studded heel adds edge. Such great detailing on a basic black pump. The leather instantly molded to my feet. I have a tendency to turn to patent first, but nothing beats the comfort and softness of regular leather. I tried these on a half size smaller than I usually wear because my size wasn't available in store, and they ended up fitting great. The cut of the shoe, and how it rises higher at the top of the heel created different pressure points on my feet that I'm not used to - it kind of felt like my feet would slip out of the shoe while I walked, but they stayed put, even when I walked quickly on tile.
OK, so what did I choose and how'd I end up making my decision?
I decided that I wanted the black Valentino pumps. The t-straps and the bow pumps have been around forever, and they probably will remain around forever, so if I ever decide I still want to get them later on in life, they will be available. However, this pair is seasonal and may never be made again. My only hesitation on the black pump was that I already have these Michael Kors pumps with a faux zipper detail at the back. I wasn't sure if these Valentinos were too similar with the "business in the front, party in the rear" concept. But, I had been wanting a non-patent black pump, and if I'm going to do it, it may as well be a Valentino, right?
So, then what about the espadrille? I knew I would regret it if I didn't buy them. And bonus time is my one chance in the year to splurge and reward myself for the craziness that is called work, so I decided to get these also. Two totally different Valentino styles, but great items to add to my collection.
Since I was getting this espadrille, I decided to say no to the Sam Edelman zebra wedges. For now. My SA is keeping that on my sale alert list, so we will see if I still want them in the future. The two Vince Camutos were easy sells for me. Especially since I had enough Nordstrom notes to cover them, so they were free! I don't have anything like either in my collection right now, so it was just meant to be.
Whew. That's it! Thanks for sticking with me and reading all of that! This whole shoe visit ended up taking two hours! I can't speak highly enough of the level of customer service I get at Nordstrom. Not just from my SA, but in general whether online, in the store, or over the phone. One time I placed an order for 5 items via instant message, and the level of service was just as professional and attentive as you'd get in person. Shopping should always be this amazing!
Now you spill it! Did you take advantage of triple points time?