Bandage everything has been all the rage, and even if they aren't as prevalent as they were the last couple of seasons, I'm pretty sure it will never get old to me. It definitely depends on the fit though. I don't like the fit to be super-I-can't-breathe-tight, nor do I want to end up looking like a sausage. I love for it to be fitted with the extra layers there to camouflage and smooth out any problem areas or lumps.
I bought a couple of tank dresses at the end of last summer that I was able to winterize during the colder months.
Bailey 44 tank dresses (other colors here)
I bought this dress from a Saks Fashion Fix sale last year. It's short sleeves (vs. sleeveless) and a little longer than the tank dresses above, so it doesn't require leggings or other layers for modesty.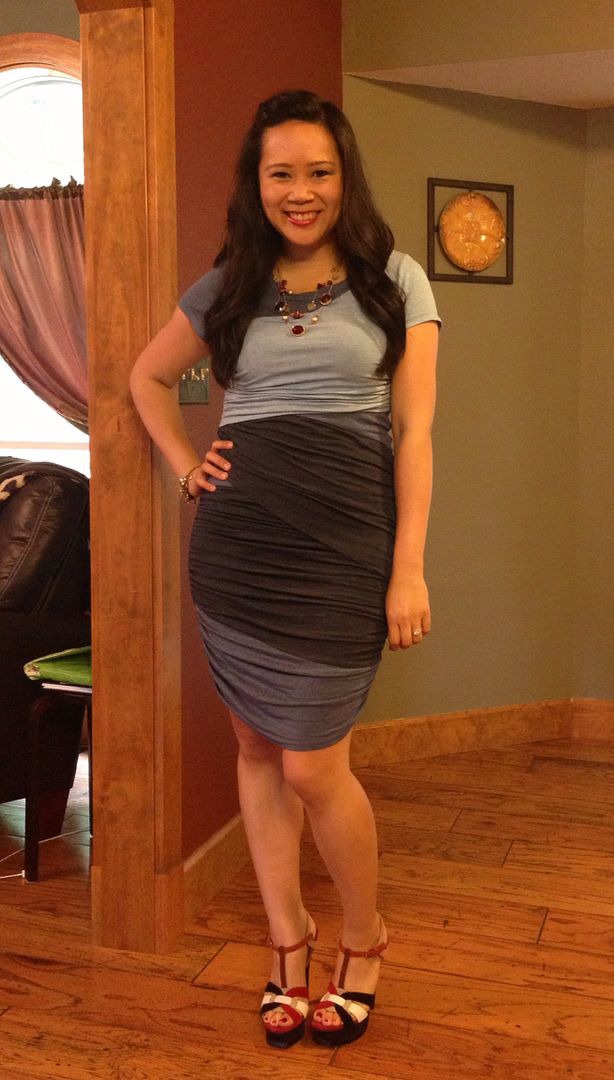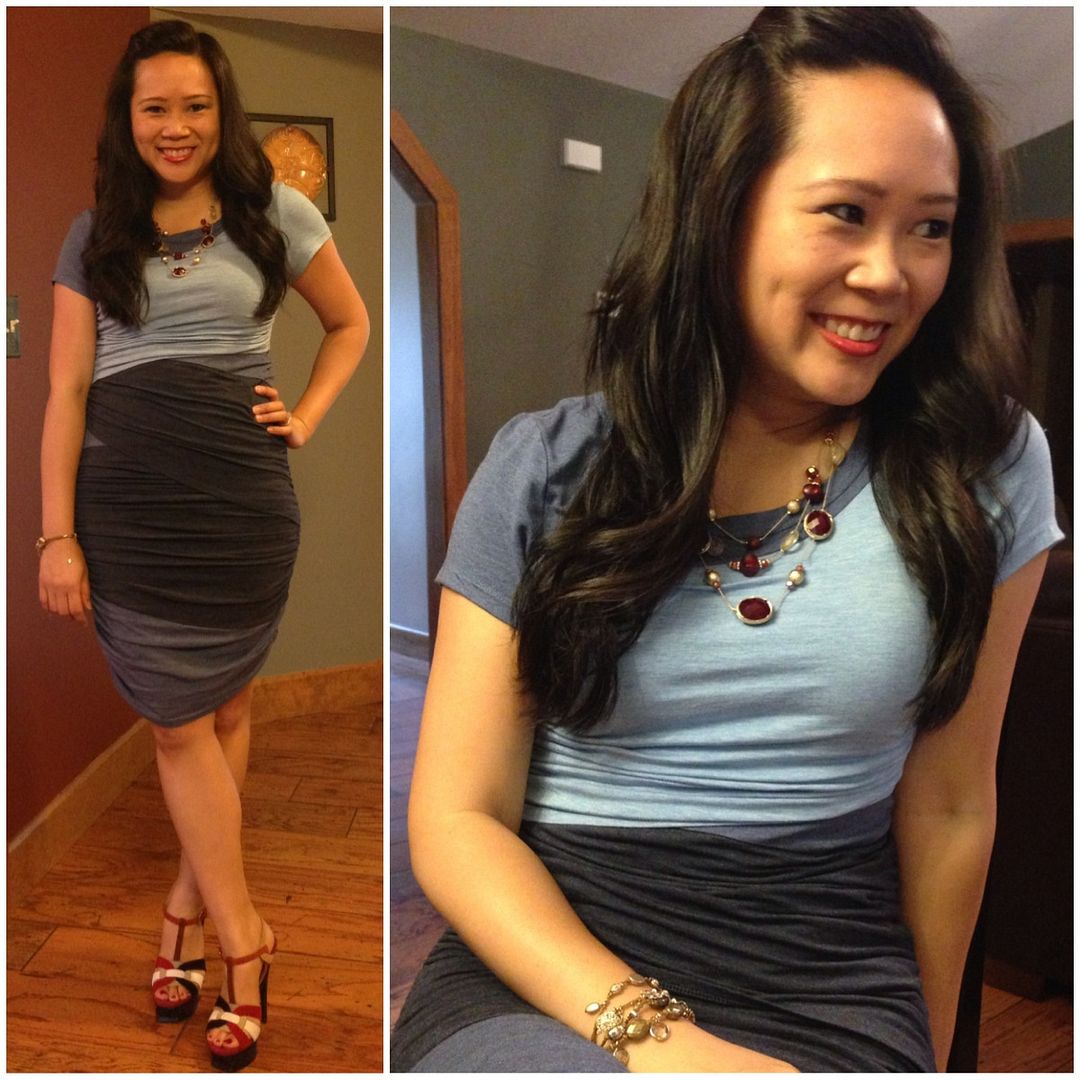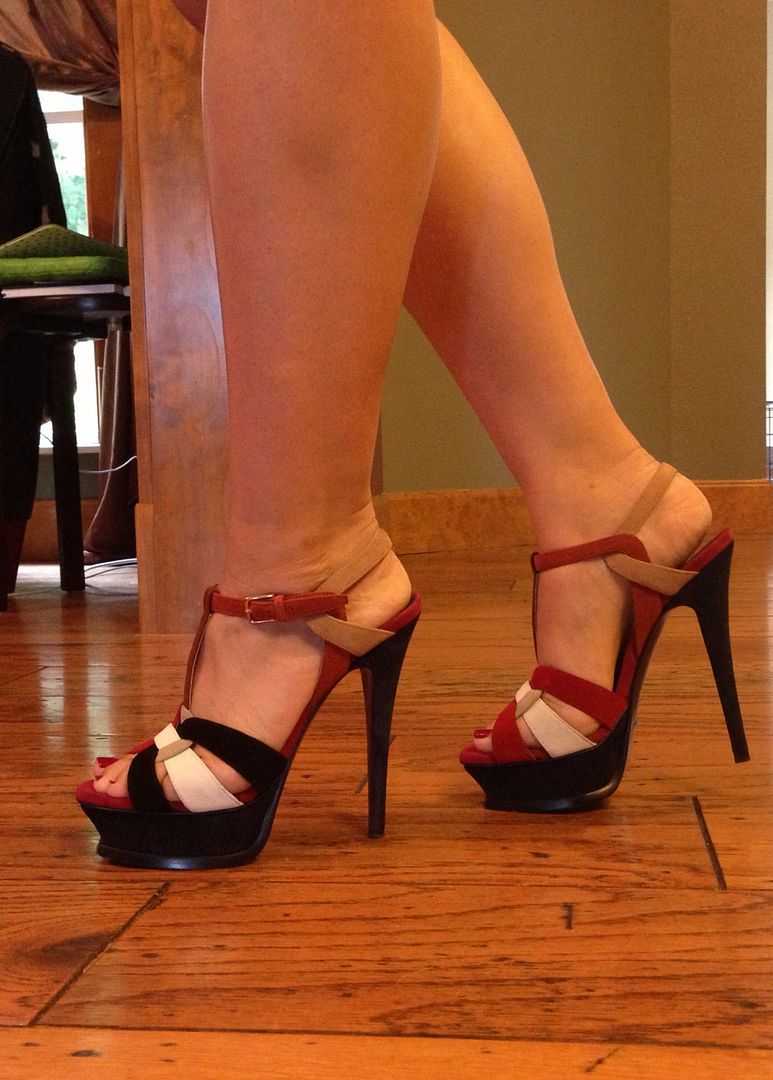 YSL Tribute sandals (see Shoesday post here)
Taking these photos today took me back to my blogging roots! Ha! I love everyone's stories about how they started blogging. How they felt weirded out taking and posting photos at first. And then how after awhile you just become meh about it and take full on pics. That's really what happened with me as well.
It all started with me posting my outfits of the day on a Tumblr I created. (You can still see this by clicking on the "Just Outfits" tab above.) I started posting pics to this in July of last year. My pictures started headless. Then later, you see my face, but you'll see me with a gym background. This is really just because my full length mirrors at the house have awful lighting, so I took pictures at the office gym at work when it was empty. Full length mirror, great lighting, random background. 2 out of 3 isn't bad.
Finally, I ended up buying this iPhone tripod. I downloaded the free TimerCam app and set the tripod on my dining room table to take my photos. This worked for 3-4 months or so? But you see in all of the photos above, the colors are skewed a bit because of the background, and well, the iPhone has a great camera, but nothing beats natural light plus a real camera, in my opinion.
So, in January, when I decided to create this blog, I started using our Nikon D5100 camera. The husband is very patient and takes photos of me every morning before work in the same spots around the house - front door, back of house, side of house, or the office if it's raining. Days like today when he is traveling or has to leave before me, I have to resort to one of my old methods or just skip the photos altogether for the day. We work together, and commute together, so during the drive to work as the passenger, I use this card reader with our iPad so that I can view all the photos taken that morning, and pick the 5-6 that I like the most. His phone can act as a hotspot, so I email my fave photos to my phone straight from the iPad.
Once I get them on my phone, I use the Aviary app to crop, brighten, or straighten my photos. I've also used the "blemish" feature to brush out wrinkles in my clothes or stray hairs from my face. Otherwise, that's the extent of my editing. I use the Pic Jointer app to group photos together to upload to my Tumblr page, and then the individual photos get uploaded to Photobucket. Again, all of this is done on my commute to work.
I don't actually write my blog posts until later that evening. In general, the stuff that you're seeing here is only a day or two since I've actually worn it. I wish I could say I have a whole library of blog drafts started, but uh yeah, I don't. If I know I'm going to be busy for a few days or something, I will try and write them in advance, but for the most part, these are all real time!
So there you go. That's me and my blogging life in a nutshell. I'm clearly not a professional, I just like sharing and talking about shopping. I wish I had a professional photographer to capture everything better, but for now, I'm thankful that H is awesome enough to contribute to my habit and this blog by photographing me himself. Not only that, but he reads every one of these posts also. Which kind of works to my disadvantage when I post a "Things I Buy" post.... Thanks, hubby! You rock!