I have a story about every piece I'm wearing today, but what led me to this pinned image was the cobalt bag, so I shall start there.
I'm honestly not a big handbag person. Don't get me wrong, I cherish, and I mean CHERISH my Chanels, but otherwise, I'm fairly predictable with my alternating Marc by Marc Jacobs and Kate Spade bags. But even though I'm not high maintenance with my bags, I was still a bit hesitant about the Miche bags. One of my friend's girlfriends sells them, so I decided to take a look, and I fell in love with (surprise, surprise) this cobalt demi bag. The combo of cobalt plus black plus gold - I dunno, it just makes me happy. I really like the shape of this bag and it's pretty roomy as well. I was really excited to use it, so I figured I'd build my pinspiration outfit around this. I love the way the cobalt pops with the stripes and the coral!
Speaking of the stripes, I found this skirt through Amber over at Avec Amber - this post right here. I had been looking for the perfect striped pencil skirt that wasn't a super tight body con fit. This exceeds my expectations, especially with the pop of color in the reddish stripe.
As far as the top is concerned, it's actually a tunic length wrap top. I would have never ever thought to tuck a wrap top into a skirt, until I saw Yasi do this in one of her outfit photos in a recent post over at Hello Gorgeous. Genius! This opens up lots of possibilities! Especially since I don't own any other solid colored coral tops besides this one.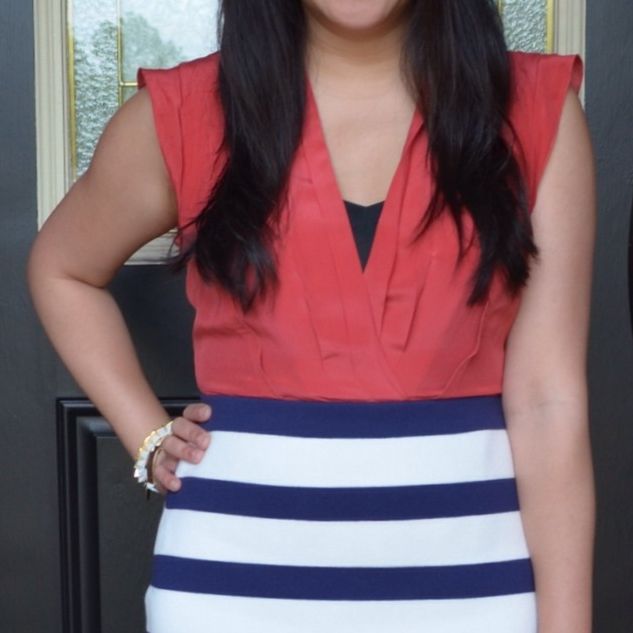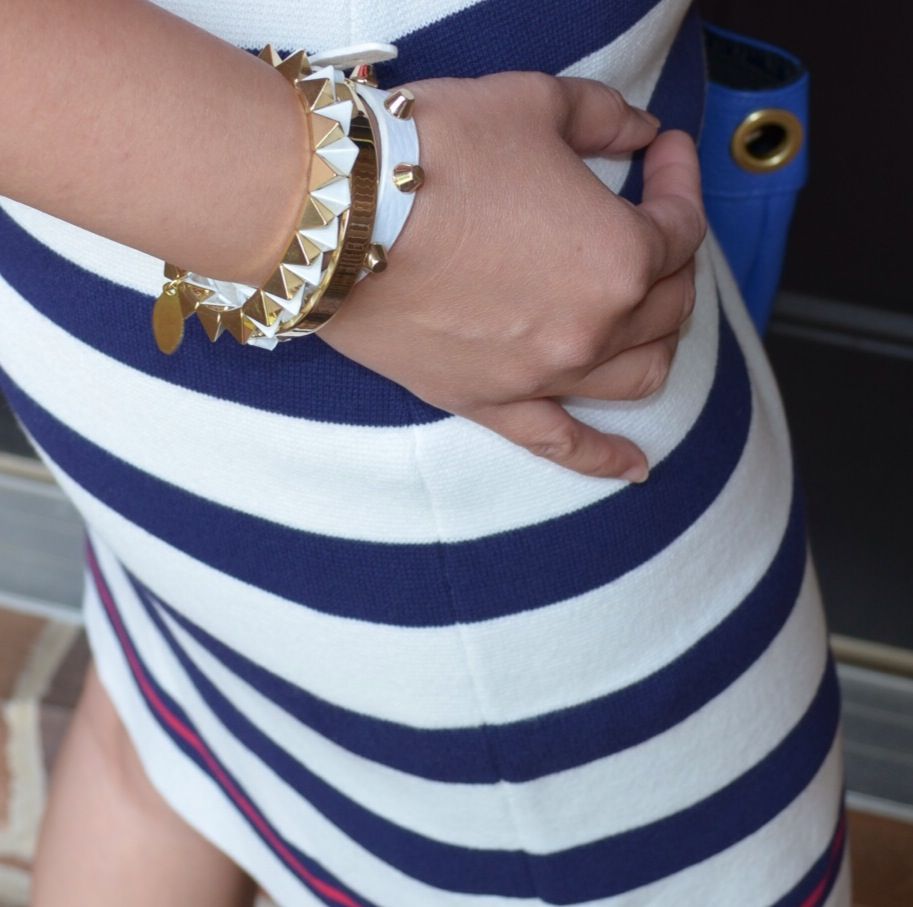 Anthropolgie wrap top (option)
Miche "Serenity" demi, worn with gold chains
I can't talk about an outfit without having a story about my shoes. The husband almost didn't take any close ups of the shoes because he didn't feel like there was anything special about them. And I somewhat agree with that statement. These are pretty basic woven strapped espadrilles. No crazy colors, no stiletto heels, but that's ok! I almost wore my nude patent pumps instead, but felt like it dressed it up too much, and I wanted to be a touch more casual today. I think these espadrilles serve the same purpose as a nude pump - they're really just meant to disappear and not take away from the outfit. What I think is ironic about them though is that they are Sperry Topsider. When you think of Sperry, you always think of the infamous boat shoe. But, I owned these wedges before I had bought either of my traditional Sperrys. Kind of random that it happened that way, eh?
Hope you have a great Sunday and that you find things that inspire you!