1 - Milly Collection at Banana Republic "Patio" maxi dress: I love love love Milly! I was so excited to find out about the collaboration with Banana Republic. It took about a millisecond for me to fall in love with this dress. I always crave a new maxi dress once the weather first warms up. I was afraid I should have ordered this in petite, but I like my maxis to barely graze the floor in heels - I don't like my shoes showing like the model's does. I figured the model had a good 7" of height on me, so the regular length should fall just where I wanted it. This. Is. Perfect.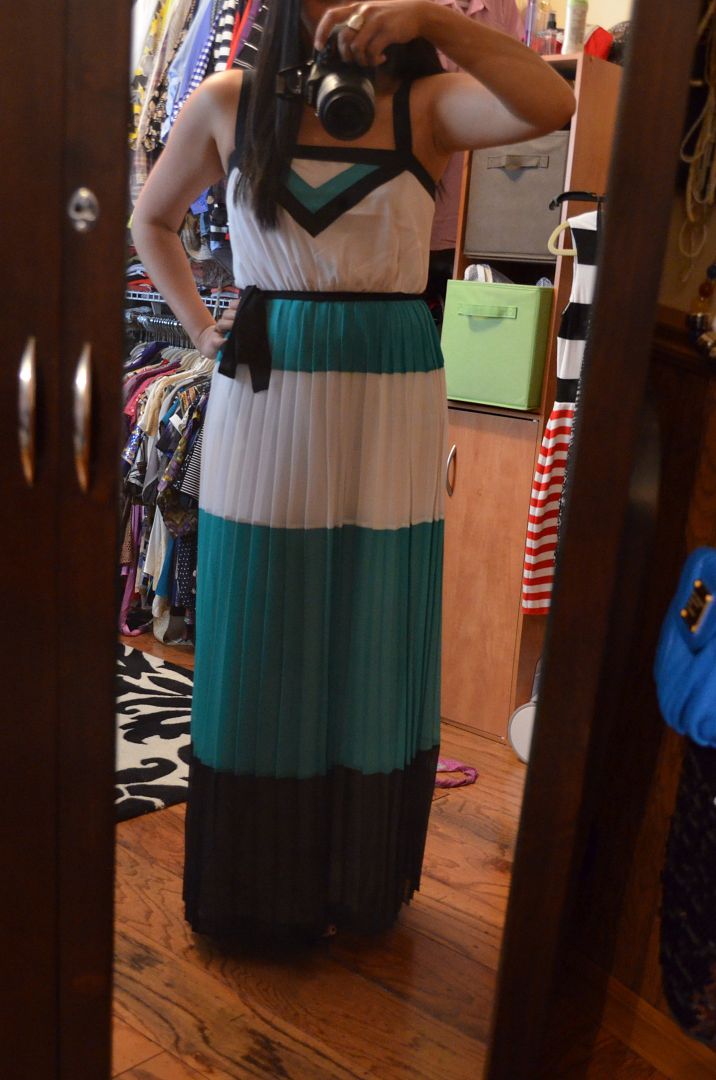 2 - Bailey 44 "Delta Time" dress: So, if I'm being honest, remember when I wrote about the bandage dresses? Well, as I was searching the interwebs for the dresses I posted about (or at least something similar), I came across this Bailey 44 dress, which is the same brand as a couple in that post. Blogging makes me accidentally shop sometimes. But it was a good thing because it's super soft cotton jersey, seamless (no VPLs), and it will be worn a lot. Promise!
3 - Kate Spade signature ear buds Reg $40 for $25: I've said a zillion times that I am obsessed with Kate Spade. It's not a secret. Everyone knows. The problem with everyone knowing is when there are flash sales or what not, even if I physically try and ignore sale emails, I will get texts and other messages notifying me of her sales. I can't complain really because I love everything. The "good" thing is, this time around, it was on Gilt. And the only thing I managed to purchase were these ear buds. I've already used them a few times at work, and they just give me a happy looking at them.
4 - Kate Spade "Mexican Floral" iPhone 5 case: I needed a new case because my metallic stripe one was starting to flake pretty bad.
What a great, happy, spring print!
5 - Kate Spade "Devon" swing jacket Reg $475 for $69.75!! WHAT A CRAZY RIDICULOUS DEAL! This was one of those deals where I definitely bought it more for the price than I did the item itself. The model really doesn't do it justice, nor do the photos. Lucky for me, the jacket arrived, and it's way more beautiful in real life than it was on the website. I picture it with skinny jeans and heels for a weekend dinner. Super excited to wear this! Last Call was having an additional percentage off the already reduced price for Memorial Day, which is how I got it so crazy cheap. It's on their site right now for $81, which is still amazing! Highly recommend. I got an XS if that helps.
6 - 7 for all Mankind "Gwenevere" cropped white skinnies Reg $178 for $89.40: Also bought during the Last Call Memorial Day sale. I bought a pair of white skinnies from the Gap a couple of years ago, but admittedly, they were a little snug when I bought them and I had hoped I would lose a few pounds and they'd fit perfect. I've learned to not shop for the body type you WANT but for the type you currently are. These serve that purpose.
7 - BCBG one shoulder dress Reg $148 for $29.70: Last item from the Last Call sale. BCBG has the best jersey dresses. This one will be perfect for my Mexico vacation later this year. And seriously - $29.70?! I shoulda bought 2!
That's enough for me for now. What are your exciting recent purchases?