Hinge pointelle sweater: $44.90, after sale $68
B44 Combo dress: $164.90, after sale $248
Naya 'Tiber' oxford: $89.90, after sale $128.95
Kate Spade 'Jeanne' tote: $265.90, after sale $398
Halogen color-blocked pants: $51.90, after sale $79
Halogen fitted top: $44.90, after sale $68
Halogen leather skirt: $149.90, after sale $228
Amber sun raglan sweater: $45.90, after ale $69
Sam Edelman 'Darla' ankle strap pump: $114.90, after sale $174.95
I have purposely been trying to curb my shopping recently (no packages have arrived on my doorstep this month yet!) Yes, I'm being a bit facetious as it's only 5 days into the month... but I truly have been holding off on buying anything once I made my appointment to shop on day one at Nordstrom for the Anniversary Sale. The catalog arrived on June 27th, and by June 28th (ok, within the hour of receipt), I had stickied all of the items that caught my eye. The pieces I am most excited to try are the cobalt striped pants, the caramel leather skirt, and the studded ankle strap pumps. Fall pieces in the midst of summer - I know it seems odd, but somehow I'm still ridiculously excited! My appointment is at 3pm on day 1, and I'm so pumped!! Half the fun of the anniversary sale is getting to shop behind curtains, having a personal shopper with me the whole time (who subsequently, I also consider a real life friend), and just being a girl for a few hours! Are there any items you are particularly after?
I almost went this whole week without a single purchase, until I came across this post by Rachelle over at PinkSole. She lists options for a handful of items that you can binge or save on. I fell in love with the J.Crew dupe of the Isabel Marant "Lucie" sandal: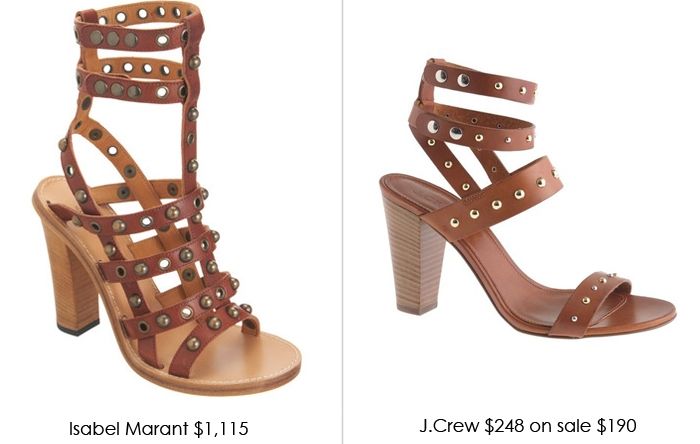 As shopping fate would have it, I clicked on the J.Crew link and everything was an additional 40% off final sale items. So the sandals ended up being $114! $126 after tax and shipping! That's about 54% off the original retail price.
Don't mind if I do! Assuming these sandals work out, that means I have to sell one of my existing pairs of shoes (my current rule.) And, to your delight, if they don't work, they will appear themselves on Poshmark since they are final sale. So, either way, be sure to check in with my Poshmark closet for a new listing!