Has everyone survived Black Friday? I did end up venturing out this morning. No, not for flooring or paint, I just wanted the good ole fashioned mall. I usually go around 6am or so, but this year, my plan was to be at the mall by 8am. It's amazing how much Black Friday has evolved over the years, with everything being available via the internet now. To be quite honest, all of my Black Friday finds I bought prior to today because each retailer had already started their Black Friday discounts.
1. Necklace: Stella & Dot (Sold out) - Extra 25% off sale items, Reg. $298 for $111.75. You have no idea how excited I was to see this on sale finally! I've been lusting after it basically since I first even learned Stella and Dot existed. I've been admiring it from afar, and every once in awhile I will visit it on the website. I squealed when I saw it was now a sale item, and with the Black Friday extra 25% off discount, I was able to snag this for a little over a third the original price. SO EXCITED.
2. Small foldover wallet: Kate Spade - Up to 75% off surprise sale, Reg. $78 for $39. I visited Kate Spade's website last night to see if they mentioned what their Black Friday sale was going to be. That's when I stumbled upon the surprise sale. The one thing I've been wanting is just a small card wallet. I switch purses so many times nowadays that I usually grab my license and a couple credit cards from my larger wallet/clutch and just loosely throw them in one of my purse pockets. I figured it'd probably be best to get a small card wallet that could easily fit in any of my purses, big or small. And you know how much I love cobalt.
3. Full Zip Fleece: The North Face - via Dick's - Up to 30% off, Reg. $99 for $69.98. This sale I learned about from a commercial as I was watching TV last night recovering from my food coma. I have a couple North Face fleeces that I love, and decided to snag another while it was on sale. Since I already have a black one and a baby blue one, I thought brown would be a good addition to my collection. The husband ended up getting one as well for a similar discount.
4. Sequin Mini: Express - 50% off everything, Reg. $59.90 for $29.95. Express has been running their half off sale all week, and it was difficult to stay away from it! A friend of mine got this mini some time ago; I have been loving it for so long that I figured at half off, it was time to pull the trigger.
5. Colorblock Sweatshirt: Express - 50% off everything, Reg. $39.90 for $19.95. I don't have a back story around this sweatshirt other than the fact that I love anything colorblock and it just looks cozy.
6. Plaid Coat: Express - 50% off everything, Reg. $198 for $99. I originally saw this coat in this post over at On the Daily Express. How freaking awesome is it on Style Me Grasie?? I ordered it and then ended up trying it on in the store afterwards, and it's just adorable. The perfect fall/winter coat. It does run a bit big though, just FYI. I ended up getting an extra small, and I am almost always a small at Express.
Ok, so if I pre-ordered all that stuff before Black Friday was even here, then what the heck was I doing at the mall at 8am this morning? Well, I did want to check out all the other sales. The one thing I did buy ended up not even being a sale item, so I'm not sure I should even be classifying it as a legit Black Friday find. However, it definitely is worth mentioning, so here she is.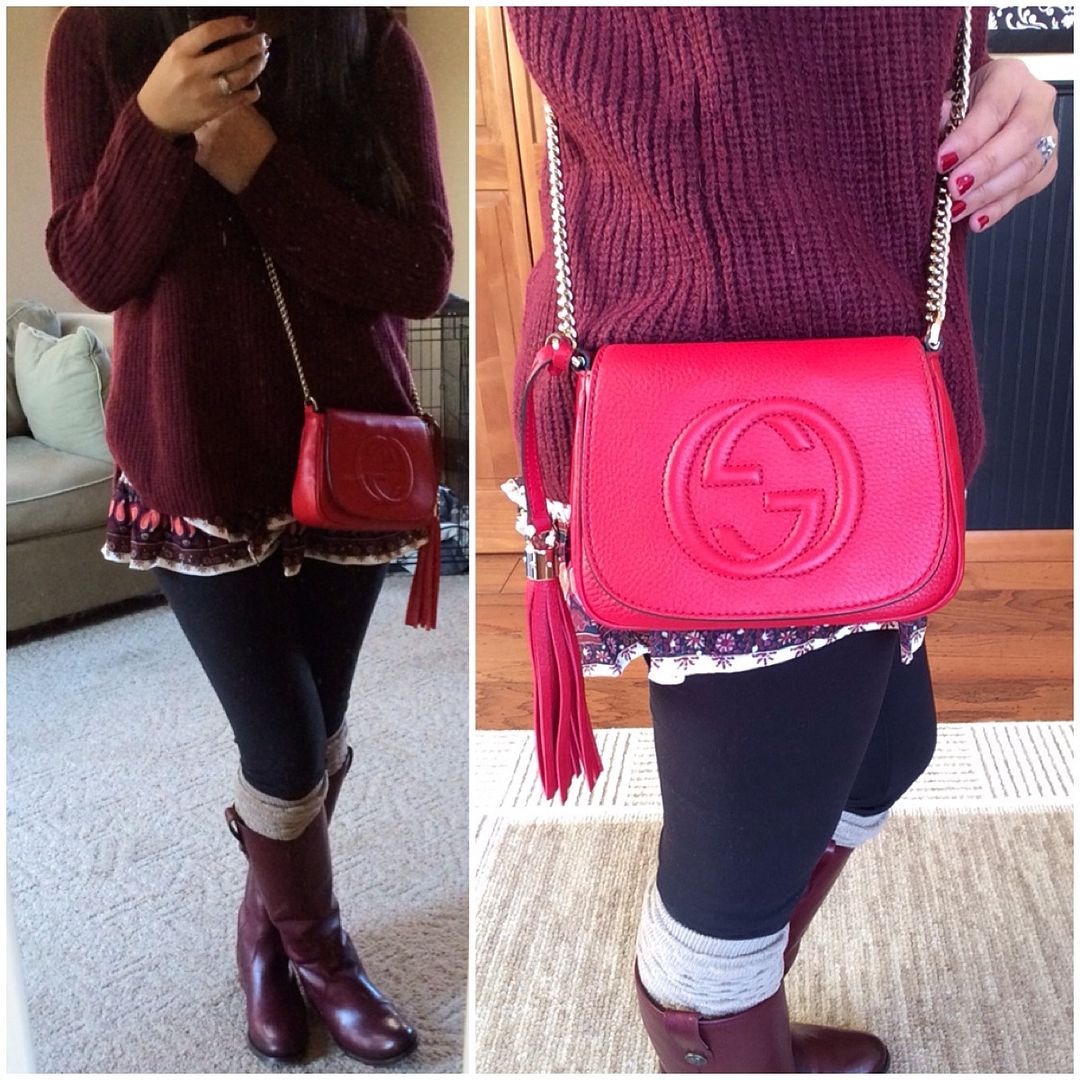 I feel like I own two different sizes of purses - ginormous carry all bags for work and small crossbody bags for when I want to run around hands free and travel light. My favorite one is my blue Marc by Marc Jacobs Classic Q Karlie bag (other colors here), but I felt silly getting the exact same purse in a different color (I wanted a red one). I like that the MbMJ bag has a chain strap because I feel like that makes it easy to dress up and dress down. I was honestly thinking of getting a red Chanel wallet on a chain to complete my little Chanel trilogy, but they're very hard to come by, and well, they're pricey. I checked out the Chanel boutique inside Saks this morning, and as I suspected, they had exactly zero WOCs and the only small red bag they had was a little clutch without any straps. I've never owned a Gucci before, much less shopped for one. My sister is very much into the logo'd bags, but I never was. However, this little guy caught my eye. Perfect size, loved the chain (and that it looks different than a Chanel chain), and I loved the tassel detail (even though it's ginormous… ok, ok, *especially* because it's ginormous). Even though I was at Saks, I was able to use my Nordstrom Visa. My Nordies SA made today my triple points day, so I'll have some Nordies notes on their way to me as a result of this splurge. Yay and yay!
This outfit was the same outfit I changed into last night for round 3 of Thanksgiving. Comfortable and cozy and easy to throw on first thing in the bitter cold morning to get my shop on.
Hope your shopping day was just as productive and exciting!