Hey guys! I'm bringing you this special weekend post to provide you shopping inspiration for Pulse's online flash sale, which happens every Sunday night. If you don't remember - I first introduced you to Pulse here.
Lots to choose from this week, but my two top picks are my two favorite things - stripes and leopard. Let's start with the leopard!
Leopard tank tunic: Only $29
I mean, you know I love anything leopard, although, I think technically this print may be "ocelot" which is the same print as my Tory Burch cross body. This is an easy tunic to throw on with boots and leggings in the colder months, I think that goes without saying. But don't forget that you can also throw on a skirt over it for warmer months. I do this a lot with my tunics and have found that as long as it's a fuller skirt, you can't see the lines of the tunic underneath it, and it's not any bulkier than simply tucking a normal top into your skirt. I'm showing a skater skirt below, but a maxi skirt would work great!
I'm pretty sure I said, "ooh" out loud when I saw this top. Yeah, yeah, I know you're thinking it's just another stripe top - but not all stripe tops are created equally. I think it depends on the color of the stripes, the thickness of the stripes, and the shape of the overall top. I find this combination of a predominantly white background with the thinner stripes is the most versatile. Similar to my favorite tee shirt seen here and here.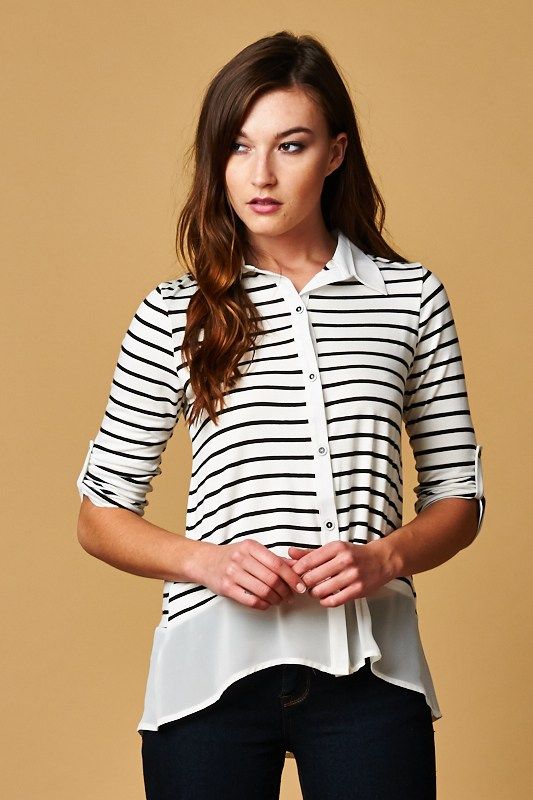 Stripe top, available in white (pictured) and navy: Only $38
This one is a little more playful with the flouncy hem - which would look awesome layered under a sweater and finished off with a statement necklace (my foolproof winter outfit formula.) When I was pulling together outfit pairings for this top, I was literally picking stuff currently in my closet, which probably just means that this top would fit right in! Stripes like these are such a neutral background, that I wouldn't be afraid to pattern mix this - even twice in the same outfit.
For more details on how to shop Pulse STL's social media flash sales - click
here
. Please be sure to like them on Facebook
here
and follow them on Instagram
here
so you don't miss out on any perfect pieces! Happy shopping!
Disclaimer: I am not being compensated for this post. All views expressed are my own.