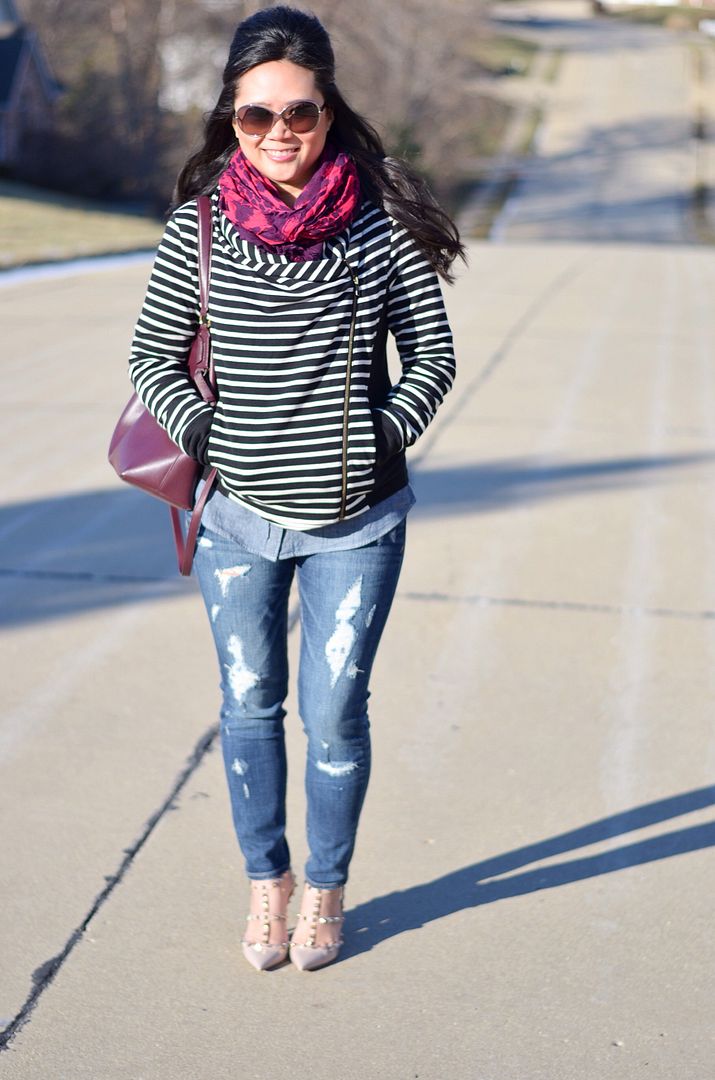 Before I get into the guts of this post - can we just talk about this cardigan for a second?
I stumbled upon it when I was trying to find stuff to spend my Christmas money on.
It's the softest, coziest cardigan ever, and I love the asymmetric zip with the option to leave this open and perfectly drapey. The big, black exaggerated cuffs break up the monotony of the stripes, not that the stripes are bad, they're actually what drew me to touch it in the first place! I ended up sizing up only because I wanted to be able to layer it over more than just tank tops and camis.
Anyway - it's my recommended buy of the week, how about that?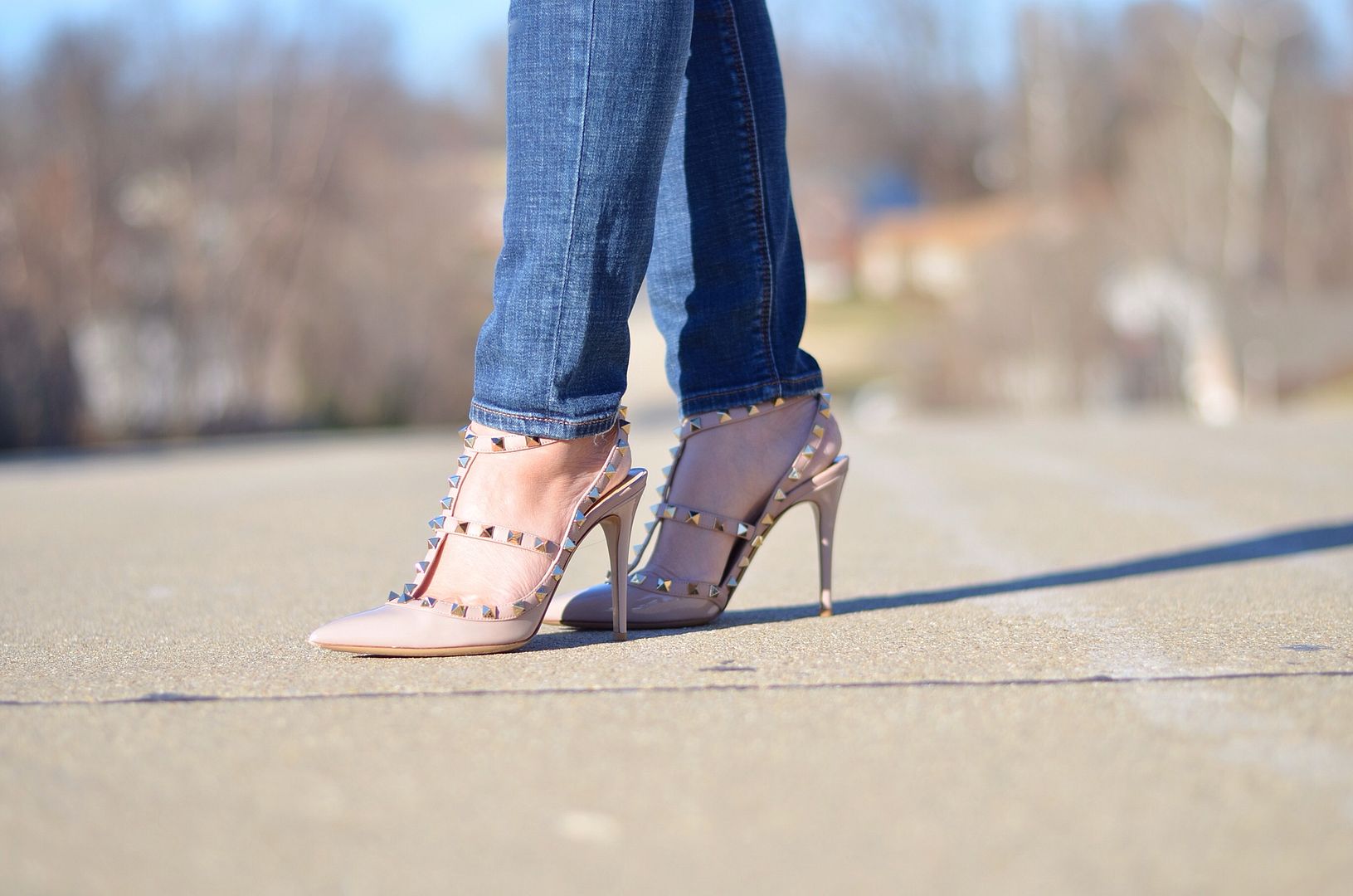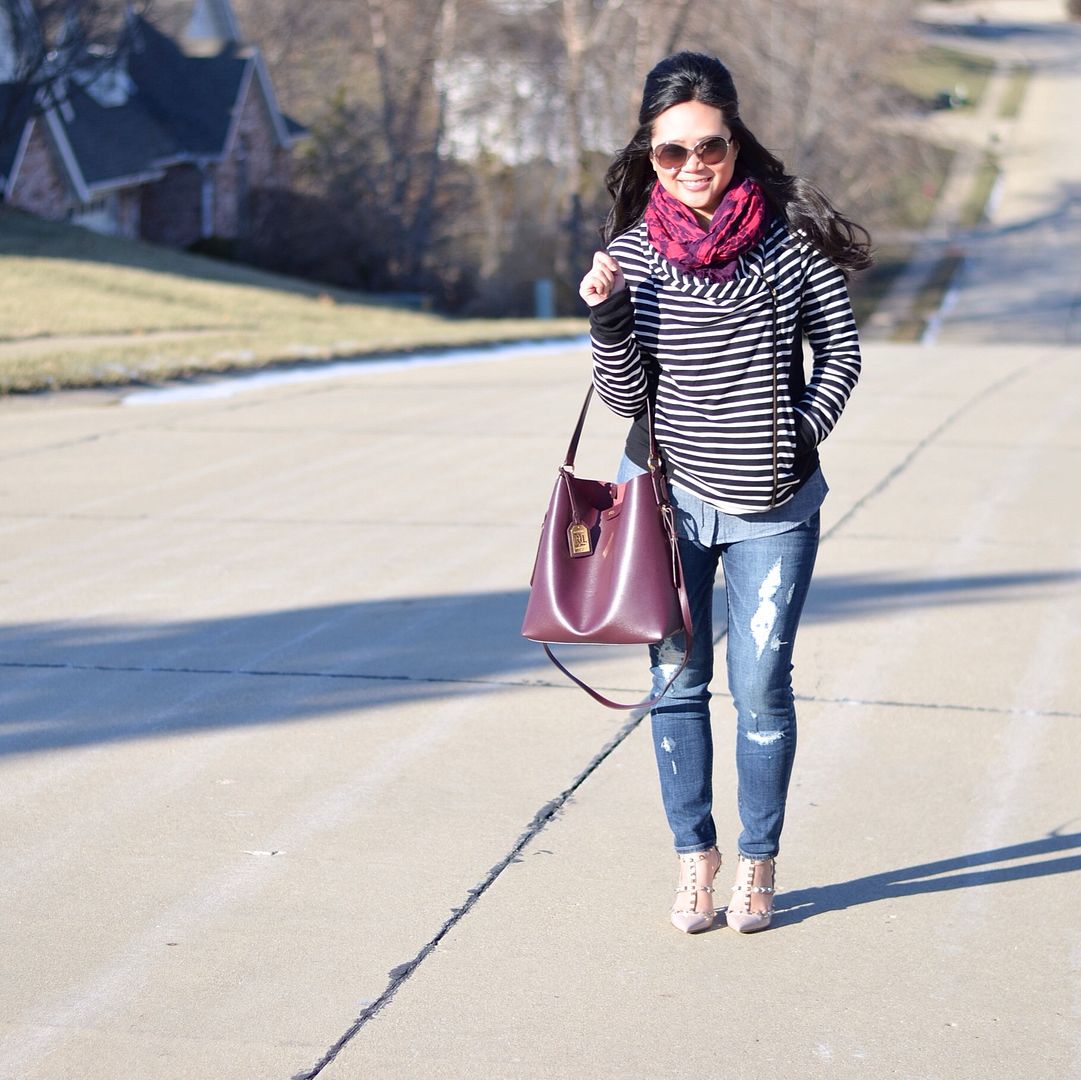 Everyone seems to be sharing their resolutions, whether it be blog related or personal. Everyone, that is, except for yours truly. The main reason why I haven't shared anything is because I feel like they are the same every year - save more, shop less, purge more, exercise more (or ever), yada yada. Well, rather than talk about my resolutions, I decided to just dive right in and start a project.
Jenna over at Sincerely Jenna Marie told me about this little project she was going to be doing - basically a capsule wardrobe, so to speak, over a 2 month period of time, except that her goal was to not make it as boring or predictable as some of these can turn out to be. By volunteering myself to join in on this fun - I'd be tackling two of my common resolutions of shopping less and saving more.
And on top of that, one of my most favorite things to do is come up with ideas on how to remix the same pieces into different looks - and I'm not talking about just changing your shoes and calling it a remix - I'm talking about truly creating different looks with the same pieces. If I like doing it so much, then why not actually DO it and document it all for you guys along the way?
Being sick last week kinda threw my schedule off a bit, so I'm starting the challenge as of today. So remember these pieces as you will be seeing them again over the next 2 months - I will end the challenge on March 15th.
Jenna and I would love to have more ladies join us! Below I've outlined the rules that we're following. If you want to join, start sharing your outfits on instagram with the hashtag #remixfix2015. Jenna is also planning to host a special linkup at the end to give everyone an opportunity to share a recap post, or a few of their favorite looks from during the project.
The Rules
Set the number of items you will remix for the next 2 months, whether or not you include shoes/purses/accessories/jewelry in your count is up to you
At the end of January, you can swap out up to four items, in case you blew it picking a few dumb items
You're allowed ZERO purchases in January, the addition of ONE item in February, and ONE new item in March
Loungewear and gym clothes don't count toward the totals
If a special occasion arises (wedding, cocktail party, business professional event, etc…) you can wear anything in your closet
Rewards points/cash/etc can be used towards the allotted purchases, but otherwise must be saved for Spring!
Disclaimer: I may feature some items from a few blog sponsors here and there, but do not plan on including these in my official remix item count.
For me, I've decided that I am not going to set a quantity limit. It was giving me anxiety trying to pick my pieces as if I were going on a 2-month trip! Instead, I will set my capsule based on what I will be wearing over the next 3 weeks (that's 12 outfits since I normally do my Random Roundup posts on Fridays). 12 outfits worth of pieces should no problem translate into 2 months of wear. I'm cataloging everything I will be wearing from now until then, and by the end of the third week, my list will be set. This will be a good exercise to document the must have pieces to get through the winter!
In all honesty - you really won't be noticing anything different on the blog - especially if I'm successful at remixing. But it will be fun to do a big recap at the end when you can see the remixed pieces side by side. I'll also provide updates along the way!

SHOP THE LOOK:
PS Head over to Noelle's blog to see what product Gina and I recommended that she fell in love with also!