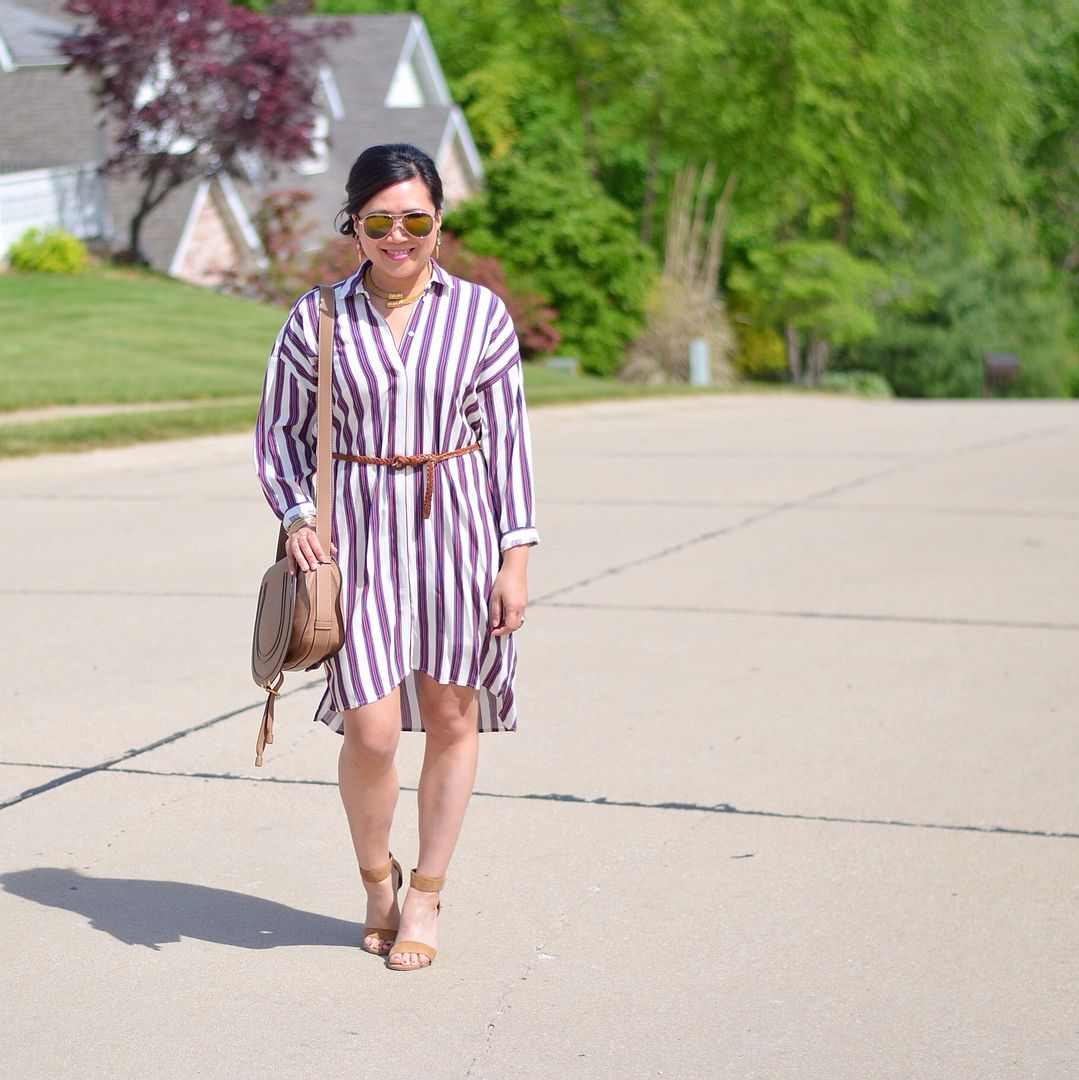 I fell in love with this dress immediately after seeing it online here. This red, white, and blue stripe combo is so crisp and always tugs at my heart! Topshop's stuff tends to run pretty small for me, so I always end up sizing up. Welp, I got the dress and was swimming in it. You know those photos of Jared holding up his pants pre-Subway? I looked like I was wearing the shirt that goes along with those pants! So, I placed a second order for one size smaller.
And before you start thinking I'm crazy - Nordstrom has free shipping and free returns, so there's really nothing to lose other than time, and this dress wasn't for anything time sensitive. Plus, after I got the first dress, I checked to see if it was available in one of my nearby stores so I could simply try it on. I love shopping online, but this dress is definitely one of those things that would have been best to try on in store.
Left: attempt #2 | Right: attempt #3
The pic on the left above is dress #2, which as you can see was still a little big and borderlined looking like pajamas. If I didn't love the stripes so much, I would have just given up, but I tried one last time and ordered one more size down (pic on the right above), and it worked like a charm! I also switched the belt for a "real" belt, which visually made the dress even better to me.
I'm sure I will still people will still ask me why I'm wearing my pajamas at work since my coworkers always feel the need to make comments of my outfits, but oh well! I love me some stripes and a good shirt dress, so no regrets here! Oh, and i
f
these sandals
look familiar it's because I have the exact same pair in red.
My little Jeffrey Campbell collection is growing, and apparently I like to buy them in pairs. And in suede! It's hard to resist though because these particular sandals are the perfect heel height and the suede makes them extra comfortable - no weird pinching or rubbing on my feet. And I normally try to avoid any kind of shoe that I need to buckle because, well, I'm lazy, so the velcro closure is such an added bonus for me! I will definitely add some ball of foot pads though to keep foot from sliding forward. No one wants to see that toe-verhang!

SHOP THE LOOK: