Sunnies: Ray Ban | Sweater: American Eagle (options here, here) | Necklace: House of Harlow (shop other colors here) | Top: JCrew Factory | Bag: Kate Spade (budget option here) | Bracelet: Stella and Dot | Jeans: Gap | Shoes:
Madewell (also available here)
I feel like a broken record talking about the weather, but weather kind of rules a blogger's life, I'm not going to lie. It affects what I'm going to wear, how I do my hair, whether I can take photos, the lighting, so much stuff! That's probably pretty dramatic. But my point is, spring can't make up its mind. It wants to show up, but just teases us then vanishes again. It's been in the 40s and 50s, so sweaters are still a necessity. All of my other pullover sweaters are much thicker, but this olive one is the perfect for spring layering. The problem is - I adore olive, but when it comes to sweaters, it feels super winter to me and I needed this outfit to feel more springy for my own sanity!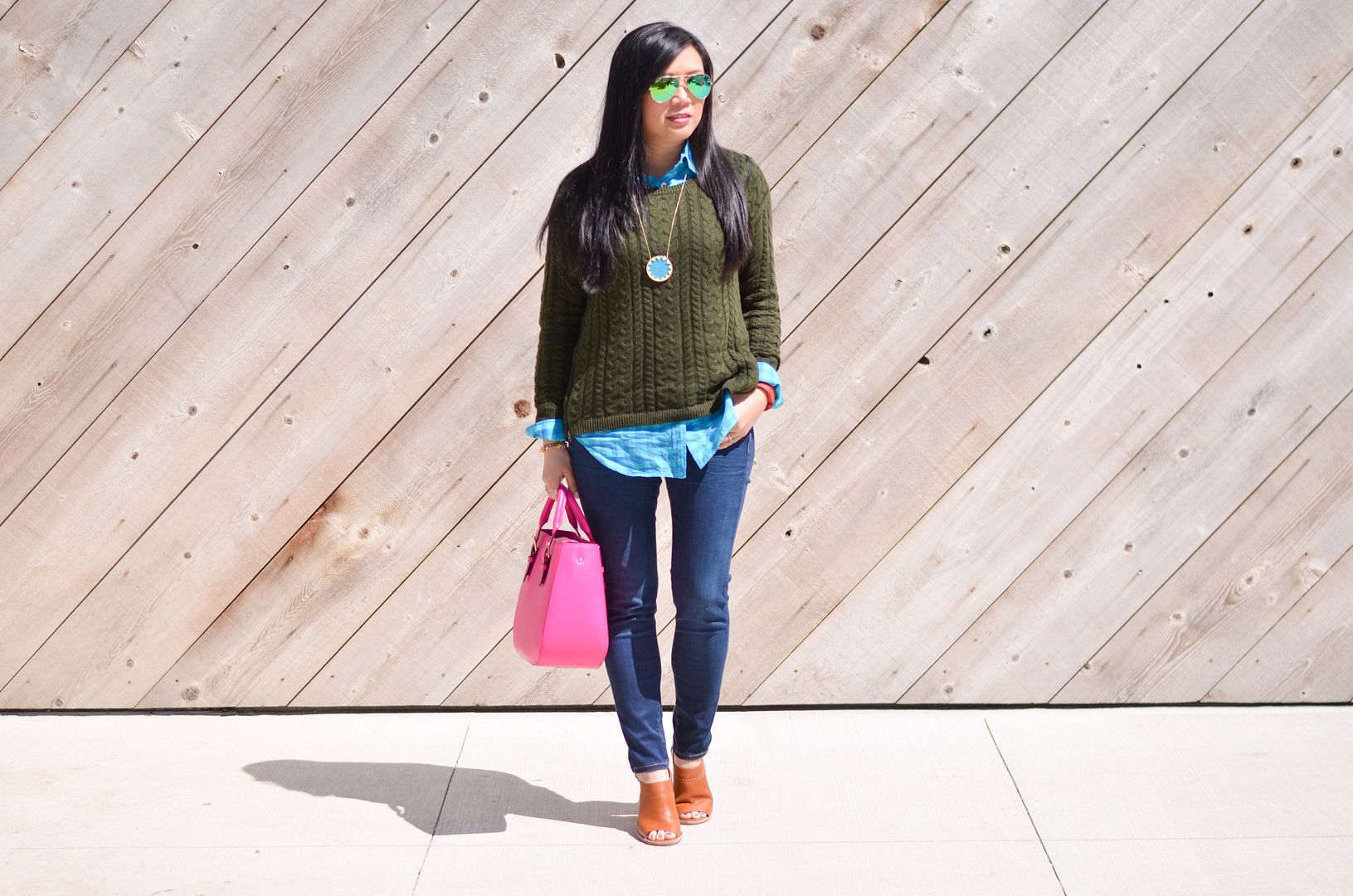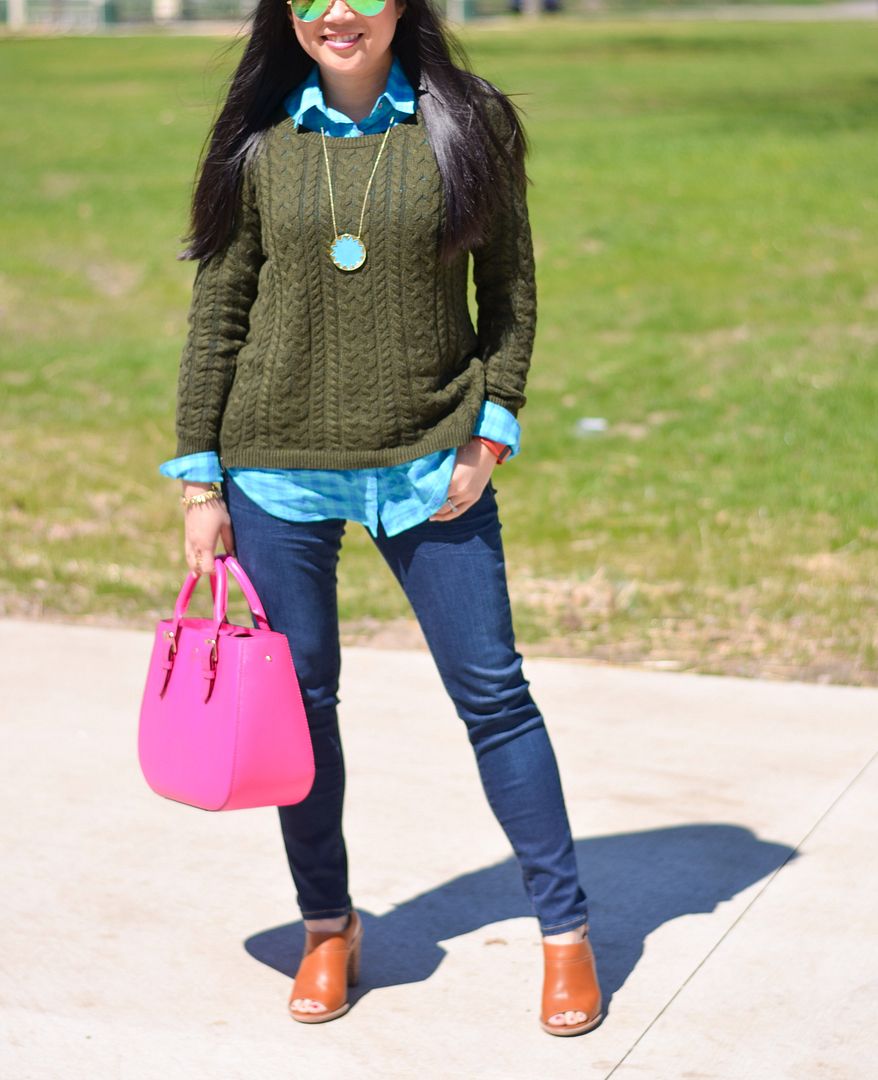 I've basically been adding turquoise to anything nowadays to force a spring feel into the outfit. But just for good measure, I threw in my bright pink bag. I was pleasantly surprised how much I loved this combination, and I suddenly didn't mind that I was donning a sweater. These cognac peep toes help a ton, too.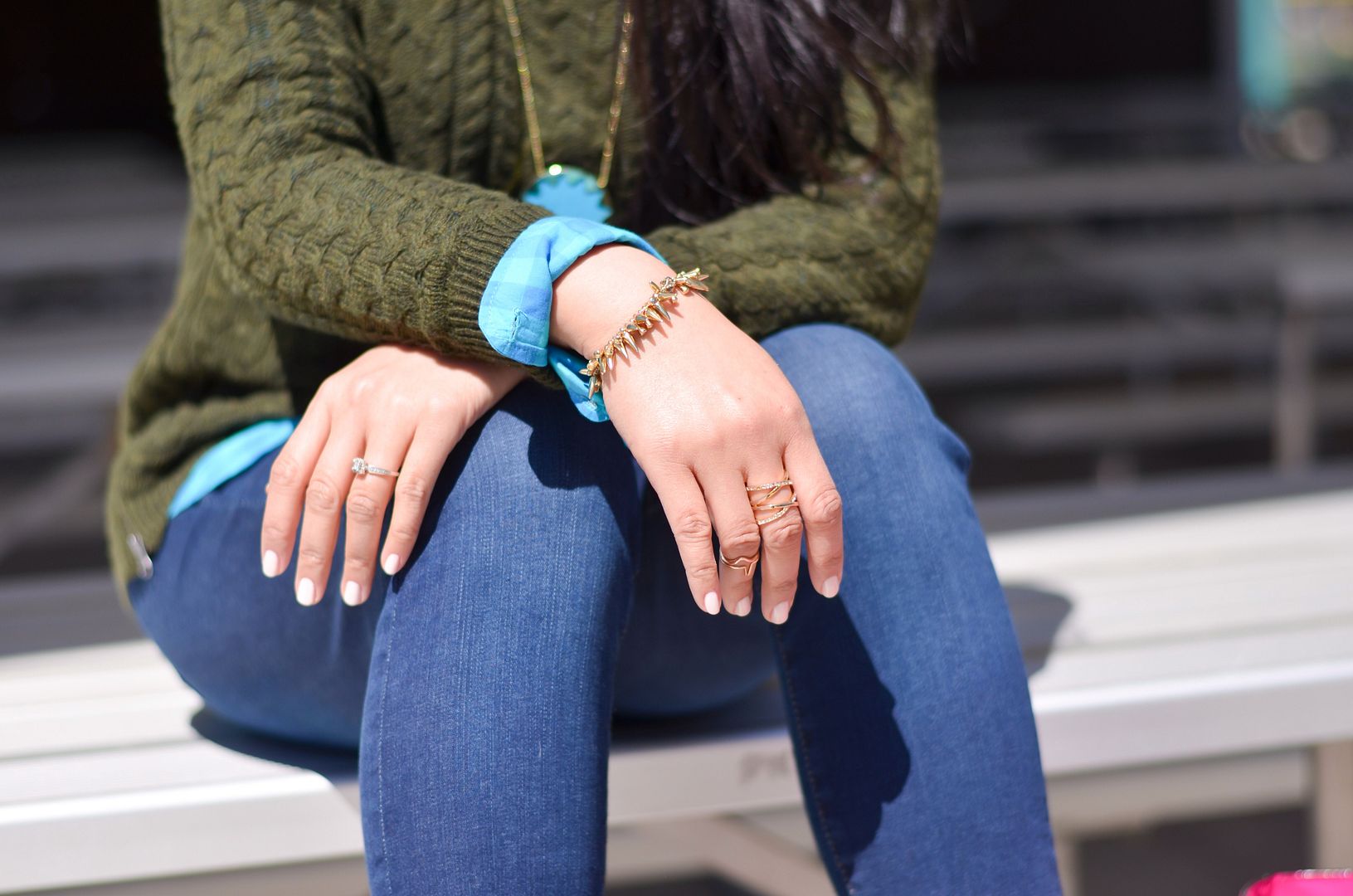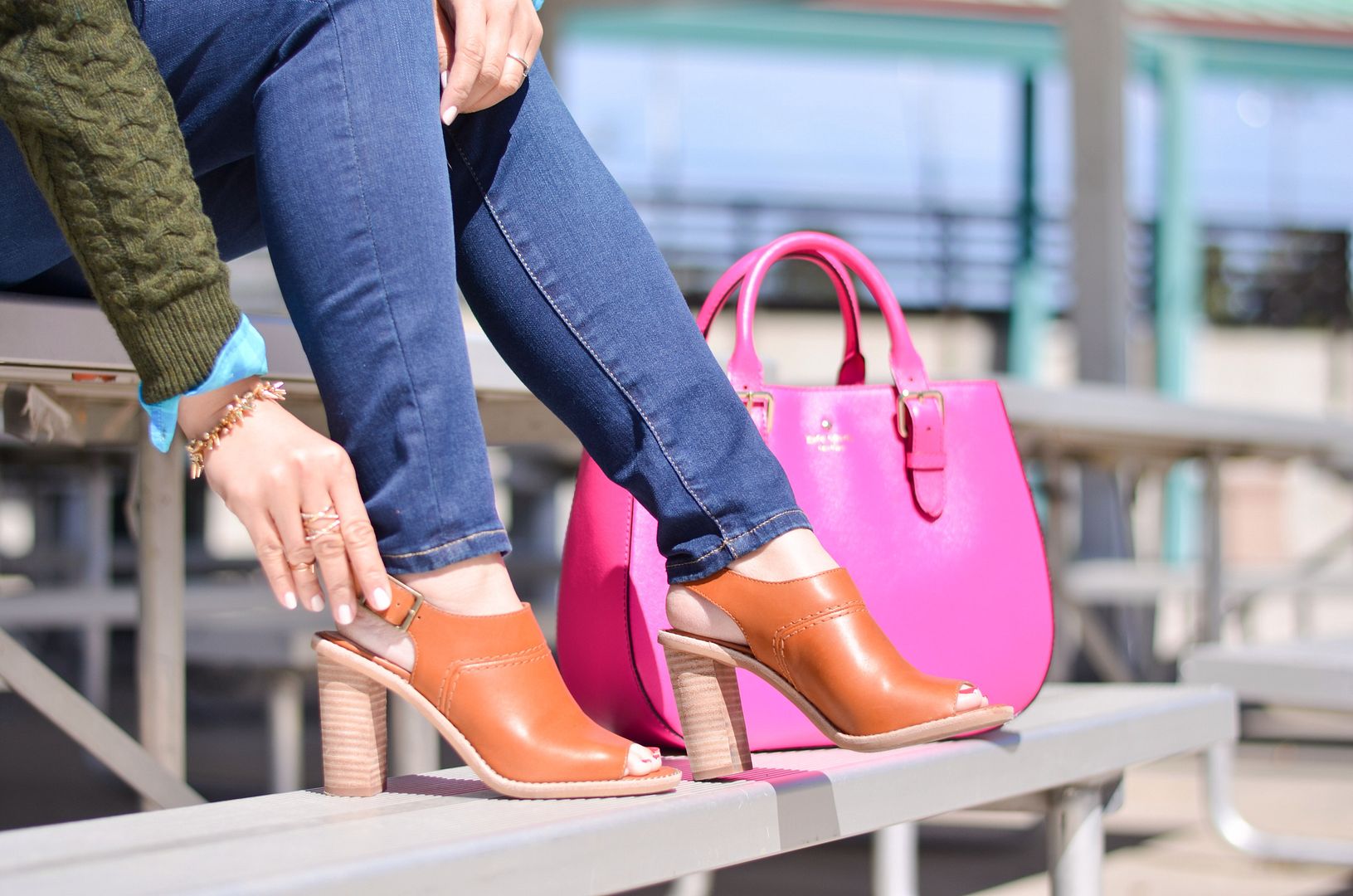 I got the cognac peep toes with the Shopbop sale last month. I've had them for a week or so, and I've already worn them three times (see the other two outfits here, here.) They're the perfect cognac color, the stacked heel makes them extremely walkable, and it's the perfect shoe to wear when it's not quite spring, but still too warm for full-on open toed sandals.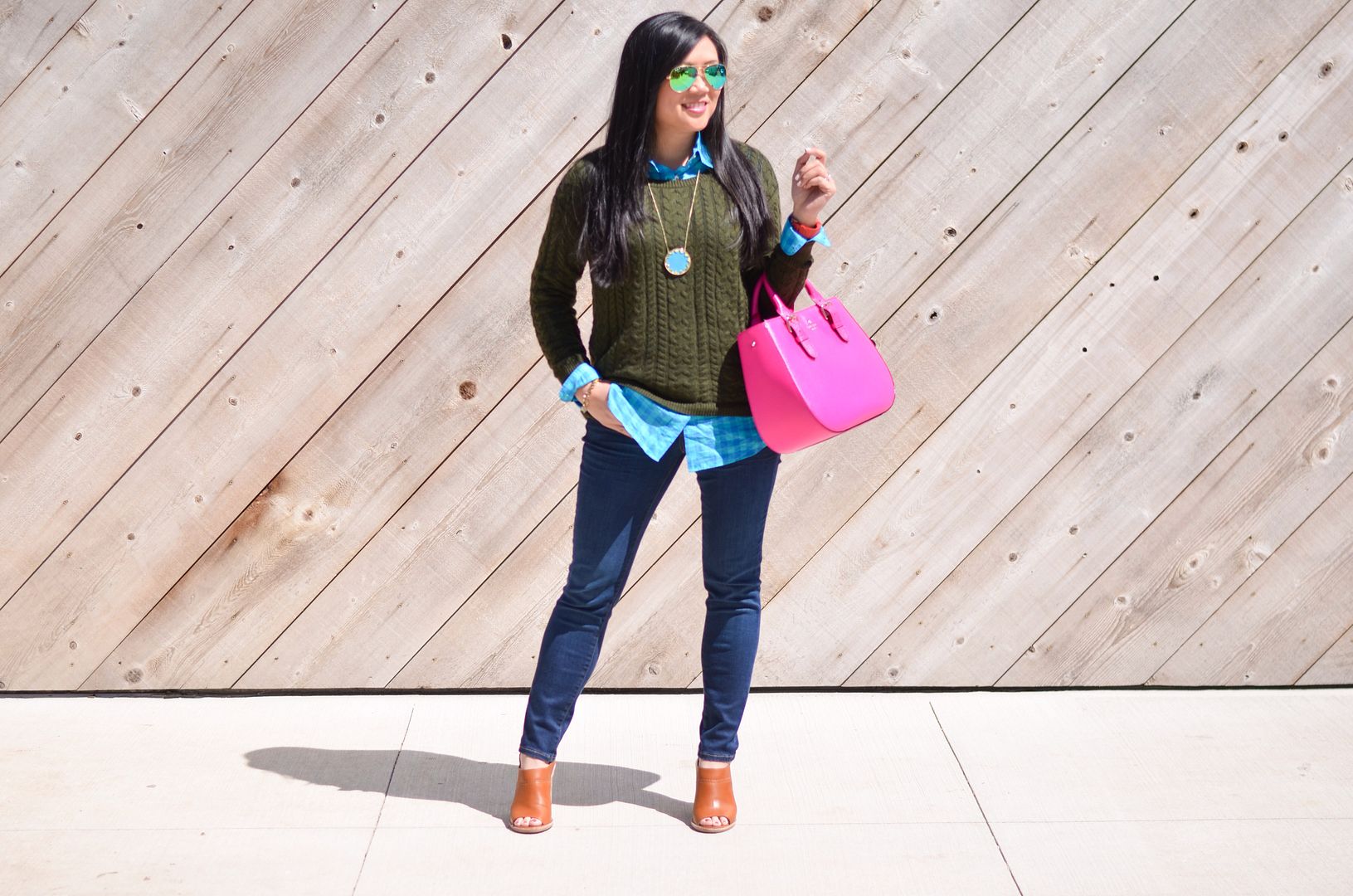 As I was linking the items for this outfit, I came across this American Eagle off the shoulder sweater. I'm really not that into the off-the-shoulder trend (I mean, have you seen me wearing anything off the shoulder, like ever?) But there's something about that sweater that has me swooning! And it was only $19.99, so I figured I would give it a try. Plus. Olive stripes. How can it be wrong?

SHOP THE LOOK: