If you read my guest post on Kate's blog a few weeks ago, you'll know that I have a pretty big girl crush on Style Me Tactical. She's so edgy and fierce and we share a mutual love for shoes. She has this pair of Tribute sandals (that I now wish I had, BTW) and it made me realize that I never wear mine with jeans! What the heck? Each time I have worn them (here and here) on the blog, they've been with a dress or skirt. Whenever I think of doing heels with jeans, I always reach for one of the many pair of pointy toed shoes in my collection. After after seeing
Style Me Tactical's Instagram post
, I've realized it's a shame to not wear my Tributes with jeans!
It's no secret that I have a few pair of designer shoes. This was one of my bonus splurges, four years ago to be exact. Thanks to this blog, I have a nice record of these things! I dedicated a post to these beauties back in this old school post here. I still haven't splurged on a second pair, but maybe when bonus time comes back around next year, I will remember. The hardest part is choosing which color I need because they are all drool-worthy!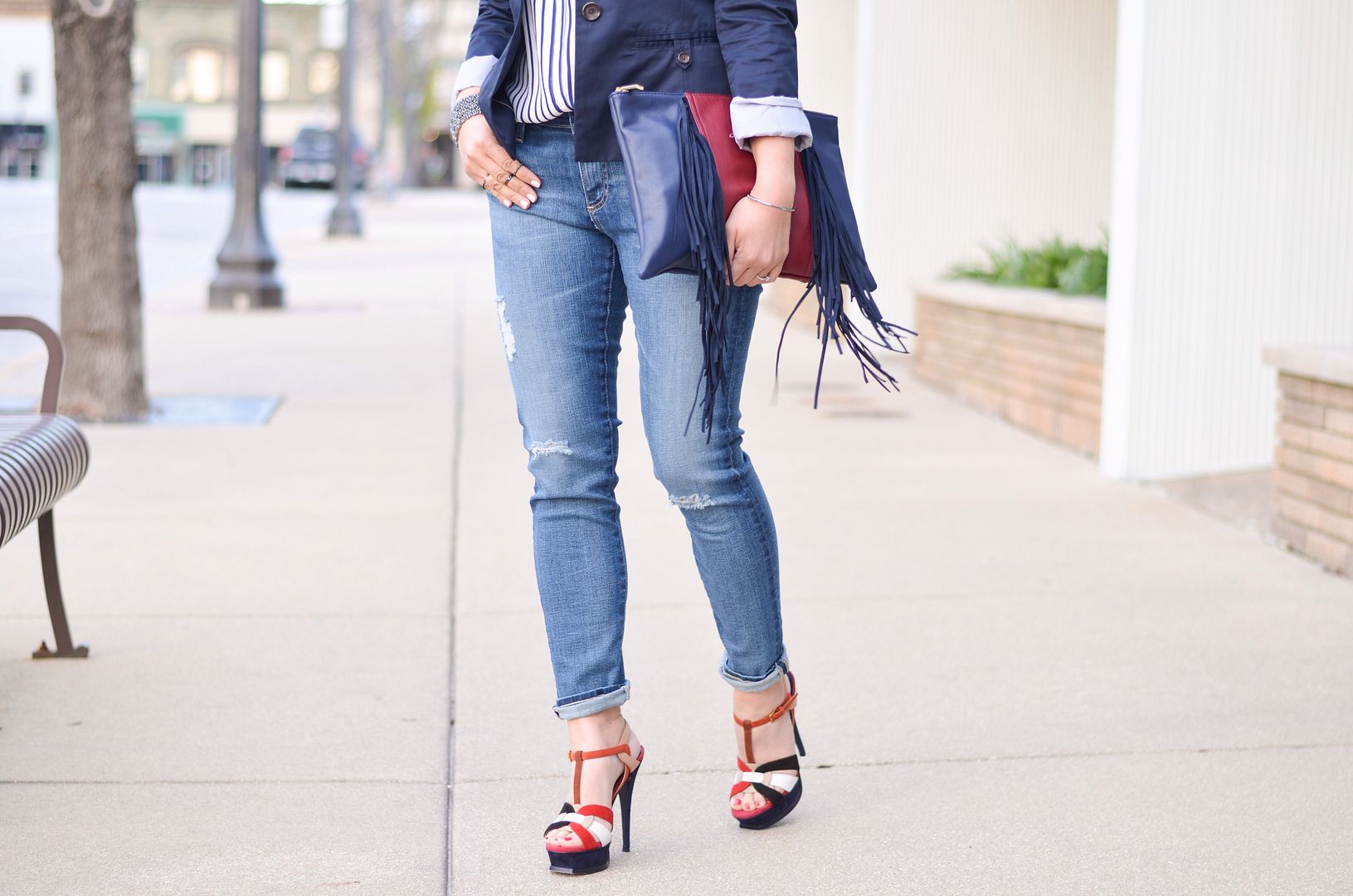 Since I was inspired by this post to wear my sandals with jeans, I had to try and replicate her pose to pay tribute! (No pun intended.) What's so funny though is that I completely didn't realize we are wearing the exact same pair of jeans! Last Friday, I had a quick denim try on session at lunch. Super quick. I think I tried on 5 pairs of jeans in a matter of 5-10 minutes because I was supposed to be meeting the husband for lunch. I ended up with this pair of
AG Jeans
because they were incredibly soft and comfortable. I was looking for a pair that was fitted, but not necessarily super tight light leggings because I wanted to wear them cuffed. These fit all my criteria and now that I'm writing this post, I am laughing at myself that they're the exact same pair she was wearing. Of all the brands and styles of jeans in this world, how did I manage to do that?! I promise I'm not pulling a Single White Female move here!
I think I can officially say that I've fallen back in love with these shoes. Not that I was ever out of love, but I suddenly want to wear them incessantly and never take them off. I know the heel height is intimidating, but thanks to the platform, they really don't feel any different on my feet than my usual pair of 4" heels. If you've never tried these and are looking for a shoe to splurge on, I HIGHLY recommend. I have literally done nothing to these shoes to make them work for me - no ball of foot pads or anything!
I've also decided I need more blazers in my life! I have accumulated quite the plethora of utility jackets, but none of those finished off this look like I was picturing in my head. Luckily, I've never let go of this blazer and it ended up working quite effortlessly. I wore this to dinner with the husband over the weekend. He was such a trooper! It was the first time in probably two weeks that it wasn't ridiculously windy outside! I was lucky to have the photos from the cabin to share all week last week because the weather was not conducive to taking photos last weekend! Since the air was still, I was in the mood to get out and about and take as many photos as I could. The husband was very patient and indulged in my photo requests! I'm lucky!

SHOP THE LOOK: