First of all, I want to say THANK YOU to all of the sweet comments and support I received on the blog and all my social media channels for yesterday's post! It makes me feel good if I can inspire just one of you, and all of your encouragement just keeps me going. So thank you! Now let's get to talking about this fabulous outfit.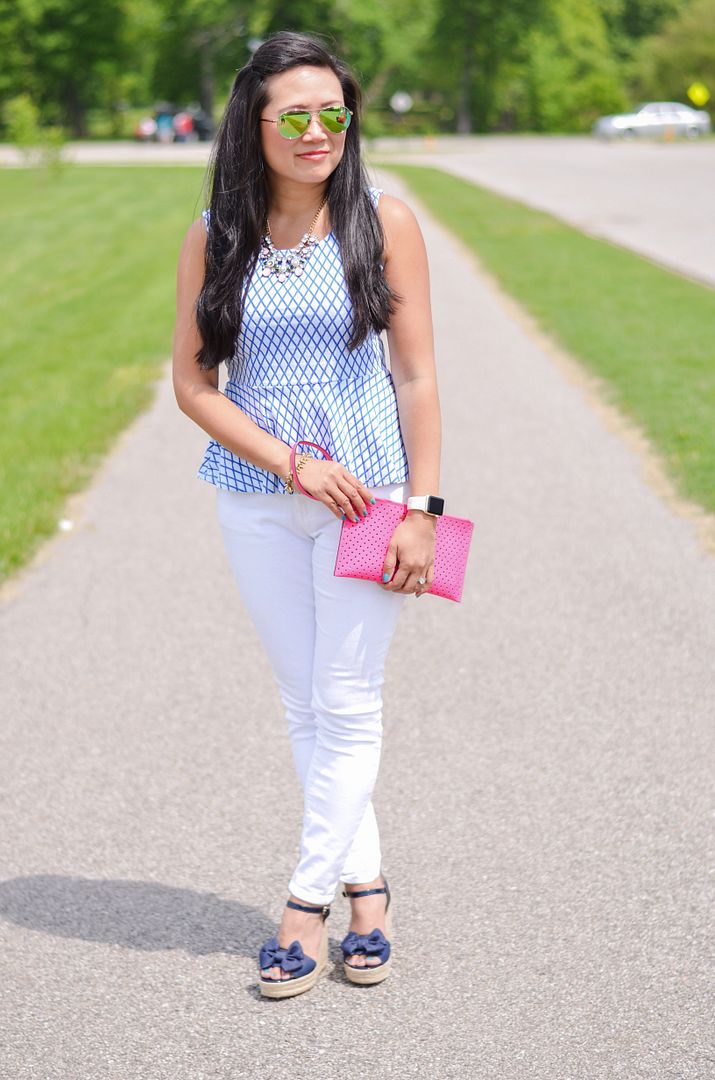 I adore this top! You guys know I am a huge fan of peplums, but I'm an even bigger fan when it comes in a pullover knit. It's basically as comfy as a tee shirt but definitely makes it look like you're trying a bit harder than that! And for $17, how can you beat it? It does run a bit small, I am wearing a medium.
I didn't realize how much I needed chambray espadrilles until I saw these in person. I came across the black and white version during one of Kate Spade's surprise sales last week. I loved them. The bow got me. But for whatever reason, I decided not to pull the trigger.
Fast forward to a few days later and the husband decides that he needs an iPad Pro. One of those big ones! His case was convincing. He travels a ton and will eventually travel solely with his iPad and skip lugging around his crazy heavy laptop. I tell you this because I can't agree to him buying an iPad without me getting a little something out of it! I just wanted a new pair of shoes. Naturally.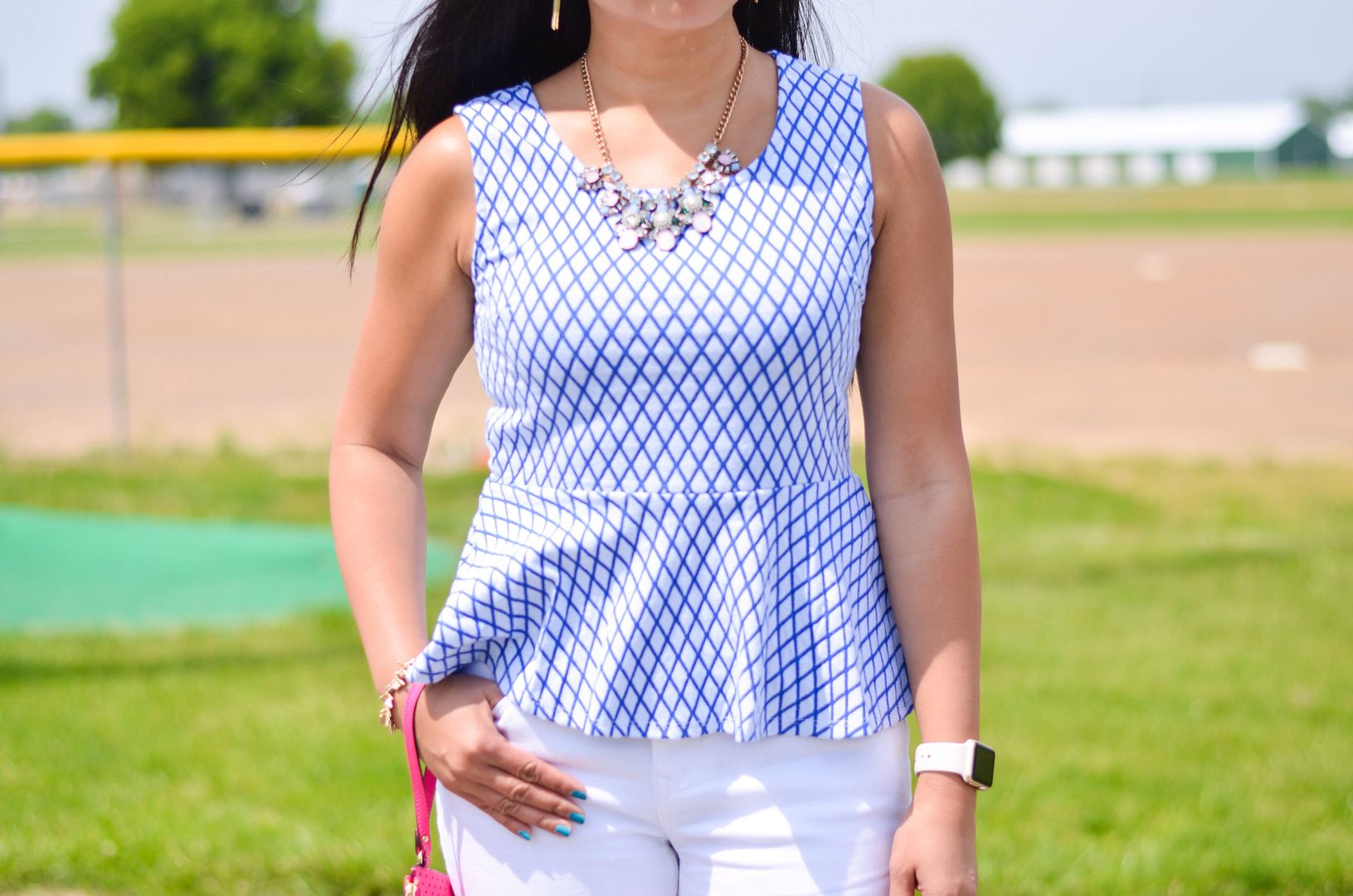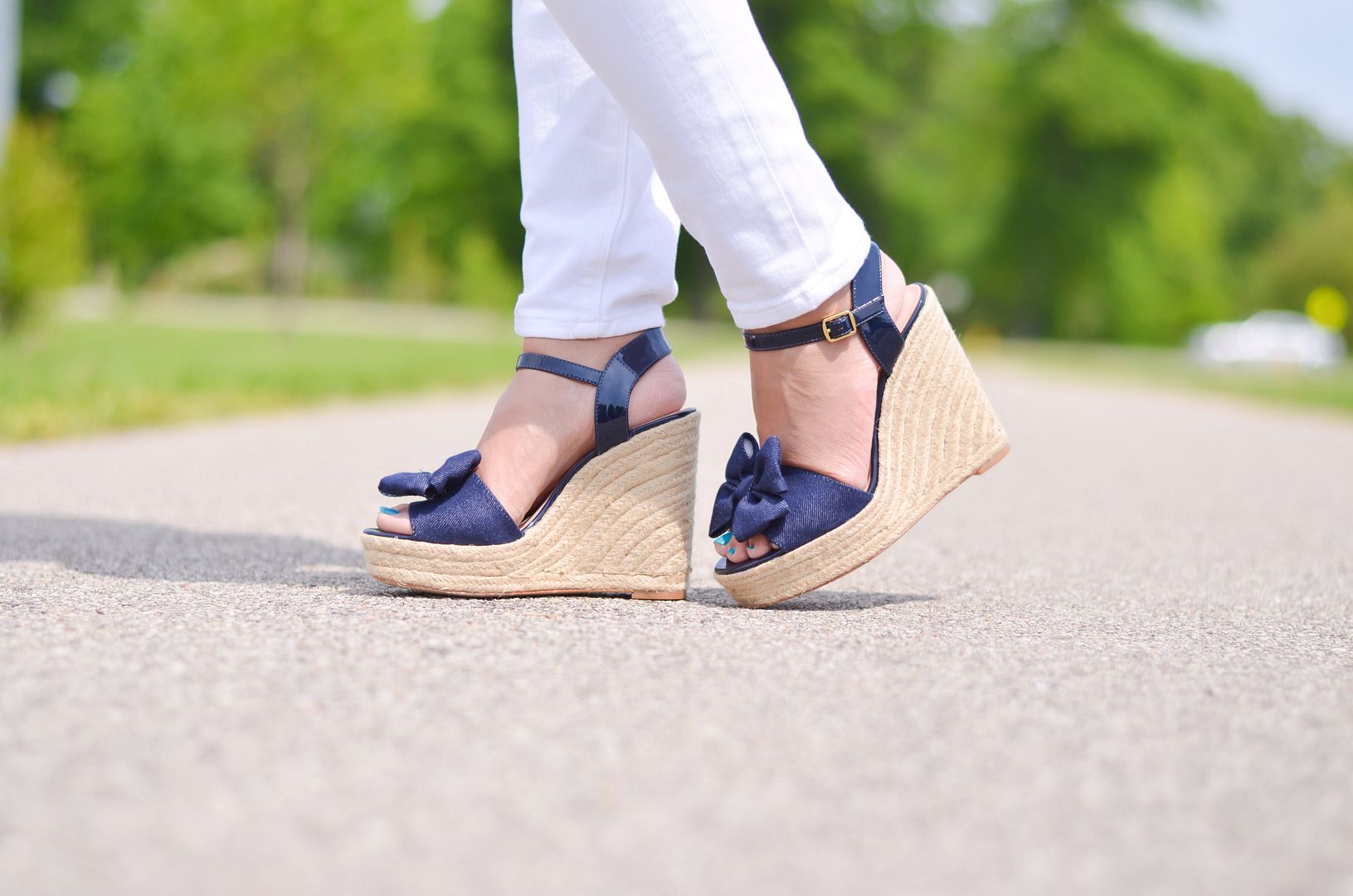 I was drawn to a couple of pairs of olive sandals. Admittedly, they weren't the most feminine, but I was drawn to the color and am always open to try anything on in case they read differently on your body verses on a hanger or a display table.
As I was waiting for the sales associate to come back with those two pairs, I saw these chambray espadrilles on the table. SWOON. My size ended up being the size on display, so I tried them on for grins, and they fit perfectly. Sigh.
The sales associate comes out with the two pairs of olive sandals, sees me ogling these chambray espadrilles and tells me he will find the mate while I try on the other two pairs. As I'm putting them on, the husband is absolutely appalled. He *HATES* both pairs of olive sandals. He goes on and on like - NO. YOU ARE NOT BUYING THOSE.
Cue the sales associate. He enters the scene with the chambray espadrille mate so I can try both on at the same time. All of a sudden the husband is enthusiastic and encouraging me to buy them, telling me how cute they are.
I wish I would have learned this selling tactic earlier on in our relationship! All this time. All I had to do was try on the most hideous pairs of shoes followed by the beautiful pair I really want and make the husband feel like *he* influenced the decision. *Insert evil laugh here*

SHOP THE LOOK: