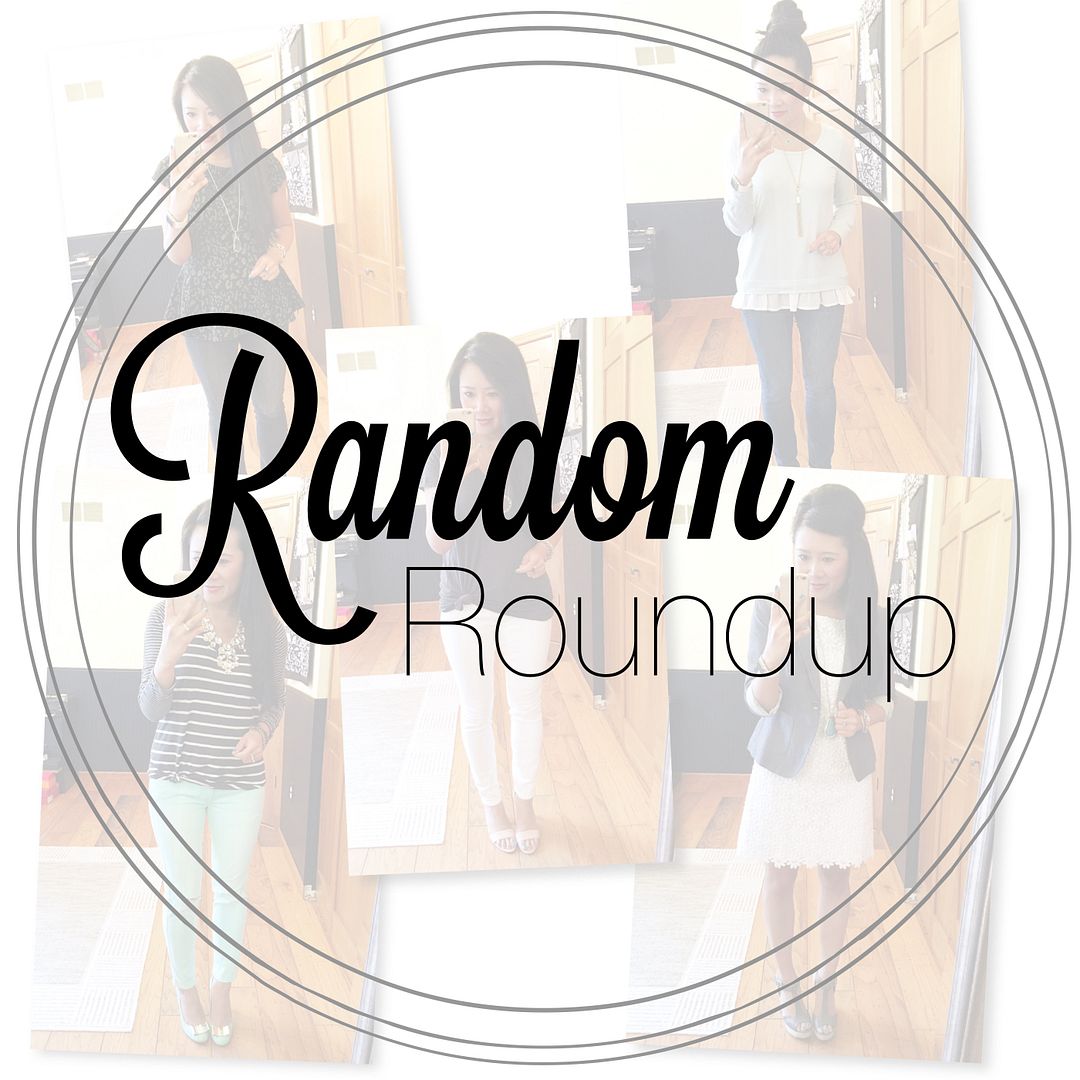 Sooooo, last Friday was pretty neat. I had this post scheduled to go live, but some time in the middle of the night, Photobucket went down and stayed down for a good 24 hours or so. Since Photobucket was down, none of my photos were showing up on my blog, and photos are kind of an important element of this website! I went ahead and took this post offline and re-scheduled it to go live today since I felt like it would have been wasted content otherwise. If you tried to stop by last week, I apologize for the mayhem! I need to look into hosting my own photos, but that's another topic. You're here for the outfits, so here you go!
Happy Friday! In true Friday fashion, I have a roundup of random selfies of my regular day-to-day outfits. Generally, these are worn within the last 1-2 weeks and I may have previously posted an alternate view of the outfit on Instagram (top view or flat lay). But, nothing beats a good old fashioned front view some times, so let's get started!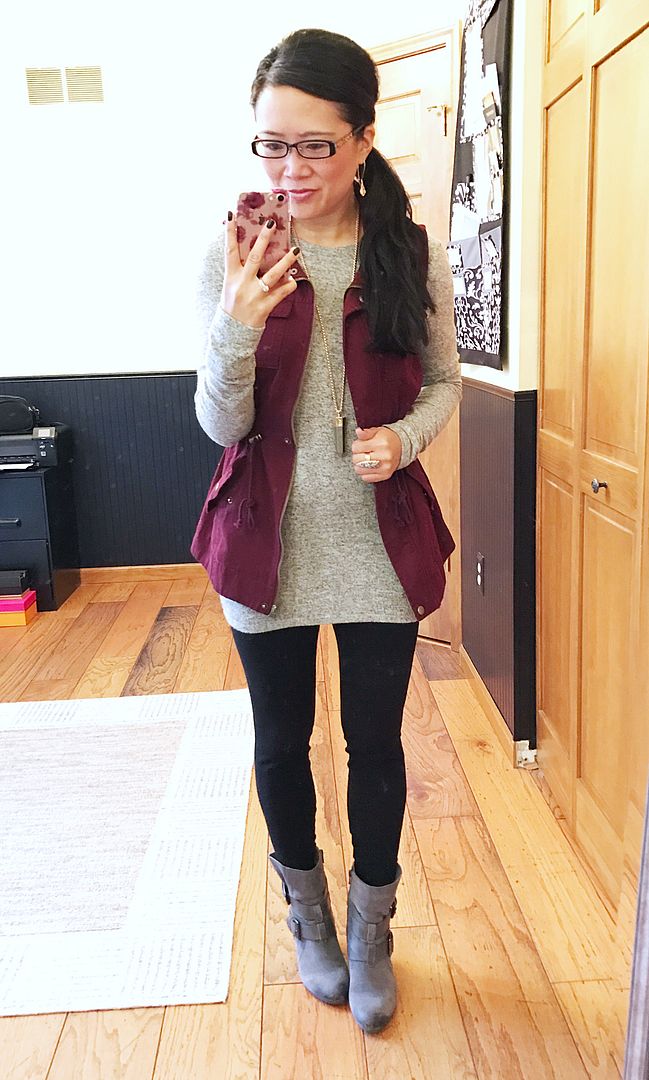 Vest: American Rag | Top: Express | Necklace: Kendra Scott "Jayce" | Leggings: Old Navy | Boots:
Naya "Fisher" (other colors here)
I had to go with glasses and no eye makeup to work this day because I had a lash fill appointment! It's a bit sad (for me) because my typical lash girl is on maternity leave until December, so I've been going through withdrawals! She referred me to her friend, who is a little farther away, but my lashes are worth it, dangit! I pushed it and went almost 4 weeks between fills, and was looking extra rough! Nothing beats fresh lashes! If you have no idea what I'm talking about, you can read more about it here.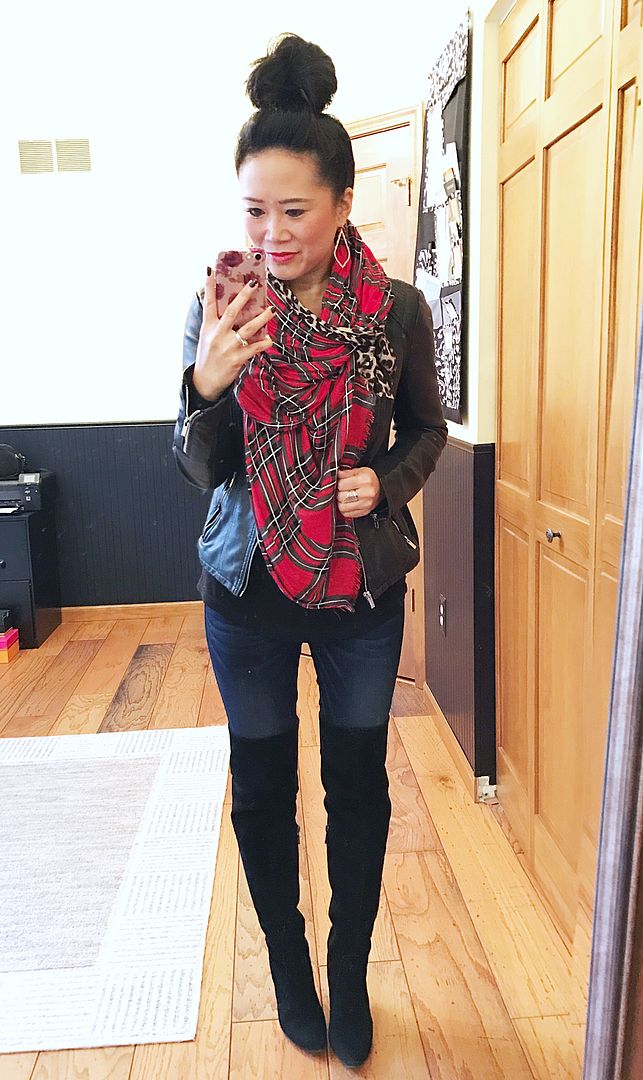 Every time I post my roundup posts on Instagram, I get so many sweet sweet comments from people about my hair and how they appreciate how I switch things up every day. I've mentioned before that switching up my styles is my way of making my dirty hair last longer between washings. If you missed the tutorials of my every day hair styles, you can catch yourself up here!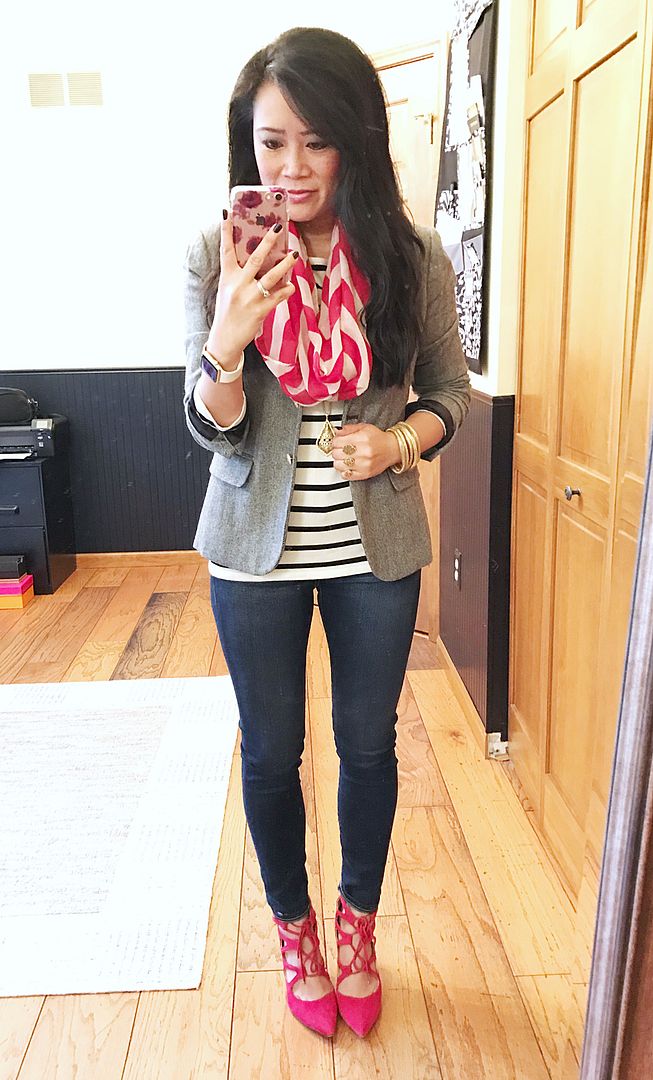 I last wore this outfit (except with black skinnies) back in February! You can see it here. We had a vendor coming in for a meeting, so I thought I would play the part of a professional and dust off my herringbone blazer. I kept wanting to style it the same way I did in February, so I went ahead and just did it! I mean, come on. It's been 8 months and would anyone have even noticed had I not said anything?!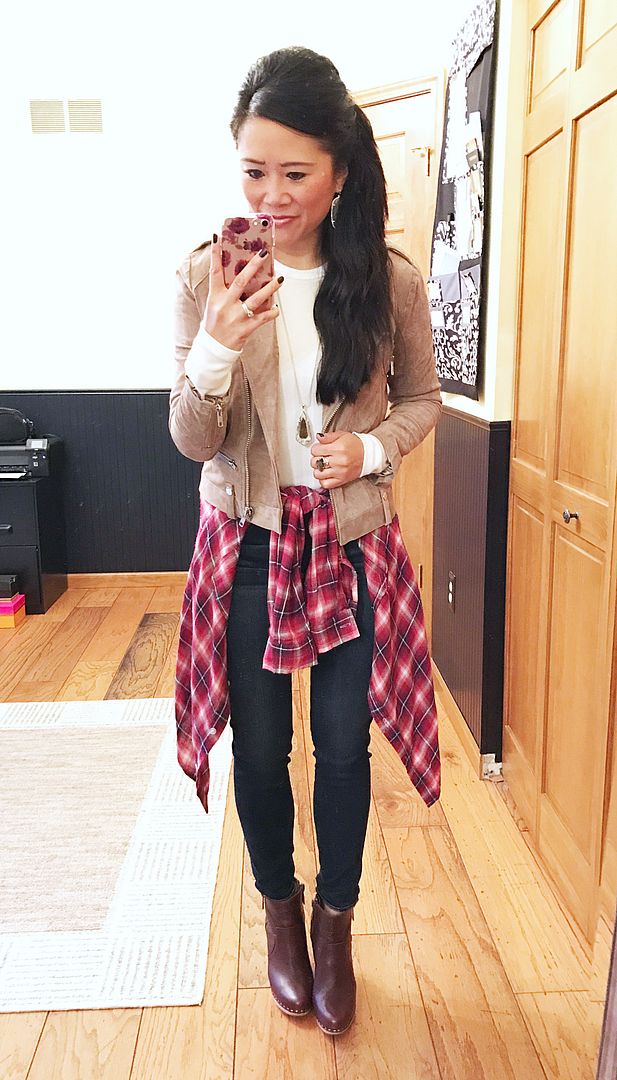 I think this is my favorite outfit of the bunch. I posted a flat lay of it here (except with destroyed denim), and I really don't think the flat lay does it justice! This jacket is absolutely fabulous!! I cannot get enough of it! And there's just something about a flannel around your waist + a moto jacket that makes me feel pretty 90's style cool.
If you have Snapchat and aren't already following me (carylee07), I post a real time snap of my outfits every morning, so you can see these bad boys as they are happening! It's still nice to be able to share them here on the blog as well, especially since I can properly link to everything for you! Anyhoo! That is enough for today! Hope you have a great weekend!!