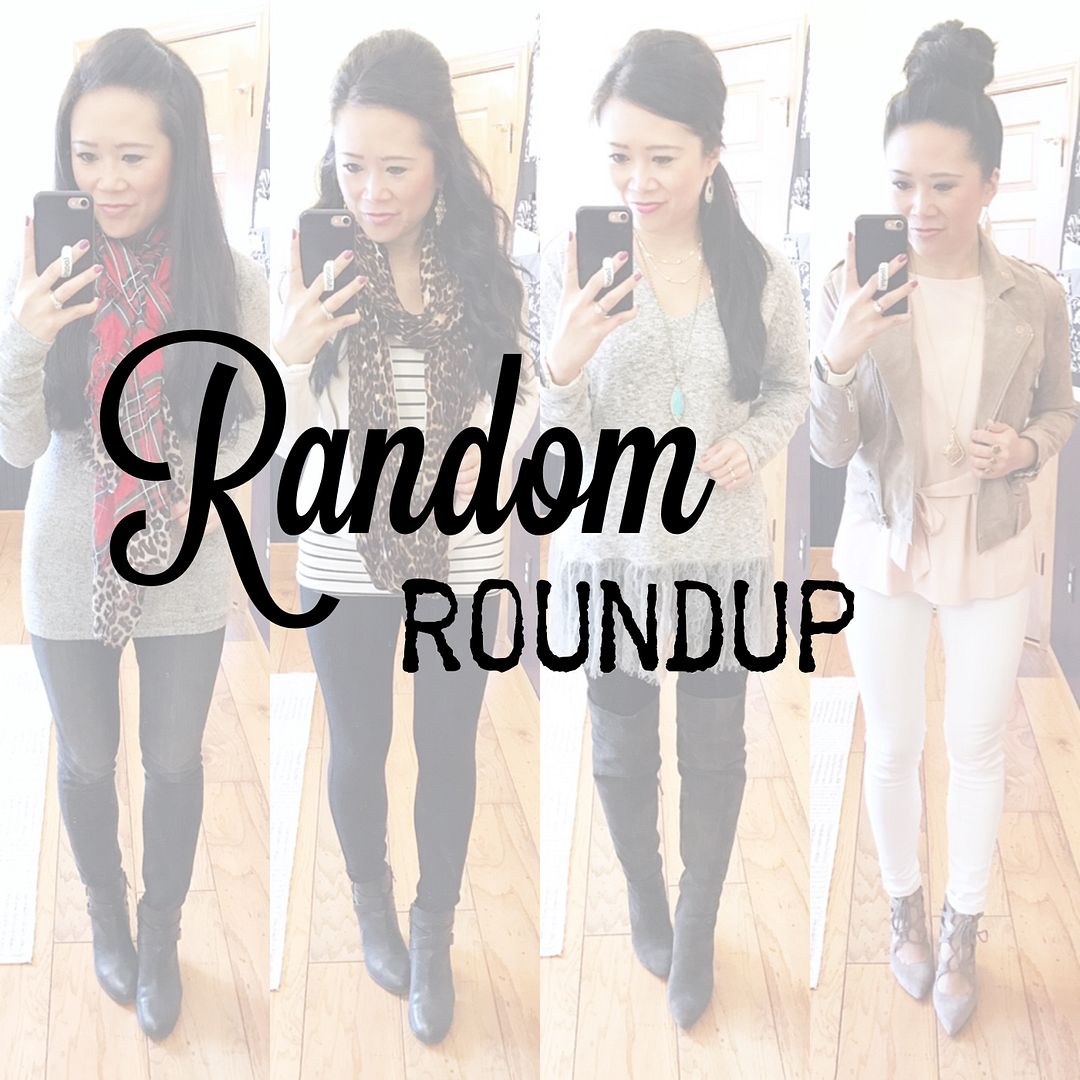 Another Friday means another dose of random outfit selfies for you. These are all outfits I wore last week, and last week was certainly a doozy!! Between work and 2.5 days of travel and Pilates and just life in general, I was non-stop on the go. Outfits needed to be easy to throw together with minimal effort. I guess that's how it should be every day though, right? Let's get started!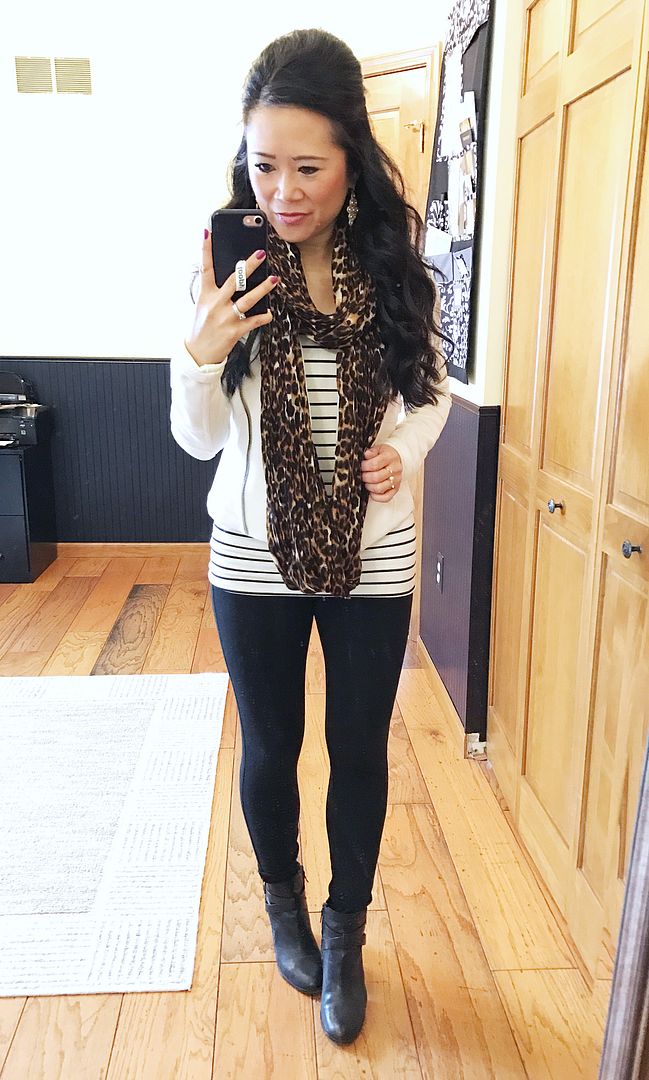 This is what I wore for a day trip to Chicago. Chicago is an easy one-hour flight away, and day trips are the best because I don't have to agonize about what to pack. I just need to bring myself and that's it! As per my usual travel outfit criteria, I needed fabrics that wouldn't wrinkle and comfortable layers that I could pile on or take off depending on the temperature. I work in a male dominant industry, so usually I'm surrounded by males who couldn't care less about what I'm wearing. But this day, we were meeting with a tile rep. I felt perfectly put together in this outfit which meshed well with the fancy showroom in which we met with two fashionably ladies.
Scarf: Express | Sweater: Express | Bottoms: Express | Booties:
Cole Haan
This is another travel outfit. Not as fancy because I knew I was going to be walking on a construction site with drywall dust everywhere. It was in Jersey, so I definitely needed some layers. My day went from 4am to 10pm, so comfort was even more important than ever! This was just an easy sweater and jeans but the scarf was the perfect touch to keep this outfit still feeling like me!
When I got home Friday afternoon, I texted the husband that we needed to go out to dinner. I needed an adult beverage after a long week, and we both felt like we hadn't talked much at all through the week! I bought this tunic when we were in Chicago right before the new year and it was perfect for a casual dinner out.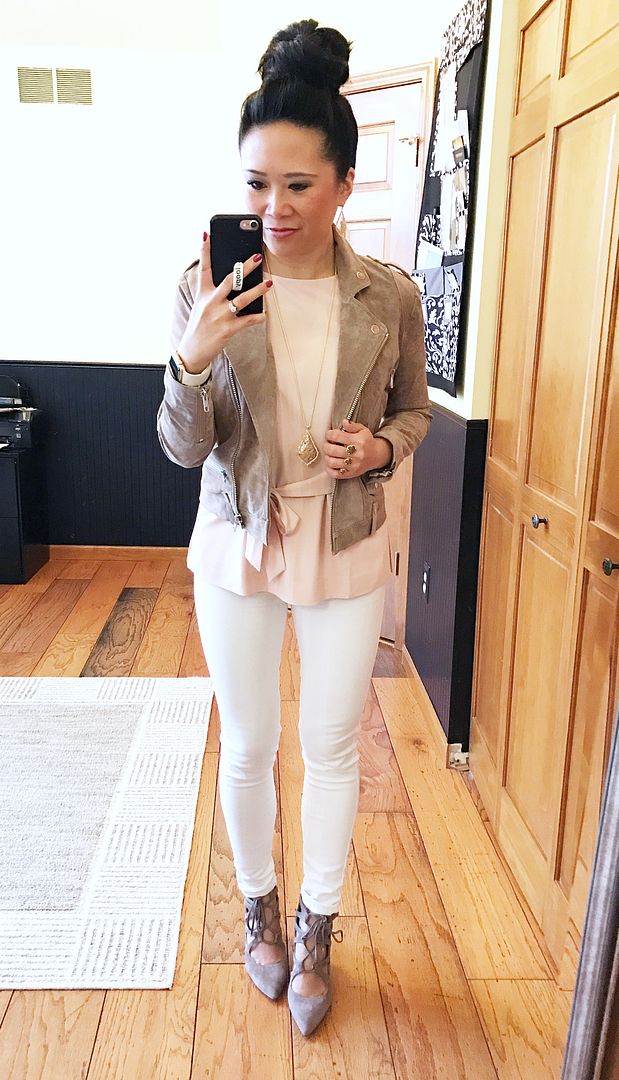 I'm working a bit backwards, but this was the outfit that I started my week with last week! You know it's going to be a good Monday when you can throw your hair into an easy top knot and pull out some neutrals! These heels were one of four pairs that I scored during the Dillard's New Year's Day sale. I already have them in red, and I had been wanting them in another color because they are SO COMFY. I'm so happy I now have them in this perfect nude color! This palette in general just makes me happy.
And that's it for this week's edition of Random Roundup. I feel like I'm at a weird point in the season where I have zero outfit ideas and overall feel uninspired. But even still, it's nice to be able to fall back on some old favorites. Fun hair and accessories help, too!

SHOP THE POST: