Holy crap these weeks are flying by! It was SUCH a busy week this week, so I'm glad I survived and am happy for the weekend! I guess that's pretty much a given. I'm not sure I've ever heard anyone say, "oh boo, it's Friday." Let's go ahead and get this Random Roundup going!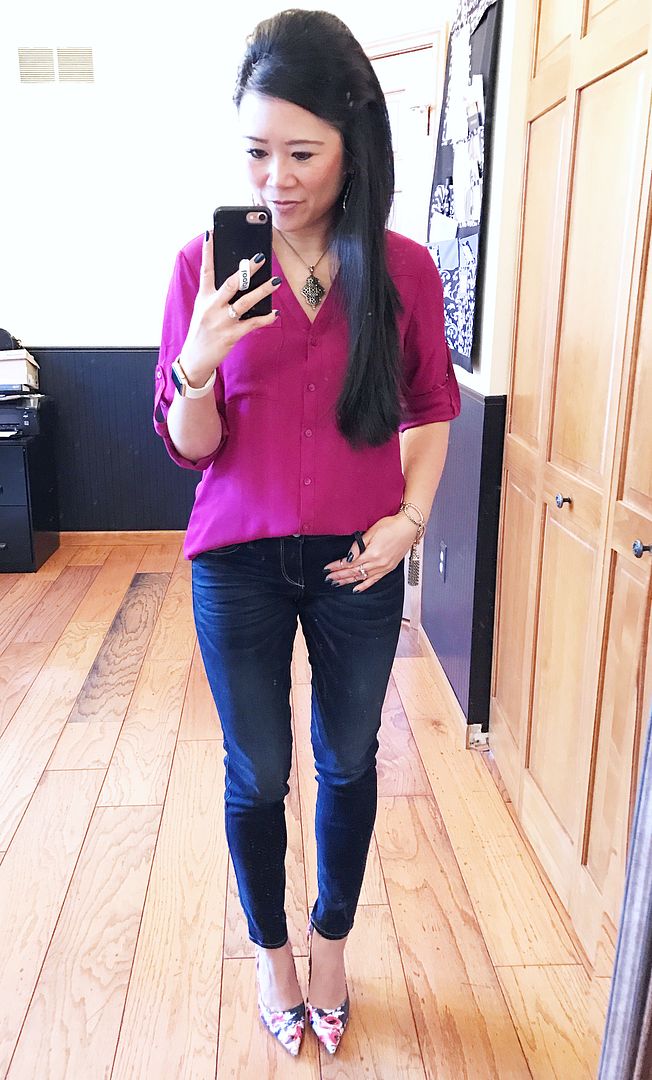 Sometimes I truly think that it takes longer for me to pick out my outfit in the morning than to actually put my makeup on and do my hair. I had even less time than usual to get dressed this particular morning, so I fell back on some of my foolproof favorites - a good old portofino top and some pointy toed heels. I also call this my fake-fancy side do. It's basically the same thing as a low-slung side pony tail, but I pin it instead of use a pony tail holder, which makes it feel fancier to me. And also looks like I tried a little bit more, but I really didn't.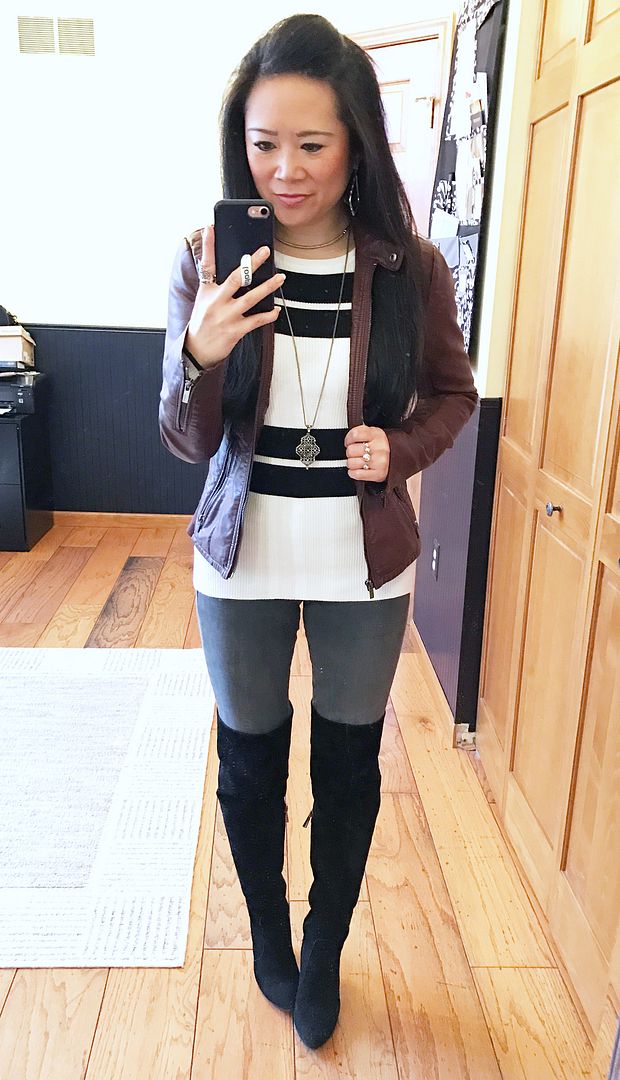 Speaking of foolproof favorites - stripes, skinnies, a moto jacket, and over the knee boots make for another combo that I know will always work. I've been wearing a lot of black and white lately, which really isn't me. I like it, don't get me wrong, but it's usually one of the last combos I think of wearing. I had to add my reddish brown moto jacket as my color pop.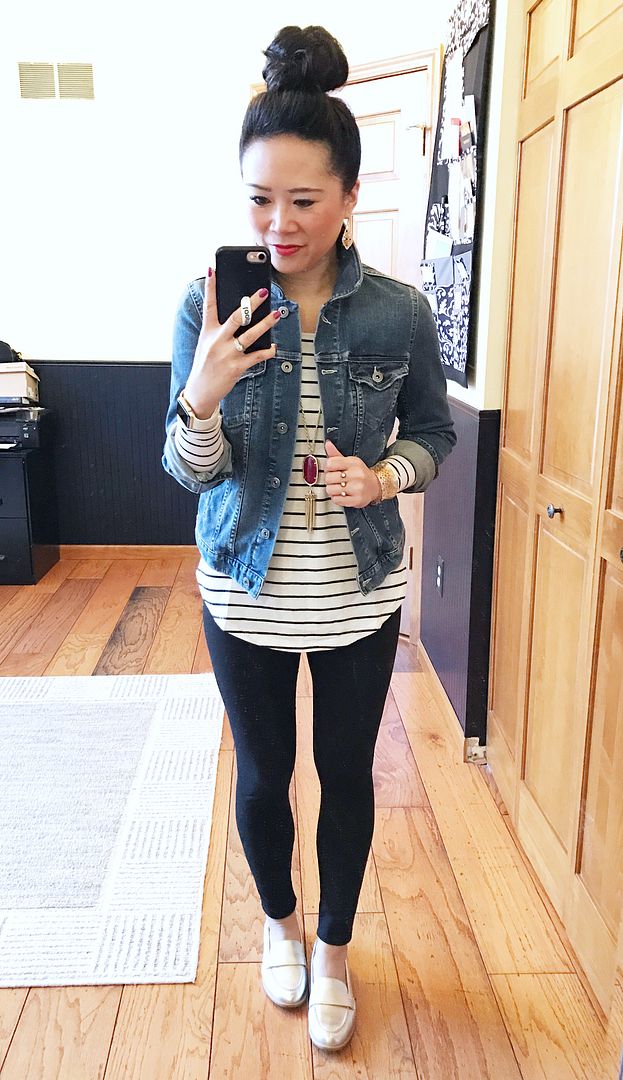 Remember last week's post when I styled my new gold loafers and I mentioned wanting to wear it with faux leather leggings, a stripe tunic, and a denim jacket? Well, voila! Though, these are not faux leather. They're my regular leggings that I ended up wearing to Pilates right after work. Mondays I have Pilates right after work and Fridays I have Pilates at lunch, so I've found myself wearing athleisure both days to help save time transitioning from work life to Pilates life. I'm thankful that I have a job that allows me to be that flexible in both my schedule and my wardrobe!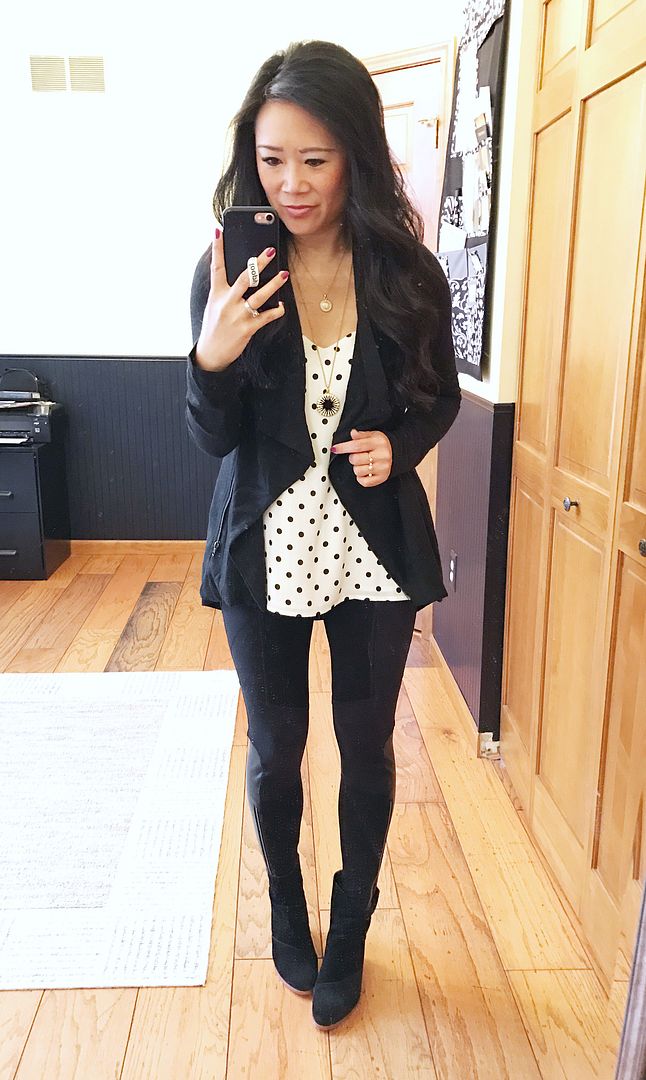 Speaking of athleisure, this is another one of those outfits. This
Modcloth "Airport Greeting" cardigan
has consistently been my go to for commuting to and from Pilates. I'm lying, it's been my go to in general. I love that I can throw it over work out clothes and it looks great, but I can also wear it over real life clothes (as seen here and here.) While we are on the subject, here are a few other athleisure ways I've worn this cardigan in all the colors I own: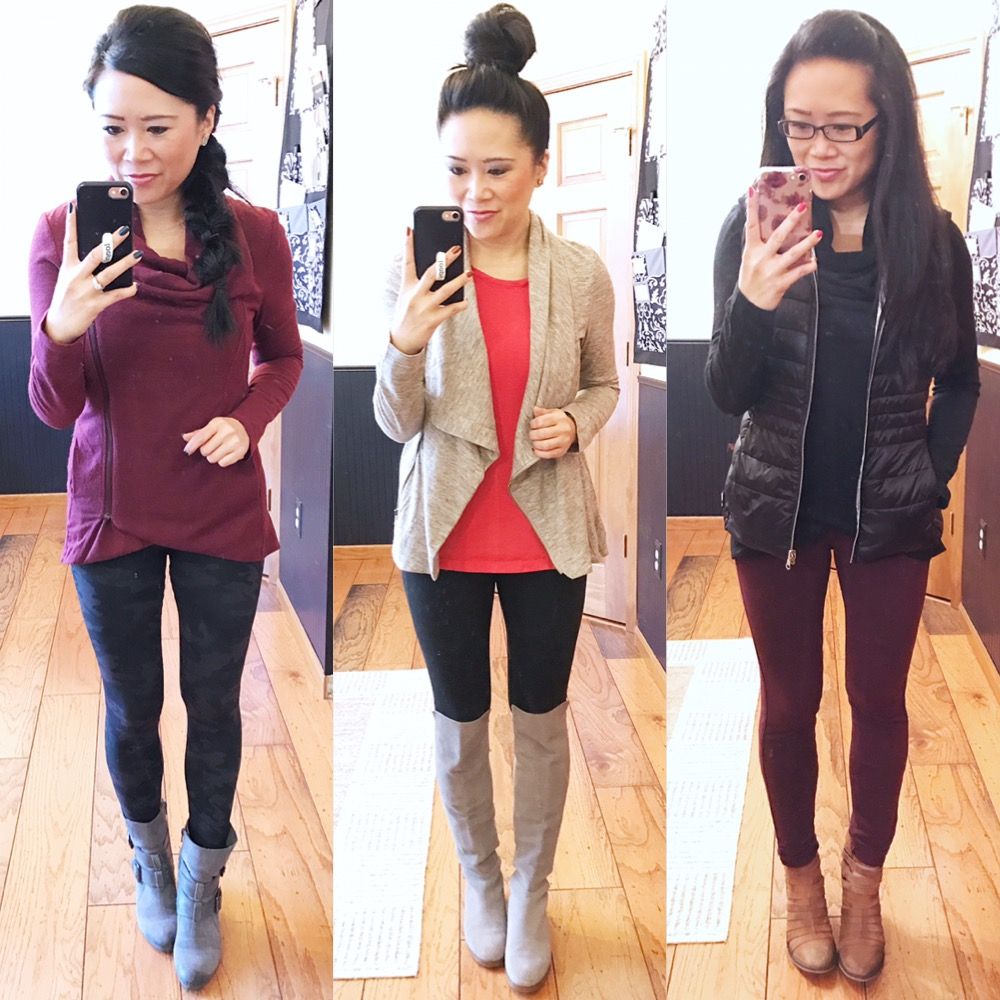 See, I wasn't lying when I said I turn to it often. I've had my burgundy one for 3+ years now, but this year I fell back in love with it and decided I needed more colors. I think the grey one is calling my name next. Or maybe blue. Decisions decisions!!!
Ok, that's it for this week! Tomorrow I have a fun morning of Pilates and brunch, which you know are two of my most favorite things! Hope you have a great weekend, and if you're celebrating Valentine's Day with your loves, enjoy it!

SHOP THE POST: