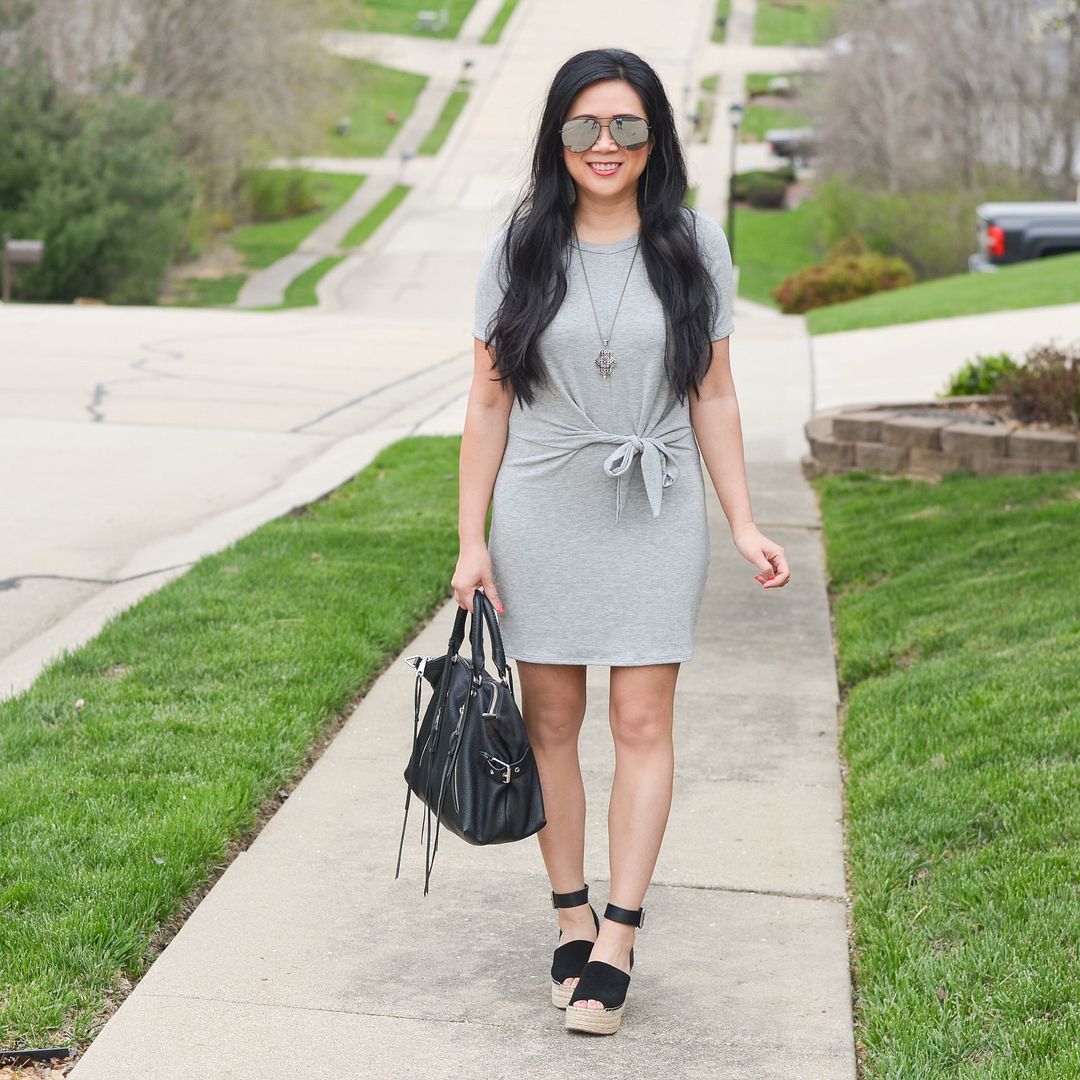 It's the last Wednesday of the month which means it's time to link up with
Mel
,
Shay
, and
Sheaffer
for What's up Wednesday. Let's start with the "What I am wearing" category to make this easy!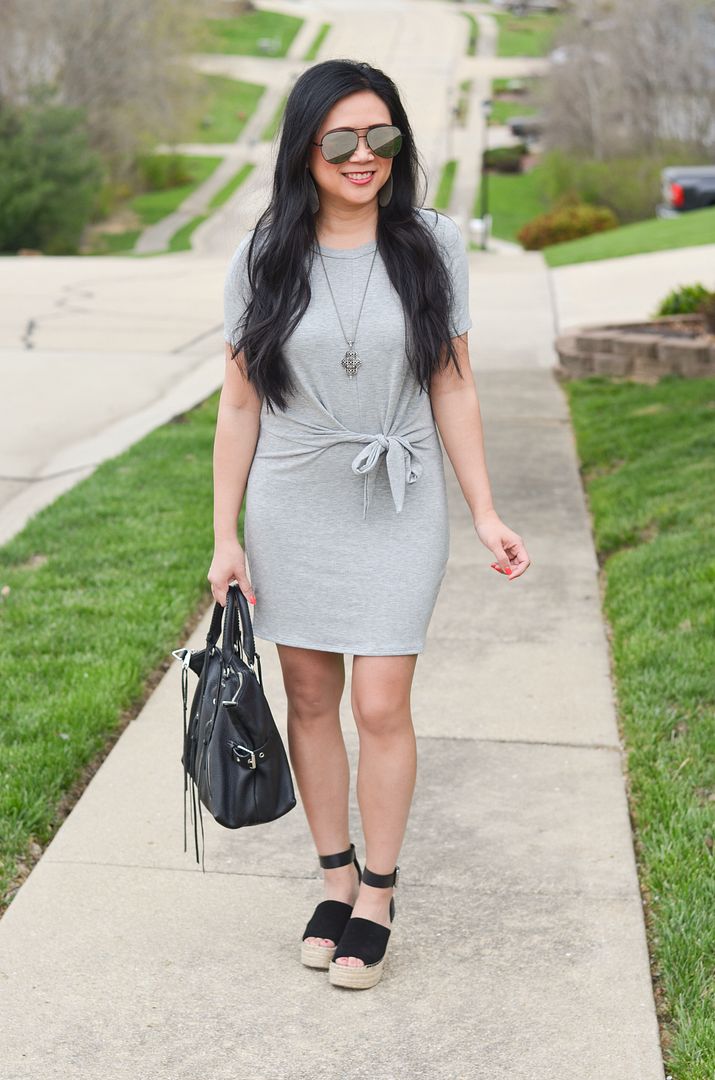 I mentioned in last month's update that I was starting a new monthly Facebook live series with CS Gems called Sip and Style. Well, they were nice enough to gift me this dress as I had been swooning over it seeing it on Carrie. It's a super soft material - almost like a lightweight fleece sweatshirt material. The tie detail at the waist is adorable and I'm drawn to all things heather grey.
It does run a bit small - I am wearing a size medium. I would definitely size up.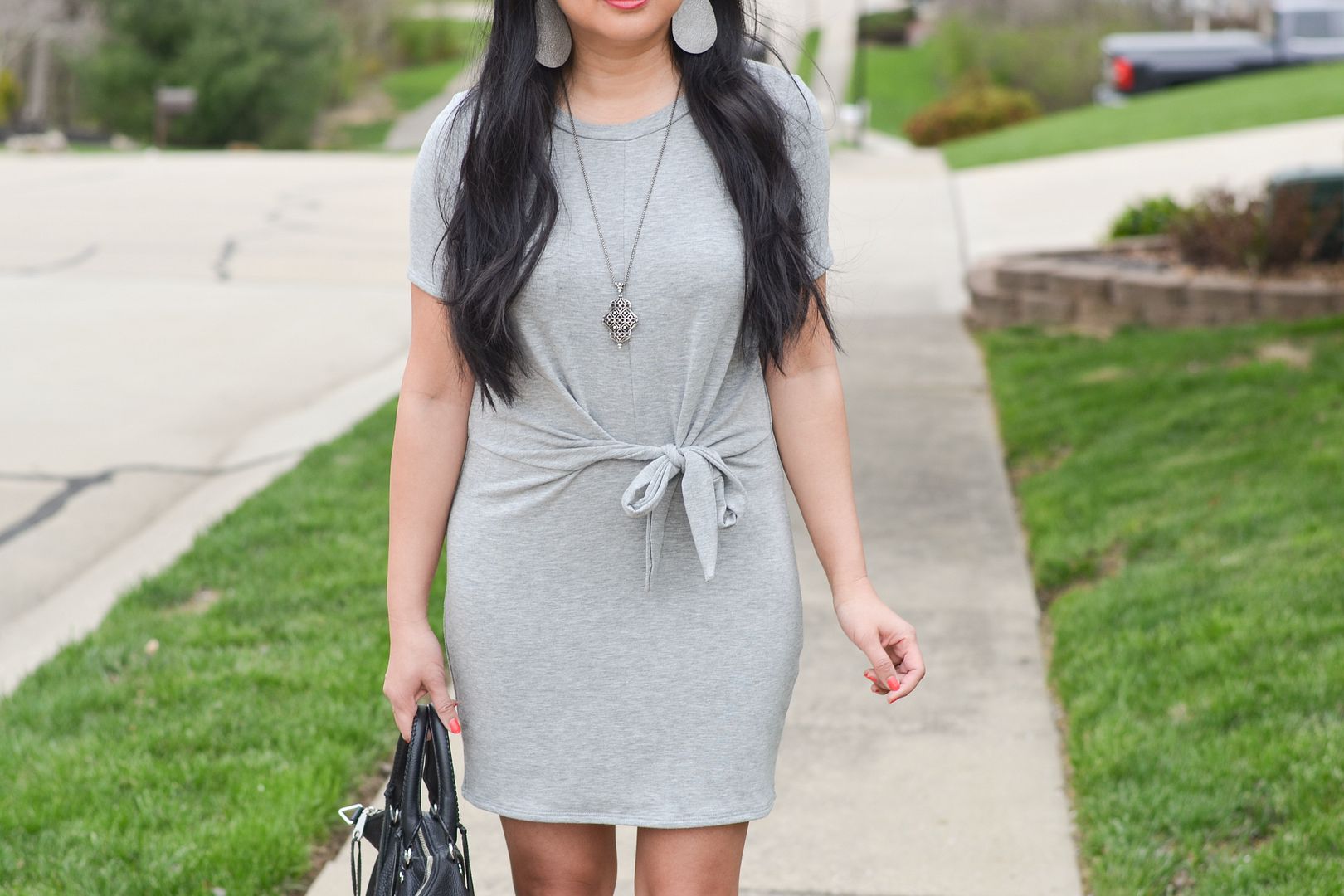 I also love the idea of throwing a boyfriend plaid shirt over this along with some Converse for a more casual look. Today, I opted to go a bit matchy matchy with my black espadrilles and black satchel.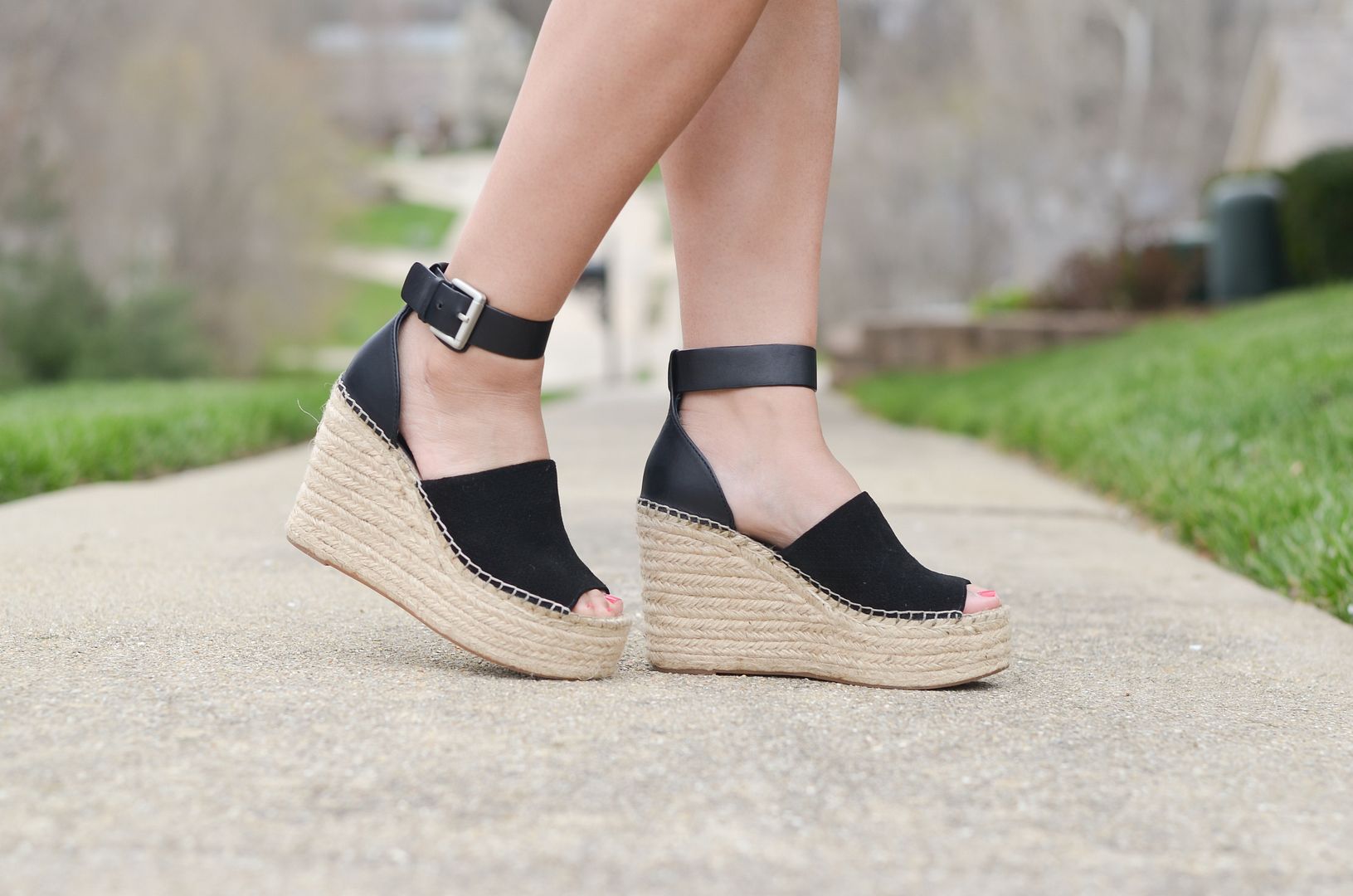 I have these espadrilles in the cognac color also, but at the end of last season, I found them in black on crazy sale. I decided to buy them, and I like them even better than my cognac pair. You see, when I originally ordered the cognac, I got them in a half size larger because they were incessantly out of my size and this style was so sought after! This black pair is my actual size 6 and they fit a lot better. I made the 6.5 work, but I wish I would have held out for a size 6. Oh well! I got a lot of use out of the cognac color so I'm hoping the black pair will earn their miles also!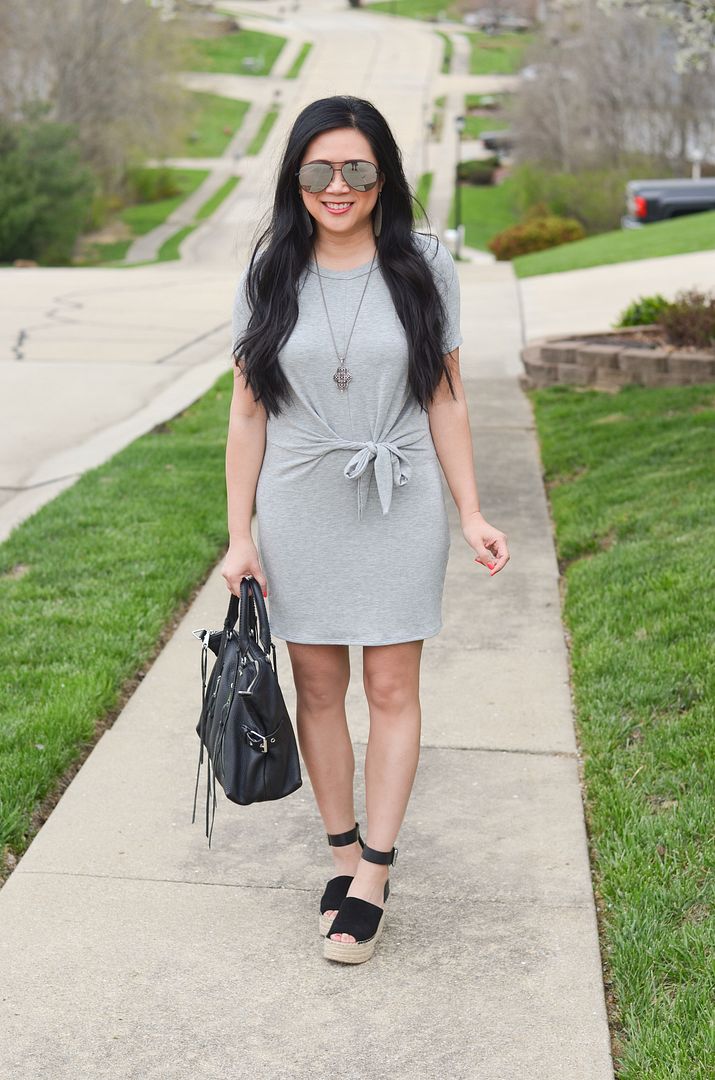 I just love easy outfits like this! When we were taking these photos, we were short on time, so I just did them out in front of the house again. Well, one of my neighbors across the street was gardening and she yelled over "That is really cute!" Ha! So embarrassing, but thanks! Ok, let's move on to the random life updates!
Some of my co-workers at a going away get together
What I'm reminiscing about:
This couple in my department at work is picking up and moving to Seattle! Vachon Island to be exact. Their last day in the office was last Friday, so we took a long lunch to eat, drink, and be merry with them.
What I'm loving:
All things yellow! You can see the full
outfit
details in last week's post here, but I really am loving yellow so much at the moment! These earrings are my latest Nickel and Suede purchase, and they fill a good void in my collection. And speaking of collection, my collection of this cami dress is also growing and for very good reason! I really think it was made for my body type.
What I'm been up to:
Work, work, work, work, work. I've had a couple of work trips this month, and even though they were only day trips, not overnight trips, they still end of being just as long and tiring! The first trip was to Richmond, VA and the second trip was back to Chicago. We got to tour the facilities of one of our vendors, which is always very interesting to me! One of the warehouses was a fulfillment center. Aisles and aisles of printed stuff! I stumbled upon this print, and I couldn't help but take the pic with my coworkers in the background. It looks like an album cover! And they had no idea they were in the picture until I showed them how awesome it was. Haha!
In terms of non-work life, it is baseball season again! Hooray! We had tickets to the home opener, but unfortunately, the husband was traveling but Jenna agreed to be my date for the night. It is amazing how busy your calendar can get between work, teaching Pilates, travel, baseball games, and lash appointments! It all adds up!
What I'm working on:
Someone from another department at work asked me to do a wellness homage in front of their group. I was ready to say no because a) I hate public speaking and b) I don't feel qualified
enough
to be called a "wellness" ambassador. But, one of my good friends and co-workers convinced me to do it. His advice was, "It's really cool that you're known as the wellness/ healthy advocate...you're a f&!king rockstar. Why wouldn't they want you there and what a great cross functional opportunity for you" followed by "See what others see in you. Not what you see in yourself. If you open yourself up and notice how people lean on you and come to you for help. You'll see how talented you are."
It's good advice, I can't deny that. And ultimately, I know it is good for my own growth as an individual. I dreaded the mom's talk I did. I dreaded the TV bit. I dreaded going to the rewardStyle conference by myself! But I survived and I learned a lot about myself from every event. So. I put together a PowerPoint with some history about Pilates and then how Pilates has positively changed me. I will also be teaching them a quick 20 minute mat class after I speak, so they can experience Pilates first hand.
What I'm watching:
You guys, I am
officially
in season 6 of Pretty Little Liars and I can't hardly stand it! There are 7 seasons total and I am anxious to get to the very end. There are so many twists and turns and characters, it's almost hard to keep track, but it's also hard to not watch 3 episodes in one sitting!! The next show I want to binge is Big Little Lies.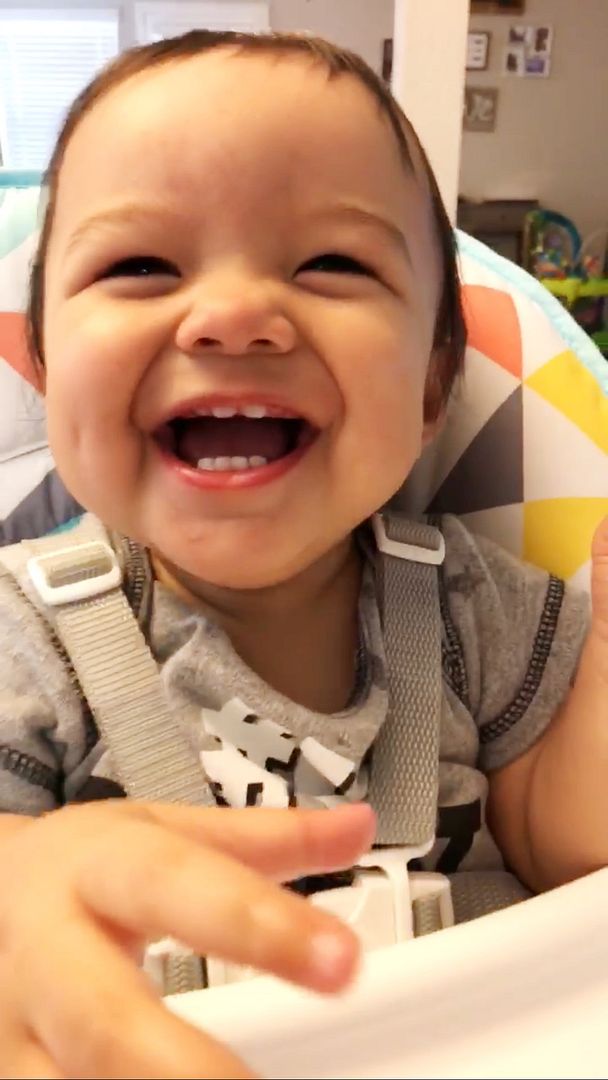 What I'm looking forward to next month:
My nephew (brother's son) will already turn one next month!!! I will be flying to San Antonio to attend his party and squish that cute little face! It's always nice to go home, so I'm happy I can do so!
And that wraps up my April! Seriously not sure how May is upon us, but I have a feeling the year is not slowing down one bit! Have a great humpday and great rest of the week!

SHOP THE POST: