It's Friday! We made it! And in true Friday fashion, I have a roundup of all of the outfits I wore chronologically last week. 6 outfits this week, so I'm only linking to exact items that are still available.
Monday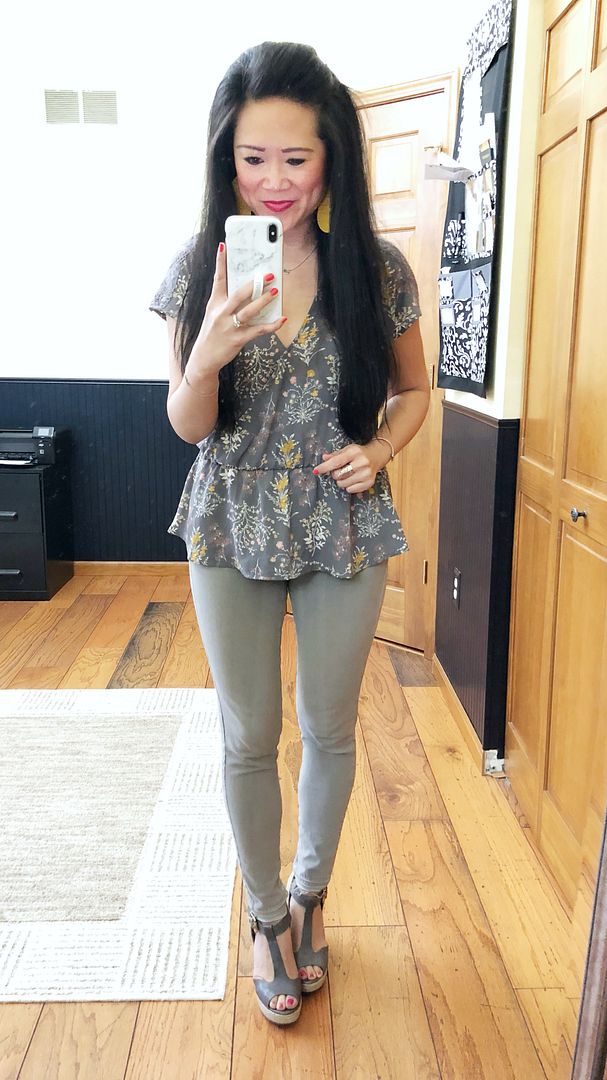 I was really trying to make spring happen last week. I even busted out some open toed shoes. But it was SO cold and SO windy! Oh well! We had a meeting with a local furniture vendor so I wanted something that wouldn't wrinkle and shoes that I could walk in. Funny enough, there was a lot of grey/purple furniture in their office so I blended with their decor quite nicely! I had first day hair here, which I don't normally bother styling, but since it was windy, I decided to pin it back so it wasn't flying all over my face. I'm so glad I decided to do that!
Tuesday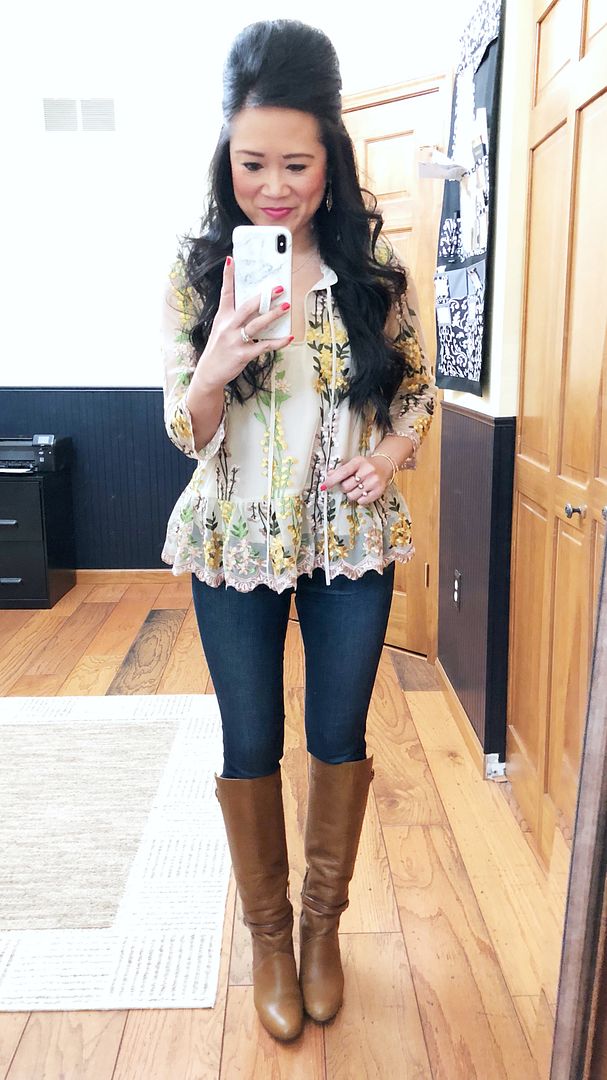 Tuesday was our day trip to and from Chicago, so again, I wanted an outfit that was easy, but would not wrinkle all day, and shoes that were walkable. I normally wear my black Cole Haan booties for travel, but I liked the look of this cognac pair better with this top. Plus, I figured my legs could use the extra layer of warmth since we were headed to colder temps. This hairstyle is my go to when I know I will be going all day. It stays put and I don't have to worry about any touch ups throughout the day.
Wednesday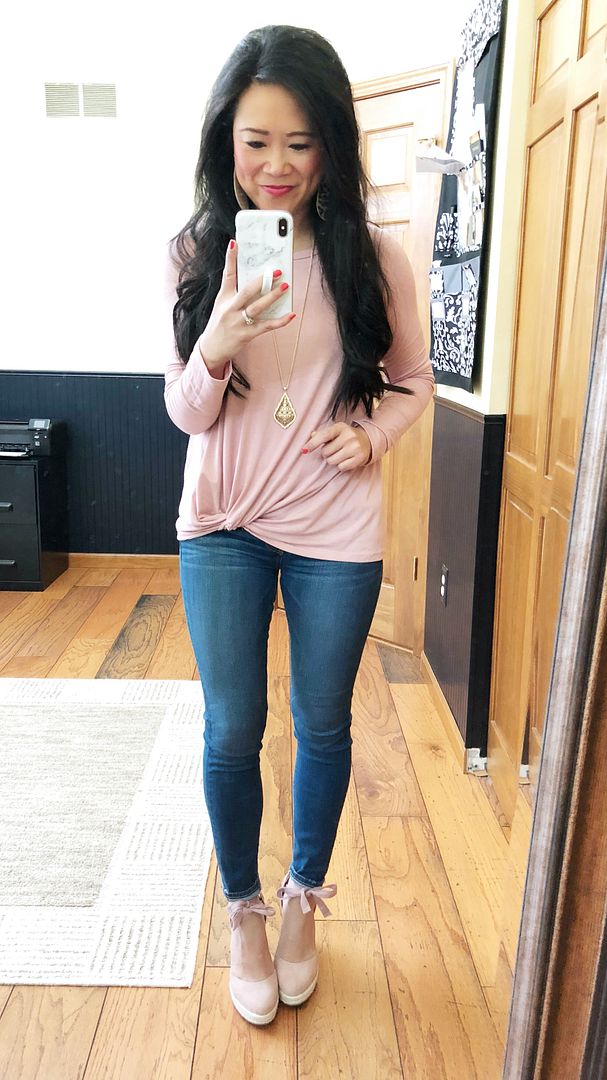 By Wednesday, my long week was catching up with me and it took everything for me not to just grab a baseball cap and sneakers and walk out the door. I got so many compliments on these espadrilles. Unfortunately, I found them in Boulder last summer at Nordstrom Rack, so they are no longer available. My hair I just unpinned from the day before and I let it go with its residual curls.

Thursday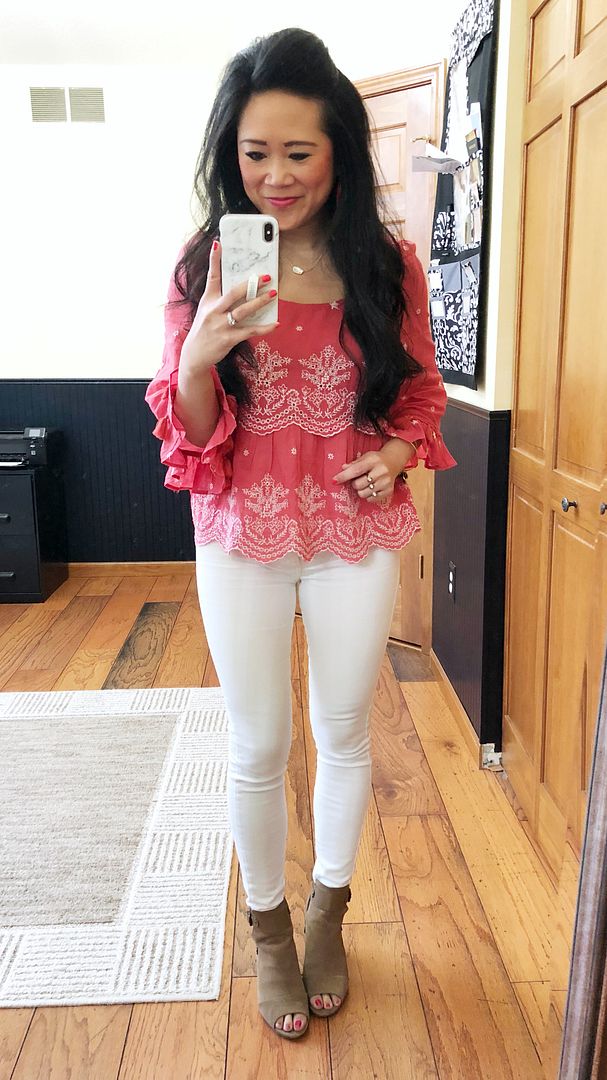 Thursday was another long day. I had work like usual followed by a vendor dinner that evening. I ended up not getting home until almost 10pm that night. A fun top and white skinnies ended up being perfect for the day to night events. Funny story about the dinner. One of my other coworkers brought up the fact that I had a blog. She said, "If someone needs to know about what kind of sunglasses to wear, they need to read Pieces of Me!" And I got embarrassed like I usually do when my blog comes up, but then another coworker said, "That sounds horrible!" And I said, "well, it's my blog, so." And I told them that I blog about my outfits of the day and all that, and the second coworker says, "But why did you name it Pieces of Meat?!" hahahah!
Friday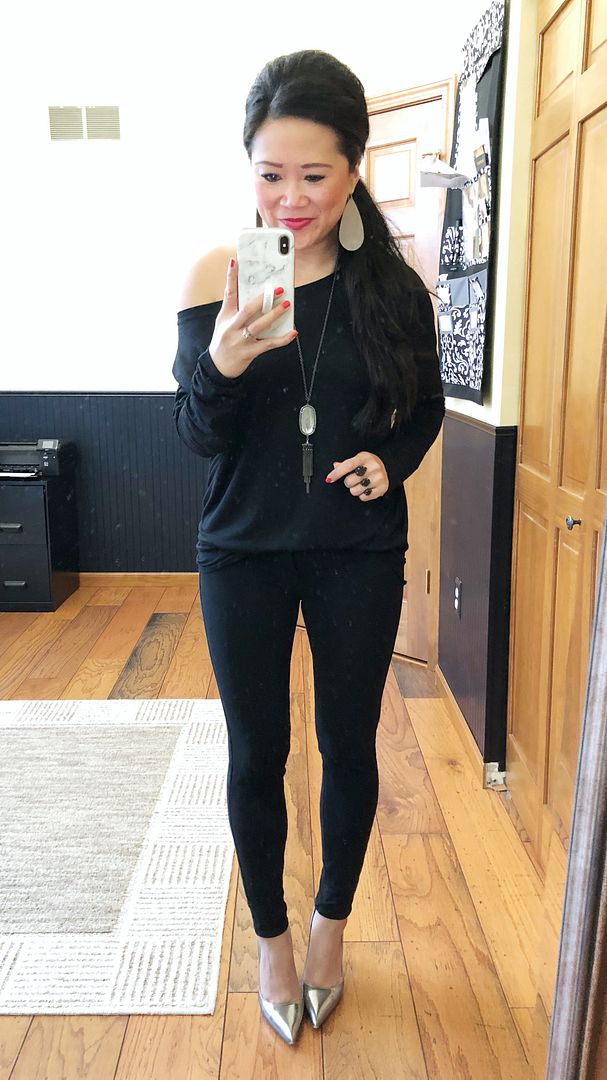 Last week I showed you this top in white and I confessed to buying it in two more colors. Well, when the package came, I was surprised because this one is actually long sleeved not short-sleeved. So see! I am totally mixing it up and not buying exact multiples!! Ok, so they're basically the same top, just long sleeved vs. short sleeved. But I'm equally smitten with both. The third color I got was a minty/teal color. Perhaps I will wear that one next week! I chose this outfit since it is a bit sassy and I knew we were going to have cocktails and such for a going away party for our coworkers. I completely had zero time for my hair which is why it ended in a low slung pony.
Saturday
Top: CS Gems | Bottoms: American Eagle |
Heels:
Kate Spade "Licorice"
And last but not least is the outfit I wore on Saturday for our trivia night. I really had no idea what to wear. I didn't feel like wearing jeans, but I also knew it was too cold for a dress or a skirt. Camo is always a nice compromise, especially when there are rips involved! I was pushing my 6th-day hair here, but I decided to nap instead of wash my hair! Therefore, it went pinned in my fake-fancy-side-do. Oh, and I am horrible at trivia in case you were wondering!