We had the most wonderful weather on Sunday! It was perfect for this Women in Business Shopping Soiree that I attended with a couple of girlfriends! It was a tad cold in the shade and heavy breeze, but in the sun, it was magical. I decided to wear this wrap dress for the event, and I brought a denim jacket as an outer layer if I got too cold.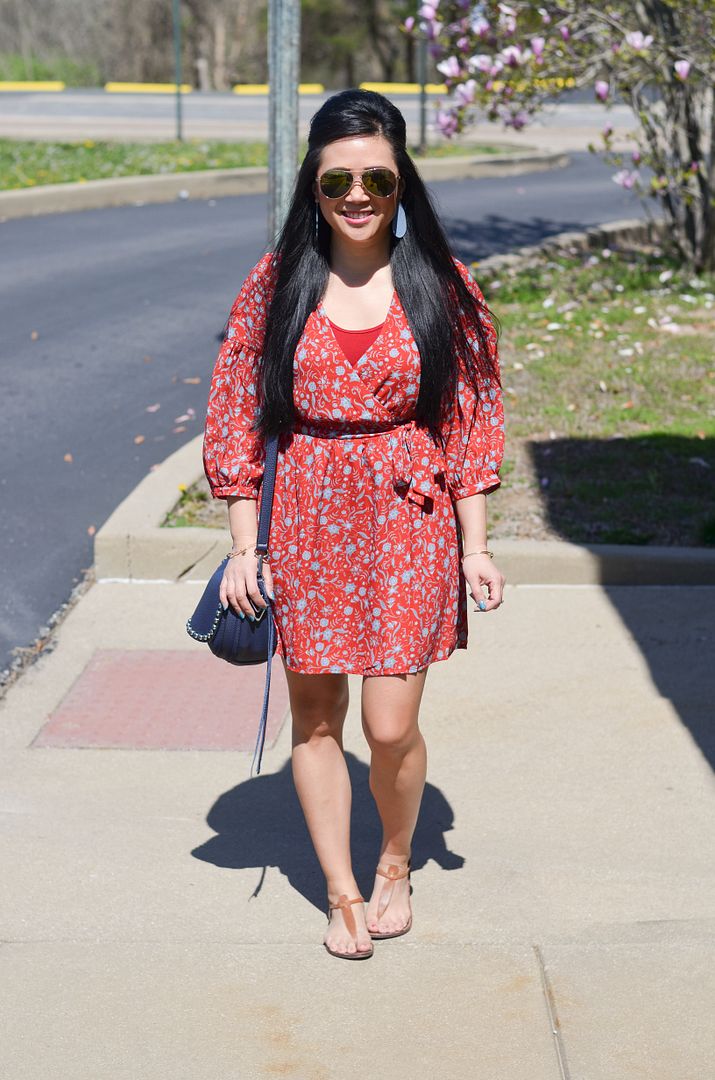 Sunnies:
Vince Camuto |
Earrings:
Nickel & Suede in medium Chambray (c/o) |
Bag:
Rebecca Minkoff "Astor"
(
budget option
,
budget option
)
|
Dress:
Allison Joy |
Sandals:
Sam Edelman "Gigi"
---
It was a lot of fun! It was hosted by a boutique called
The Spotted Pig
, but there were several other boutiques/ vendors who set up shop in the parking lot, so there were plenty of things for us to take our time and sift through. I ended up
buying
a flask (super random, I know) and a very beautiful pair of handmade earrings. After we shopped, we decided to find some place with a patio for brunch!
We ended up at the Gamlin Whiskey House. If that sounds familiar, it's because my coworkers took me there for my birthday last year. I've only been there that one time last year, so I was happy to try it again for brunch. And did I mention that the weather was absolutely amazing?! We were able to sit outside for a couple of hours, and it's just amazing how much good the sunshine does for your soul! And ok, mimosas help, too!
After brunch, we ended up walking down to Mission Taco to get tacos. Yes, we ate tacos after brunch because we can. The neighborhood is beautiful and the 2 months of rain we had has made all of the pretty flowers bloom like whoa. So, we took some selfies along the way and enjoyed some tacos and margaritas before heading back home for the night. It was a very awesome girls day out!

SHOP THE LOOK: