Well, it's here!
The sale
everyone hates but loves and loves to hate. It's like a train wreck in blogger world, I'm not going to lie. You just can't look away. I hate going on social media during this time because it's EVERYwhere and if it annoys me as a blogger, I can only imagine how it annoys a "regular" person. That said, I've loved this sale even before I was a blogger so I can't not shop it. And my stats during this time of year prove that a bulk of you guys love seeing what I want and buy, so I can't not blog about it! You can peek back at
old sale posts here
if you're interested!
I have a ritual! Wait for the catalog to arrive. Peruse it and sticky note everything I have my eye on. Give my wishlist to my sales associate, and then obviously, shop the sale and see what worked and what did not work. I wait all year for this sale, y'all. I save up ALL my Nordie Notes for this sale - I have about $400 accumulated to date ready to go for this year's sale! And yes, while it's the middle of summer and it's hard to get into the fall wardrobe frame of mind, well, I love seeing what the trends are for the upcoming season, and frankly, there are so many #nsale pieces I have in the past that I continuously wear season after season, so clearly something is working!!!
As you know, we are on vacation right now, so my catalog is likely sitting at home waiting for me. I don't like to see what ANYone else likes or wants from the catalog until I am able to establish my own wish list because I don't want anyone's opinions, good or bad, to influence what I like. So, I've been clicking away or scrolling past anyone I see talking about their catalog, and
as I lie awake randomly at 3am having serious FOMO that I can't touch and feel my catalog, I realize - DUH! Why wait? Look at the catalog online!
So, here you have it. All of my picks! Let's get started.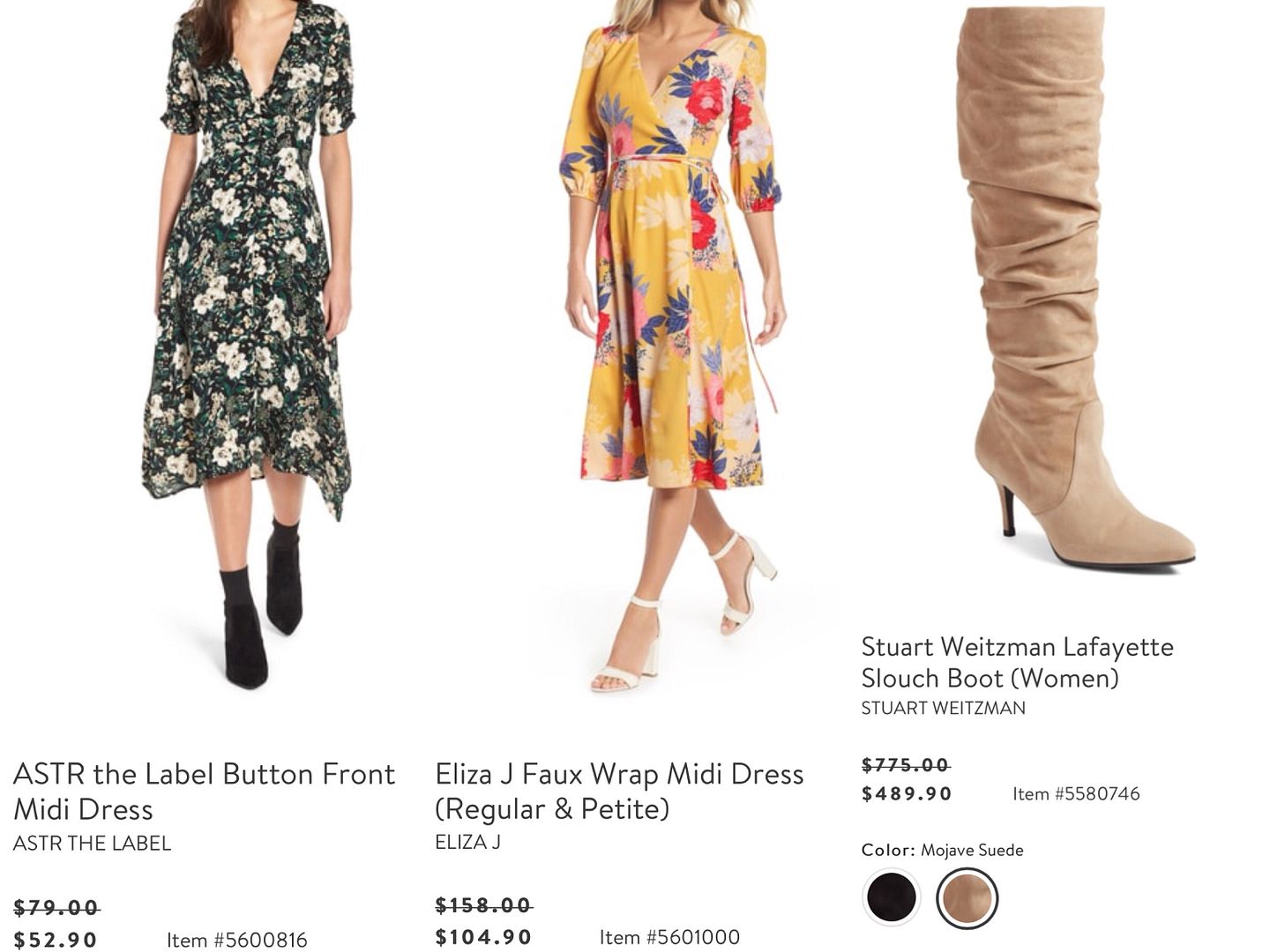 I definitely feel like the 90's are back with a vengeance. You will see a lot of retro florals in my picks along with some colors that remind me of Contempo Casuals back in the day. I'm unsure how the length of these dresses will look on me - they could be bad. But I don't lose anything but just trying them on! And hello, boots! They look like soft, squishy goodness!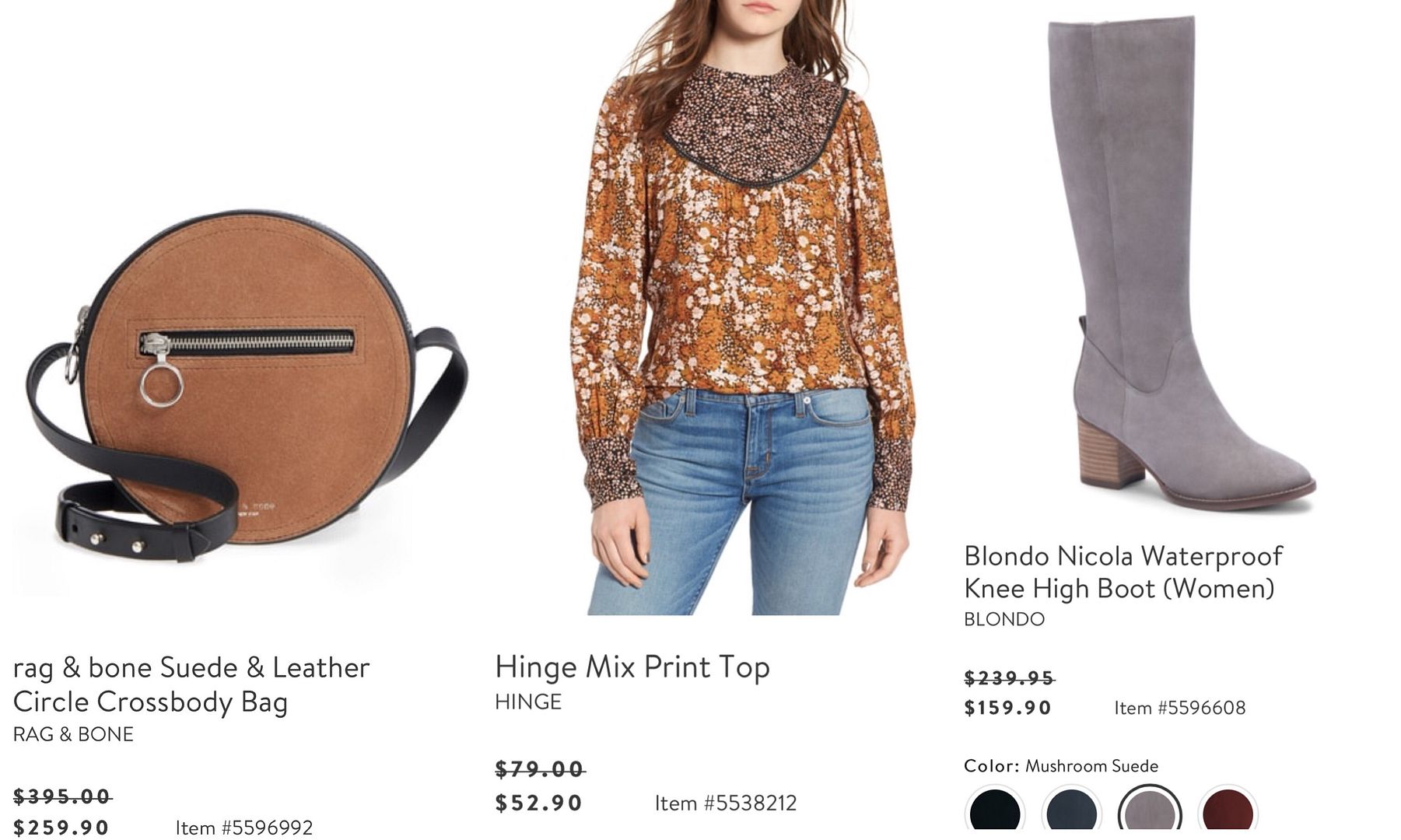 The circle bag looks adorable and perfect for travel. I've been using a couple of my past Nordstrom Anniversary sale bags for travel - small crossbones work well for that and I love the two-tone color of this one. Also - the print mix top looks like the perfect piece to throw on without any thought! And the boots. I've found myself these past couple of seasons wanting knee high boots that are not riding boots. Over the knee boots are tricky to wear with skirts and dresses for me because of the added bulk and because I like the bottom of my skirt/hem to not overlap with the top of the boot. These looked worth trying in person.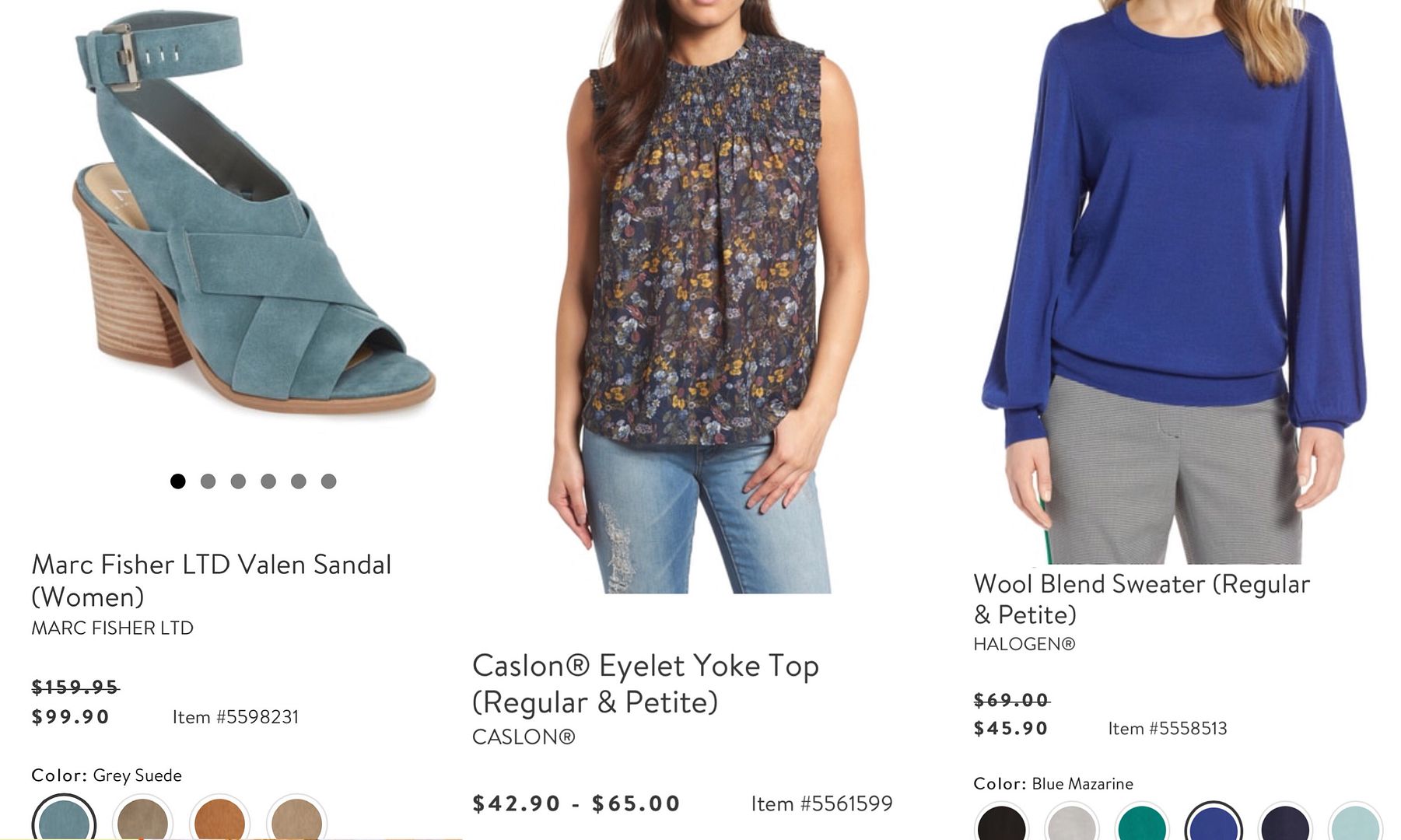 The color of the Marc Fisher sandals are nothing like anything I currently own, and the retro vibe makes me happy. Very interested to see how they look on - you know I love my suede shoes. Another easy top to throw on with the sleeveless floral, and then the sweater - the color is gorgeous and I have so much good luck buying sweaters from this sale, I wanted to make sure I tried this one.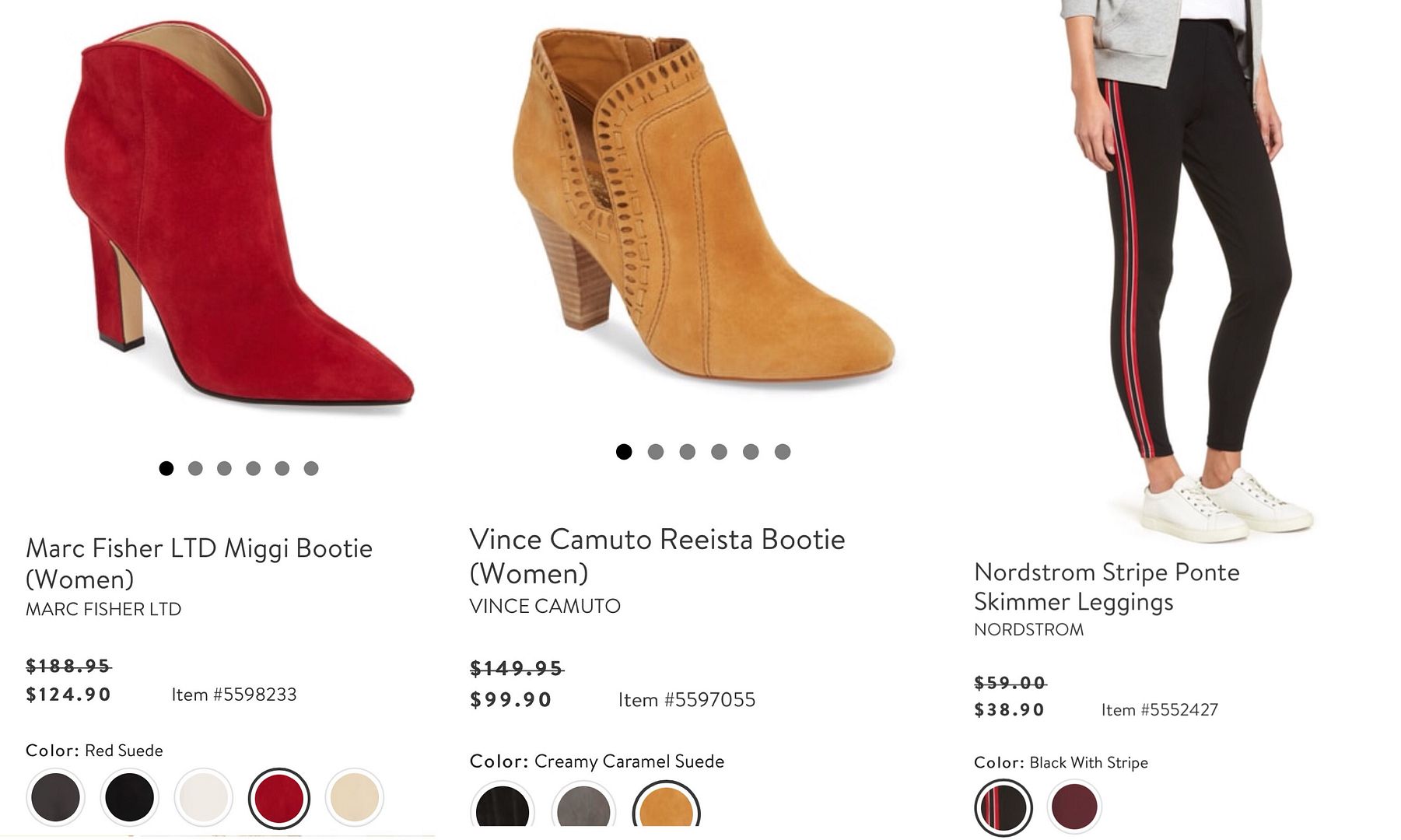 The booties on the left originally intrigued me in the white and ivory, but then I saw the red and my jaw dropped! Gorgeous! And I don't have red booties currently. The cut out ankle boots look great in this cognac color, and since I love the grey pair I bought last year and the black pair I bought the year prior, I thought a cognac pair would be good to round out the trio. The leggings are a bit of a random pick, but I usually buy a sporty pair from Zella, so these will take the place of that this year.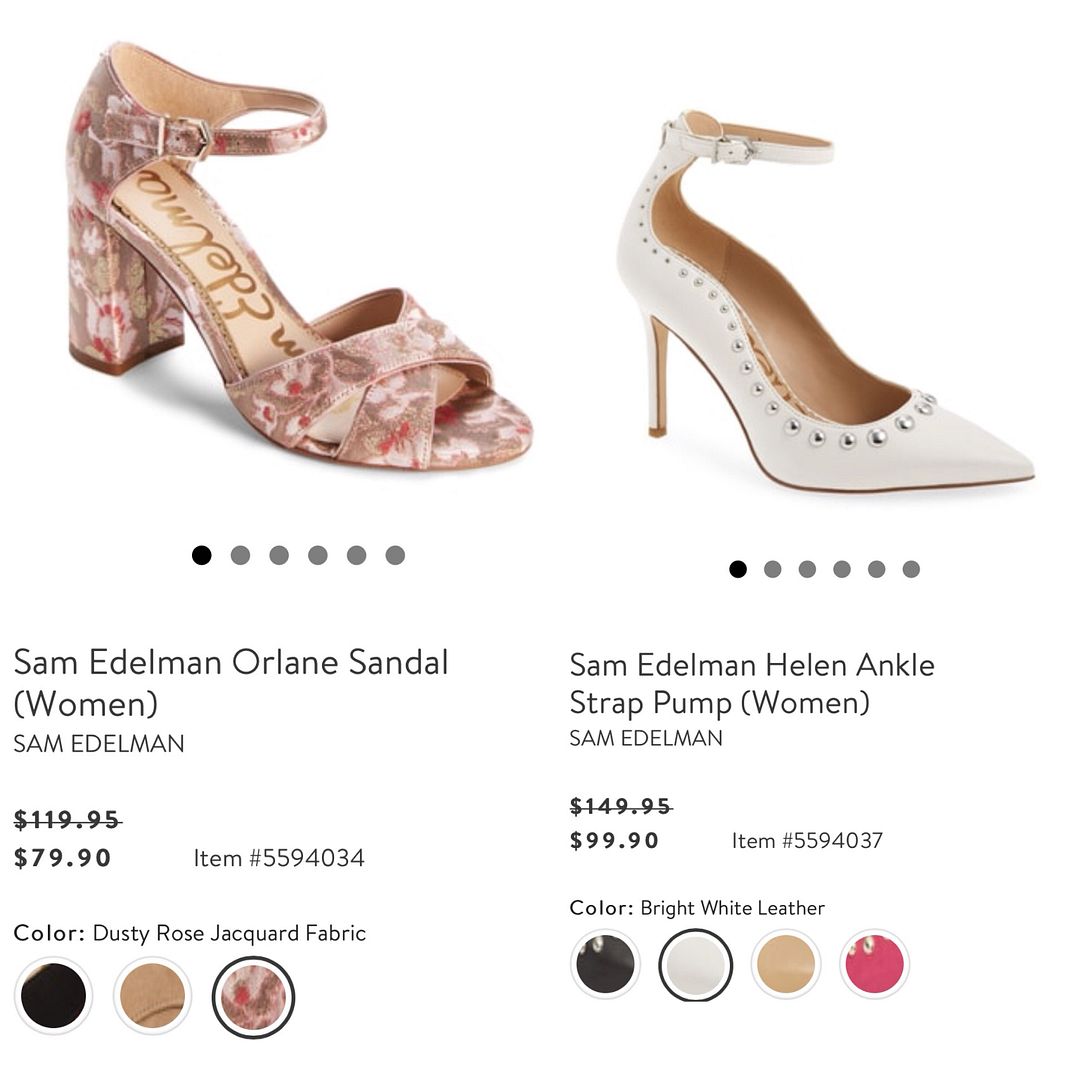 So many good shoes and boots this year in the catalog that caught my eye! The left pair may be super grandma-couch feeling, but. I have to try them. And honestly, out of this whole list, I am MOST excited about the studded white pumps! I have a pair of simple white pumps that I've worn the heck out of. So much so that they're a bit stretched out and fall off my heel now when I walk. I love that this pair has studs, and the curvy vamp, as well as an ankle strap. Seriously excited about these!
Ok! That is it for now! Some dates you should know about:
--Early access for card members starts on July 12th. Learn more about that here!